Do you ever find it difficult to get to your current week or to the month you're currently in? Problem solved.
These inserts will make finding your place super easy. They come in 10 different designs including blank or will squares of information to fill-in (my preferred option).
There are two different ways I would suggest to use these. I would either:
Laminate the inserts and use a dry erase marker or overhead marker.
Print them off each week. When you go to move on to your next week or month, simply cut the tabs at the top off. This way, you can keep the part you filled out in your planner to look back on. You have to cut the tab off though because otherwise it would get confusing pretty fast.
While I designed these for my Happy Planner, they can work for a multitude of other planners or notebooks. They come in one size but can be adjusted and print in a larger or smaller percentage.
If you use a spiral or bound planner (such as an Erin Condren or Recollections), see how to use the inserts here.
Which theme should create inserts/clips for next? I have a few ideas on my list (like cacti and succulents), but I'd love to hear some ideas from you!
Are you missing our posts on Facebook due to the algorithms? Sign up here for our newsletter. Don't worry, we only e-mail you once a week at the most with blog updates (unless there's a special event).
Newsletters will let you know what happened in the past week (including free printables) as well as what will be happening in the upcoming weeks. Our e-mail newsletter is the best way to stay connected and make sure you don't miss a free printable!
If you use the clips/inserts, I'd love to see! Tag me on Instagram (@momenvyblog) or Facebook.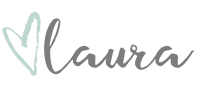 Free Dividers for Planners

(not pictured – next Month. Also, the tabs are evenly spaced although due to my cutting, they do not appear to be here.)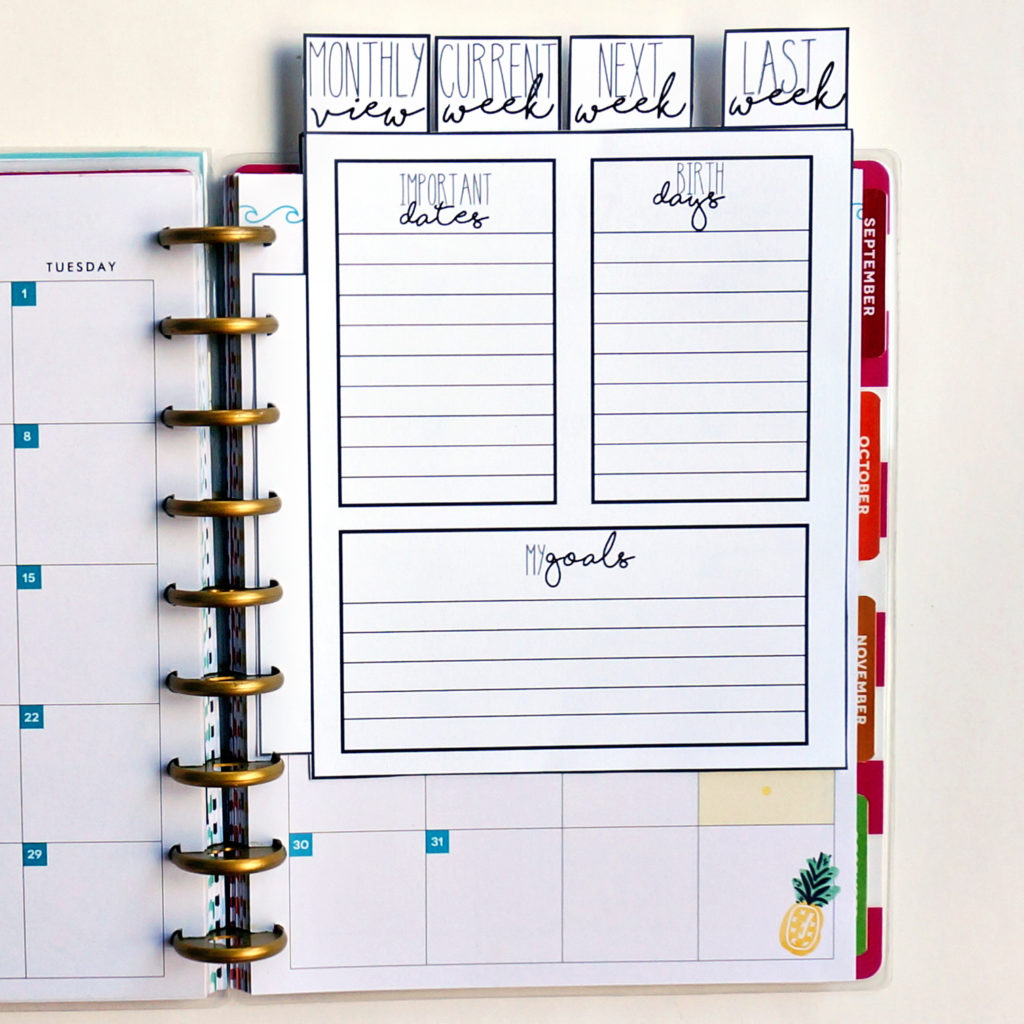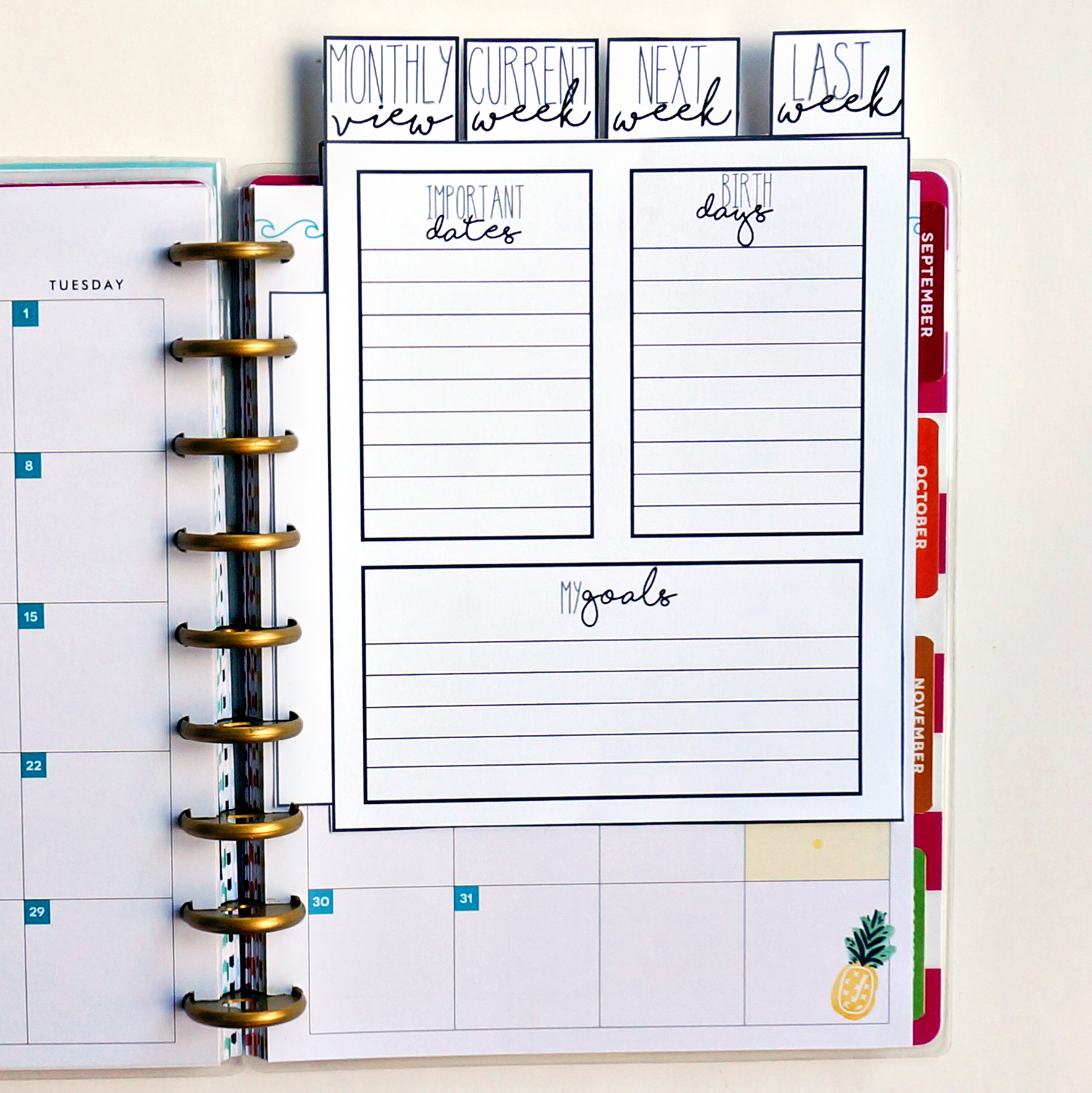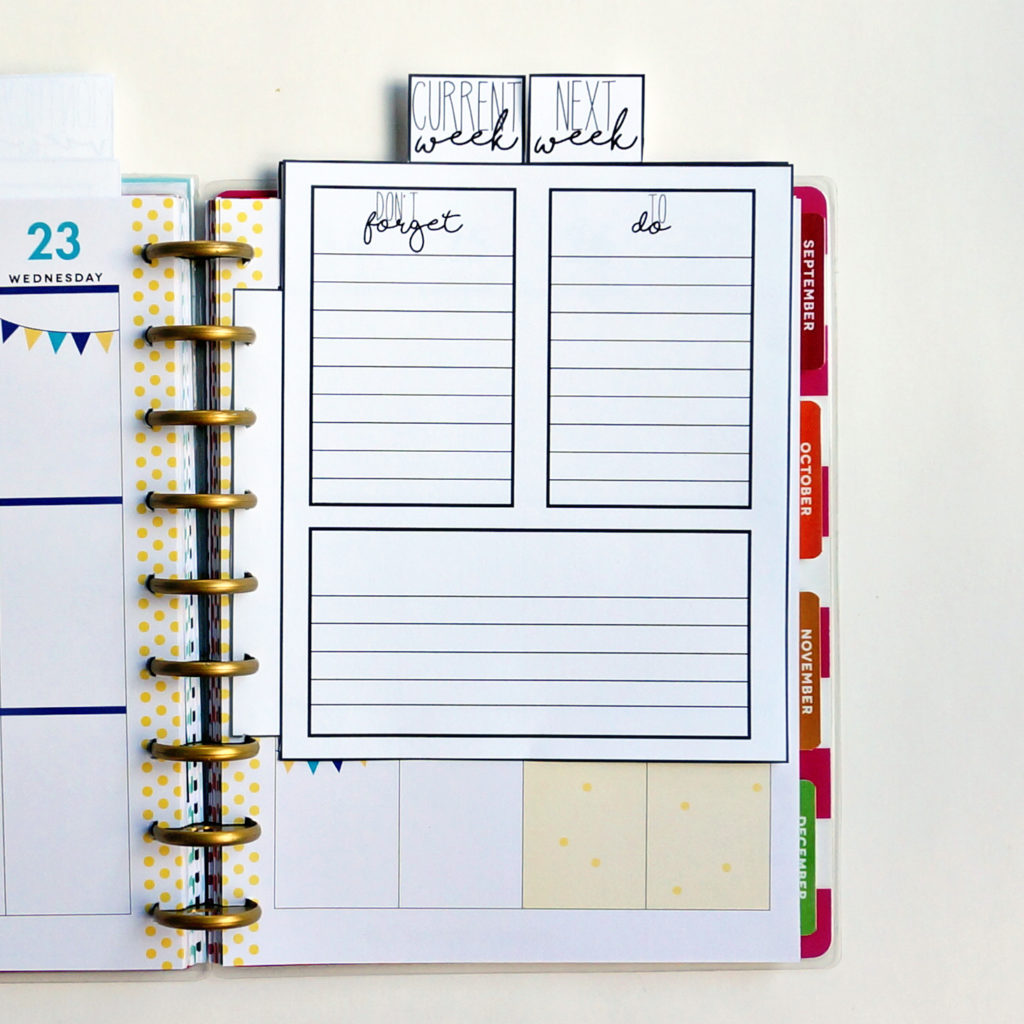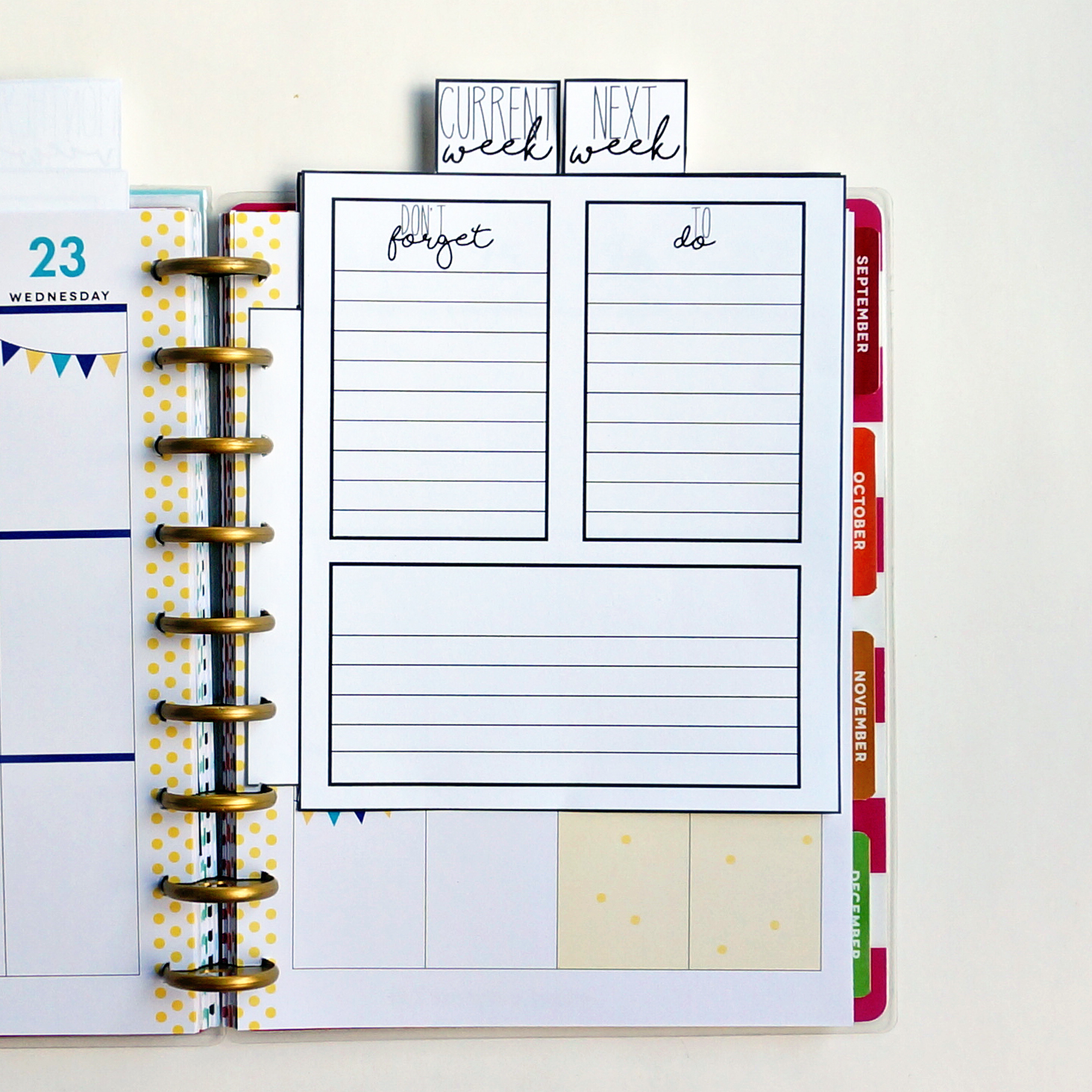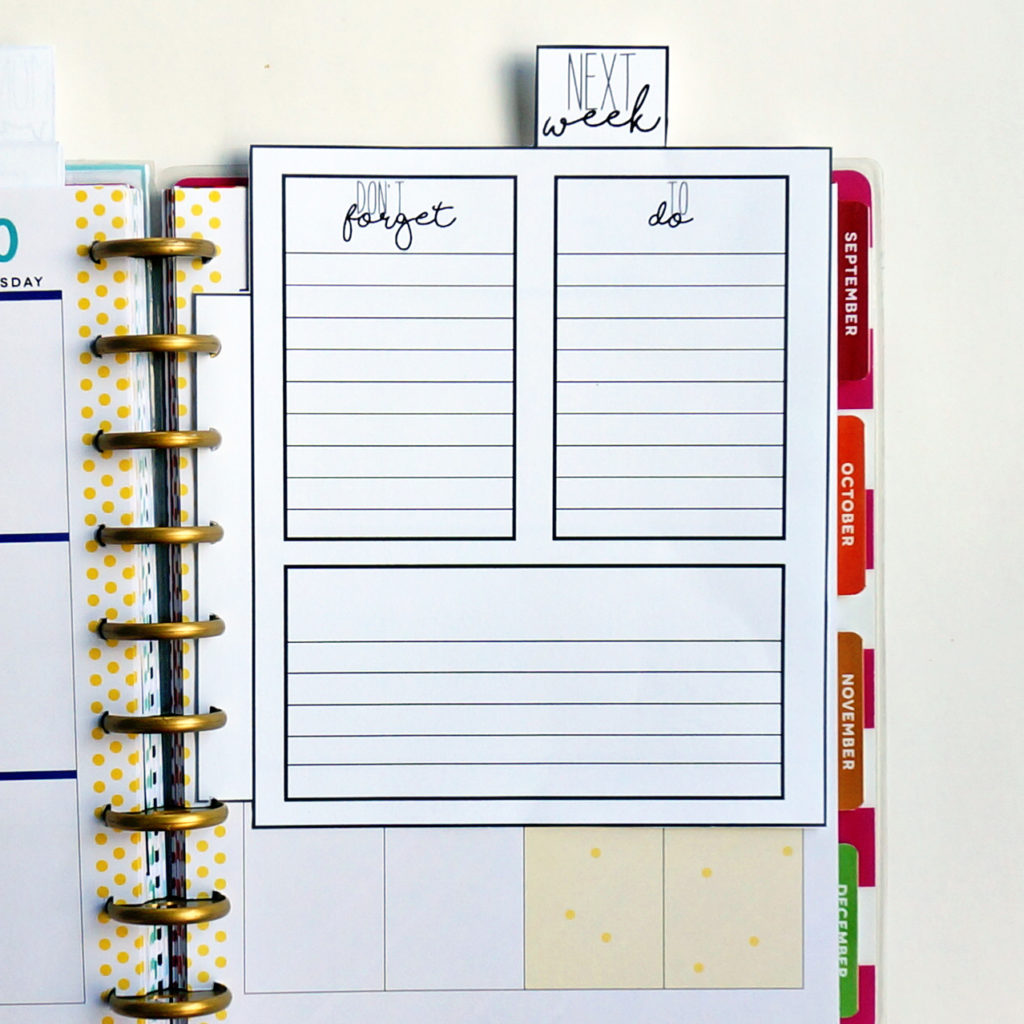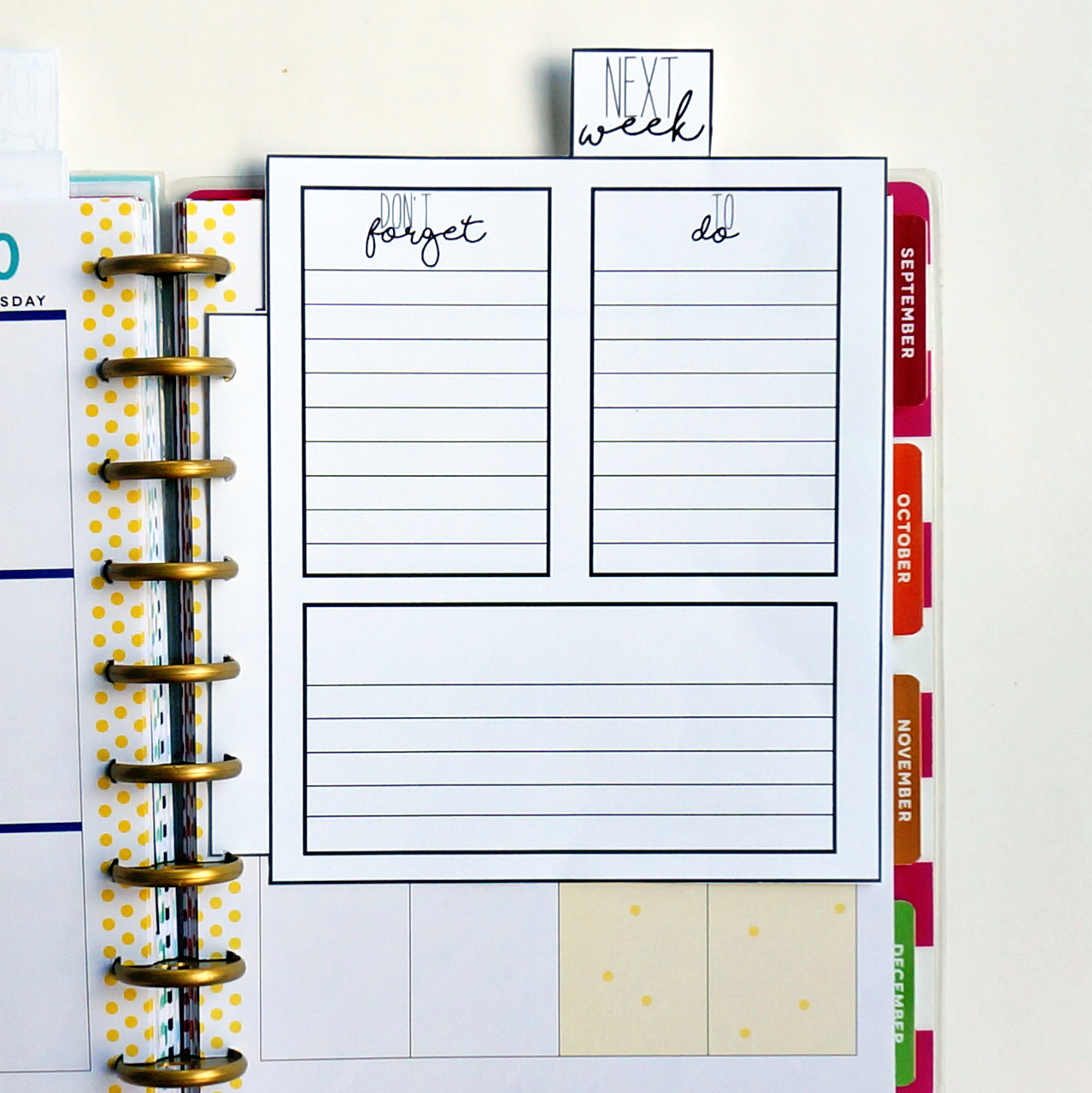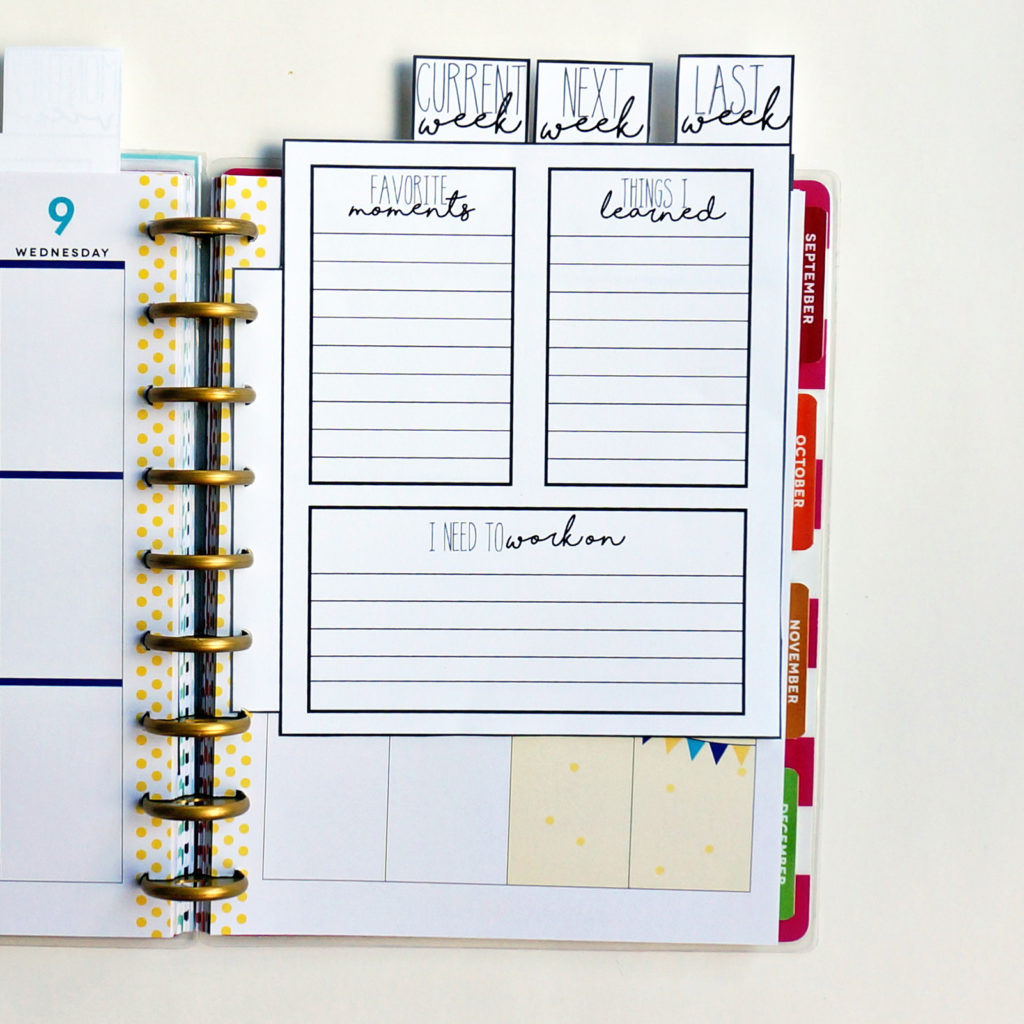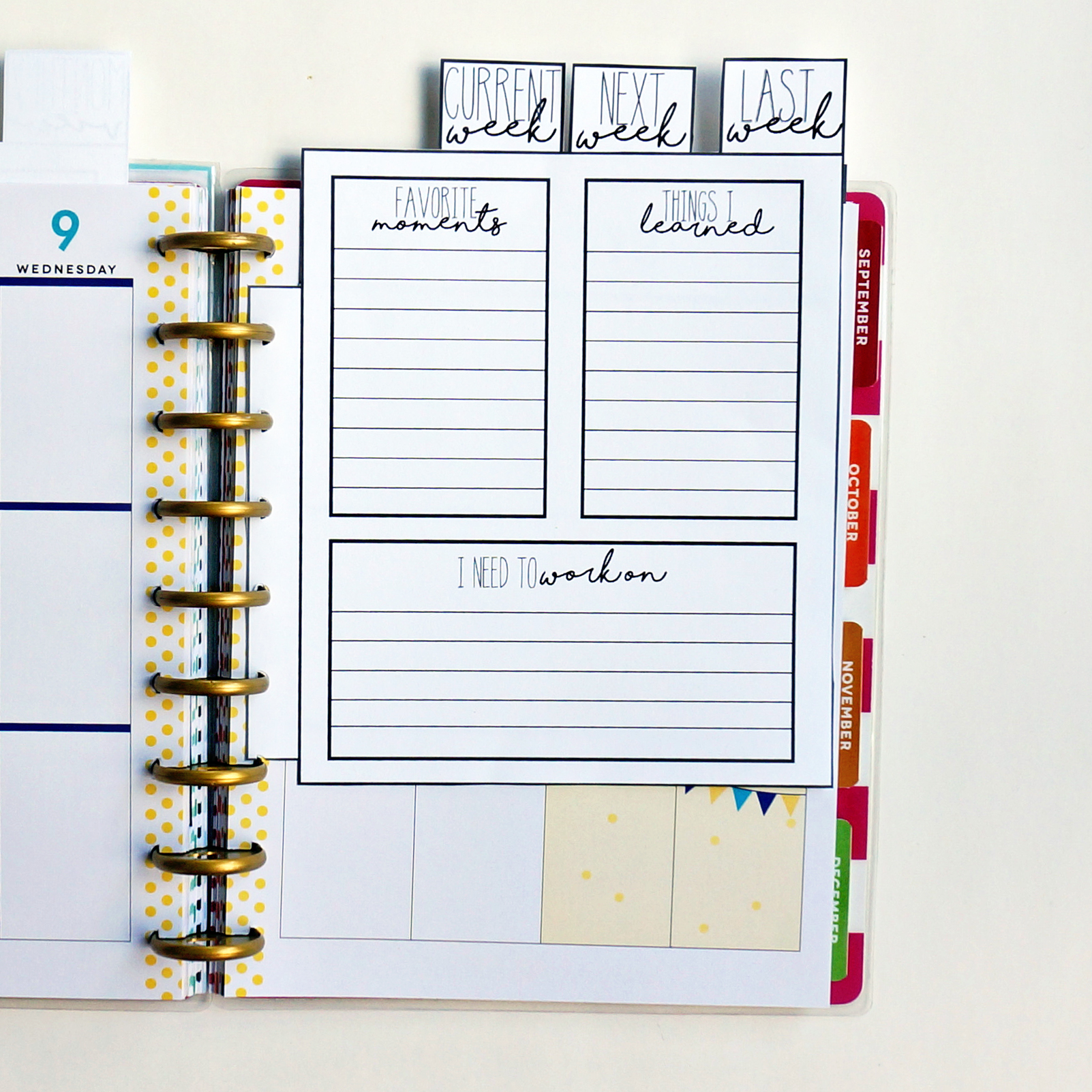 Inserts are available in 1 size and will fit most planners. They can be printed at a percent bigger or smaller to accommodate any planner size.
Files are in JPEG, and PDF format.
There are 10 available styles (see above).
As an Amazon Associate, I earn from qualifying purchases. I am also an affiliate for the HP ink program. Click here to read more.
Directions for the Inserts and Planner Clips (written directions below)
Directions for the Planner Inserts
Don't have a Happy Planner? Click here for more specific directions for bound planners.
Print one front piece and one back piece (has a number 2 at the end) on cardstock for added durability.
Print/Cut using the silhouette files or cut with scissors.
Glue the front and back together using a strong glue or hot glue.
If you want to laminate the insert (to use with a dry erase marker), glue first and then laminate.
Hole punch in the hole punch area.
Allow time to dry before use.
Want to Save Money on Ink?

Hate spending so much money on ink? Do you hate trying to figure out if you have enough ink to print? Then the HP ink program is for you. It has saved us SO much money on ink.
If you love to print planner inserts and stickers, it's totally worth looking into. Click here to use my referral and earn 1 free month! Learn more on my post is the HP Ink Program is worth it.
Tips and Tricks for Printing & Cutting
Colors may vary. Printers print differently depending on many factors. (The printer I use is a more expensive unit that uses pigment ink).
Print on cardstock for added durability. (this is my favorite from Amazon)
Simply download the files below, unzip, and print the files you need. Files are in three different sizes so pick the one that works with your planner.
This is the perfect glue for making planner clips. It's strong enough to hold.
Make sure you select one front and one back design for the inserts and clips (backs are all labeled with a 2 at the end).
If you'd like to print the clips/inserts in another size, adjust the size percentage on your printer options page.