This free Mother's Day all about my Mom printable is a memorable gift for Mom (or Grandma). It's such an easy and quick last minute Mother's day gift. It will truly make the important woman in your child's life feel important on their special day.
All you have to do is print off the mom questionnaire of choice (it comes with a Grandma, Grammy, and fill-in-the-blank version, too). Then just have your child fill out the questions and draw a cute picture of Mom (or important female grown up in their life).
I love all about me questionnaires for kids because they are such a fun way to celebrate Mom. Kids (especially younger children) will say the funniest things on these surveys.
When I get mom printables similar from my own children, I absolutely love them. I am actually looking at 3 older questionnaires that I received from my boys hanging on my bulletin board right now.
So if you still don't know what to get Mom, you can make her this wonderful keepsake. It truly is such a cute Mother's Day gift idea – it may even cause some happy tears (possibly from laughing so hard at some of the answers).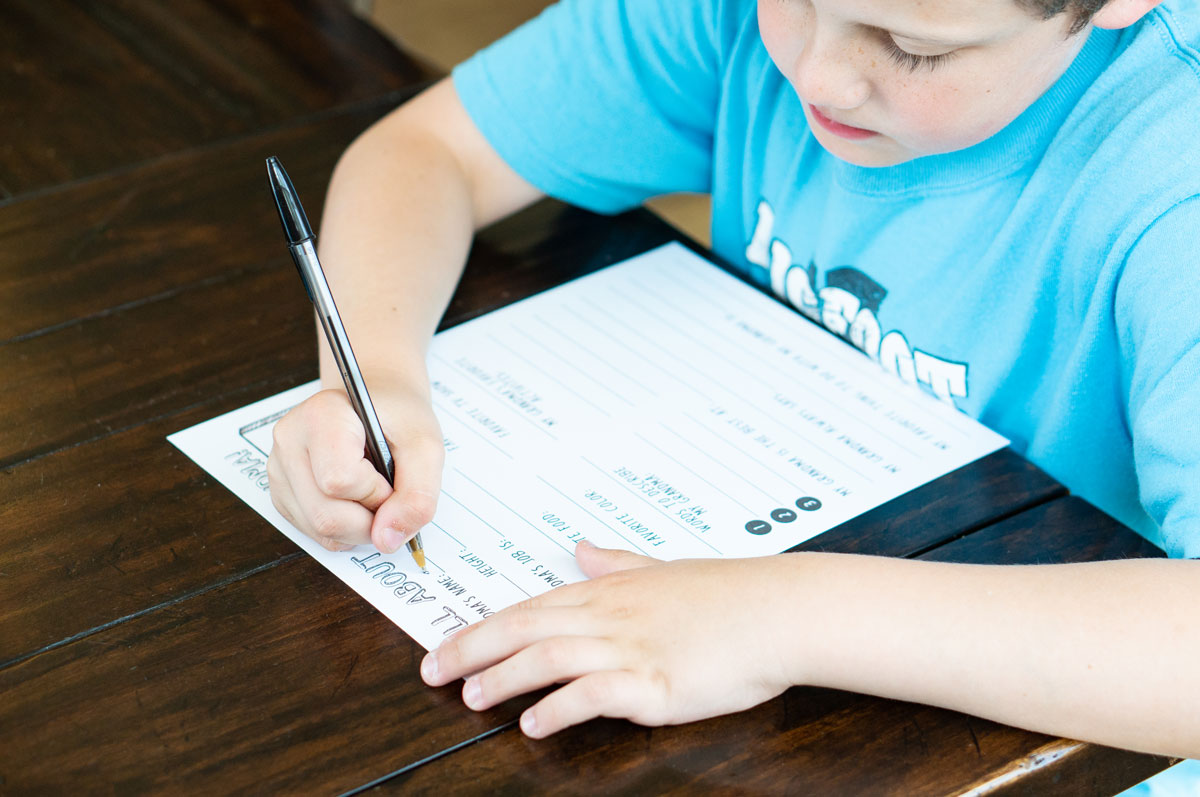 As an Amazon Associate, I earn from qualifying purchases. I am also an affiliate for the HP ink program, ShareaSale, and CJ Networks. Click here to read more.
Multiple Versions Included – Including a Version for ANYONE!
You get 4 different options. 3 have names already pre-filled in. The pre-filled names include:
In addition to the ones above, you get a blank version that can be used for any mother figure. The child just needs to fill in their name at the top where it says ALL ABOUT MY (Nana, Aunt, Step-Mom, etc).
Use the Mother's Day Questionnaire for your Classroom
Looking for a super easy and great gift for your students to say Happy Mother's Day? Print off as many copies of the printable questionnaire that you need – classroom use is included in the use terms.
Children can work on their fine motor and writing skills when they fill it out. And if you don't want to have to ask each child which version to print for them, you can print the generic version that they can use for anyone.
If you teach young kids (or have students who have writing difficulty), you may have to write down the child's responses yourself or with some help from additional adults.
Your students' Moms (Grandmas, etc) will have a good laugh for sure at their child's responses. It's a great way to do a special activity for Mother's Day that won't make a huge mess.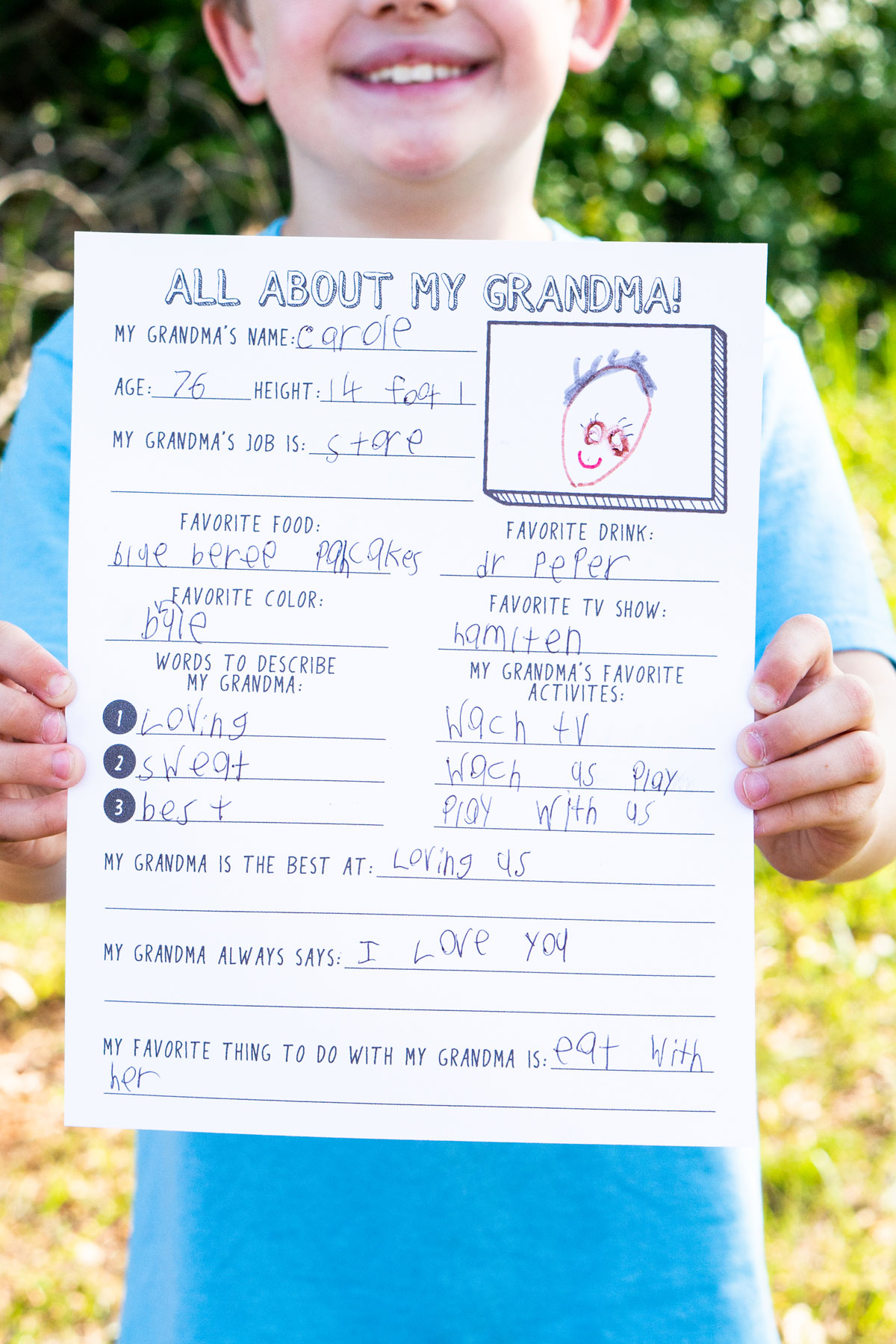 What Mother's Day Interview Questions are Included?
All of the questions are simple questions (with some fun questions, too. Who knew asking a 5 year old their Grandma's age could get funny answers).
Here is an example using the Mom questions (the other versions are not different designs, they simple have the name Mom switched out). The questions included are:
My Mom's Name
Age
Height
My Mom's Job
Favorite food
Favorite drink
Favorite colors
Favorite TV show
Words to describe my mom
My Mom's favorite activities
My Mom is best at
My Mom always says
My favorite thing to do with my mom is
​
What Does the Mother's Day Printable Look Like?
Here is the Mom example.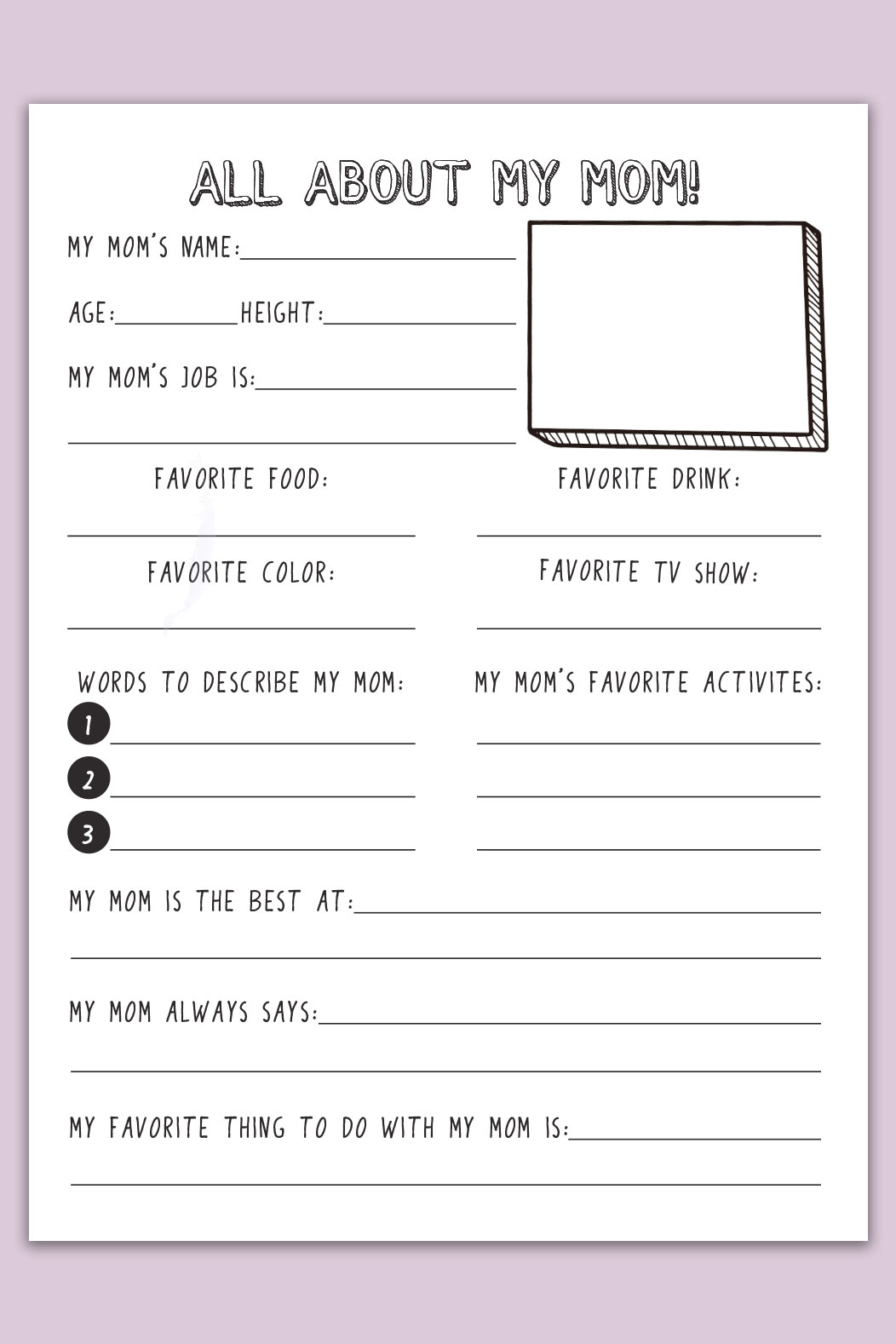 Here is the Grandma version.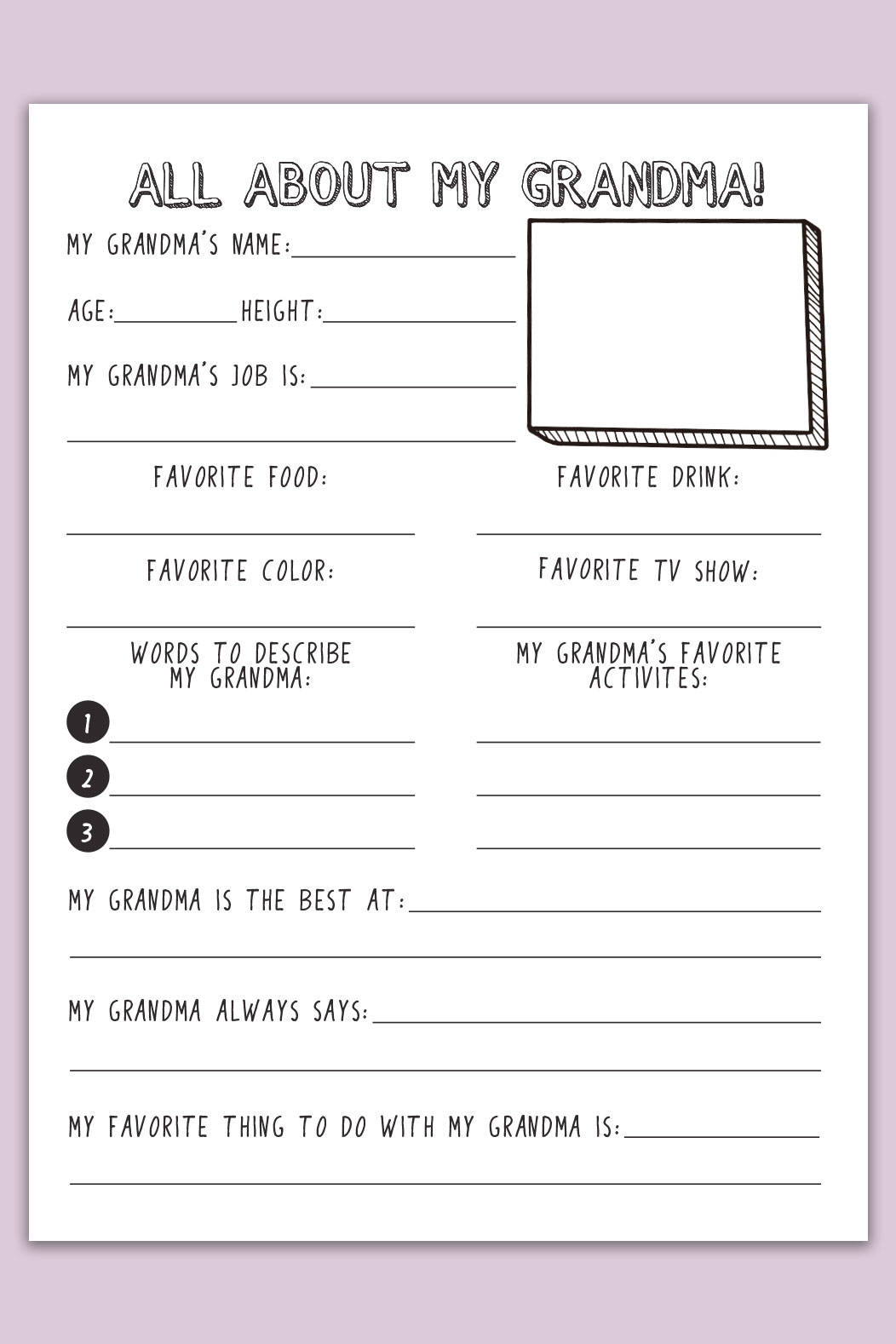 Here is the blank example.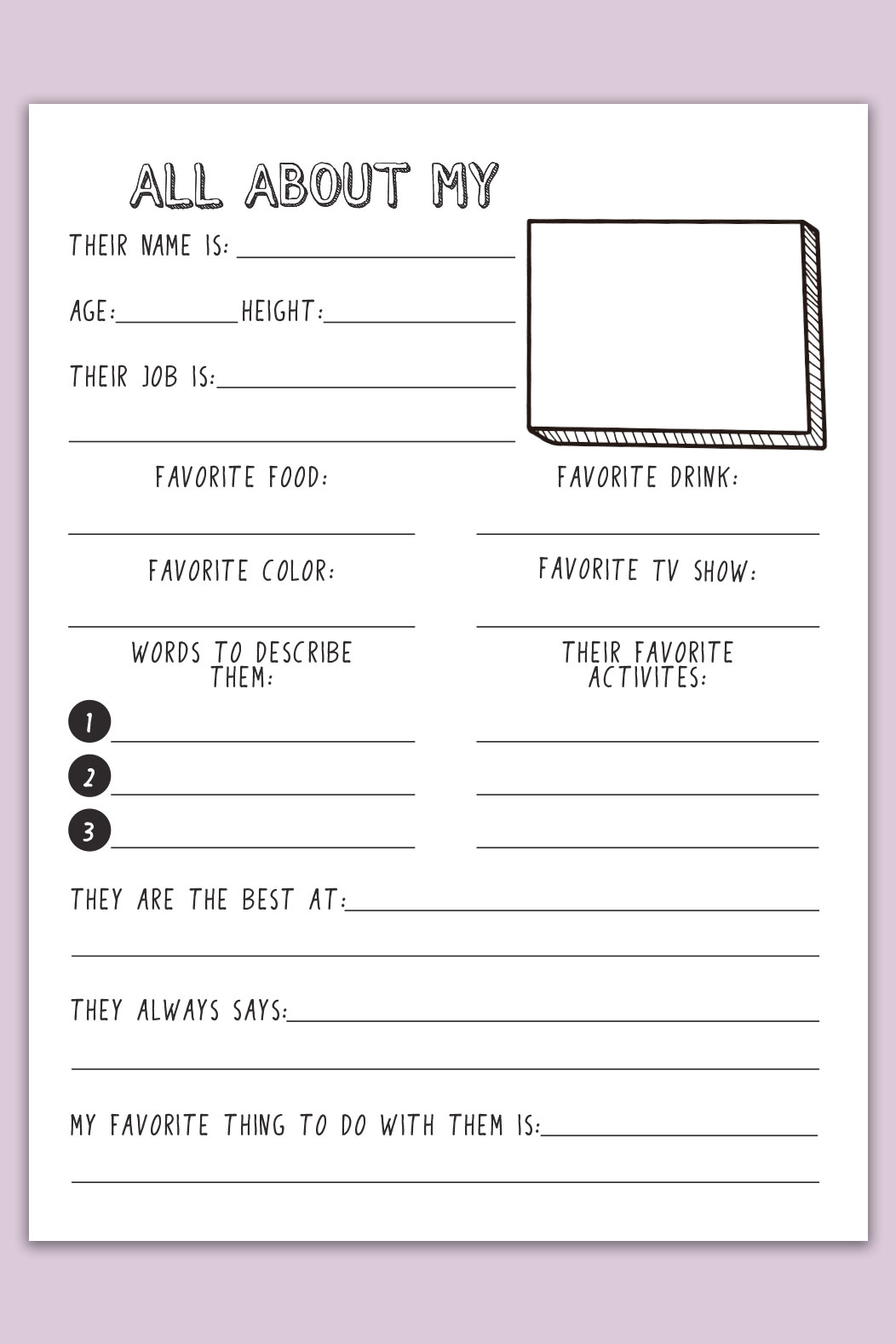 ​
​How Can you Download the Free Printables?
You can get the free Mother's Day printables here – click here to get to the Google Drive download links. Or, you when you get to the bottom of this post, you can click the large Click to Download image to get to the files as well.
Is the Questionnaire Only for Mother's Day?
No! While it is called a Mother's Day questionnaire, it would be a wonderful gift for Mom's birthday or Grandma's birthday or for another fun occasion.
What Age is this Mom Questionnaire for?
It is best for children that are elementary school age. Young children can get help by answering verbally while someone writes their answers down.
Older kids can do the entire mom worksheet on their own without any help.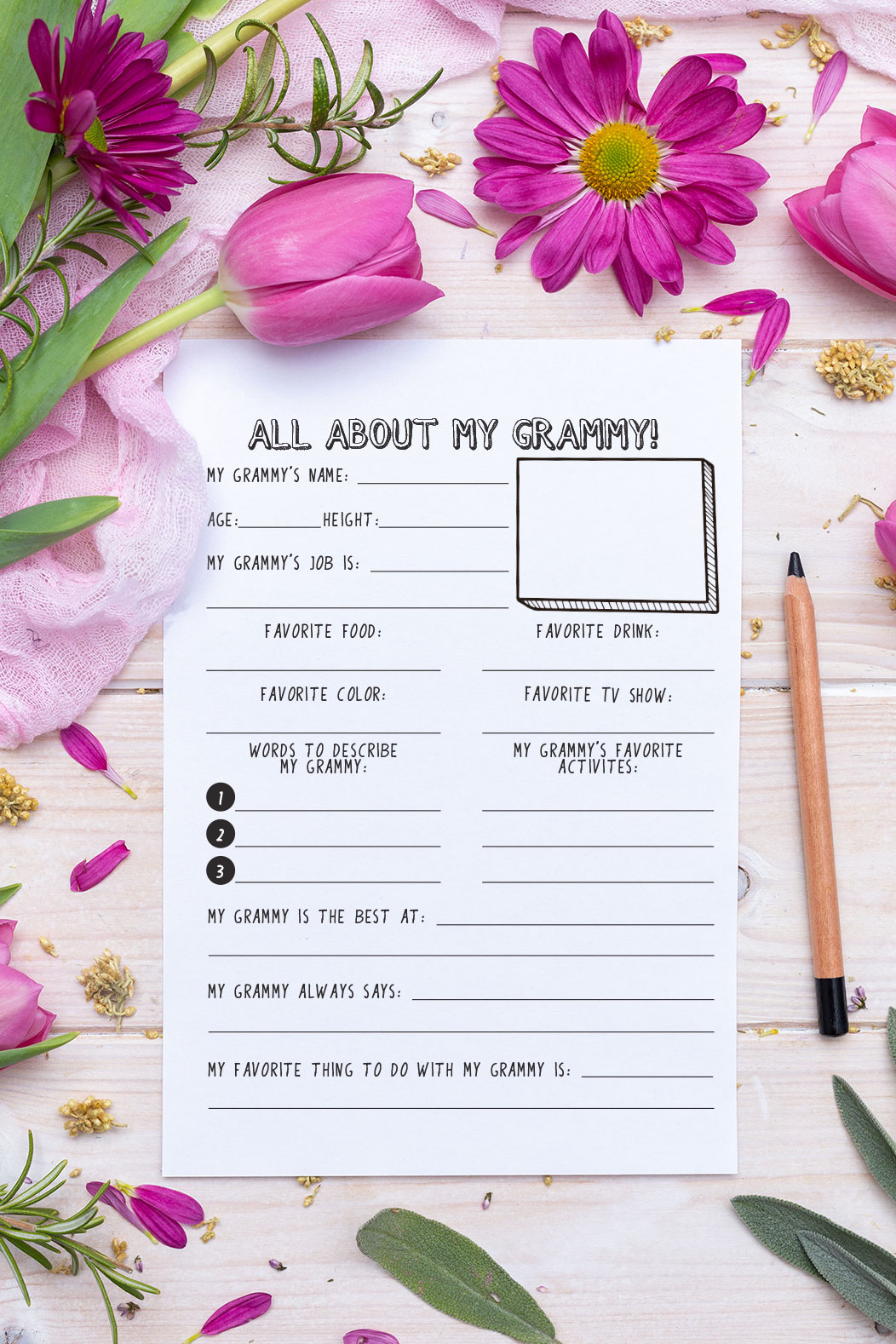 Tip for Multiple Children Completing the Free All About My Mom Printable
Do you have more than one child? It's the perfect gift idea for all children. BUT, I have one big suggestion after years of experience.
Make sure the children complete the questionnaire away from each other. This ensures that each child gives their own answers instead of copying all of the fun answers their siblings provide.
Having all of the children give this as a fun gift, makes adorable keepsakes from each child. Plus, it's so much fun to see how children grow and change each year and how their relationship with their Mom grows and changes, too!
What File Types are Included?
You get printable pdfs for each version.
Are the Files Editable?
Unfortunately, no. These are not an editable pdf template. But, there is a blank version where the child can fill in who it is for themselves.
What Type of Paper Should I Print the Printable Worksheet On?
You can print it on white cardstock if you want a sturdier version that will be more durable. But you can also have it printed on regular copy paper as well.
Can I Buy a Printed Copy?
Unfortunately, no. Not even for an additional cost. There is only a free digital file version available. I do not sell or mail out printed copies.
Looking for a Coordinating Version for Father's Day?
I have the same printable created for Father's Day. You can get the All About my Dad printable here.
Want to Make some Handmade Cards for Mother's Day?
Check out this list of over 40 Mother's Day card ideas including many printable options (my favorite are the 10 free printable Mother's Day cards to color).
Join the Mom Envy Club to get Access to over 300 Free Files!
Mom Envy has over 300 files including hundreds of free printables. Click here to join the Mom Envy e-mail club to get your free members-only password just by signing up with your email address for our email newsletter.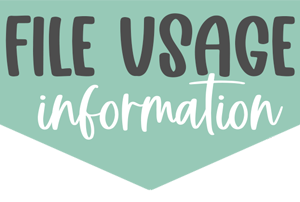 Copyright MOM ENVY 2023. Files may be used for personal use only. No commercial use of the file is available. Files may not be directly shared within Facebook groups, on websites, or in any other way. If using for educational purposes, the file may be printed and copied for classroom use. A link to the web page to download the files may be shared as well as one photo. The file may not be printed and then sold (including local yard sale sites and groups or at local craft fairs). The images may not be used in any way other than to share with a link to the original web page.