While talking to my friend, she asked me if I had any ideas for gifts for a one-year-old. Her daughter's upcoming first birthday was quickly approaching. I thought since I was putting a list together for her that I would share it with you, too!
My son was unfortunately born right before Christmas so when we created his birthday Wish List, we had to add items that would last him the year.
Remember: First Birthday Gifts Don't have to ALL Be for Right Now!
When we created both of our boy's first birthday lists, we asked for gifts that would be good for any time in the next year. Kids change SO much between 1 and 2.
That means there are gifts that may not be appropriate for them at one but would work great at 18 months. So don't forget when making your list, to think ahead!
Plus – you can spread the toys out throughout the year. This helps to give them something new to discover.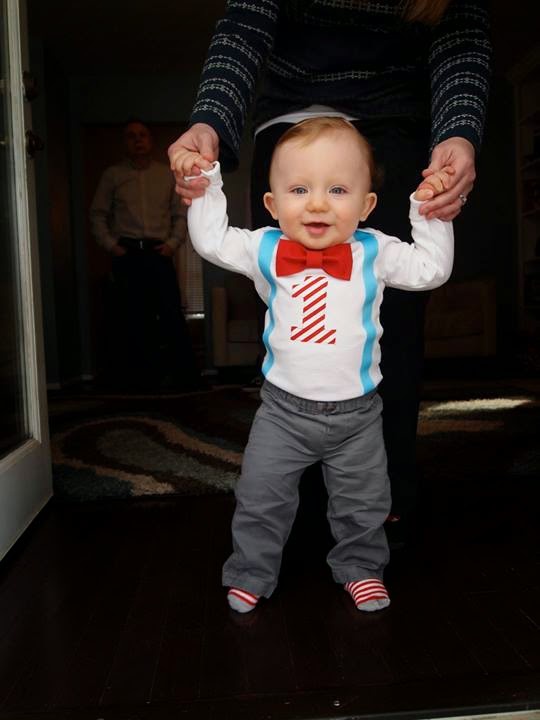 Transitioning from Baby to Toddler
As you prepare for having a toddler, remember that things are going to be a lot different. Gear their gifts toward the "toddler them" vs. the "baby them."
Need more help transitioning from being the parent of a baby to the parent of a toddler? Here's my toddler survival guide!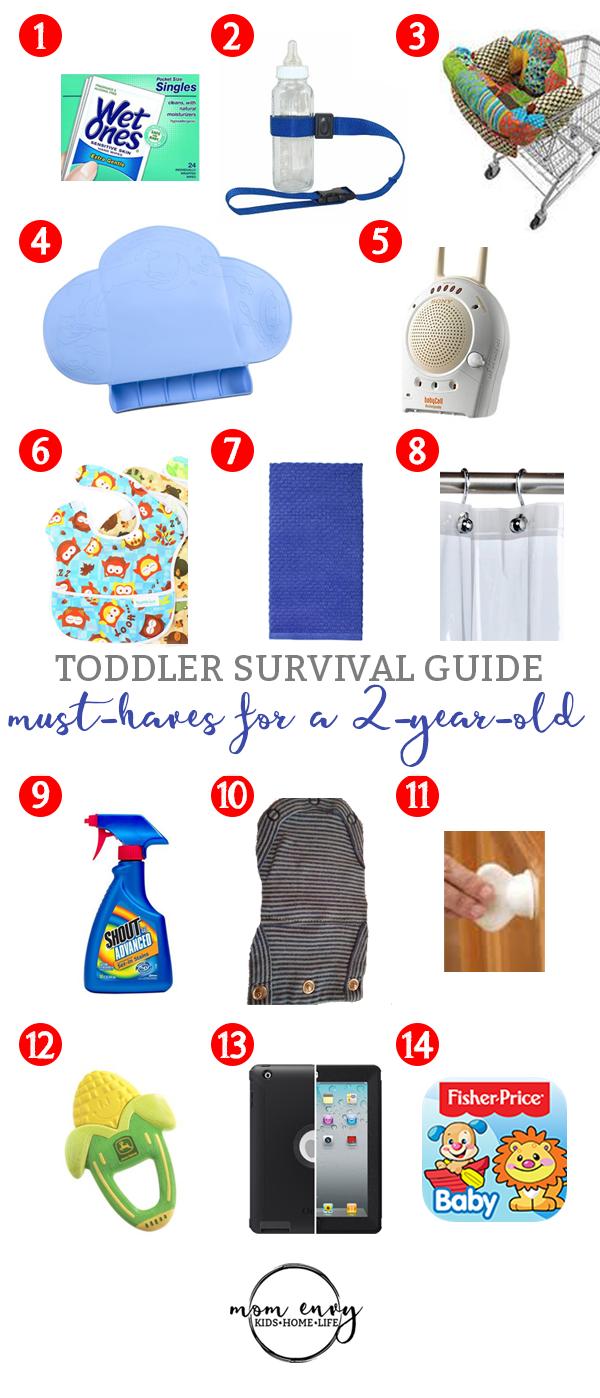 Is your child/the child closer to two? Check out the list of 15 Gift Ideas for Two-Year-Olds.
As an Amazon Associate, I earn from qualifying purchases. Click here to read more.
10 Perfect Gifts for a One-Year-Old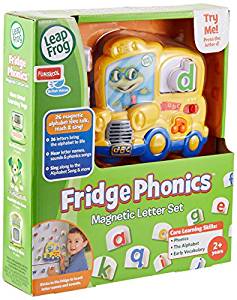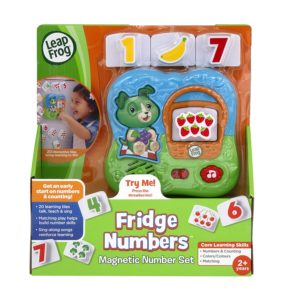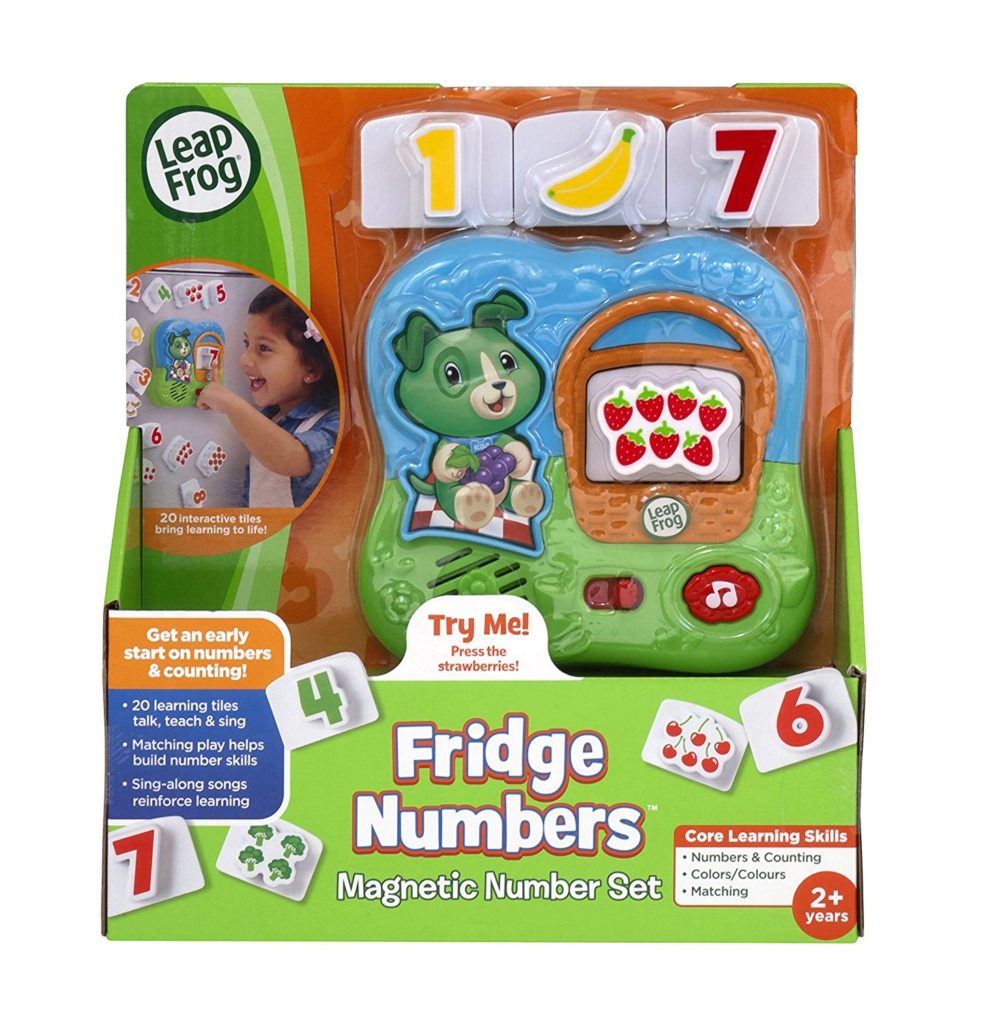 My son loves this Leap Frog toy. Leap Frog keeps changing the version of this toy. As of March 2017, they now make a fridge version for letters and for numbers.. Carl somehow learned his letters from playing with this toy at only 15 months. We were amazed when we started asking for specific letters, he could find them for us. Here is a short clip of him identifying his letters using this toy. Both of our boys love both sets.
This toy has been around for a long time for a good reason. It's a battery-free toy that will provide hours of fun. Before Carl could walk confidently, he loved chasing after it when I pushed it around. This toy was passed on to Jack who loves it probably more than Carl did.
Carl loves music and dancing. I couldn't wait to break these out. He marches around with the instruments, especially the maracas. This is a great way to integrate music into your child's life at an early age. There are many different sets of musical instruments you can buy. Bonus, it's another battery-free toy.
What kid doesn't love remotes? Carl was always stealing ours and changing all sorts of settings on the TV. We knew we had to come up with a solution and then we received this.
We actually received 2 of these and kept them both because Carl likes the remote so much. It's the perfect item to throw into a diaper bag or take on road trips. The best part is, the "volume" button actually controls the toy's volume so you can make it quieter than your average toy.
This is a surprisingly compact ride-on train toy. It easily tucks away in a room or closet. This toy has longevity. There are 3 modes: sitting, walking, and riding. The train has easily kept our son's attention for periods of 20 minutes at a time. He loves to flip the pages on the book, push the letters through the hole on the top, use it as a walker, and of course dance along to the short songs. He has not yet been able to ride on it but I am sure he will love it, even more, when he can. One note though is that this is a walker for a child that is more confident in walking, not just learning how to use a walker for the first time. It is not as steady as a standard walker. **After two kids this train is still in perfect shape. It truly is a toy that will entertain a child for a few years. In addition, it will last through the wear and tear of multiple kids. I can't say enough good things about this toy.
My son discovered Violet at his friend's house and was instantly hooked. Scout and Violet are customizable with the use of a USB cable, computer, and simple software. Scout uses Carl's name while talking and he sings a variety of songs that I selected. I was even able to pick Christmas music in December. Also, he plays bedtime music which makes him a great addition to the crib. Scout has become Carl's pal in the car and while shopping. It has made grocery shopping so much easier because he is entertained by Scout throughout the trip simply by pressing his feet and belly to active his songs and sayings. (Can you tell my son was teething in these pictures?) *we now own two Scouts. Our second son loves him, too, and Carl didn't want to share.
This is a toy that can be bought before age one (I'd say around 4-6 months would be the
youngest). But I still had to include this toy because it continues to be my son's all-time favorite. It's a simple concept, you place the balls into the Dino's tail, they fall into the popper, and roll out of the mouth while playing music. While our son used this toy the way it was intended early on, he has created new ways to play with it. He has used it as a walker on the carpet. He flips the Dino on his side and plays. But most of all, he places items other than the
balls inside of the popper to see if they will pop. (Unfortunately, this resulted in breaking the toy when he placed his water cup in the popper). For some reason, this toy has engaged our son like no other toy. I used to joke that it could be a babysitter. In the picture above you can see many items in the popper that don't belong. He was in the process of putting the dog's toy in there, too. Good thing she loves him!
Toys that Require More Space
If you have the space, these are some great items! You probably shouldn't buy this for your
friend's daughter living in a small 1 bedroom apartment though.
This is another great toy that has longevity and could be bought earlier than a year old. The car sits on the floor and has an open bottom. The child sits inside the car (on the floor) and can play with the horn and buttons or they can walk around the outside of it holding on. They can also sit outside of it and play. There's a sunny and rainy day setting plus Learning, Music, and Imagination settings (so 6 different settings) which equals over 75 songs and sayings. This toy has lasted us for two kids and still looks almost brand-new. We just passed it on to our 21-month-old niece that is loving (Jack still plays with it at two but we no longer have space for the car).
My son loves this ball pit and so do I because it's battery-free. He loves to sit inside of it and play with the balls (putting them through the various holes). He also likes to take the balls from the pit and throw and roll them. They're soft which make them safe to throw (no damaged walls and furniture). Unfortunately, he also likes to hide things in the pit (like his toothbrush). I will say that we bought some extra balls from a Tot Swap to add to the pit which I think made it more enjoyable. Again, Jack loved this toy as well. Other than losing a couple balls, it is in like-new condition even after two kids playing with it often.
This is the toy that I am probably most looking forward to playing with Carl. There are so many water and sand table options, we just settled on this one because of the cute pirate theme. It's the perfect toy to place on the deck and let your child's imagination run. There are so many ways to interact with this toy (boats, figurines, water currents, using cups to pour water, adding bath toys, and pretend play). It is suggested for ages 2 and up but my niece used hers at a year. During colder seasons, if you're brave, you can bring it inside and fill it with rice but be prepared to vacuum a lot.
Save
Non-Toy Gift Ideas for a First Birthday
Books
Books are one of my favorite things to give as gifts. I would suggest staying away from the classics like Goodnight Moon because they probably already have a copy (or 2).
Season Passes to the Zoo or other Places for Toddlers
This is another one of my favorite gift ideas. Instead of giving a toy, give them season
tickets to somewhere they can make wonderful family memories. This could include: the zoo, aquarium, children's museum, petting zoo or farm, train museum, etc. Just make sure it is toddler-friendly and close in location.
Clothing for the Next Season (ask for the size)
Ask the parents first what size you think they will be. Chances are they have enough clothes for the current season already so buying clothes for the season ahead will help make for happier parents.
Gift Cards
Gift cards are always appreciated – especially when they're to places like Target that the parents can use to buy things like diapers and clothes.
Gifts NOT To Give for a First Birthday
This may be just my personal opinion. BUT, after going to many first birthdays and having my own kids, there are some gifts that are better not to give at a first birthday party.Save
Clothing in the Size You Think the Child Wears
Just because a kid is 12 months, doesn't mean they're wearing 12 months clothes.
You can totally give clothes, just make sure to ask the parents for the size!
Cutesy Sippy Cups
I know they're hard to resist because they are so cute and come in so many animals and characters but many children will only use a specific type of Sippy cup. For some parents, it took a lot of trial and error to find just the right one.
For example, some parents only use straw cups. While others prefer to only use glass.
While it may seem silly, you don't want to give a gift that ends up being donated or taken back to the store.
Toys Meant for Much Older Kids
Toys for ages 1-2 – go for it!
Looking at a toy meant for a 4 or 6 year old? Step away from the toy!
While it can be fun to reminisce while looking at toys, don't buy a kid your favorite Star Wars toy just because it reminds you of your childhood. It should be a toy the child can use within the year – otherwise, the parents have to find someplace to store it (the return line most likely).
Large Toys or Outdoor Cars (without asking first)
Everyone loves to give the show-stopping toy. But make sure that the parents are okay with getting a little Red Coupe before buying one for their kid.
Again, this is not a don't buy gift. This is a ask before buying type of gift.
Save
Still Unsure what to get a One Year Old?
Just ask the parents. I know that it can be fun to buy a surprise present, but in reality, the child will be surprised with whatever you get (and honestly, they don't even understand the birthday present concept right now anyway).
If you aren't sure if the gift you'd like to purchase is good OR you really are not sure what a good gift would be, just ask. Parents appreciate getting things they really need or want. They'll really appreciate you taking the time to reach out and ask them first!
Save
Save