While there are many gift list ideas out there for Mother's Day – I am here to talk about Mother's Day Gifts that Moms actually want. I'm not talking about those shiny, pretty things that you wrap up with a bow. This isn't your typical Mother's day gift guide filled with a list of the best mother's day gifts with jewelry, gift basket of fruit, home decor, etc.
These are the gifts that Moms truly want for Mother's Day (or their birthday, or Christmas, special occasion, or a random Tuesday…). They are non-traditional Mother's day gift ideas that mom loves.
You've probably been searching for the perfect gift – but feel paralyzed about picking the perfect present. But what if I told you that maybe the perfect present isn't in the store? The best gifts are the thoughtful gifts that show you have put in effort.
Need Last Minute Mother's Day Gifts?
Many of these ideas make great last-minute mother's day gifts because they don't take a ton of time to prepare. Yet, they are next level gifts that are so different from traditional gifts. They will truly make Mother's Day a special day for your significant other or own mom.
Why Do I have to Get my Wife a Mother's Day Gift, She isn't MY Mom?
Even though your wife isn't your Mom, you still need to do something for her for Mother's Day. She is the Mother of your children and deserves to be shown that you appreciate all she does for your family.
Why wouldn't you want to treat her special? If you were dating, you probably would have gone all out for her birthday to try to impress her.
She needs you to make that same effort even more now than she ever did when you were dating. She's probably feeling exhausted, under-appreciated, and far from special. A little effort will go a long way.
15 Mother's Day Gifts that Moms Actually Want
1. Sleep.
This one is pretty simple. And it's free. Most, if not all Moms, need sleep. Long, quiet, restful sleep. I'm not talking an extra 15 minutes while you put the kid on the potty first thing. It's time for you to take the baby monitor all night, get the kids up when they call, and maybe even delay your shower so that the noise doesn't wake her.
Now in order to get her more sleep, first you need to tell her about it ahead of time. It's important because she may have plans you are unaware of and sleeping-in may cause extra stress (which we don't want).
Explain to her that you are going to be getting up with the kids and that it would make you happy if she took the opportunity to catch up on sleep. Moms need permission to take time for themselves even when it comes to sleep. We feel responsible to be Mom at all times and unless you tell us otherwise, we will wake up at the first sound of a baby crying. If she's more of a napper, let her get that nap in (think: park).
2. Alone time in the house.
Take the kids out for the week day. She won't really care where you go as long as you and the kids aren't home. You see, Mom's rarely get time alone at home anymore. There's something so peaceful about a quiet house. She's not going to be up to trouble.
More than likely she will quietly catch up on some Netflix eating her hidden stash of candy or she'll clean (I know – sounds crazy right? But cleaning with the kids at home is like brushing your teeth while eating Oreos).
Now this is one not all Moms would care about – so you'll have to feel her out. I personally would love this as someone who stays home with two littles and a husband that works from home. For many moms, this simple gesture could be just the thing they need to recharge.
3. Meal plan AND grocery shop for her.
How many of you simply show up to dinner every night without any thought about what went into to planning and shopping for the meal? Probably most of you. Plan out an entire week of meals (you probably have an idea of standards you eat on a regular basis, just pick 7 of those meals and fill them into the next calendar week).
Then make a shopping list that includes the ingredients needed for all of those meals. Don't forget to check the fridge and pantry to make sure you don't have 5 lbs of spaghetti noodles in the house already (although if you're doing the shopping, most Mom's wouldn't care if you bought another 10 lbs of spaghetti as long as it meant she didn't have to go do it).
Now, make a list of the other staples you are out of and need: bread, milk, produce, snacks, lunch stuff, toiletries, etc. Then grab the kids and hit the grocery store.
The best part about taking the kids with you is that in addition to you shopping for her, is that it will give her some quiet time which is a bonus.
But whatever you do, don't call her 50 times from the store. Figure it out yourself even if that means asking a worker for help.
4. Make HER dinner.
If your wife makes all the meals, make dinner one night (or two). Plan a meal and make it. Tell her sit down and rest while you make dinner.
Don't have any of Bobby Flay's chops? That's okay – grab some take out. Don't make her decide where to get the take-out from. You decide; it's easier that way.
This could honestly be a gift you could (and should) give her regularly throughout the year. Maybe you make it a bigger gift and tell her you're going to plan and make a meal one day a month or week for the next year.
5. Hire a house keeper for a deep clean.
Now, it's not that we don't like when you clean (that's a great option if you're on a budget). But, sometimes hiring a professional may be the better option (you don't want that fight when your wife cleans behind you because it's not how she does it).
Nobody likes doing chores (well most people). And while your significant other may be keeping up with the housework, they may want a break. In addition, there are a lot of things that we miss or can't get to because we just don't have the time (like the top of the fridge – I mean, who sees it anyway?). Hire a team to come in and do a deep clean.
YOU find and schedule the appointment. Don't give them another task with this gift of researching and finding the company to come do the cleaning. If you're going to give this gift, make sure you aren't giving her an extra chore with it.
If you do select to give this as a gift, make sure that you stress to your significant other that they're doing a great job with the housework but that you wanted to give them a break. The last thing you want is for a gift you are giving to turn into a fight because you say "hey, I hired you a maid because the house is gross."
6. Plan a date night and work out all of the logistics.
Pick an activity (or 2). Hire the babysitter. Write the babysitter some notes for the evening (not sure what to write for a babysitter? Click here, print, and fill out).
Leave food and/or money for food for the kids and babysitter. Just tell her when the date is and what she needs to wear. Added bonus – give her some kid-free time to primp for you. She loves date night but sometimes prepping for date night can get stressful.
7. Girls night.
Give her a night out with her friends. Tell her that she's off Friday night and she deserves some girl time. This would be especially wonderful for a new parent that is struggling to feel like she's her own person and not just a Mom.
While she's at girls night don't message her unless it's an absolute emergency. Remember – Moms feel they need to get permission to do things for themselves. Tell her she deserves some time to herself.
8. Night out alone.
Just like above, give her a night out alone to do something she loves. Whether it's a paint class or just roaming around Target with a coffee in her hand. Just like #7, while she's at girls night, don't message her unless it's an absolute emergency. Remember – Moms feel they need to get permission to do things for themselves. Tell her she deserves some time to herself.
9. Take over her daily Mom duties.
Do you have school-age kids? Take over her morning duties for a week. Get the kids up, get them ready for school, pack their lunches, sign their papers, walk them to the bus stop, do bath time, get the kids to bed, etc. Give her a few extra minutes to get in a shower or drink some coffee without having to reheat it ten times.
10. Make her breakfast in bed.
Get up extra early and make her favorite breakfast foods, then deliver it to her in bed. Give her plenty of time to relax and enjoy it while you handle the kids breakfast, too.
Make sure to clean up the mess you made when you're done. You don't want her having to clean up the dishes from her own breakfast.
11. Make her a bubble bath or special steam shower.
Light some candles. Set up some of her favorite music. Get some fancy bubble bath or bath bombs.
If she prefers steam showers, hang a eucalyptus branch or get some steam tablets mean for shower steamers.
​
​Create a relaxing ambiance for her to feel like she's having a spa day somewhere fancy.
Once you've gotten it all set up, telling her your taking the kids out for an afternoon and to enjoy her time alone.
Take the kids out for ice cream or somewhere to spend some quality time together. OR make this an extra special gift and take the kids out to do the grocery shopping, or for an errand that she's been meaning to run. She never gets time to just relax; spoil her a little bit.
12. Home made gift.
We all (well most of us), always love a homemade gift. Make something with the kids for her. Send her on a Target run and grab some glue, glitter, paper, etc.
It doesn't matter how it turns out. She will love that you took some time with the kids to make her something special. If you send her to Target alone, you'll have plenty of time to make the craft and clean up. Need some ideas? Try these Mother's Day gifts from little ones or this one – handprint crafts for Mother's Day.
13. Thoughtful gift that you know she wants.
It doesn't have to cost hundreds of dollars. Every time you hear her say she wishes she could have something, write that something down. It's easy to keep a list in your phone (the notes app is perfect for this).
Then when Mother's Day (her birthday, Christmas, Anniversary, etc) comes, she will know that you thought of her and more importantly – you remembered something that she wanted. A pretty necklace is always nice. But a set of artisan coffee mugs from a restaurant on your date night that she was gushing over means a lot more (thanks love).
14. Tell her, in writing, why she's a good Mom.
We all know you think she's a great Mom. But do you tell her? The truth is, she probably doesn't feel like a good Mom most days. I know – that's crazy, right? Because she's wonderful.
Even though she may appear to have it handled and she's a total superstar with the kids, she may be doubting herself every step of the way. Between the tantrums, battles, angry stares, yelling, and hurtful words, she begins to lose faith in her mothering skills.
Tell her why she's a fantastic mom, in writing. Don't just say: you're an awesome Mom. Really tell her. Buy her a thoughtful card and add a special message or grab a piece of paper and write her a letter.
Give her examples: "I am amazed at how you handle Joey's tantrums – you really stand your ground. Even though I know it can be hard on you, you're doing the right thing by giving him a time out." And don't just give her one example. Give her lots.
That way when she's having a bad day, she can pull out your card/letter and remember that she's got this. Honestly, this is probably one of those things that you don't do enough because you assume it's implied. She needs to hear what an amazing Mom she is and that she's making the right choices.
Moms are their own worst critics. Sometimes our inner voice gets so loud that we can't hear anything else. Give her some words of encouragement so that the next time she's having a bad day, she hears your words in her head instead of her own.
15. A night in a nice hotel room ALONE (or two!)
Most moms would love a night alone in a hotel room. Where they could order room service, binge their favorite show or movie, sleep uninterrupted, sleep in as late as they want.
But moms would never dream of spending money on themselves to stay in a nice hotel room. They well-deserve that extra bit of time to themselves and to feel pampered.
Word of Caution on Selecting a Date: Make sure their schedule is clear before you book. The perfect time would be a weekend when there aren't any games or dance concerts to attend. And don't plan their night during Mother's Day weekend. Many moms would feel too much Mom guilt if they weren't with their kids (or own Mom) on Mother's Day. It's better to pick a free upcoming weekend instead.
Bonus Tip: Looking for a thoughtful gift for your Mom or Mother Figure in your Life?
Take her on her own date night.
While were thinking about gift ideas, here's a great idea for your Mom. Whether you're a son or a daughter, Mom is missing the days of spending time with you one-on-one. Give her the gift of a date night with just you. She'll love the chance to catch up and get all of your attention (instead of fighting to share your attention with your significant other and her grandkids).
Add a Physical Gift to your Sentimental Gift from Above for Added Bonus Points
Want to make her Mother's Day even more special? Add a physical gift in with one of the gifts above. Especially if her love language is receiving gifts.
Buy her a bunch of her favorite things and put them in a gift basket, get her that necklace she's been hinting at, get her a gift certificate to a spa day or massage, Apple Watch she's been dying to have, gift card to her favorite clothing store, digital picture frame pre-loaded with photos, get her a garden tool set if she loves to garden, or a new fancy yoga mat, board game, or even some beautiful fresh flowers. Pick something out that you know she would love.
​
Just Choose SOMETHING
Whatever you choose, just choose something. The best Mother's day gifts are the ones that make your significant other or Mom feel loved and appreciated on Mother's Day.
No matter the type of Mom your significant other is – the new Mom, the cool Mom, sentimental mom, etc. you're sure to find a great way to show her that you care. These aren't going to be useful gifts. These are unique gifts that are the perfect way to show her just how much you care about her.
There are SO Many More Things Moms may want – this is just a short list of ideas. Maybe you have something your partner would love even more that goes with their love language.
Don't you think all Moms deserve to get number 14?
If you're a Mom, what item on this list would you love to have? Is there anything I am missing?
Don't forget to share your list inconspicuously on Facebook so that your significant other sees it (you know, do that thing where you just share it or you share it with a friend's name on it. Or just be blunt and tag him directly).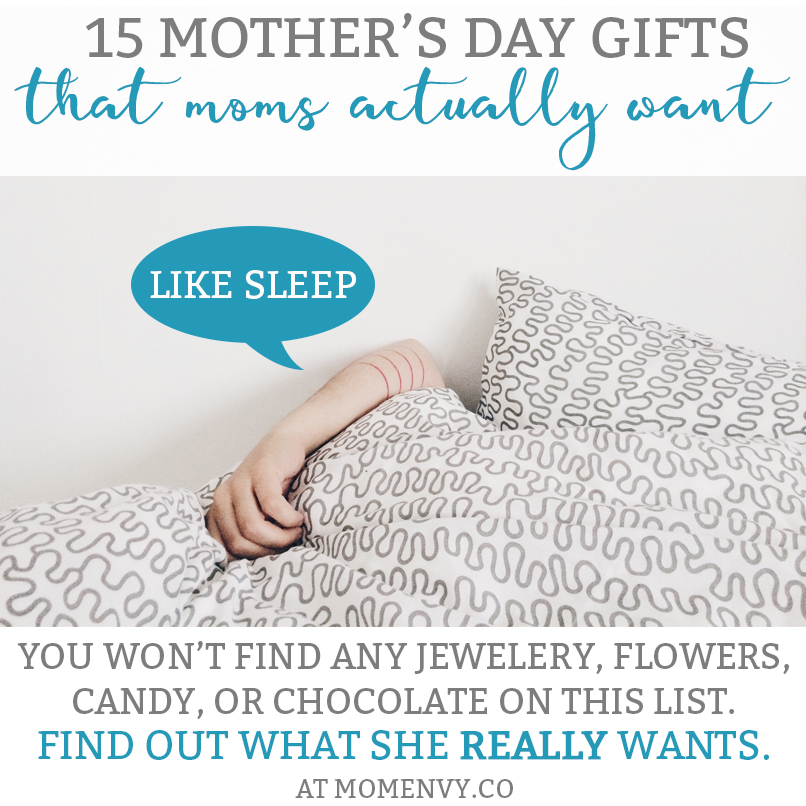 Save
Save
Save
Save
Save
Save
Save
Save