Ready to gobble till you wobble? I know that's probably the cheesiest opening line I could have chosen for this post.
Are you in need of a new Thanksgiving turkey recipe? I have 22 different delicious recipes to choose from. These bloggers know their turkey and have some tried and true recipes for you.
Are you a wet briner? A dry briner? A roaster? A slow cooker? Instant pot fanatic? Or do you like to smoke your bird? Or maybe you have no idea what I am talking about (yet…you'll know after you check these out).
There are turkey recipes for every time of turkey aficionado. I know that many people take their turkey very seriously – it's the star of the meal.
If you're ready to impress your guests this year, check out these list of recipes. You (and your guests), won't be disappointed.
Need some more Thanksgiving recipes? Check out the rest of the collection.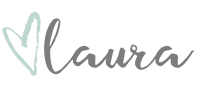 The Best Turkey Recipes

The Best Instant Pot Turkey from The Awe Filled Homemaker
That's right. Your new favorite small appliance can make an amazing Thanksgiving turkey. Check out The Awe Filled Homemaker to learn how.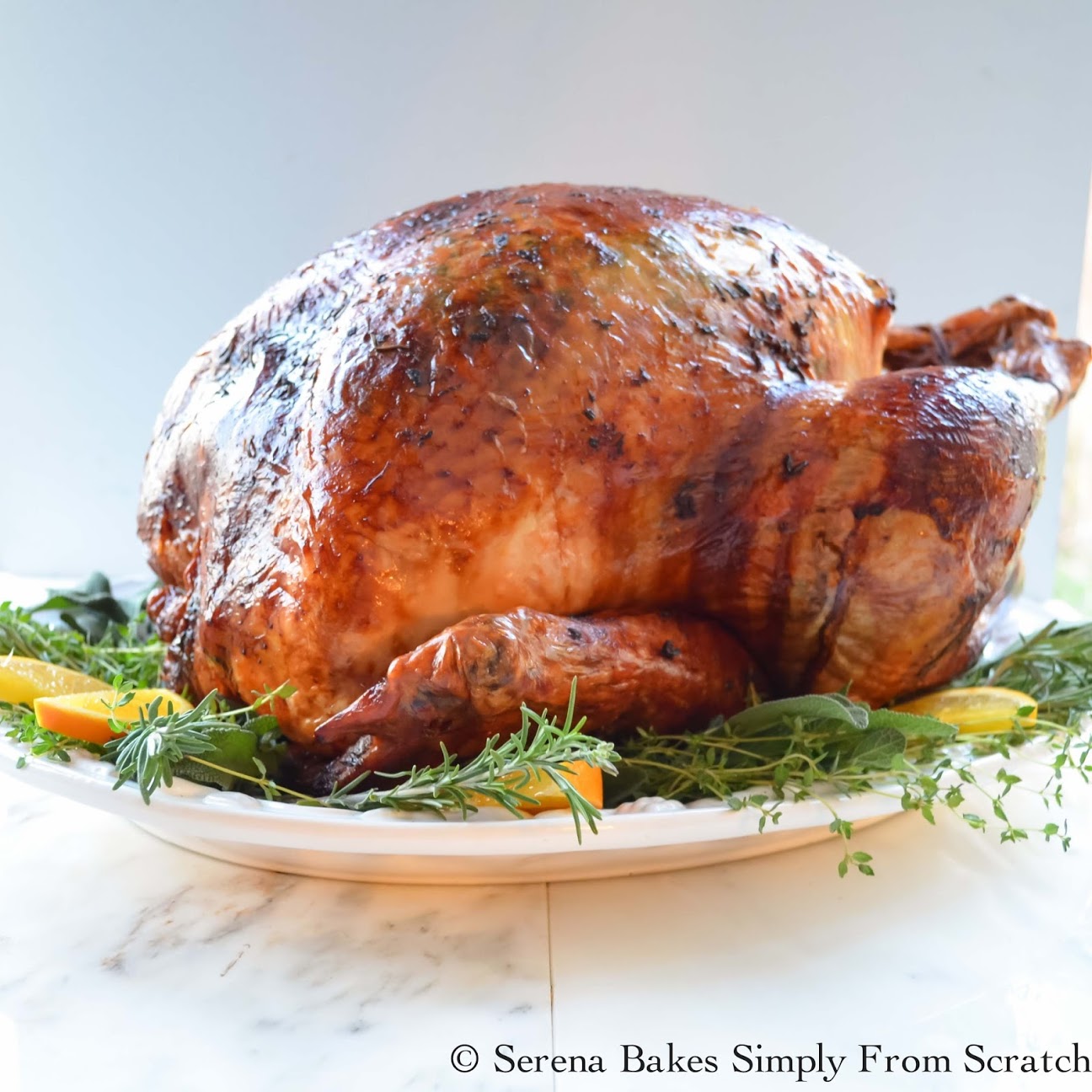 Super Juicy Turkey Baked in Cheesecloth from Serena Bakes Simply from Scratch
This turkey looks absolutely amazing. The color is simply beautiful – it's the perfect golden brown. Serena has some helpful tips for baking the perfect turkey.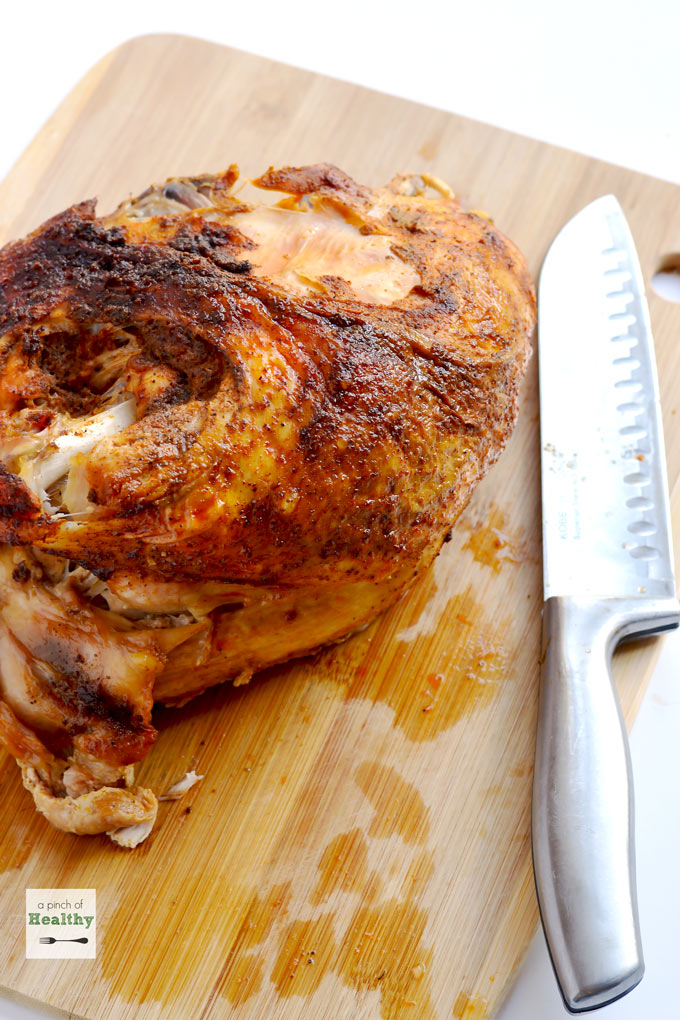 A Pinch of Healthy's Oven Roasted Turkey Breast (Bone In)
I love that she makes a classic roasted turkey – plastic bag and all (I'm with her – it's once a year and it's tradition). We've made a turkey breast when we've needed a bigger bird but realized we couldn't fit it in the fryer (so we opted to do a smaller turkey and an additional turkey breast). A breast would also work well for a small crowd or couple. If you're looking for a very traditional recipe, this one's for you.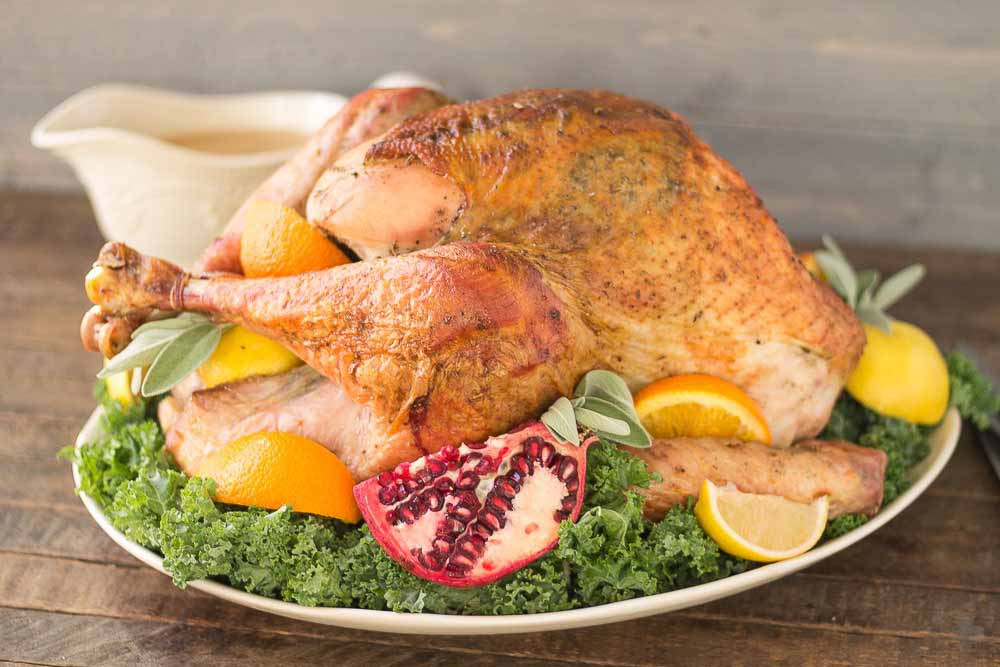 Strawberry Blondie Kitchen's Herb Roasted Turkey
Unlike many turkey recipes today, Megan uses a simple rub for her turkey. There's no brining involved which saves a pretty big step (we brine ours and I know it can be a lot of work). So if you're looking for a simpler turkey recipe, you'll want to check this one out!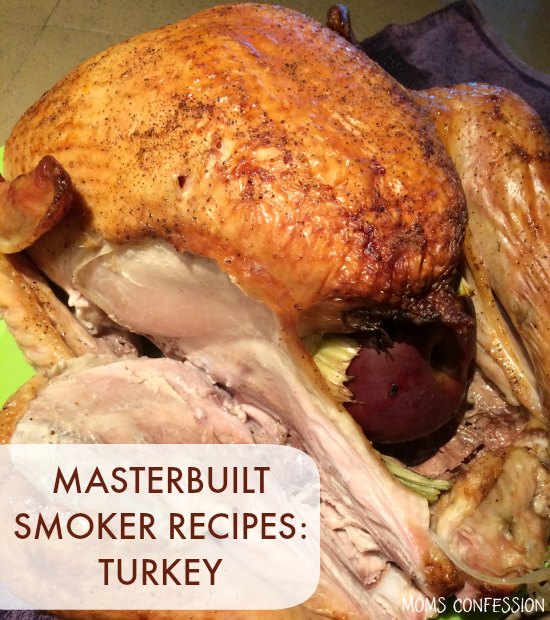 Perfectly Smoked Turkey from Moms Confession
Have you ever smoked a turkey? I'd love to hear how you like it. We always fry or roast ours but we're always open to trying new methods. Kristi uses an electric smoker to smoke her chicken with some flavorful ingredients.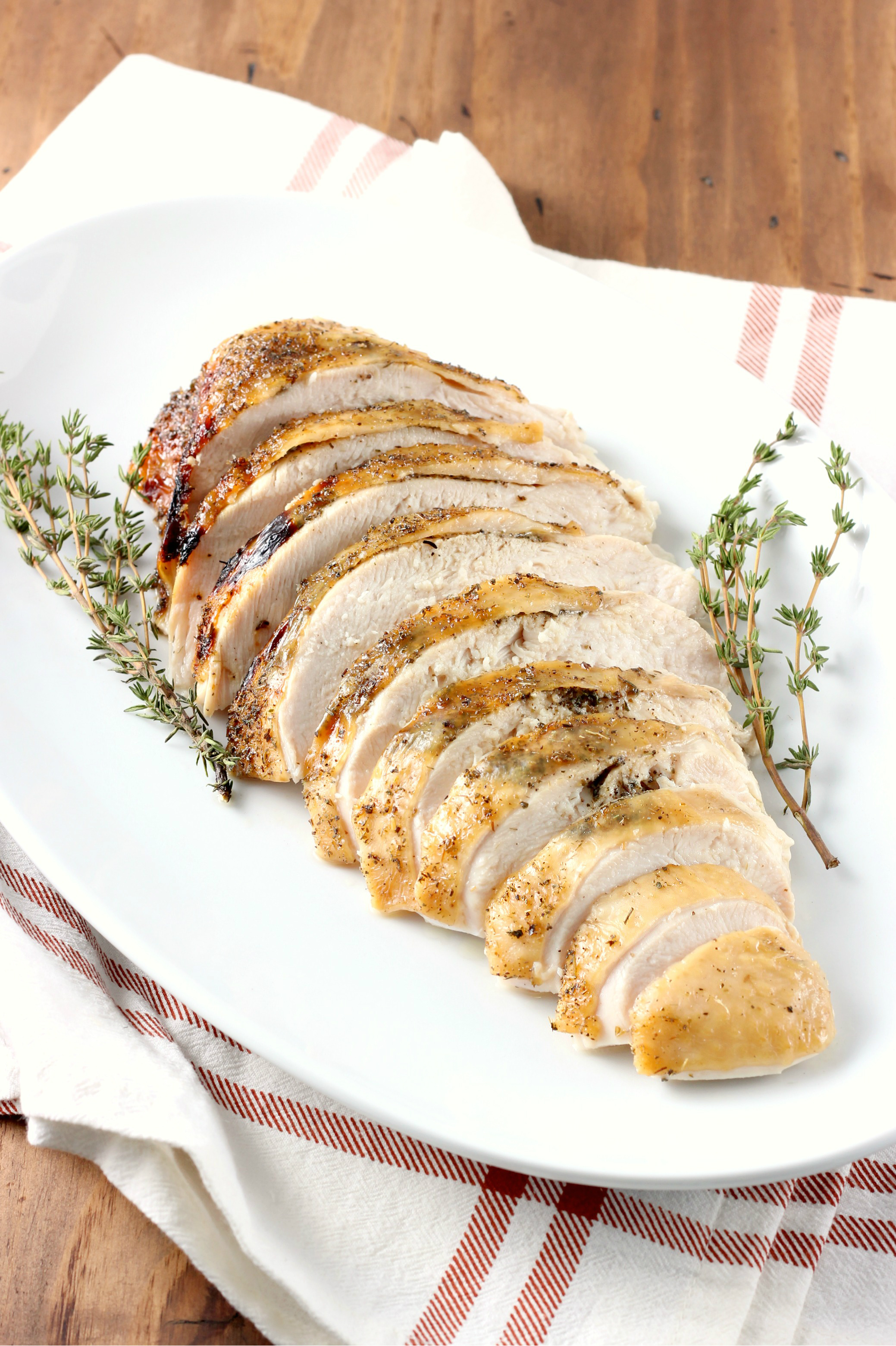 Slow Cooker Maple Herb Butter Turkey Breast with Apple Cider Glaze from A Kitchen Addiction
Yes, you read that right. A slow cooker turkey. Being able to free up your oven for all of the scrumptious sides is always a good idea. In addition to the use of the slow cooker, Jessica uses some special ingredients to season her bird.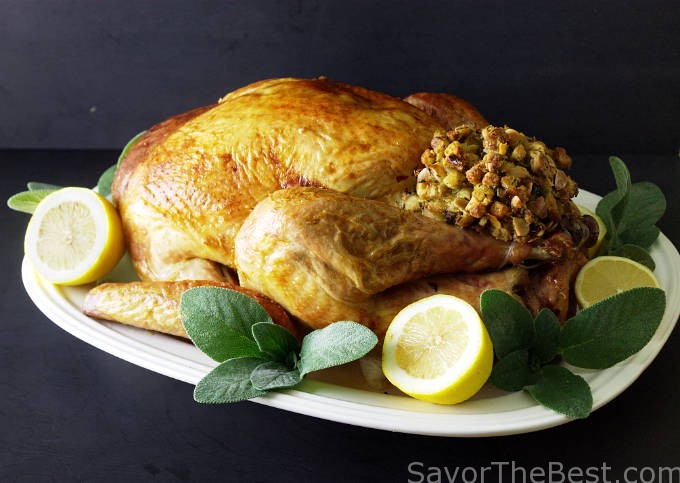 Roast Turkey from Savor the Best
If you're looking for a very simple turkey recipe, this one is great. It uses very few ingredients and is prepared easily.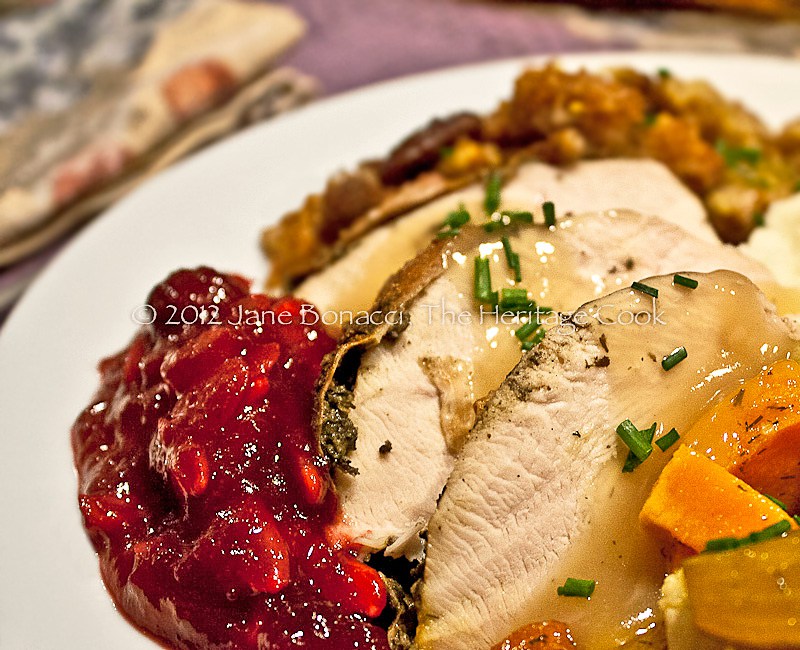 Zuni-Style Dry Brined Turkey from The Heritage Cook
Jane uses a dry brined method that produces a tender turkey without all of the hassle of a wet brine. You do need to start the process four days early though so make sure you get your ingredients on hand in advance.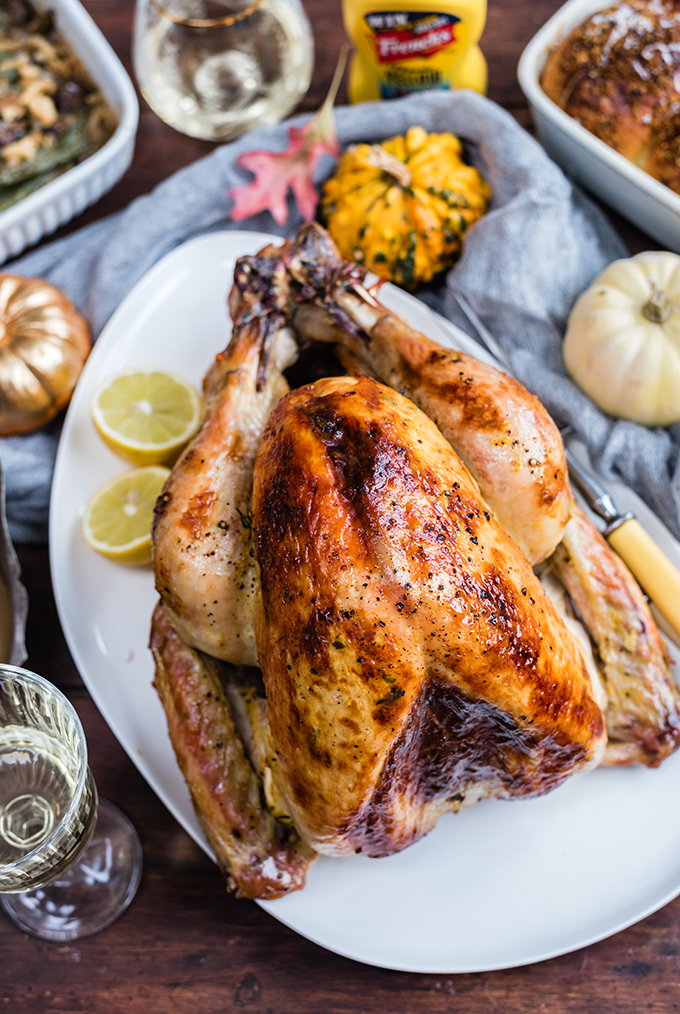 The Best Roast Turkey and Gravy from Super Golden Bakes
This turkey recipe uses a surprising ingredient – French's Yellow Mustard. If you're looking for a unique recipe that doesn't involve brining, then this may be the perfect recipe for you.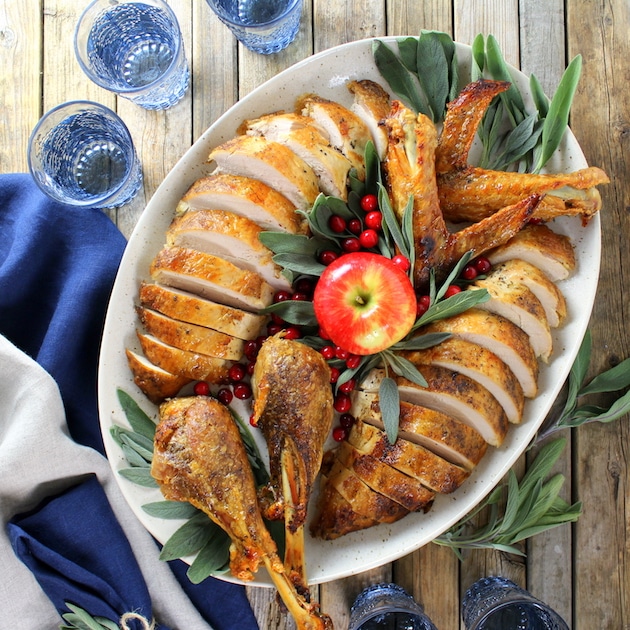 Taste and See's Closed Oven Turkey
I am not going to lie, this is one of the most beautiful turkeys I have ever seen. I love how Holly includes the sage, cranberries, and apple to the turkey plating. Do you get frustrated having to baste a turkey all day? Well this recipe has you shut the lid on the roaster pan and walk away until it's done. What a time and sanity saver!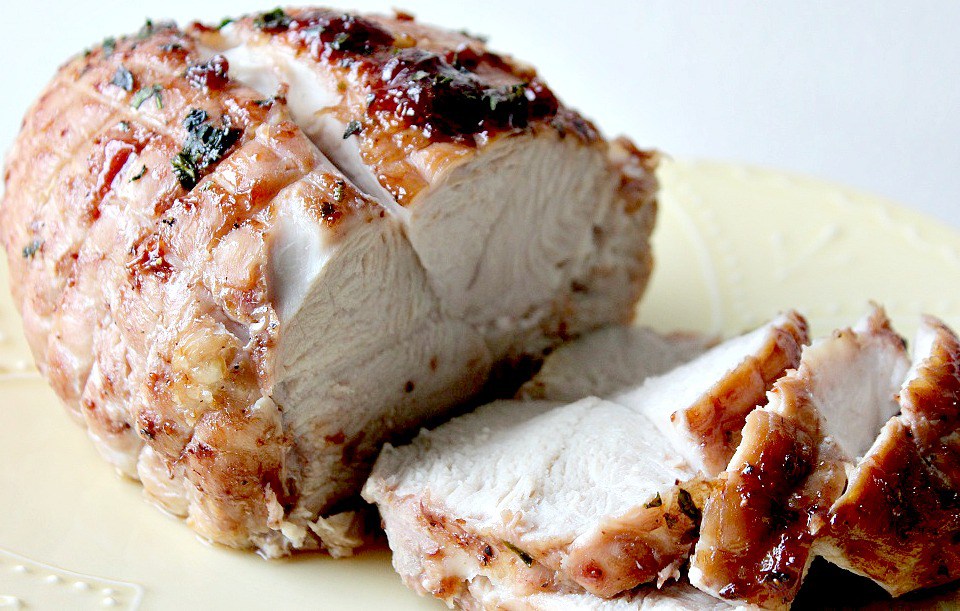 Strawberry Roasted Turkey (Breast) from Delicious Little Bites
Here's another recipe with a unique ingredient – strawberry! What I love about this turkey breast recipe is that it takes salt and two other ingredients. It couldn't be easier.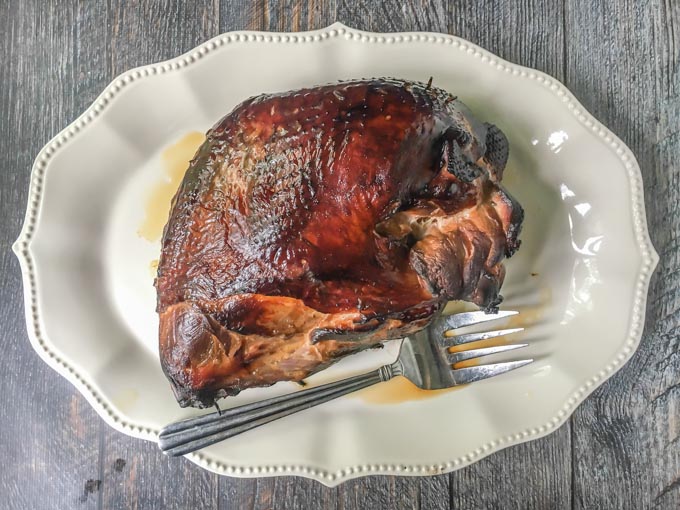 My Life Cookbook's Brined Smoked Turkey
This brined turkey breast gets smoked resulting in a super flavorful turkey. By smoking the turkey, you free up your oven space for everything else that needs to be baked or roasted.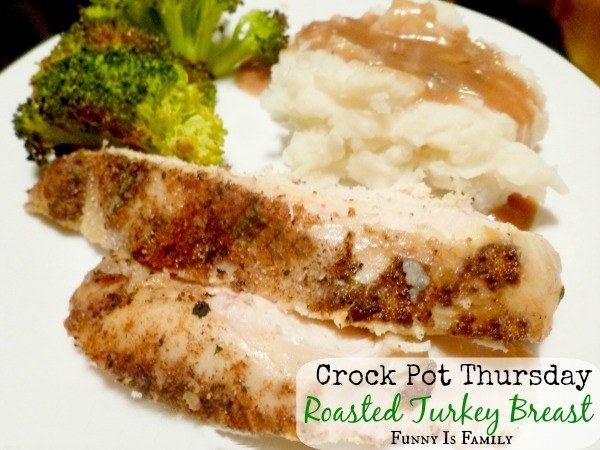 Funny is Family's Slow Cooker Roasted Turkey Breast
I think this may be the easiest recipe in this round up. It uses simple ingredients and a slow cooker. If you're nervous about making your first turkey, this recipe is so easy that it's fool proof.
Bacon Roasted Turkey from Cooking on the Weekends
You read that right. This turkey recipe roasts the turkey covered in bacon. If we roasted a turkey instead of frying it, I'm thinking this would be the recipe my husband would like. Who doesn't love bacon?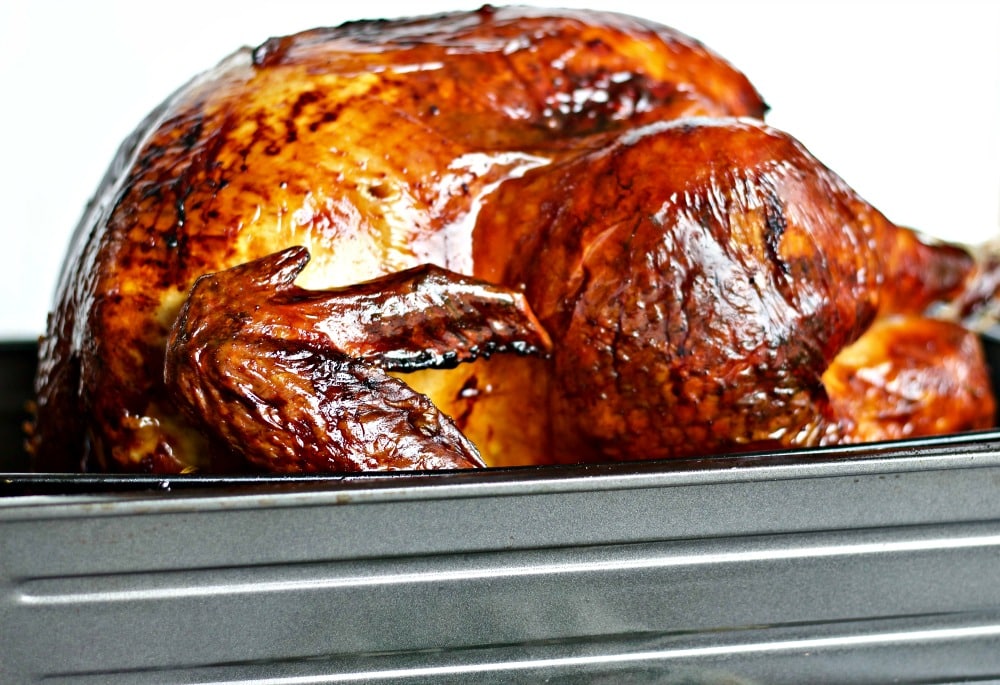 Homemade Food Junkie's Roasted Turkey
Diane uses two special ingredients when roasting her turkey – honeycrisp apples and coconut oil. Check out how she puts it all together to get the beautiful roasted turkey above.
Garlic Herb Roasted Turkey from Greens and Chocolate
Mayonnaise is the special ingredient in this roasted turkey that gives the turkey it's beautiful crispy skin. The best part is that it's actually a super easy recipe.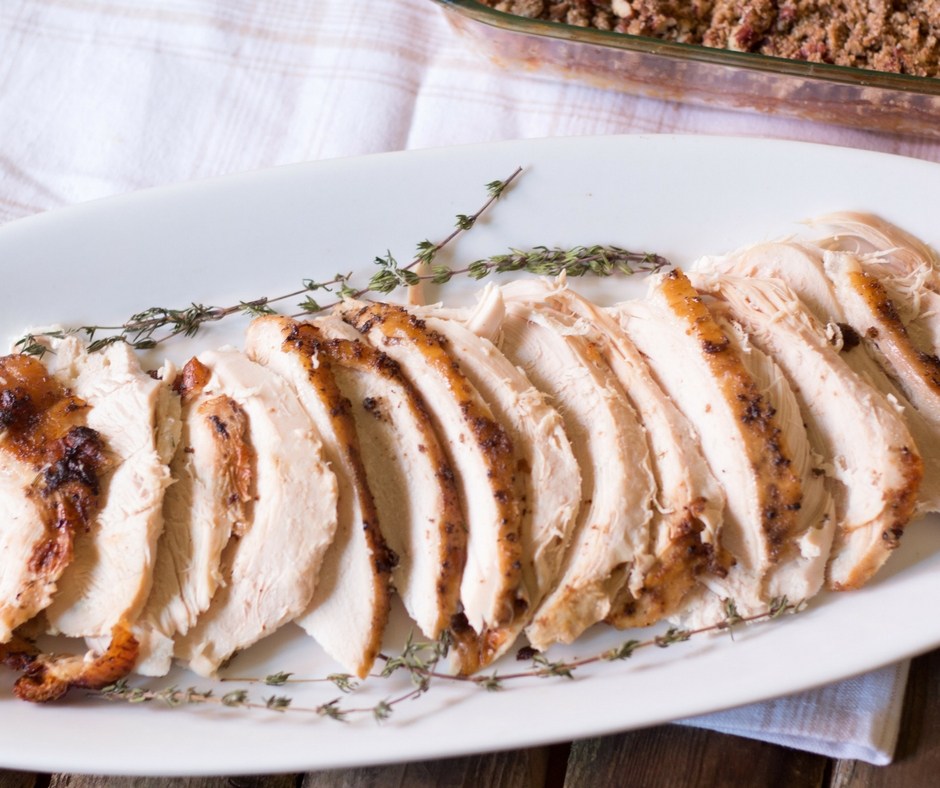 Roasted Bourbon Maple Turkey Breast from Everyday Eileen
This recipe starts with a simple roasted turkey. Then Eileen uses a bourbon maple glaze to cover the turkey and add flavor after it comes out of the oven.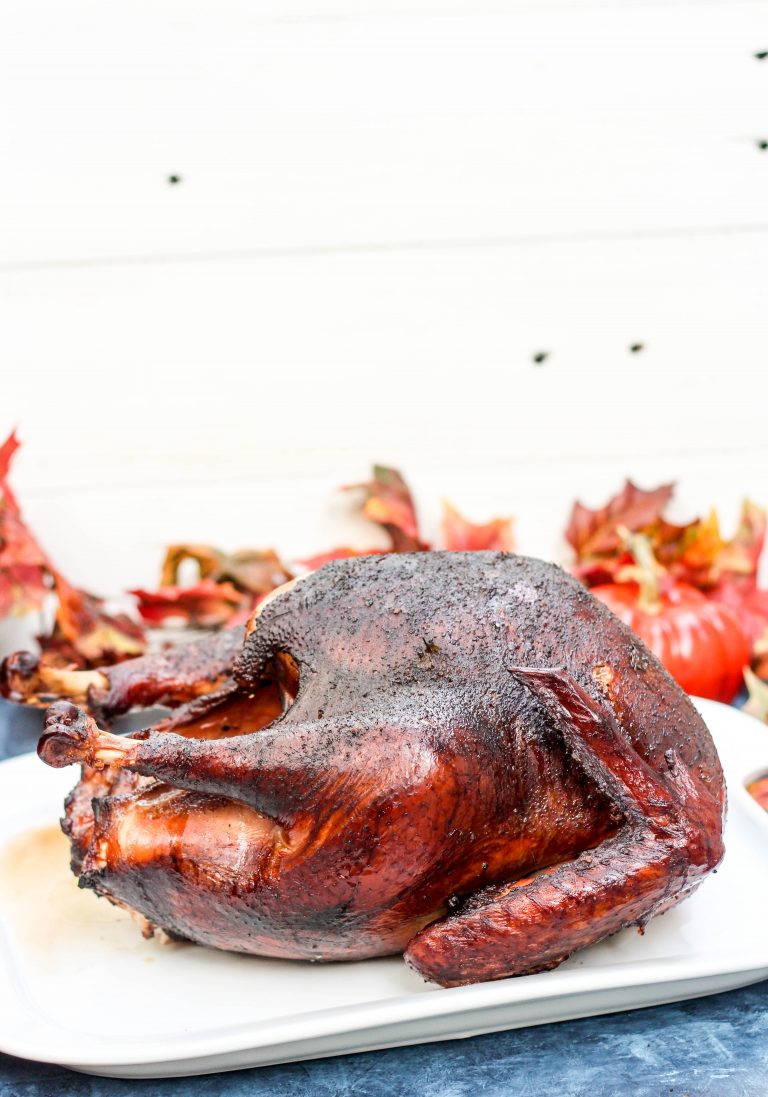 Blackberry Babe's How to Smoke a Whole Turkey
Most of the smoked turkey recipes I have come across use turkey breasts. Blackberry Babe's uses a whole turkey. This turkey is smoked and ready in four hours.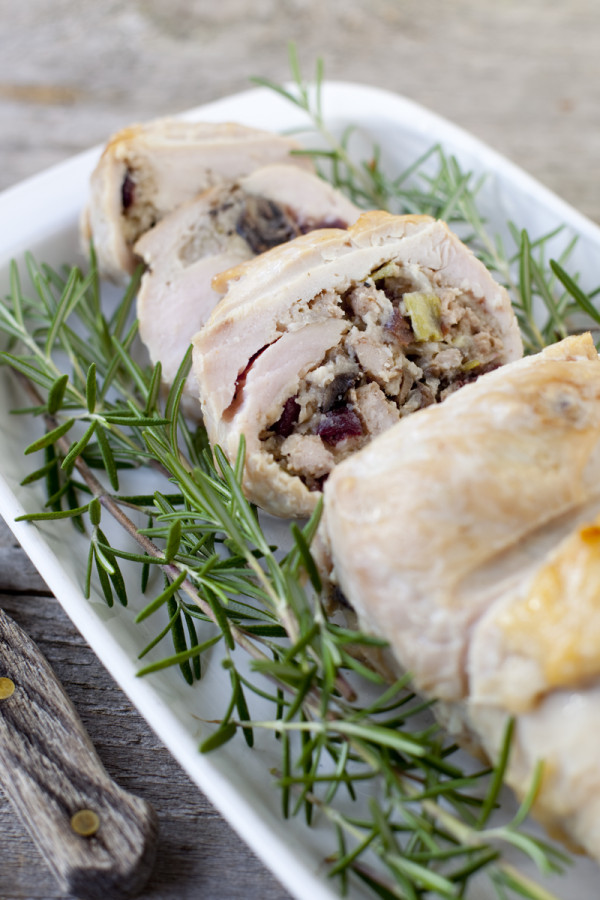 Holiday Stuffed Turkey Breast Roulade from Eating Richly
This is an extra special turkey dish made with a turkey breast that's been pounded out. Then it's stuffed with a delicious sausage stuffing.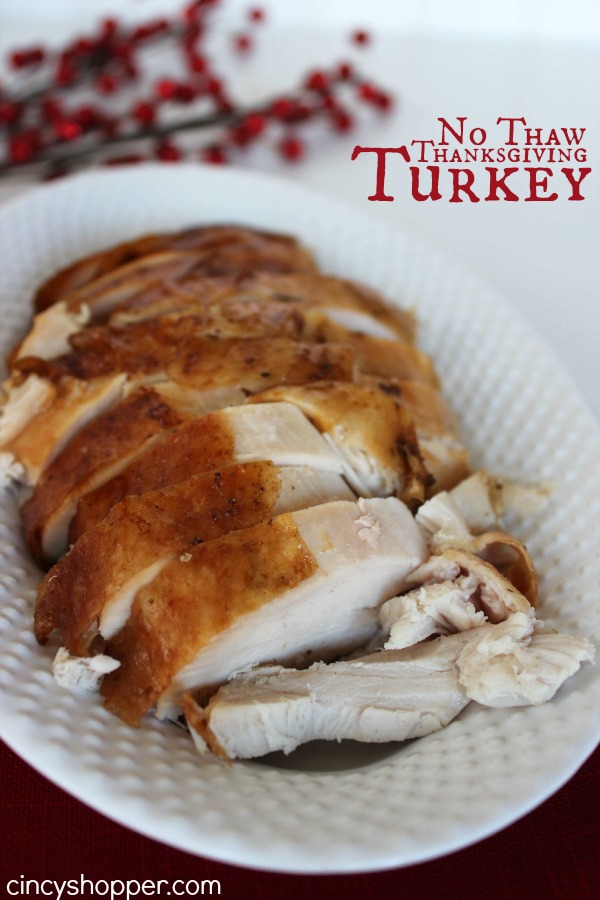 No Thaw Thanksgiving Turkey from Cincy Shopper
Did you forget to thaw your turkey? I am sure everyone has told you that there's nothing you can do now. But it's not true – you CAN cook a turkey from right out of the freezer.
I am not going to lie, I did a double take when I came across this recipe. I thought that I was reading it wrong. But it's no joke. Jen shows you how to cook a turkey straight from frozen.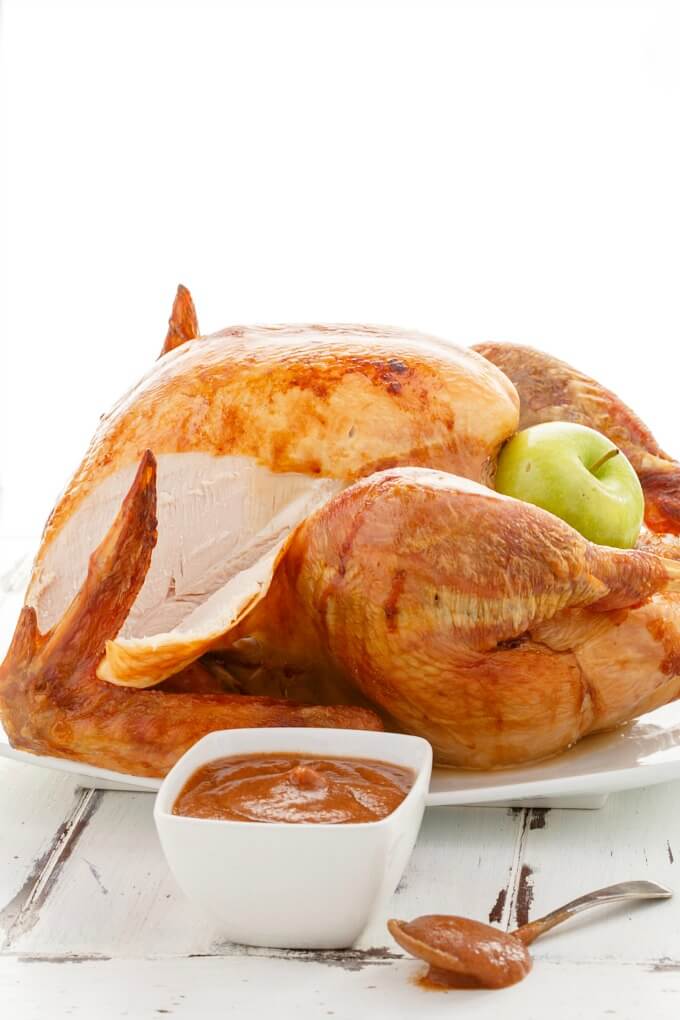 The Cookie Writer's Roasted Apple Butter with Turkey Bacon Scalloped Potatoes
Oh my goodness, this is such a smart idea. Apple butter pairs perfectly with turkey. Check out how The Cookie Writer roasts her turkey using her own delicious brine recipe.
The Perfect Thanksgiving Turkey Recipe from Divine Lifestyle
Stacie from Divine Lifestyle shares how she perfectly roasts her turkey. She uses simple ingredients to create an uncomplicated turkey. One of my favorite things about her recipe is how she stuffs it full of flavorful ingredients. If you're looking for a homey, simple recipe, you'll want to check this one out.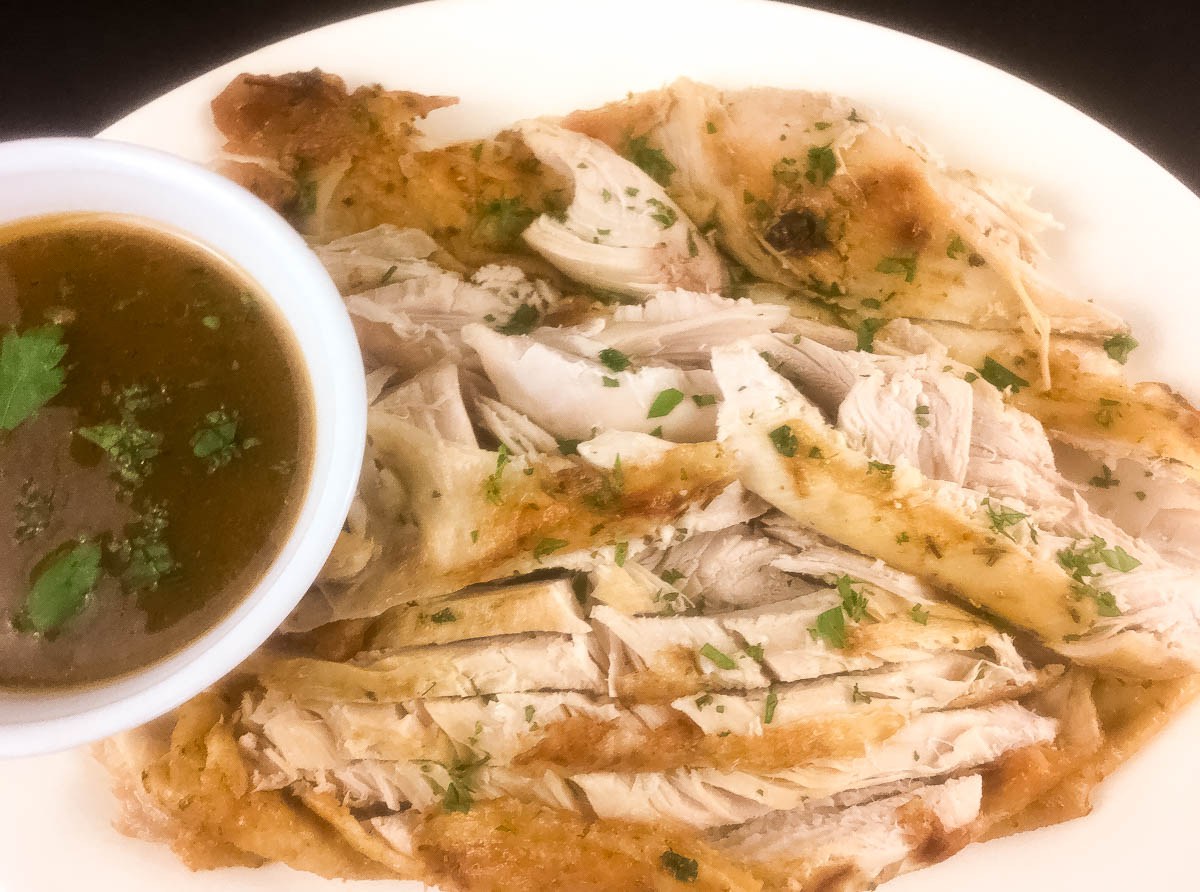 Southern Roast Turkey Breast with Gluten Free Gravy from A Sprinkling of Cayenne
If you're looking for a turkey full of spice and southern flair, you don't want to miss this recipe. Lyn Corrine incorporates a little bit of heat in her recipe. And to keep it southern, she uses a rich butter rub before roasting it.