This post is going to be a little different than normal. I wanted to update you all where we are with our custom home build. Building a custom home isn't easy and having some of the big meetings during the busiest time of year is not suggested. Between Thanksgiving, our oldest's birthday, Christmas, and my 24 days of Freebies, I found anything house-related to be pretty overwhelming.
Design Decisions
My indecisiveness is at an all-time high with this house thing. I am finding it SO hard to make final decisions. Of course, my husband was done selecting the basement choices immediately. He selected the bathroom finishes as well as his basement and office flooring. We split the house up. I get to make all of the upstairs decisions and he gets to make all of the basement decisions.
I know, it's a little out of the ordinary. And don't worry, he still gets to voice his opinion on the upstairs. I just have the ability to over-ride it 🙂 In all honesty, my husband has been amazing in letting me design the house that I want. But at the same time, it's a lot of pressure because that means if it turns out butt-ugly, I have nobody to blame but myself. (Please don't let our house turn out ugly…)
I am one of those people that has a strong opinion about home decor. I like what I like. But, I also need my choices to be validated by somebody else. It's why I love our kitchen designer, Robyn, from KBC Direct so much. She has listened to all of my kitchen-craziness and found a way to keep me on track. Her suggestions are spot-on with my design aesthetic. She totally gets me (thank goodness, because most days I don't even get myself). If you're in the Maryland area and need to design a kitchen or bathroom, stop by KBC and ask for Robyn. (I get nothing for saying this, I really do recommend her/KBC).
So my indecisiveness has left me with a ton of decisions still to make (I haven't even decided on our flooring yet – yikes!) January will be spent making most of our final design decisions. Lots of trips to see products and mix and match them together is definitely in our my future.
Instead of talking about everything I haven't decided, let me tell you about the decisions we did make. Then, I want to show you some pictures of the build progress!
Siding & Roof Color
One decision we were able to make was our siding color. I struggled with going classic white house and black shutters or going big and bold. If our home was designed to look more like a farmhouse (my original hope), we would have gone with white. But, our home plan is a Craftsman. So bold it is!
A bunch of you fabulous people voted for a siding color on my Facebook page. I was excited to see that you all agreed with my choice (see, I told you I need to have validation. So thank you all for that). We decided to go with Windswept Smoke siding and a charcoal (black) roof. It's a very dark gray color that has almost a green tint. Here is a picture of a home from Houzz in the same color (this is NOT the same design as our house. You can see our design here).
[houzz=https://www.houzz.com/photo/22342486-vinyl-siding-traditional-new-york]
Similar to this photo, we will not have shutters. Instead, we will let the bright white trim pop against the siding color. We were surprised to find out that it's going to cost us money to not have shutters but we really felt that it would make a much bigger impact not to have shutters (even if that makes us crazy to spend money not to have them).
Build Progress
Maryland has spent the last year having an identity crisis. It seems to think it's now Seattle and has blessed us with what feels like nonstop rain. This, of course, is not a good thing when you're trying to build a house. Once there was finally enough dry days in a row, they were able to break ground and start the process.
Digging the Hole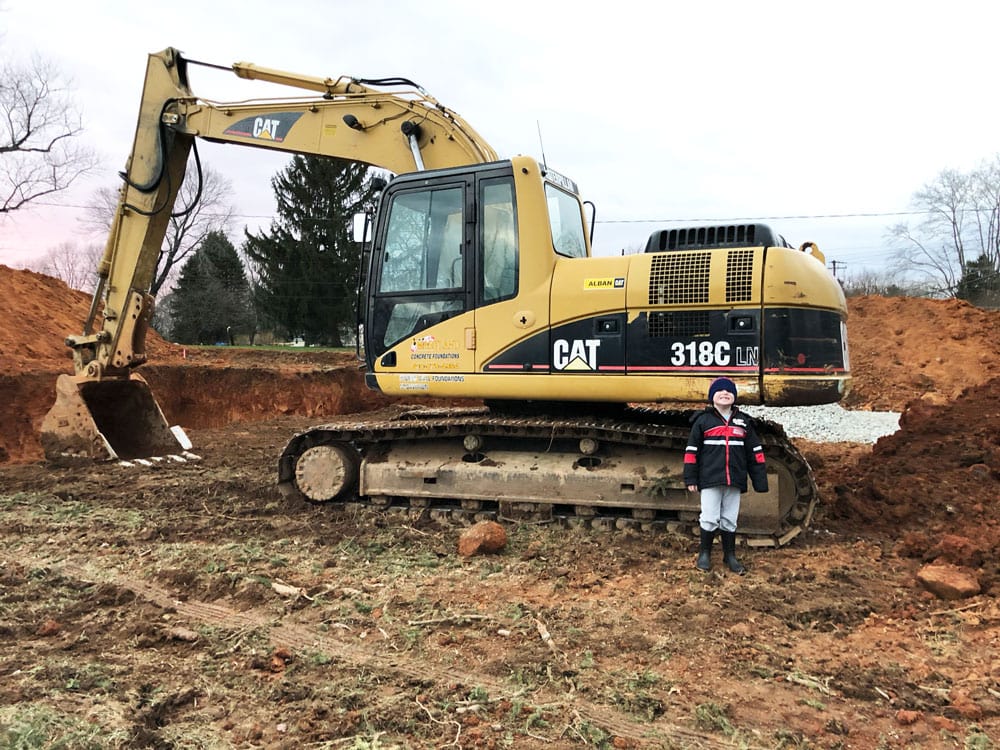 These are just a few of the large boulders they had to dig out of the ground. There were many taller than our oldest son.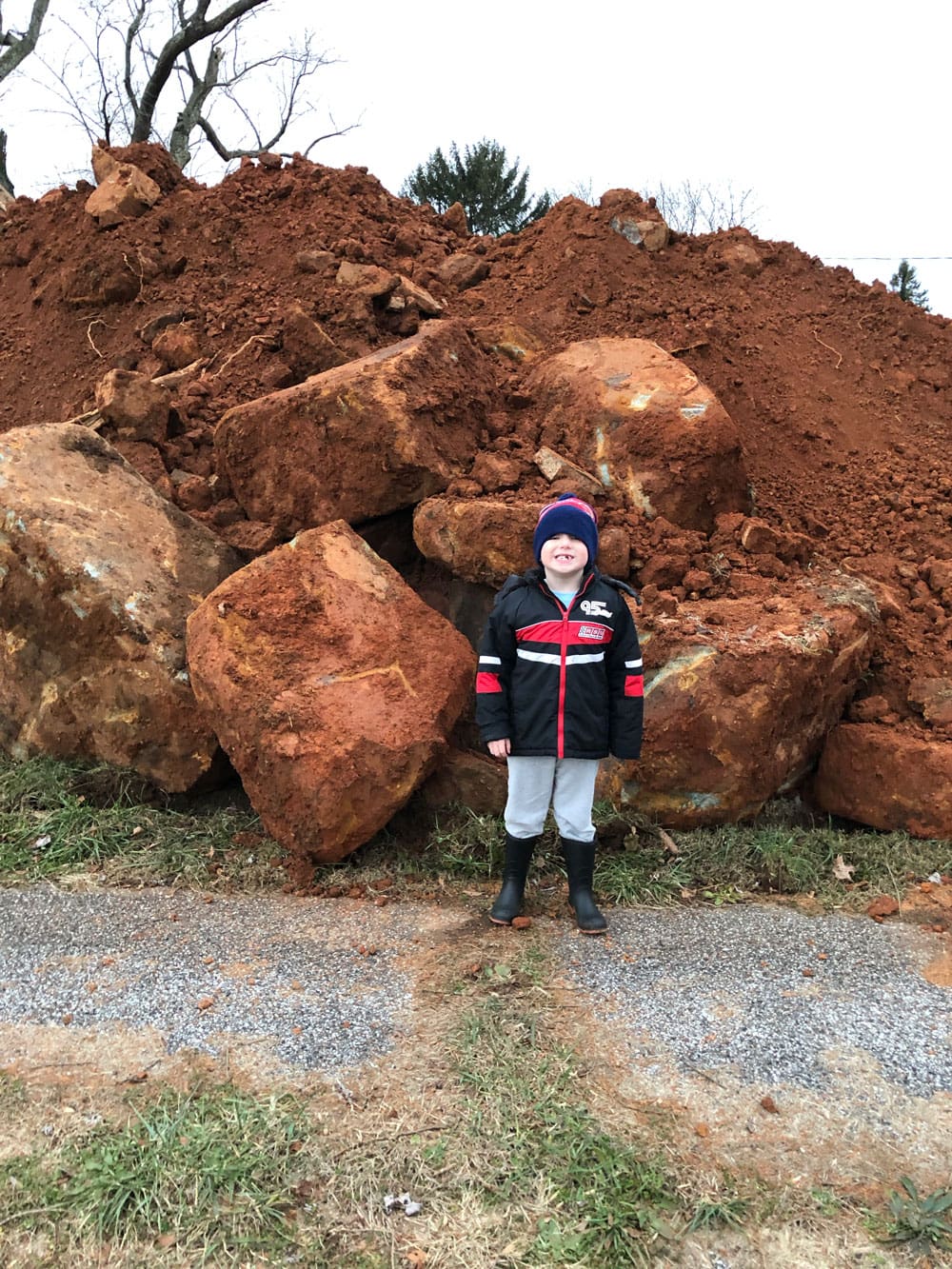 Pouring the Footers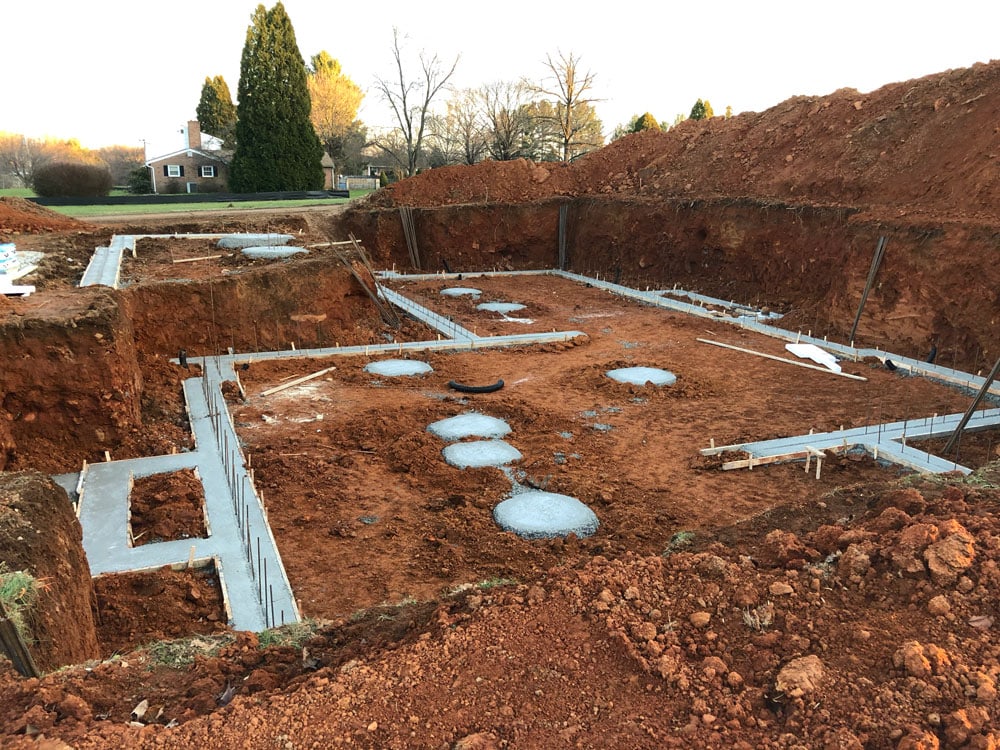 Pouring the Foundation

Removal of the Foundation Forms/Grading Part 1
Our house still has a giant hill in the back. There is a lot of grading left to do but we were excited to see what our future front yard will look like.

Framing
This has been the most exciting step for us. I was really excited to see the wood delivered at the house with our name on it. Now, the shell of our home is coming together which means we have just a few weeks until the electrical walkthrough. I can't wait until we can really walk around the house.
We lost our driveway to park in so now our pictures are mostly driveby pictures. We hope to get better pictures once we do the walkthrough. Although the last picture has a rainbow which is pretty wonderful.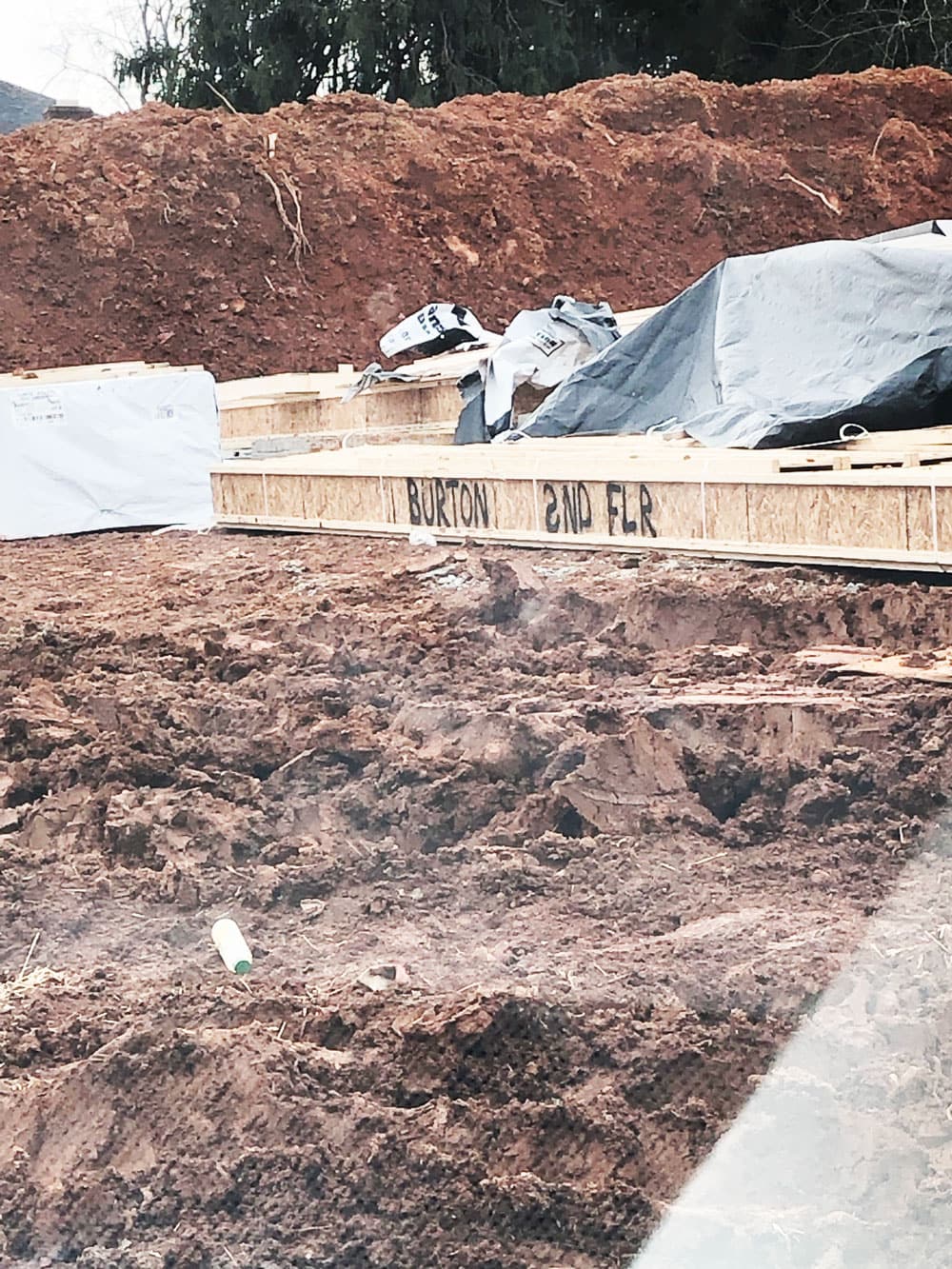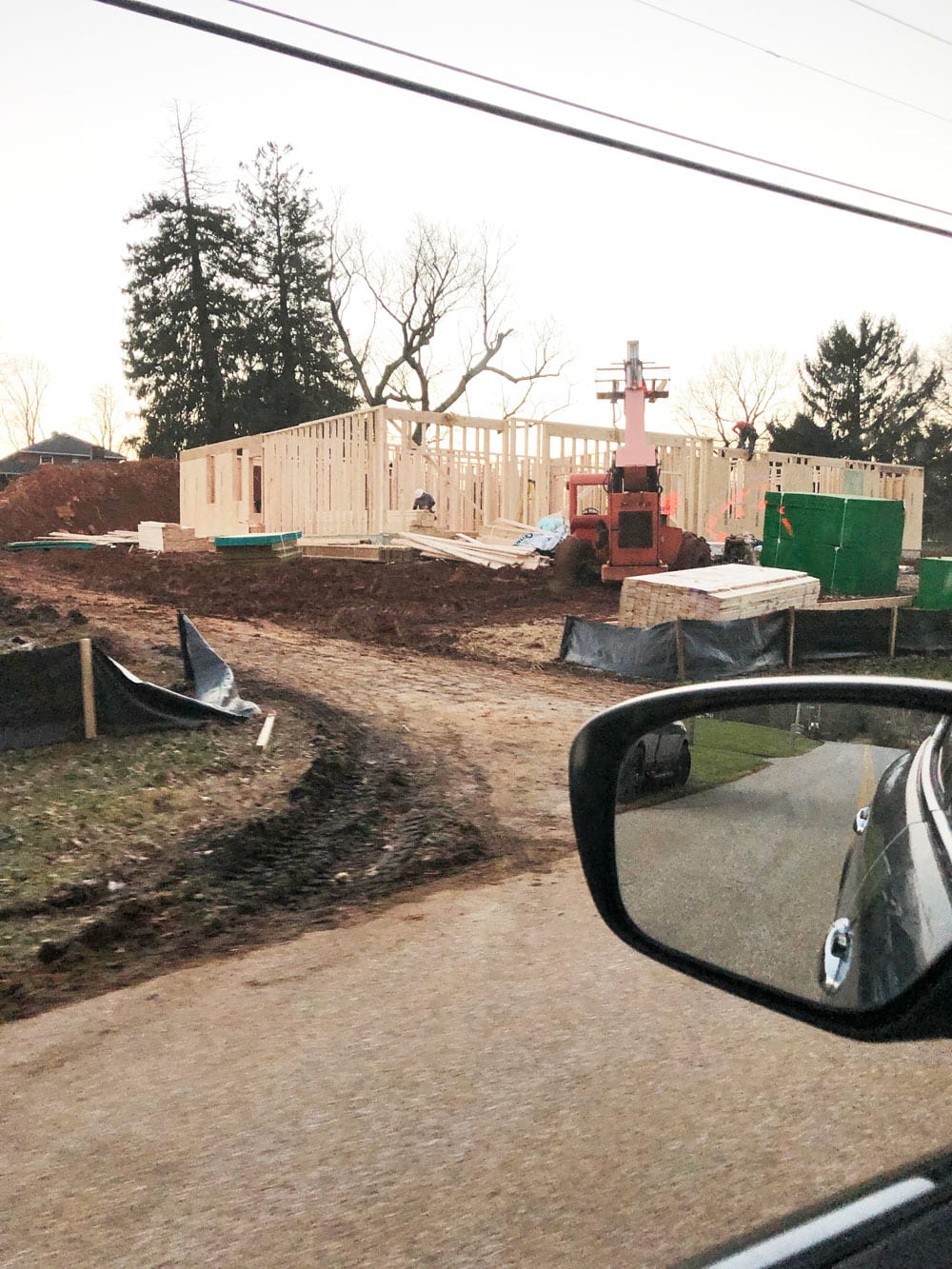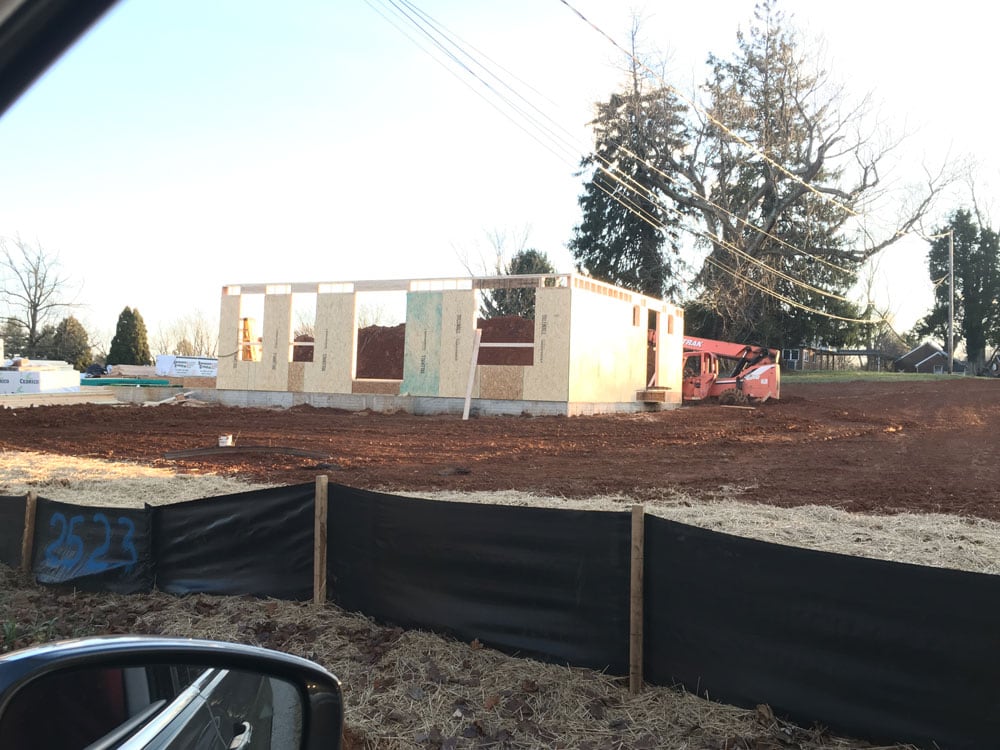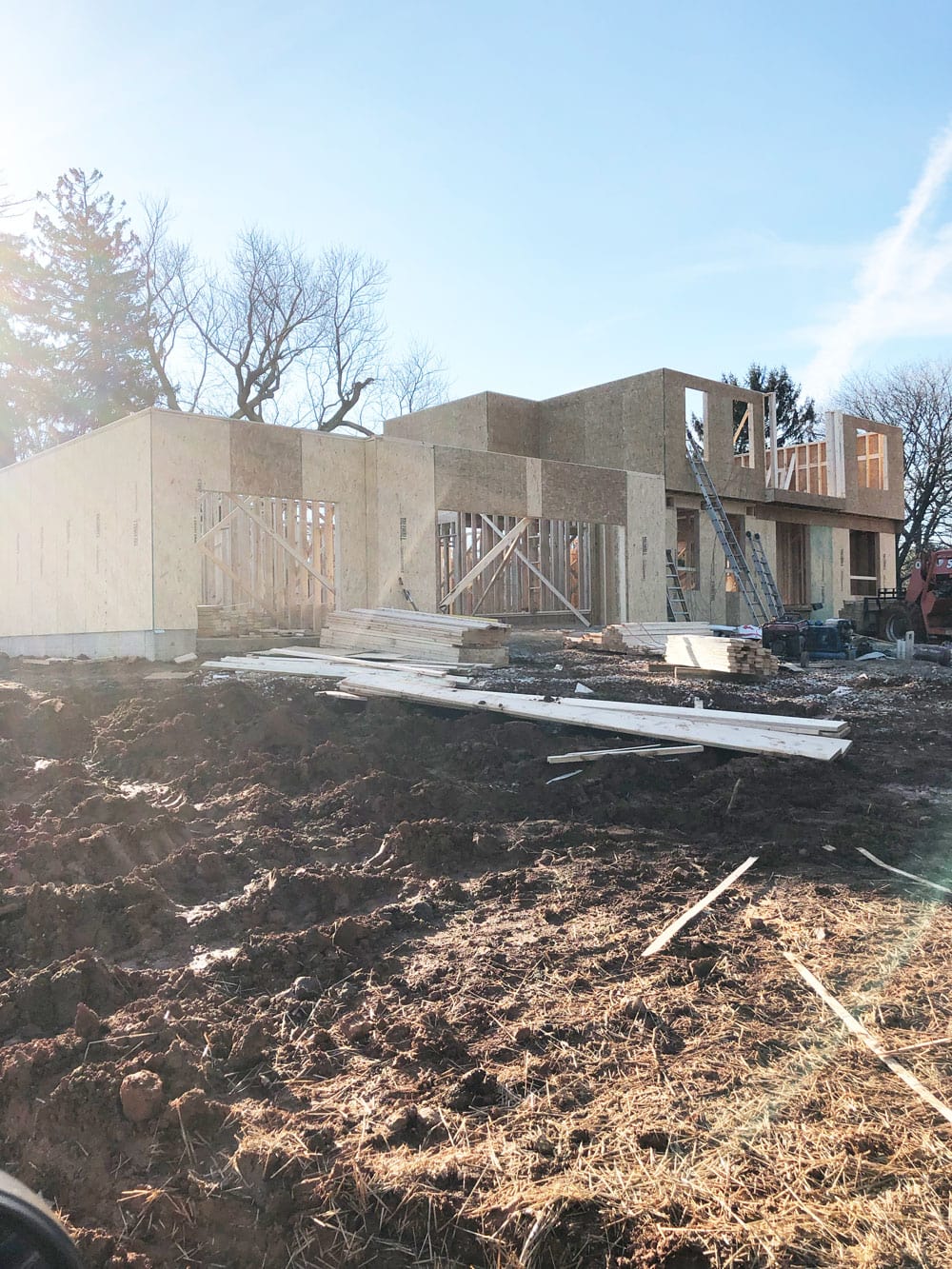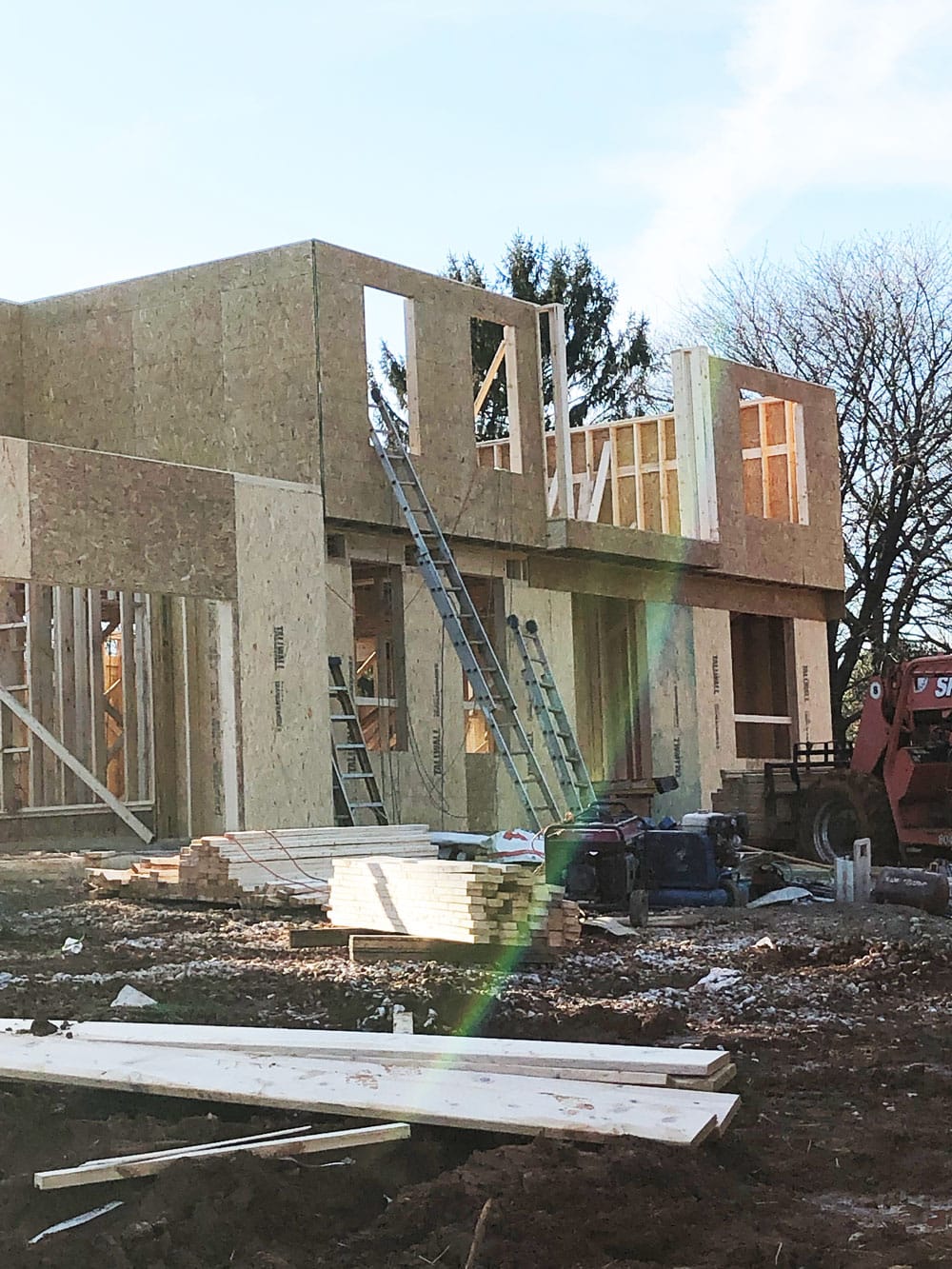 What's Next?
More decisions (kitchen selections, lights, flooring, bathrooms, etc). We have some of the choices selected but a lot of them are fluid. As we pick something new sometimes it changes decisions I have already made. Our budget isn't the biggest so this makes our choices even more difficult. I hope to have a big post with all of our design choices up here soon!
Then the rest of the framing and around the end of January we will do a walkthrough. Stay tuned for more photos and hopefully a video walkthrough!