If you need a simple 2023 printable calendar that's one page only? Look no further. At the end of this blog post, you can get a free download of this full year calendar for 2023.
This simple set of monthly calendars is available for all of 2023. It's simplistic, black and white calendar design fits well with many styles.
Even though it is on one page, it has plenty of room to keep track of your important events all year long. If you want to start the new year off organized and on track, this printable monthly calendar will easily help you keep track of all of your special events, birthdays, anniversaries, work meetings, and more.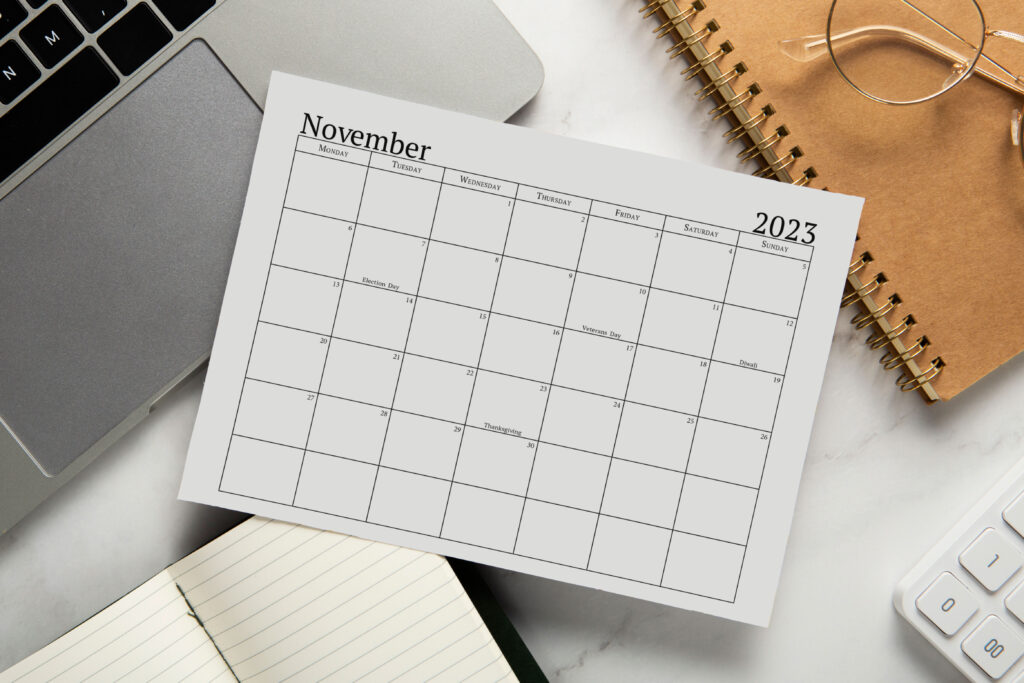 The design of this calendar is similar to a school calendar – it is a landscape orientation. There is one month per single page. Which makes it the perfect desktop calendar, wall calendar, or planner calendar.
For future years, I will have the same annual calendar with next year's dates. That way if you if you like this format and design, you can come back to find the same design for 2024.
This is perfect for those of you that are looking for a calendar that will last the whole school year or like to create your own annual planner. You can print this for now and return to get future yearly calendars.
What Does the Printable Yearly Calendar Look Like?
Here is an example of what the calendar looks like. As you can see, it has has a simple print text and is in black and white.
This example is showing a Sunday start calendar without holidays.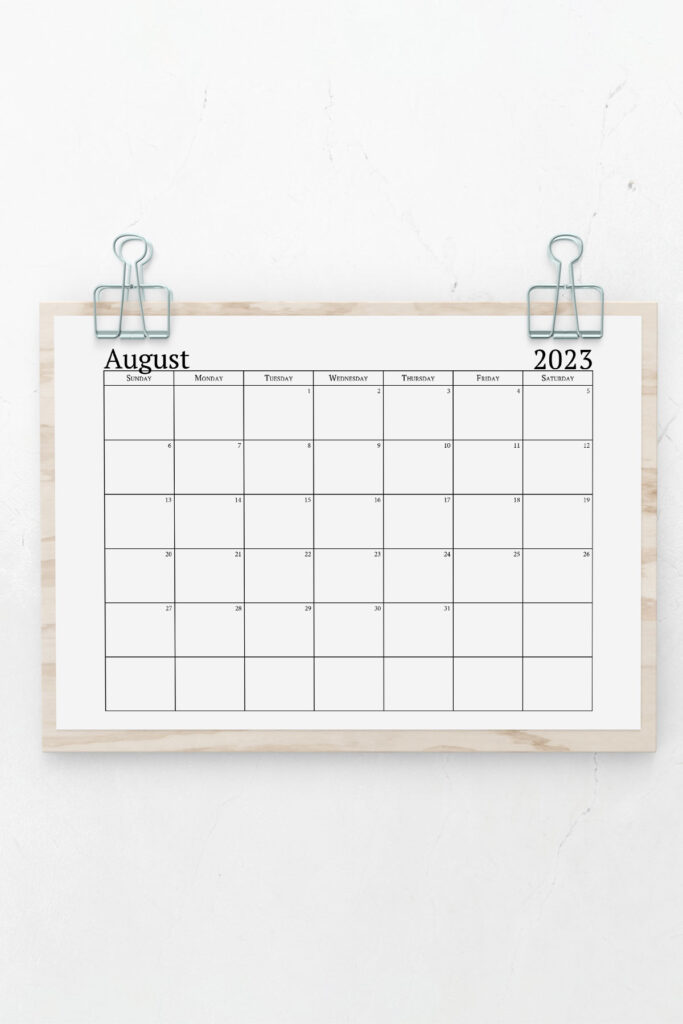 Is it a Sunday or Monday Start Calendar?
The calendar comes in both a Sunday start and a Monday start.
Are Holidays Included on the Calendar?
Yes, there is an option to have the calendar with and without holidays.
Option 1 – other than the days of the month, it is a blank calendar. There are no holidays included.
Option 2 – this calendar option has all major United States holidays included . If you are looking for a 2 page calendar, I also have another free 2023 calendar with holidays.
The image below shows what the one page 2023 calendar looks like with holidays.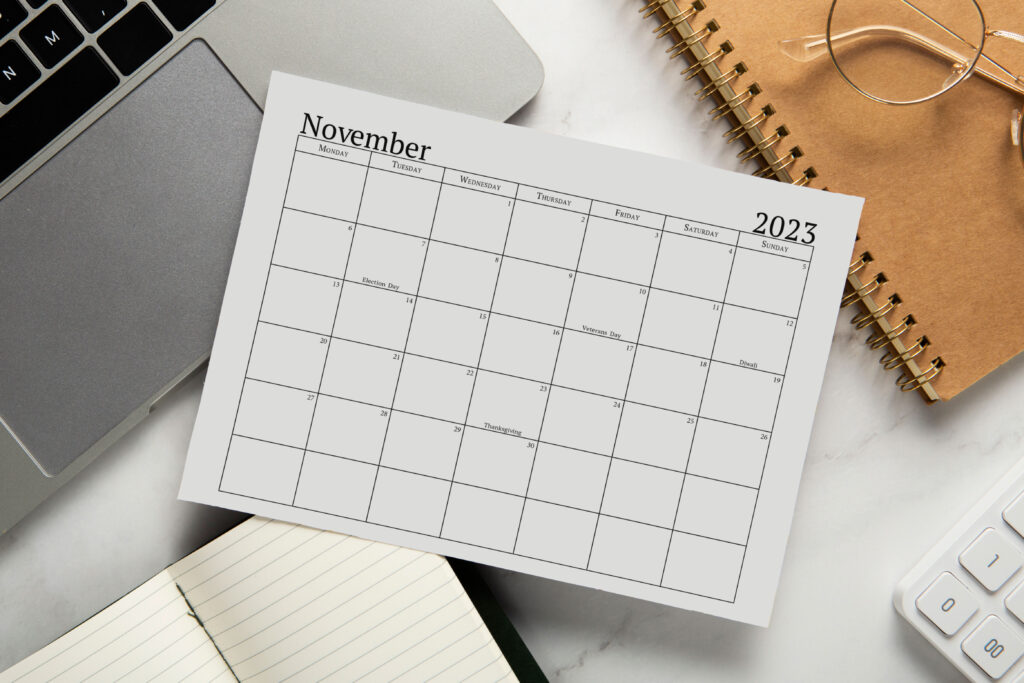 What Paper Size are the Free Calendar Templates?
They come in letter size and Classic Happy Planner size. If you'd like to resize them for another planner size, click to read how to easily resize planner printables.
What Available File Formats Does the Calendar Come In?
The calendar comes in both pdf format and transparent png formats.
Can You Use the Files with a Digital Planner?
Yes. The transparent png formats are included so that you can paste them into a digital planner.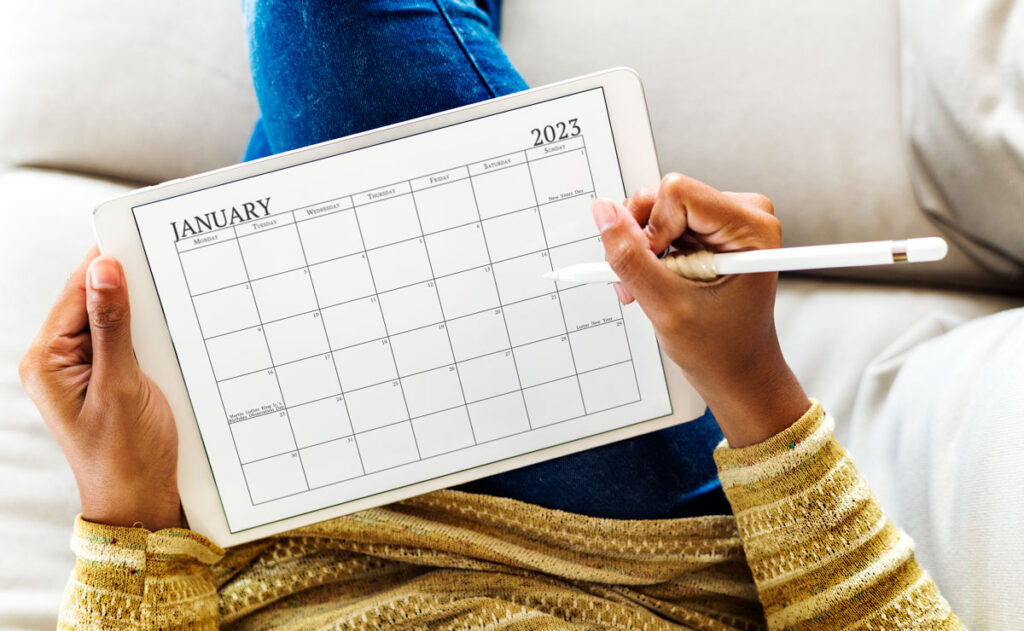 Are the Calendars Customizable?
No, the calendars are not editable calendars.
Do You Have a 2 Page Calendar?
Yes! I have multiple 2 page free calendars. Including a holiday calendar with important dates included. The other 2 options I have available are this simple 2023 calendar printable and this free printable calendar with cursive headings.
Need a 2023 At a Glance Calendar?
You can grab our free 2023 at a glance calendar here. It has the entire year on one page.
As an Amazon Associate, I earn from qualifying purchases. I am also an affiliate for the HP ink program, ShareaSale, and CJ Networks. Click here to read more.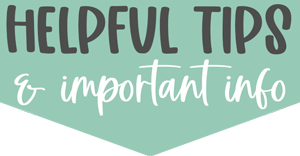 Have a differently sized planner or a traveler's notebook? No worries! You can print the letter size calendar for any size planner. You can read the full directions on how to resize planner printables here (including videos).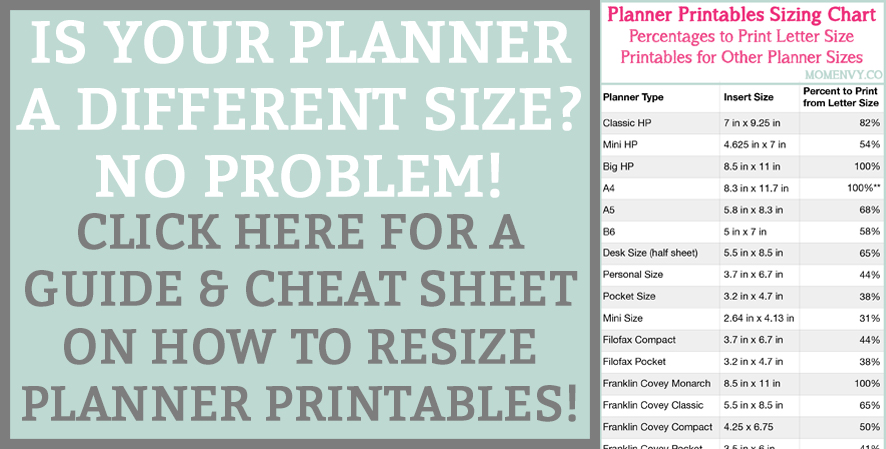 Tips for Downloading the Free Files
Below is an arrow that says Download Below. Underneath that is a large image that says Click to Download the free files.
Once you click that, you will enter the members-only password and click submit.
The page will reload the same image and now when you click the image that says Click to Download the free files, it will open the Google Drive folder containing the free files.
How do you get a members-only password?

You can sign up here to be a free Mom Envy club member.
The password will be sent to you within a few minutes. Make sure to check your spam and/or junk folder if you don't see it.
Already a member but forgot the password? Don't sign up again. Look at the end of any newsletter from me for the free password or just send me an e-mail here: [email protected]