Are you looking for Easter basket ideas for adults? Look no further! I have a ton of ideas of the perfect Easter basket stuffers for adults. Many of these ideas would be a great option for teens as well.
While the Easter bunny may bring the kids Easter baskets, I still love to do Easter baskets for the adults in my life. They make thoughtful gifts for family members, a best friend, older kids, college student, neighbors, teachers, husbands, wives, boyfriends, girlfriends, and more. It could become one of your favorite Easter traditions.
Filling Easter baskets is like a filling a Christmas stocking – you get to fill it with tons of the receivers favorite goodies. It is so much fun to spoil your favorite people anytime of year. And filling an Easter basket for someone is the perfect way to show them you care during the Easter season.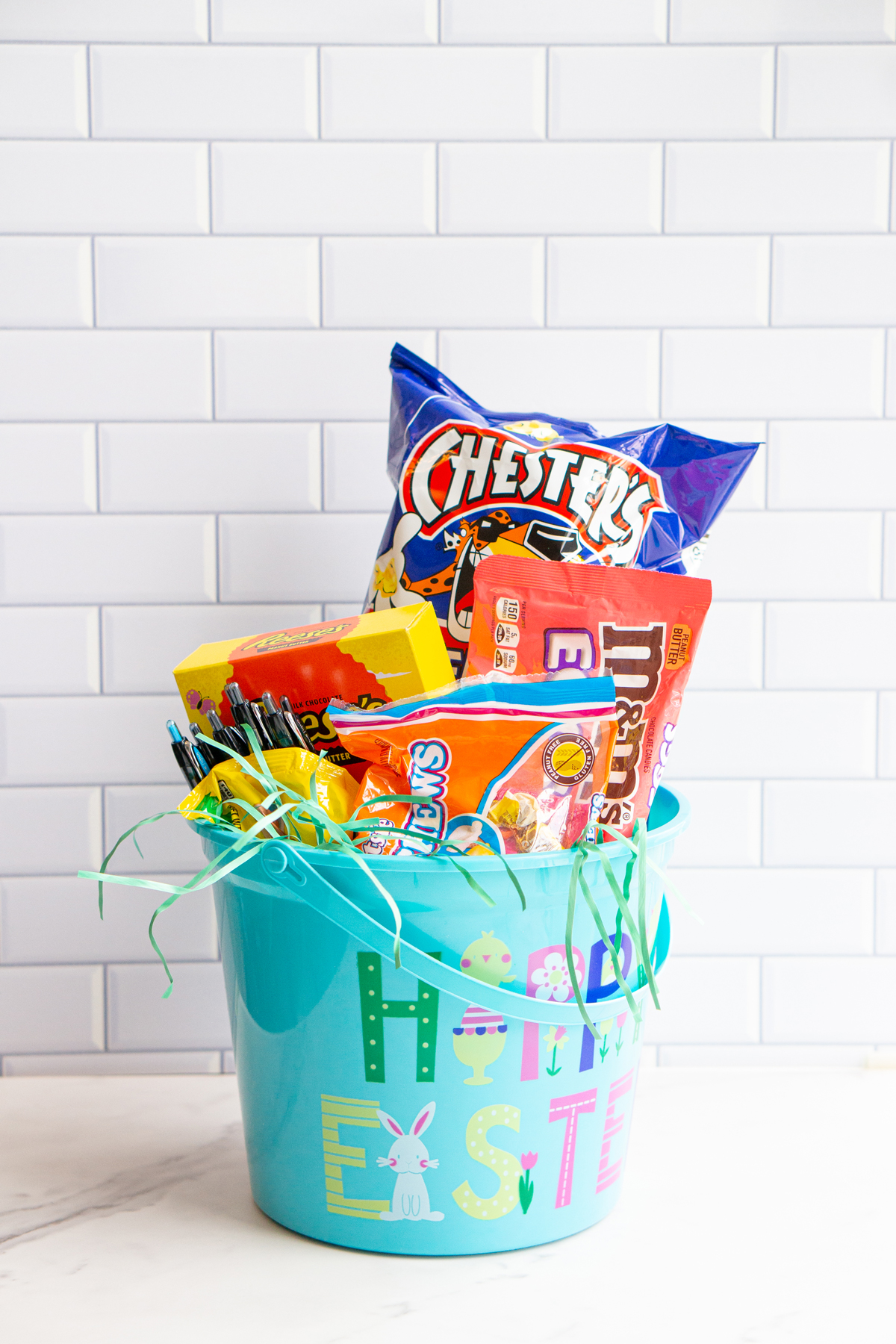 In the spring, you could just give Easter gifts but why not make it a little more special by creating a gift basket in the form of an Easter basket? There is something so special about a basket full of items vs. one larger single gift. It's a great way to go an extra step in your gift giving.
Delivery can be done anytime during the spring season – not just Easter morning. There's no need to wait until Easter Sunday – you can deliver the basket anytime during the spring season.
With so many different adult Easter basket ideas, you will easily be able to fill a basket full of items. You can use a traditional basket, an inexpensive bucket, wicker basket, or even use an item that can work as both a gift and a basket (cute storage bin, toolbox, tackle box, etc.) Just add some Easter grass instead of tissue paper and any container can become an Easter basket.
Don't let your little kids be the only ones to get sweet treats this time of year! You'll make anyone's day a whole lot better with a fun Easter basket you made just for them.
Having an Adult Easter Egg Hunt?
Kids aren't the only ones that love to hunt for Easter eggs. Just like making Easter baskets for adults and teens, why not host an adult Easter egg hunt? If you are doing egg hunts for adults, don't miss out on my list of over 100 ideas for Easter egg filler ideas for adults and teens.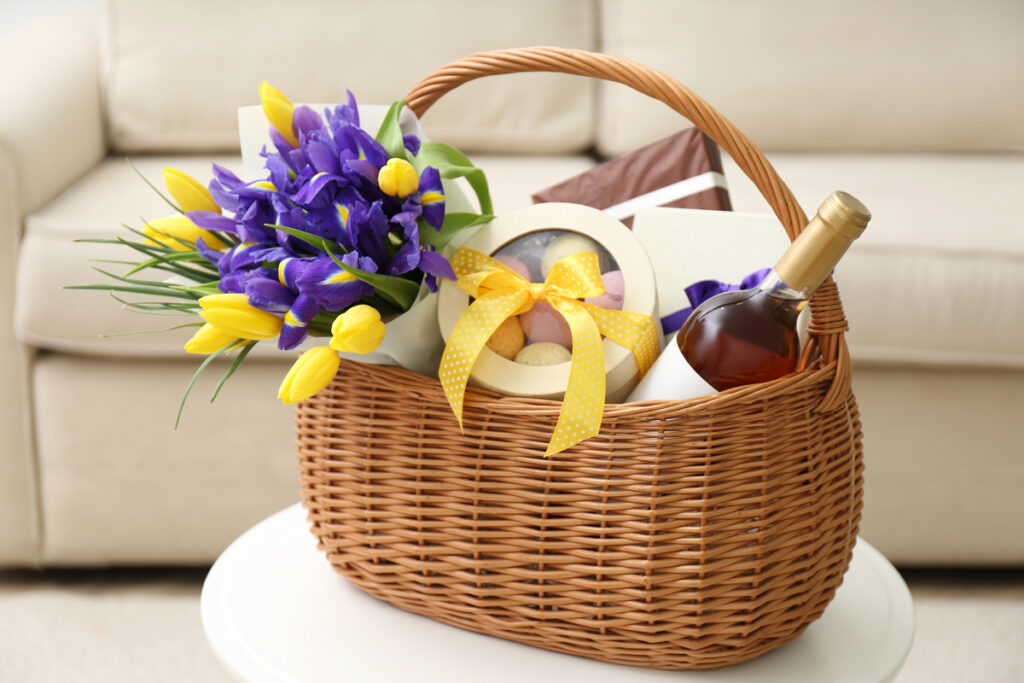 Indulgent Items Make People Feel Extra Special
If it is in your budget, I love to also include at least a few indulgent items that the receiver would never buy themselves. Give them some items that are a little bit more special than their every day items. There are all sorts of indulgences you can give – fancy chocolate, an expensive bottle of wine, fancy candle, fresh flowers, cologne, etc.
Should the Basket be Themed?
That's totally up to you! When building an Easter basket, you could do the person's favorite items or go with a theme. I'll share some ideas for some themed baskets and then share a list of other general Easter basket filler ideas.
Think outside of the box for your actual basket if you are going with a theme. For example, wouldn't this planter make an adorable basket for a garden-themed adult Easter basket?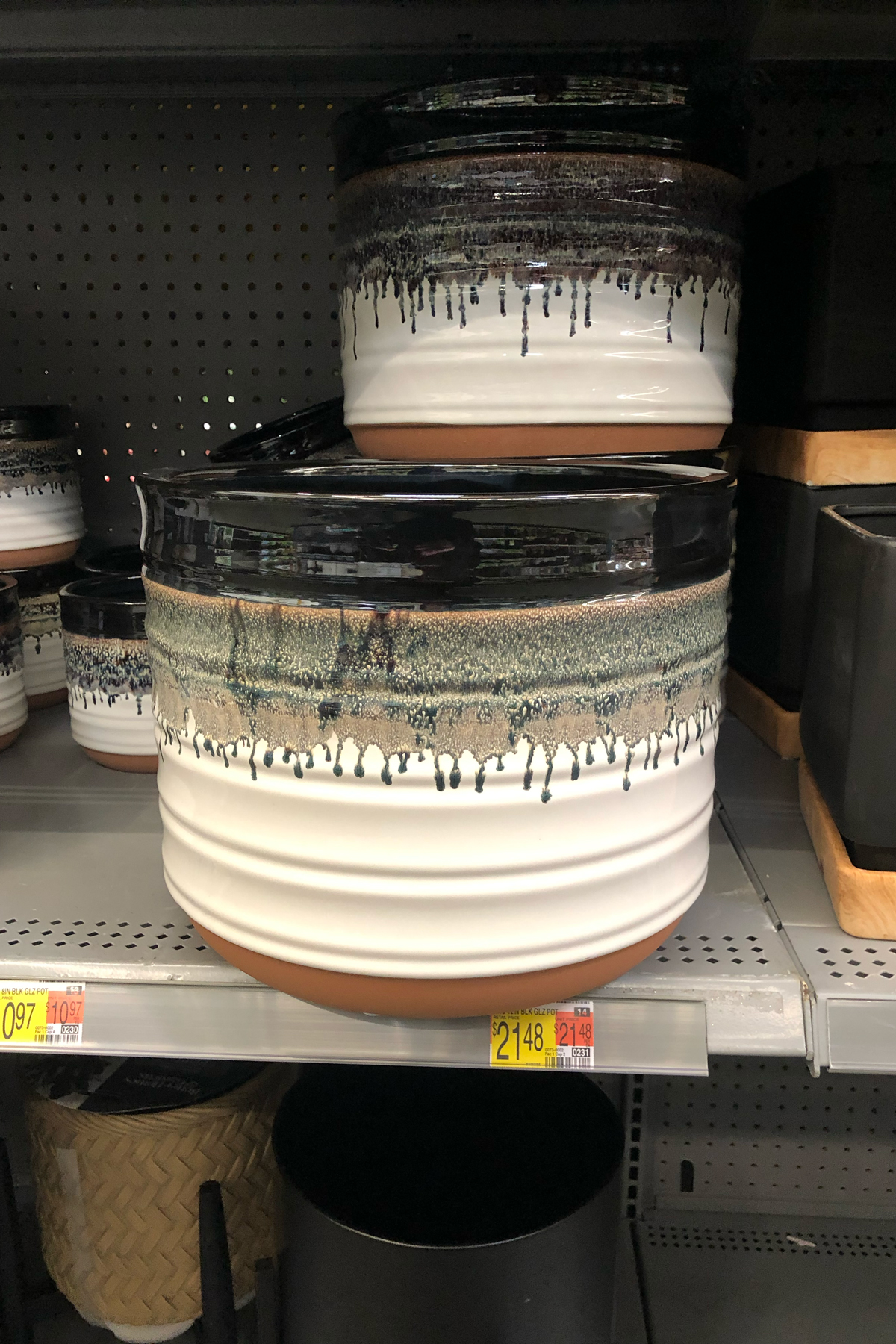 Add a Chocolate Bunny for an Instant Easter Basket
Since can't find a premade Easter basket for adults (well at least not easily), check out this list of ideas for adult Easter basket fillers. To make any basket (themed or not) into an "Easter" basket, just add a chocolate bunny!
Sweet Treats Other Edible Items
I always like to include some favorite candy and food items in the basket. I mean, who doesn't love a Easter candy?
Jelly beans
Chocolate bunnies
Chocolate eggs
Hardboiled eggs
Other Easter treats
Granola bars
Protein bars
Protein drinks
Flavored water
Favorite soda/drink
Special Coffee
Mini wines
Mini liquor bottles
Artisan meat items (sausages, cheese, etc.)
Fruit
Beef jerky
Nuts
Speciality jellies & jams
Trail mix
Dried fruit
Sunflower seeds
Pretzels
Chips
Bottles of hot sauce
Gum
Mints
Water enhancing packets
Nutella jar
Coffee pods
Bags of coffee
Tea bags
Snack size bag of pickles
Olives
"Special" Gummies or candy
Non-Edible Easter Basket Ideas for Adults
Gift cards
Tickets to a concert, museum, show, etc.
Lottery tickets
Adult coloring books
Art supplies (color pencils, pens, erasers, sketchbooks, etc)
Markers
Water bottle
Fidgets
Ear buds
Fresh flowers
New book
Magazines
Easter decorations
Deck of cards
Small game (like Cards Against Humanity or Bananagrams)
Poker chips
Candle
Glassware/stemware
Mugs
Teabag holder
Blank notebook/journal
Notepad
Post-its
Lip balm or chapstick
Lotion
Body wash
Bath bomb
Bath oil
Speciality soap
Nail polish or polish strips
Make up
Hair products
Headband
Hair ties
Hair clips
Beard balm or oil
Beard brush
Cologne or perfume
Novelty socks
Pocket knife or multi tool
Tools
Magnetic tool wrist cuff
Measuring tape
Power bank
Lanyard
Keychain
Pop socket
Flashlight
Expensive razor
Charging cables
Cord wrap
USB Plugs
Video game
Luggage tag
Scalp massager
Telescoping back scratcher
Golf balls
Golf tees
Homemade coupons
Stress ball
Sleep mask
Essential oil
Car air freshener
Jewelry
Jewelry dish
Croc charms
Car dip holders
Car cleaning putty or gel
Bag clips
Sunglasses
Flip flops
Wallet
Coin purse
Wristlet
Shirt cuffs
Easter Basket Themes
Here are some of my favorite theme ideas for Easter baskets.
Coffee Lover Basket
Coffee mug or tumbler
Favorite coffee
Coffee stirrers
Specialty coffee syrups
Coffee-flavored candy or treats
Chocolate-covered coffee beans
Gift card to a favorite coffee place
Cute coffee sign or decor
Biscotti
Book Lover Basket
Books
Book marks
Gift card to a favorite bookshop
Booklight
Book sleeve or tote bag
Blank notebook
Pens, pencils, or highlighters
Post-its
Book-themed coffee mug
Tea or coffee of choice
Book lover decor
Adult Drink Basket
Create a theme based on the type of drink the person enjoys (wine drinker, beer, cocktails, etc.). Then pick the items that go with that type of drink.
Favorite liquor, wine bottles, or beer
Mixers (juice, soda, etc.)
Glassware (wine glass, rocks glass, pint glass, shot glass, etc)
Drink stirrers
Wine charms
Bottle pourer spout
Whiskey rocks
Corkscrew
Pretzels
Nut mix
Cheese & crackers
Coasters
Fun cocktail napkins
Drink shaker
Muddler
Decanter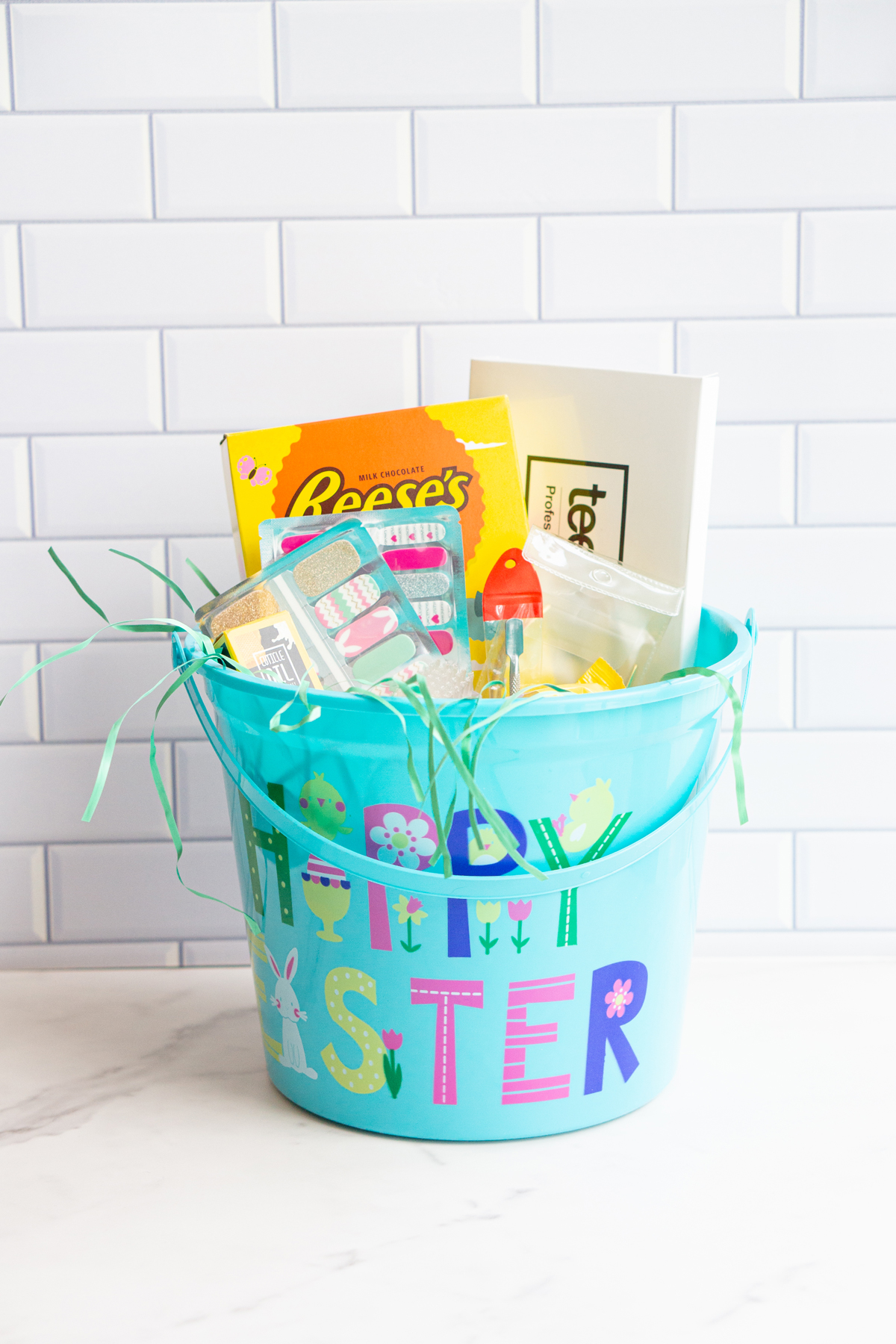 Spa Gift Baskets
Face masks
Foot masks
Massage oil
Bath bombs
Bath salts
Candles
Aromatherapy shower tablets
Slippers
Exfoliating gloves or sponge
Nail polish or nail strips
Lotions
Sleep mask
Specialty soaps
Pumice stone
Body scrub
Any other spa items
Luxurious chocolates
Movie Night Basket
DVD (or gift card for a place to rent a movie digitally)
Popcorn
Candy (Easter candy)
Soda or drink of choice
Popcorn salt
Popcorn seasoning shakers
Popcorn bowl
Gardening Gift Basket
This is the perfect basket for someone with a green thumb. Modify it based on what type of gardening the person does (vegetables, indoors, flowers, etc.)
Kneeling pad
Gardening gloves
Garden trowel
Cultivator
Spade
Sun hat
Hand pruners
Adjustable nozzle
Seed packets
Potted flower
Lawn ornament (gnome, turtle, rabbit, etc)
Charcuterie Baskets
Cutting board
Cheese knives
Cured meats
Hard cheeses
Honey
Honey dipper
Jams & jellies
Speciality nuts
Olives
Crackers
Fresh loaf of bread
Fruit
Figs
Dried fruit
Toothpick flags
Mini forks
Mini spoons
Chef or Baker Basket
Measuring cups
Measuring spoons
Cutting board
Immersion blender
Digital food thermometer
Serving utensils
Apron
Spices
Pastry bags
Pastry tips
Spatula
Dish towel
Speciality salt
Cookbook
Spoon rest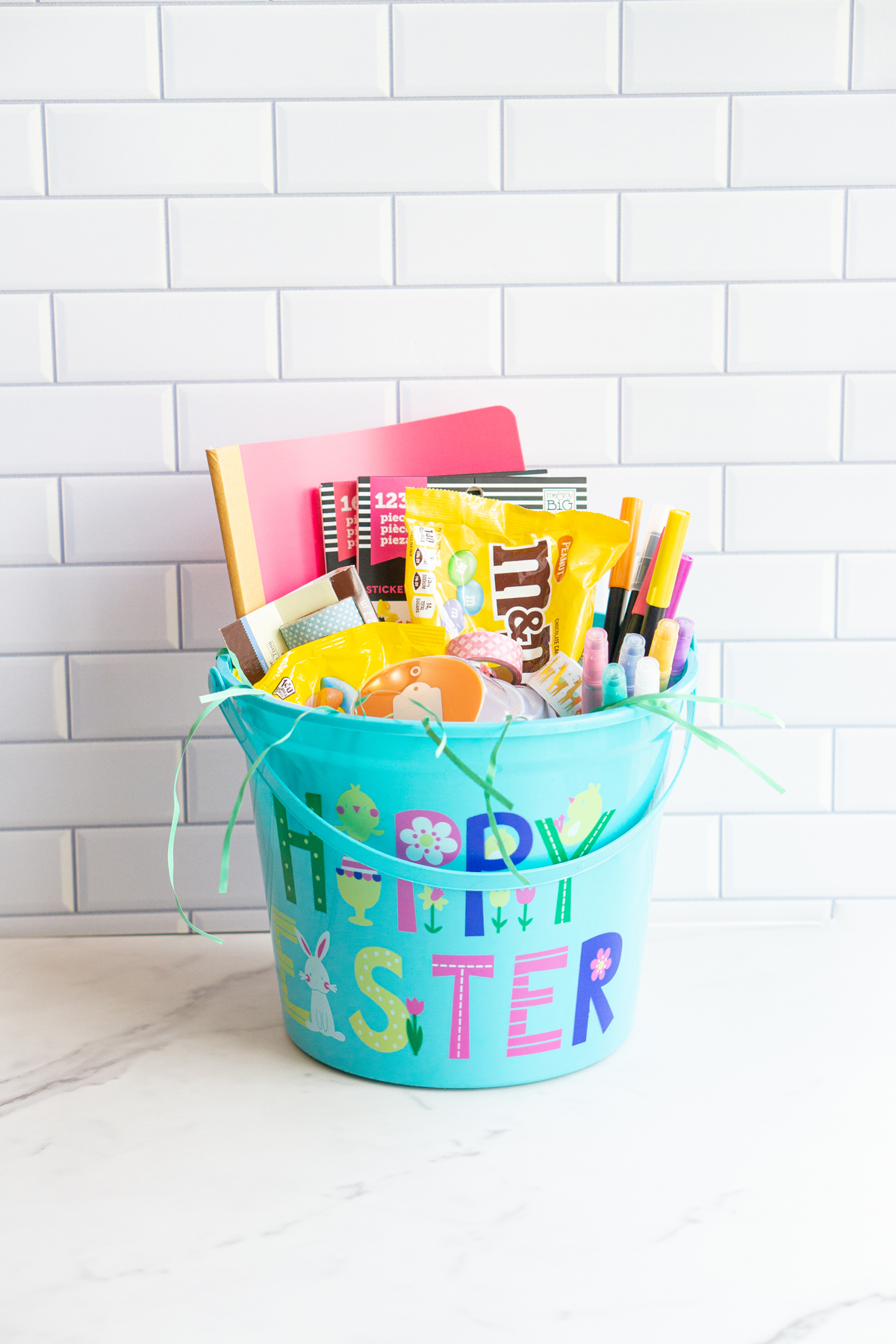 Craft Lovers & Makers Baskets
Select craft supplies based on the receiver's favorite type of crafts. Here are some examples.
General Craft Basket
Washi tape
Stickers
Hot glue gun
Hot glue sticks
Desk organizer
Pens
Markers
Glue dots
Paint brushes
Stamps
Stamp pads
Cardstock
High-end scissors
Acrylic paint
Glitter
DIY books
Craft room signs and decor
Paper punches
Quilting & Sewing
Spools of thread
Fat quarters of fabric
Cute pin cushion
Seam ripper
Quilting needles
Marking pencil
High-quality scissors
Quilting or sewing signs and decor
Cutting mat
Rotary cutter
Quilting book
Sewing patterns
Pattern weights
Wonder clips
Thread gloss
Cricut/Silhouette Machine Users
Cutting mat
Weeding tool
Tweezers
Burnishing tool
New blades
Permanent vinyl
Heat transfer vinyl
Transfer tape
Heat safe tape
Teflon pressing pillows
High-quality scissors
Nail polish holder (weeding "trashcan")
Marker set (that fits in the machine)
Cardstock in fun colors
Tumbler holder
Blanks for crafting (shirts, tumblers, mugs, etc.)
Planner Lover
Various planner stickers
Washi tape
Pens
Highlighters
Cute paper clips
Planner filler pages
Planner cover
Blank notebooks
Planner discs
Post its
Stamps
Stamp pads
Bookmarks/Dividers
Planner punch or hole punch
Elastic pen holder
Pencil pouch
Paper punches