I can't believe we're going to be doing our last big DIY remodel in our home. There is one room in our home we have been putting off because quite frankly, it has the worst before of any room in our house.
It's our 1980's pink master bathroom. I thought it would be the perfect room for the One Room Challenge. It needs a lot of work needed on it before we can put our house on the market. I am not sure anyone would find the worn, pink tiles to be stylish.
So it's time for our last big DIY hurrah before we put our house on the market and start our custom home build. In case you missed it, I shared our plans for our move here.
DIY Bathroom Remodel – The Before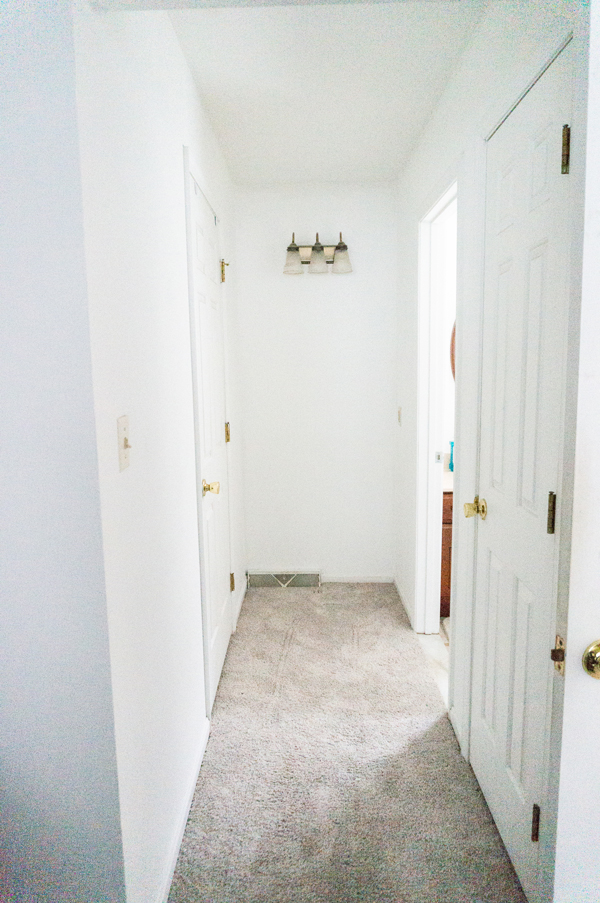 This is the start of our bathroom space. It's a hallway with our linen closet, walk-in closet, and bathroom.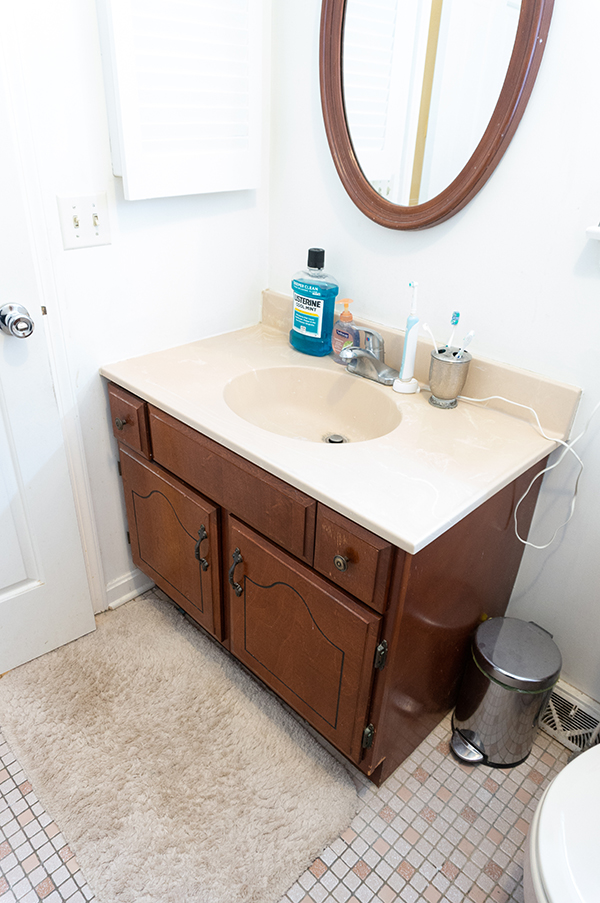 The pink countertops and floor tiles in multiple shades of pink definitely have to go.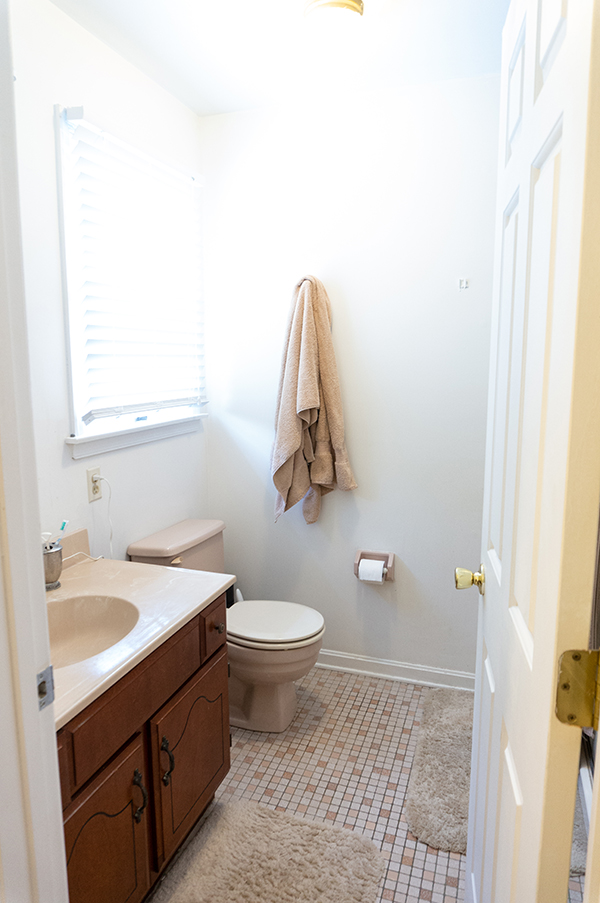 The beautiful shade of pink continues with the toilet. Except you'll notice something out of place about it…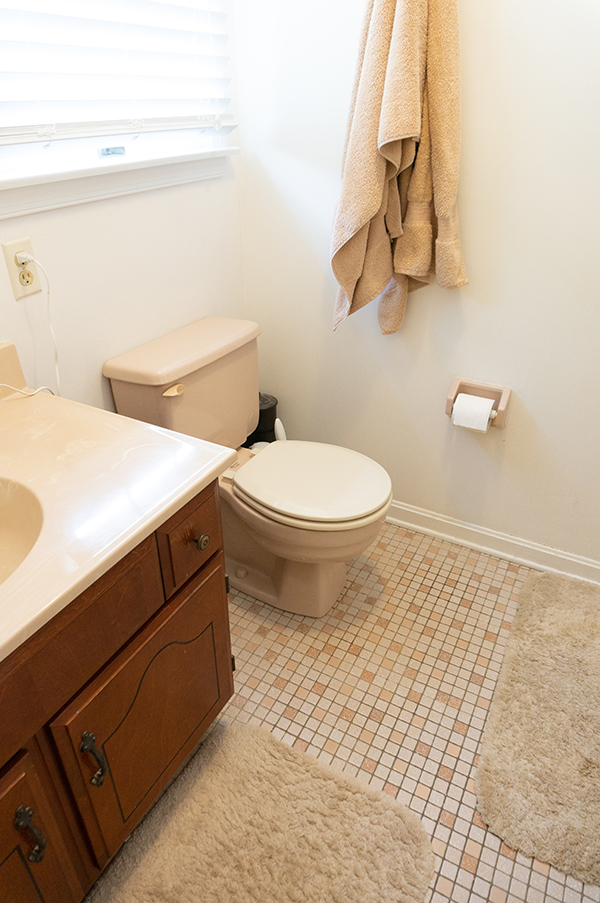 The seat is a different color because, no surprise, they no longer make pink toilet seats.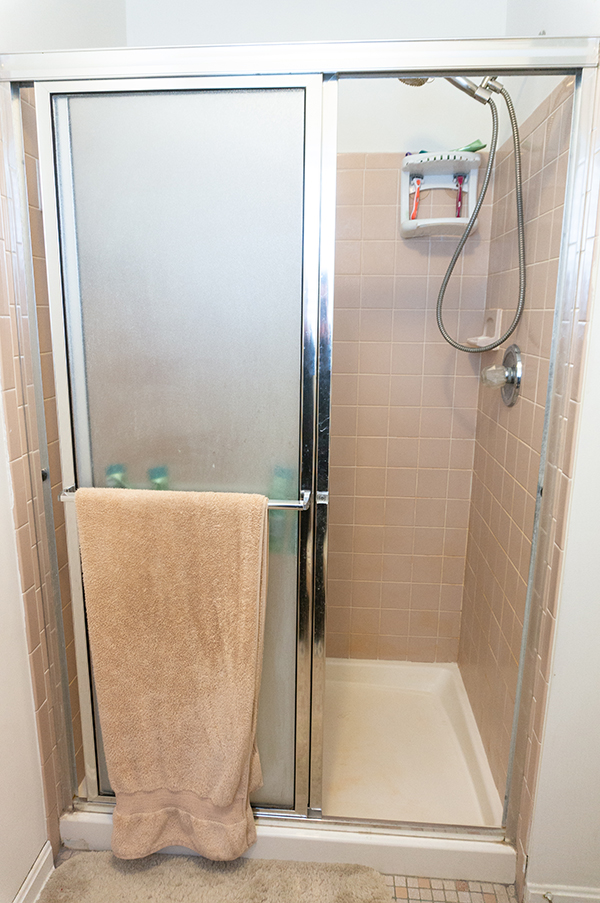 And the pink just keeps coming. The shower is actually a great size though and we like having a walk-in shower rather than a shower/tub combo.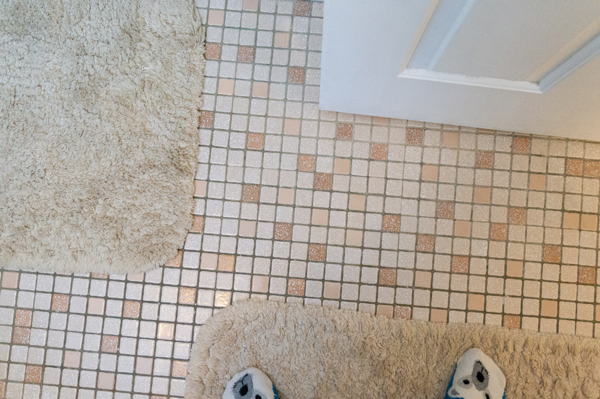 Here's a close-up of the floors (and my polar bear socks).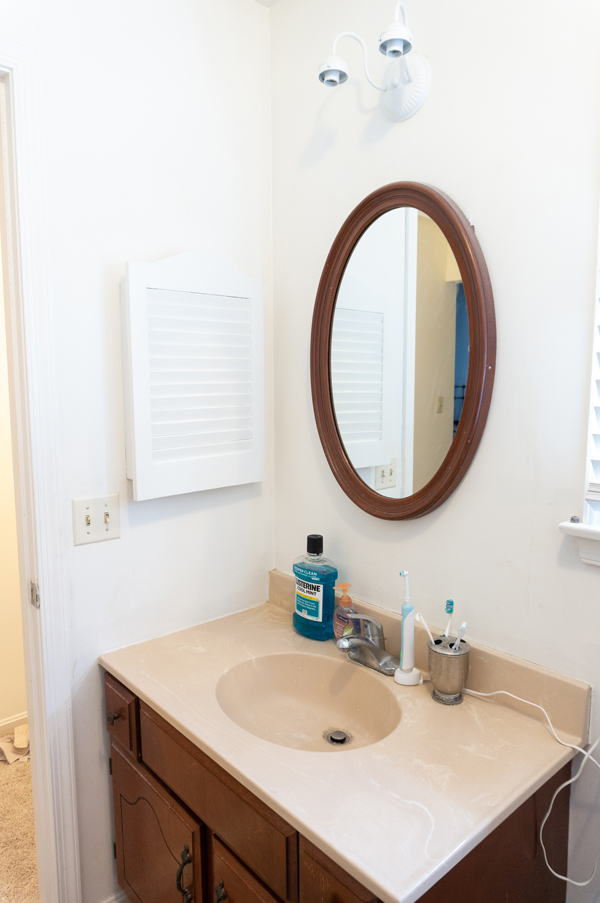 Here's a better picture of the medicine cabinet and a picture of the vanity light (although it's missing its lights and globes. We tried to paint it to see if it would work but decided to replace it. I had Mom Envy fans vote for which light I should pick here.
The Inspiration
We are going for a farmhouse look (no surprised based on the other rooms in our home). While I would love to add special detailing such as shiplap, we don't think it would be the best option for a quick DIY bathroom remodel before selling. We're already nervous about our future buyers loving the shiplap in our foyer so we thought it was best to keep it to one space.
Here are some bathroom spaces I have a total DIY crush on.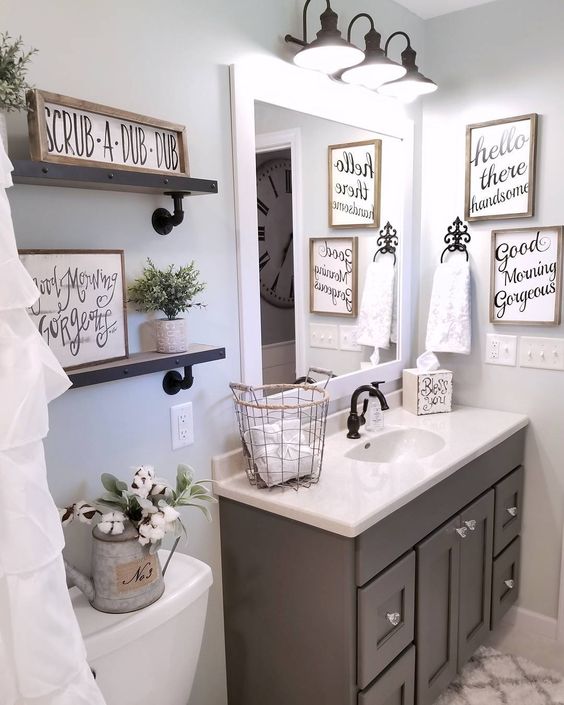 @blessed_ranch's beautiful farmhouse bathroom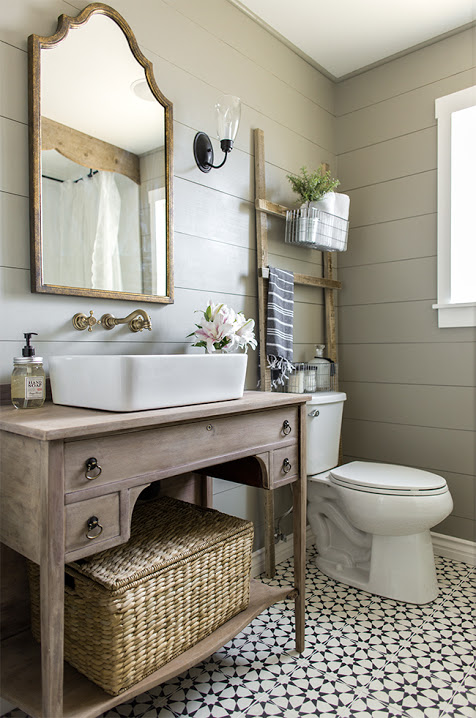 Look at this floor in Jenna Sue Design Co's bathroom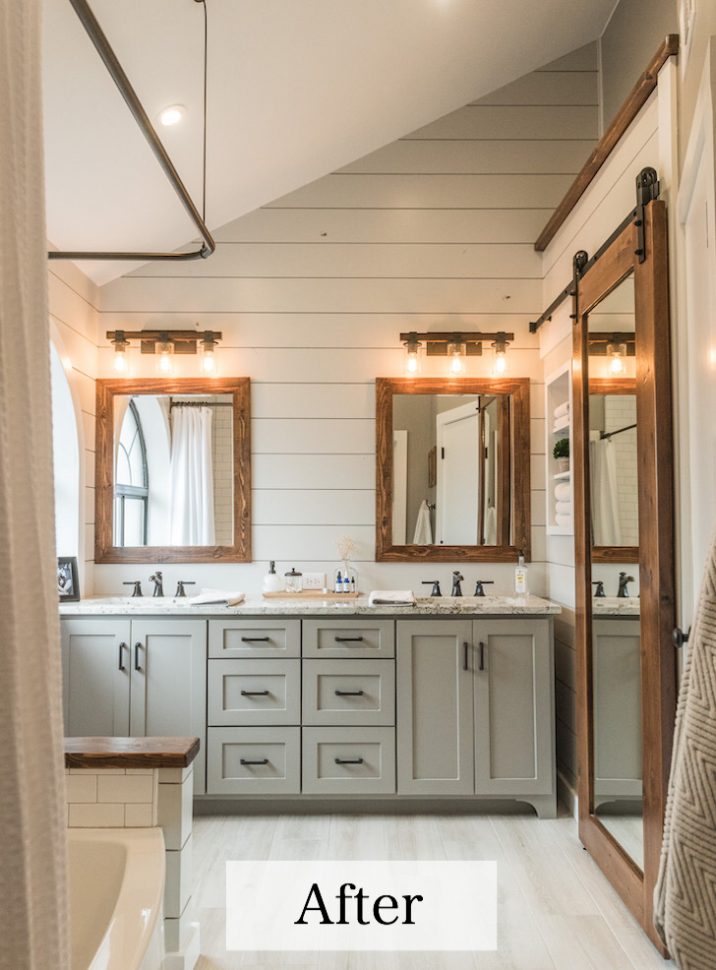 Irwin Construction's Bathroom (I love the lights and mirrors)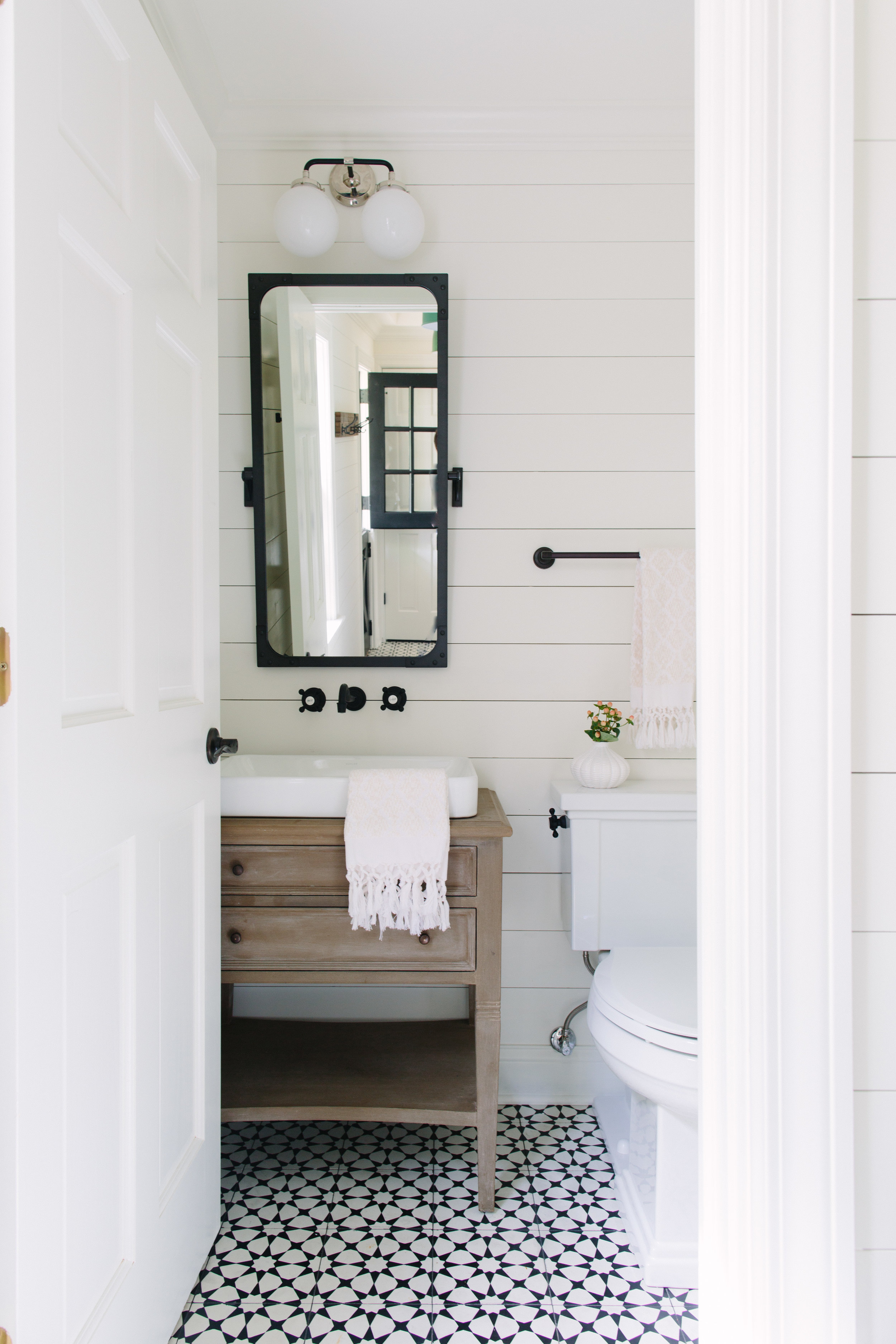 Kate Marker Interiors Farmhouse Bath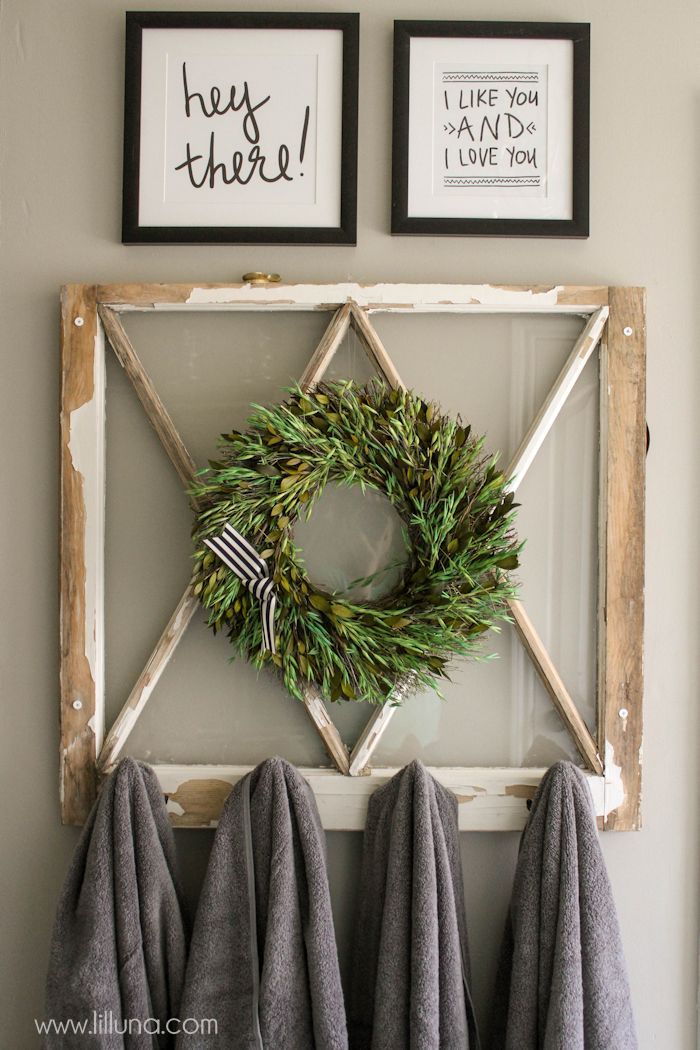 Lil Luna's Unique Towel Rack (it's definitely got me wanting to do something different for our towels)
The Upcoming Weeks
Over the next 6 weeks, we will be creating a design plan for the space and starting the renovation. If you're on a budget, this makeover will be for you because it will definitely be an inexpensive remodel. We want to make sure that the bathroom looks updated and fresh but we don't have a large budget to gut the whole thing. So come on back to see how we transform this master bathroom on a budget.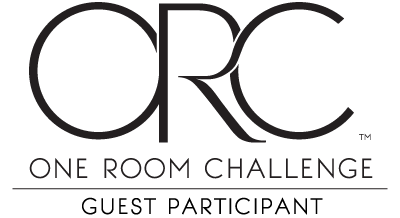 If you've never heard of the One Room Challenge before, make sure to check it out. Twice a year they select participants to redo a space in six weeks. Yep, six weeks. In addition, anyone can join as a guest participant (which is what I am doing now and also what I did when we made over our foyer in the fall). It's one of my favorite times of the year because I love to check out everyone's makeovers to get some new home inspiration. You can see all of the other guest participants entries for week one here.
Click the image below to visit our foyer makeover from the fall 2017 One Room Challenge.