If you're looking for Happy Father's Day printable cards, I've got you covered with a set of 15 free unique free printable Father's Day cards. Plus, many of the cards come with an option for Dads or Grandpas.
With so many different designs, you're sure to find one the perfect card to fit the Dad, Grandpa, or father figure in your life. The different options include cards with Dad jokes, popular hobbies, and even a couple of more generic cards that are a great choice for anyone.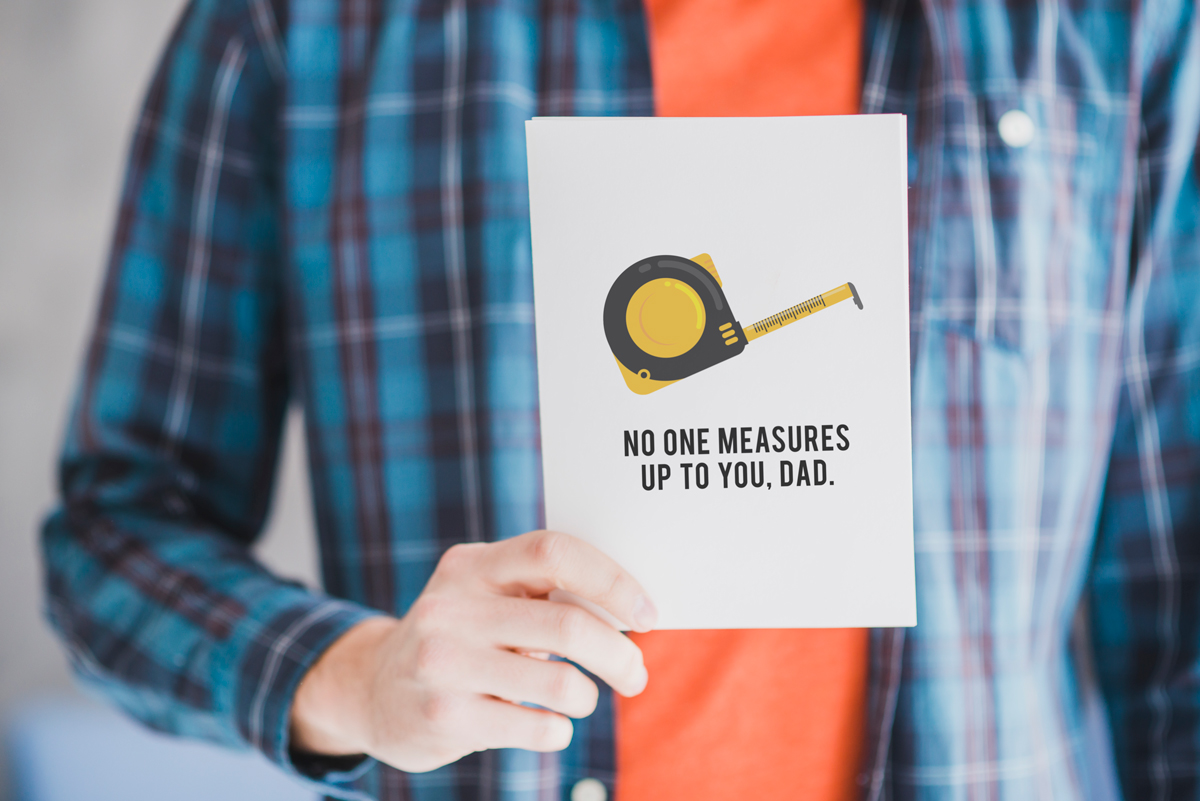 As an Amazon Associate, I earn from qualifying purchases. I am also an affiliate for xTool, the HP ink program, ShareaSale, and CJ Networks. Click here to read more.
Father's Day is such a special day. It's so important to take the time to celebrate the men that are important in our lives or in our children's lives. I love to have kids create a homemade card or gifts because it shows extra effort than just picking something up at the store. Sometimes, it can be easier to help get your kids started by providing them with a card template where they can still add their own special message inside.
Or, maybe you're in desperate need of a last minute card. Instead of having to run out to the store, simply download and print one of the card options at home.
Trying to Save Money?
With prices for everything continuing to rise, greeting cards have gotten a bit expensive. – sometimes buying a card is just out of budget. Thankfully since these cards are free, the only additional cost is the paper and ink (did you know you can save money printing by getting the HP ink program – it's seriously the best. I love not having to think about how much color my printables are using. Learn more here about it).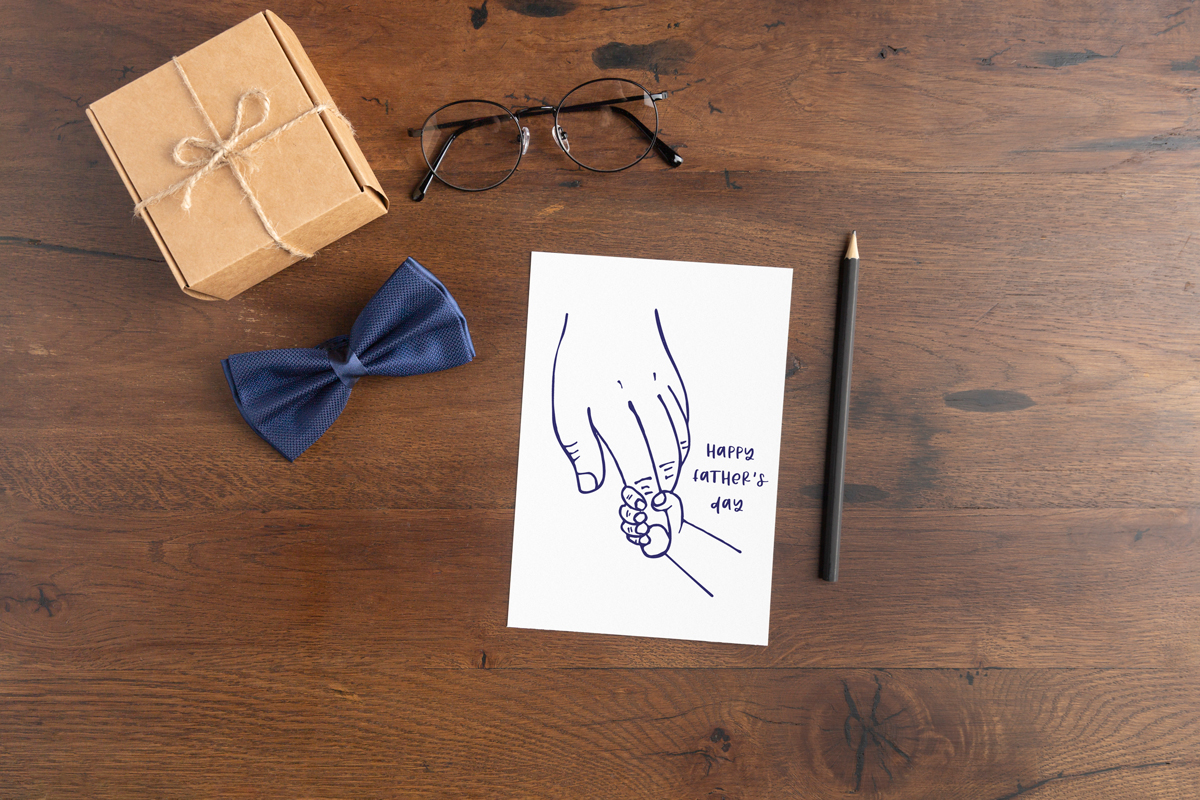 Card Options for Kids of All Ages and Adults!
​One of the great things about having so many choices of cards to choose from is that you have cards that can be from younger kids, older kids, teens, or even adults.
Are the Insides of the Cards Blank or Do They Have Messages?
The insides of every card are blank. It allows you to add your own sweet message inside of the card.
What Do the Cards Look Like?
Here is what each free father's day card looks like.
Our first Father's Day greeting card is a baseball-themed card. It says "Happy Father's Day to the Real MVD!" Then it has a baseball with two bats crossed behind it and a circle that says "Most Valuable Dad." This design also comes with a Grandpa option.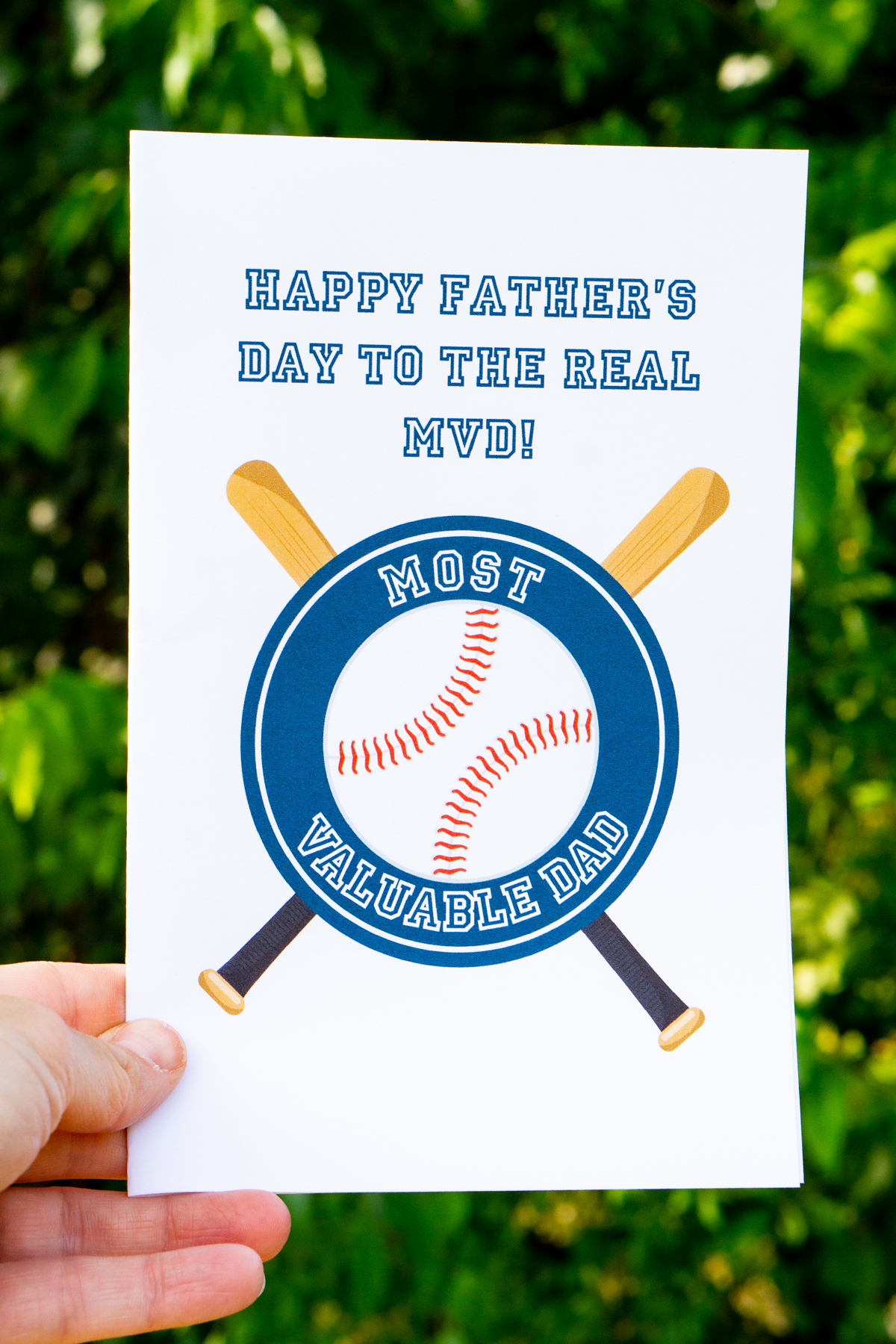 The second card says "Best pop, ever!" And it features the drawing of a popsicle. I love the bright colors of this card.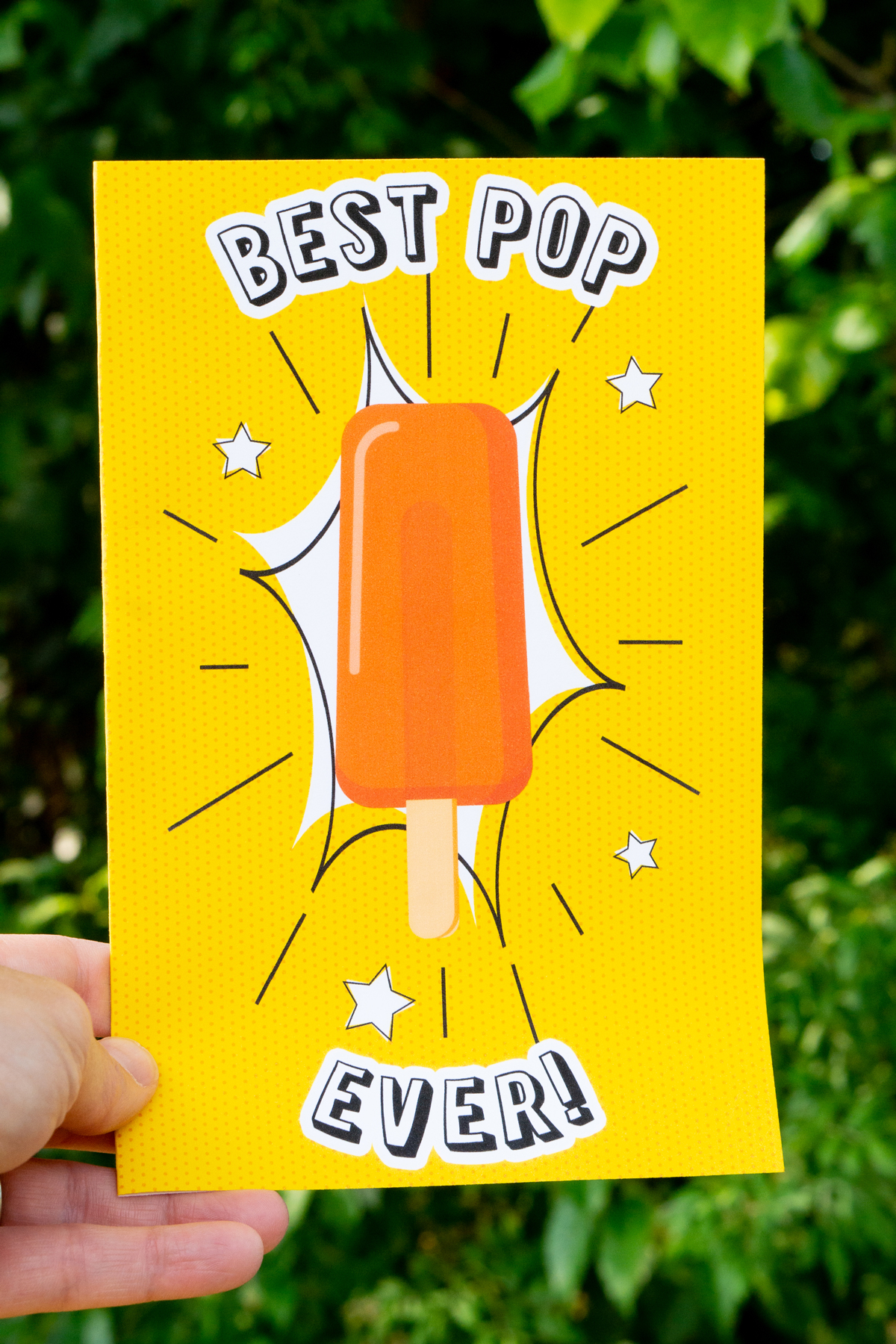 This next card features a large hand fist pumping a small hand. It's a cute card from little kids.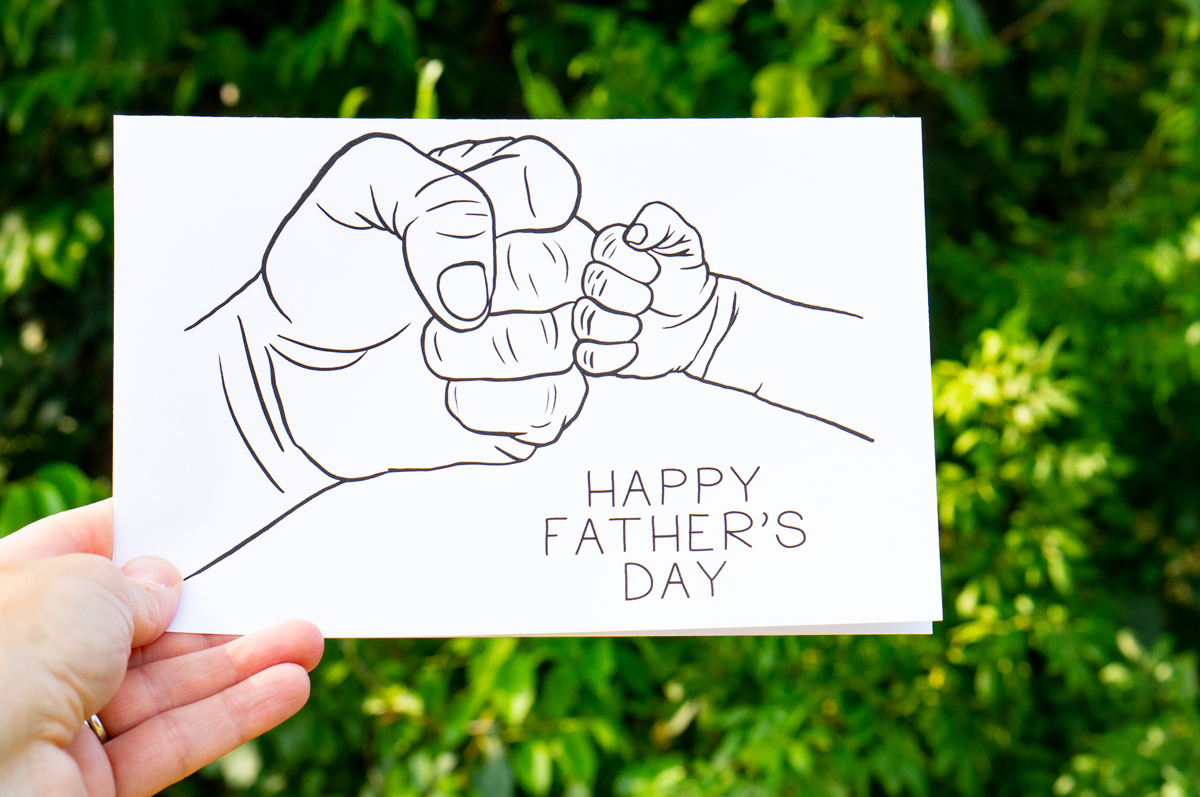 How fun is this next card design? It says "Happy Father's Day You're Incredi-bowl! Talk about a cheesy dad joke!" What better way to tell a bowling-loving Dad Happy Father's Day?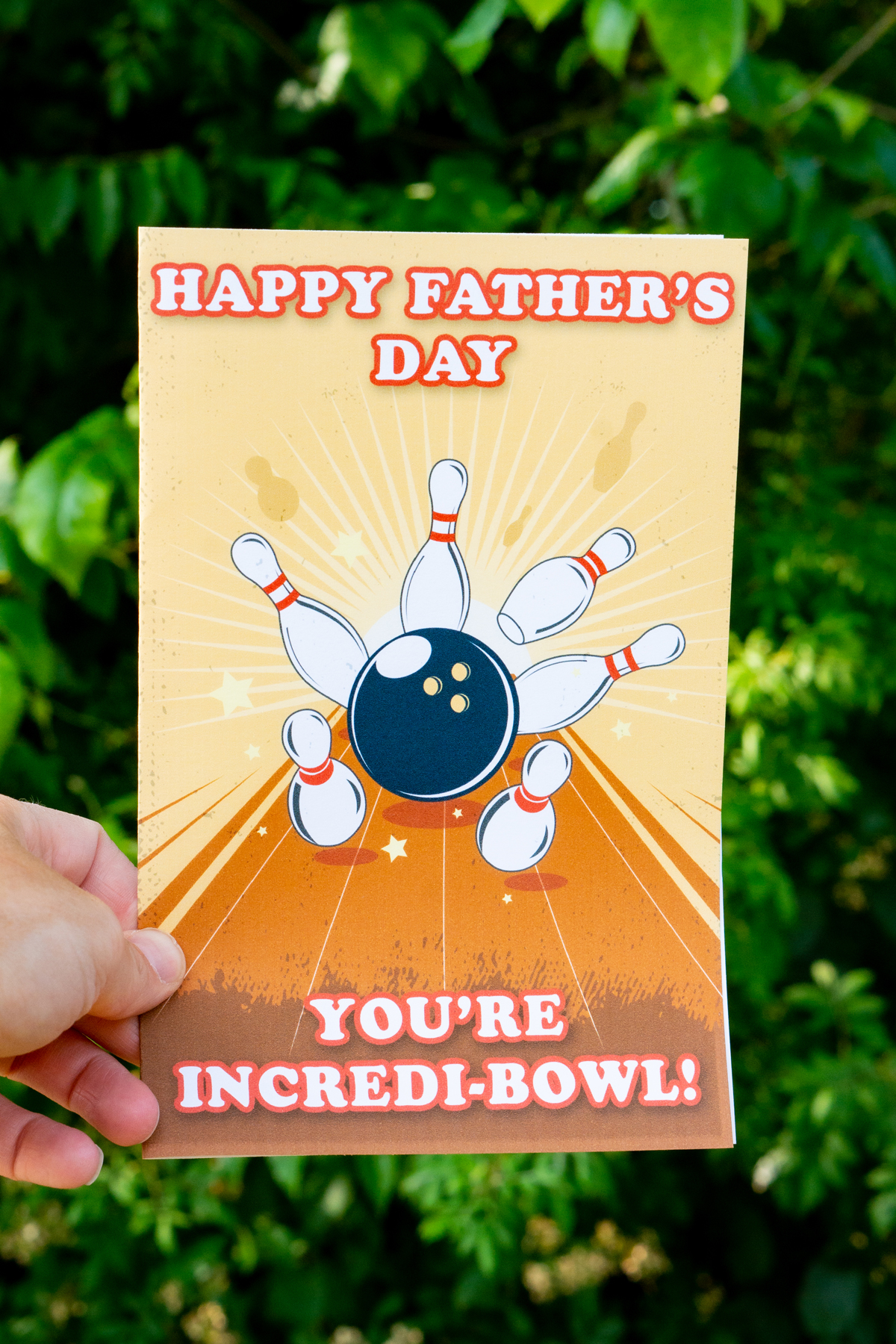 Is your Dad or Grandpa skilled when it comes to using tools? This next card is a great way to remind them how much they mean to you. It says "No one measures up to you, Dad (or Grandpa)".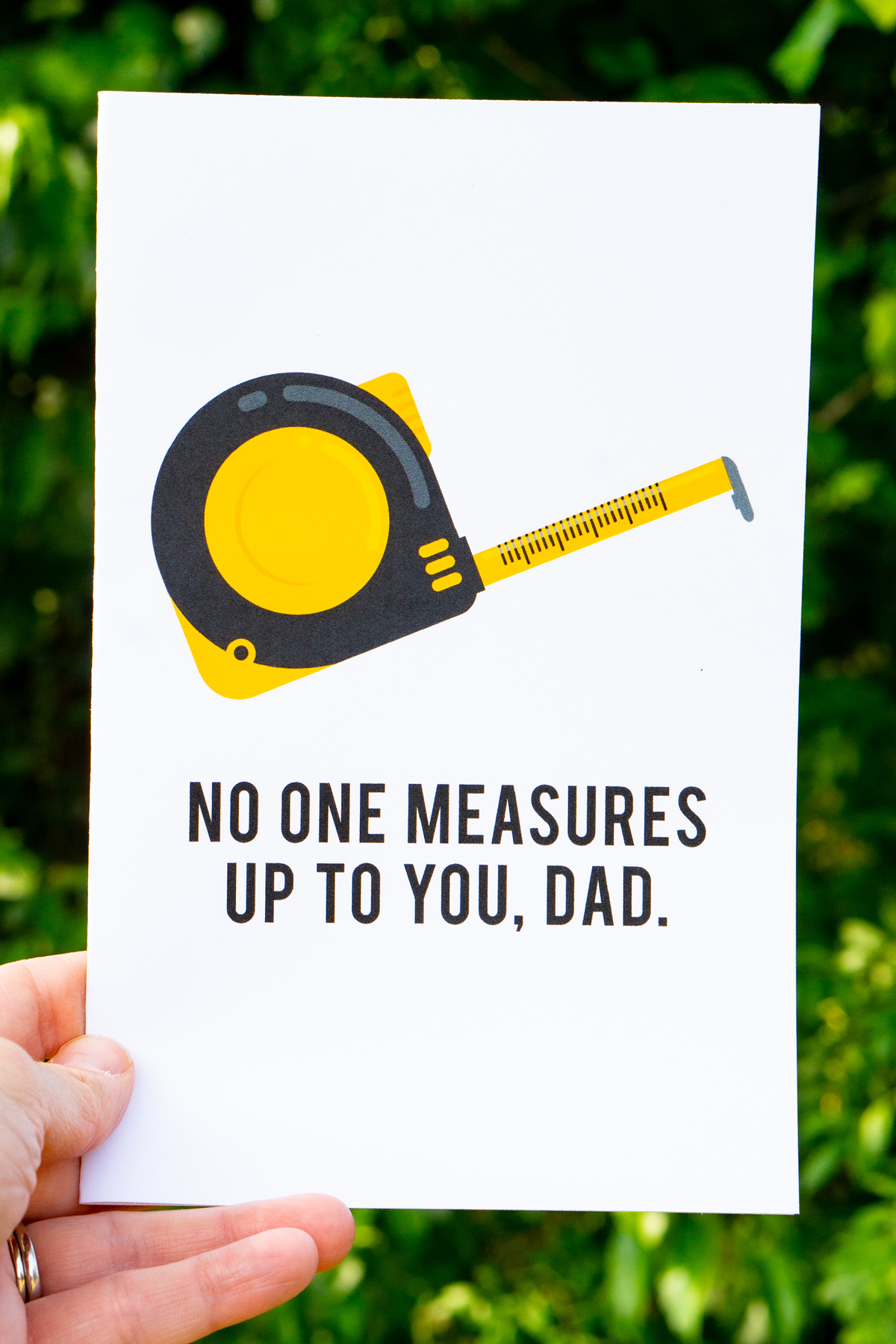 Is it your husband or partner's first Father's Day? Why not print off this Happy First Father's Day Card? It features a larger relaxed hand with a tiny hand grabbing onto the pointer finger. It also comes with a generic Happy Father's Day instead of saying first.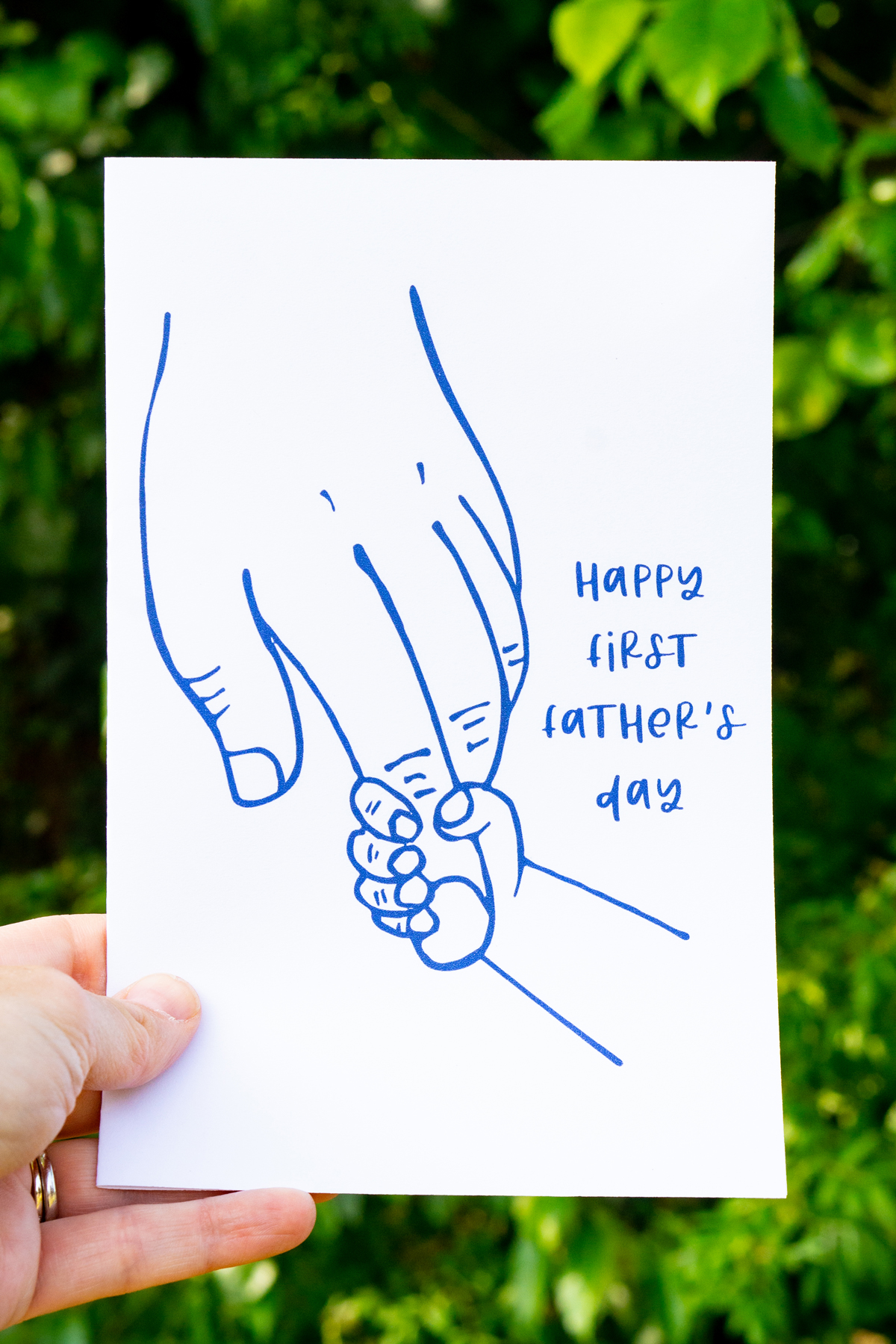 Fishing-obsessed Dads will appreciate this card. It says, "It's o-fish-cial your'e a really-awesome Dad! It also comes with an option for Grandpas or a generic option for any father figure (Uncle, Step Dad, family friend, etc.)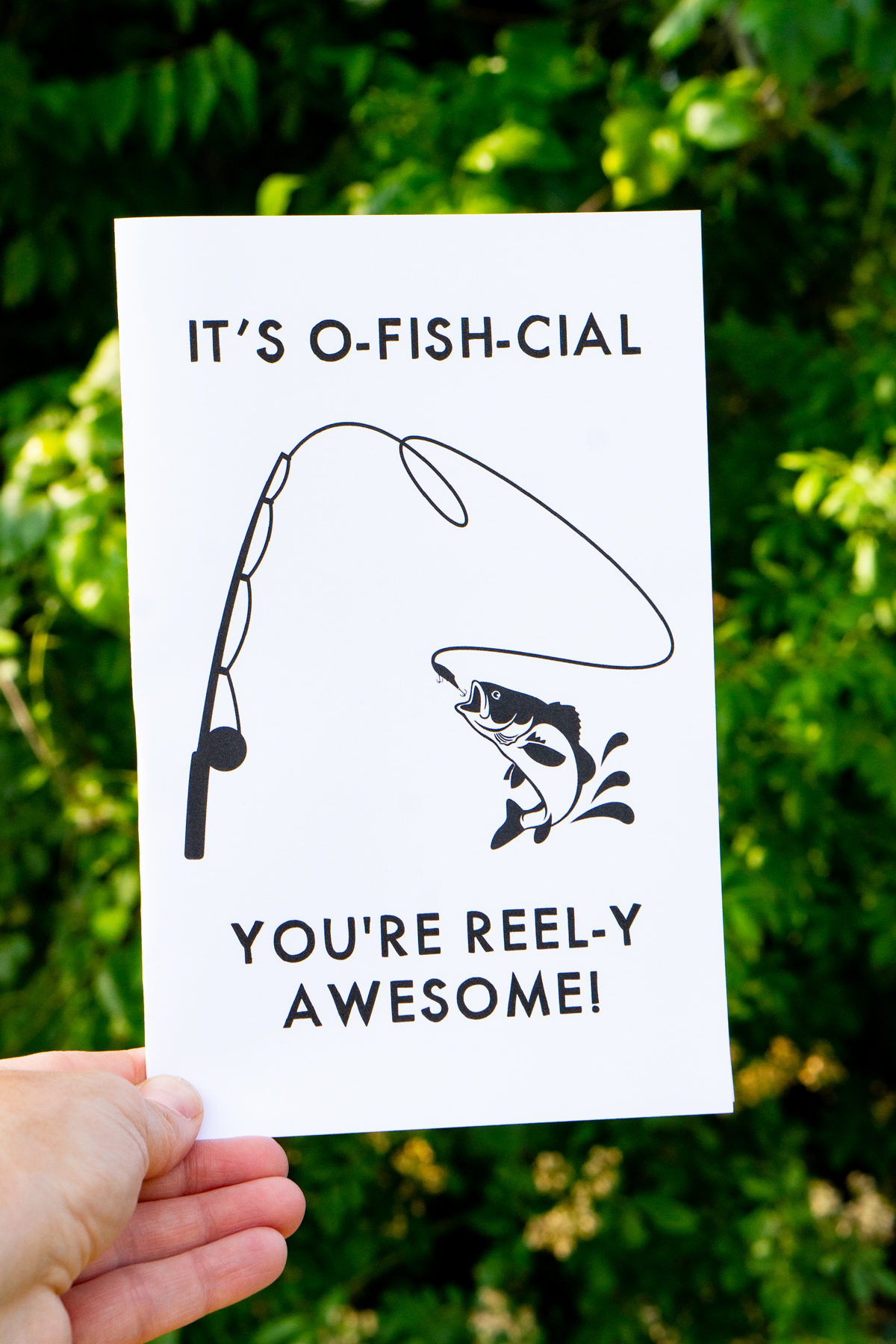 Next, this card is a generic card that features a mug for Dad or Grandpa.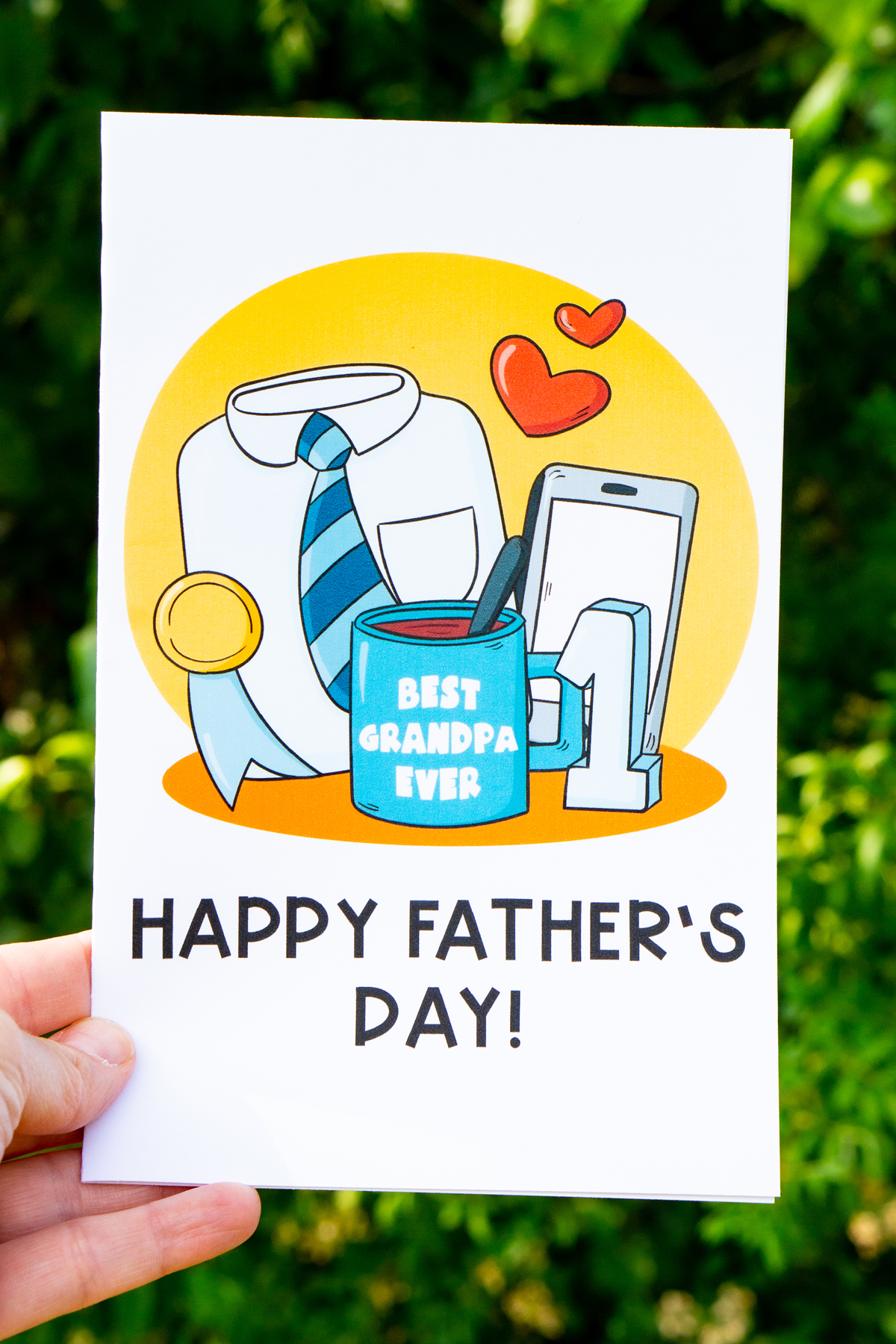 The next free card is for all of the golf fans. It says "You're the best Dad by par." (or Grandpa).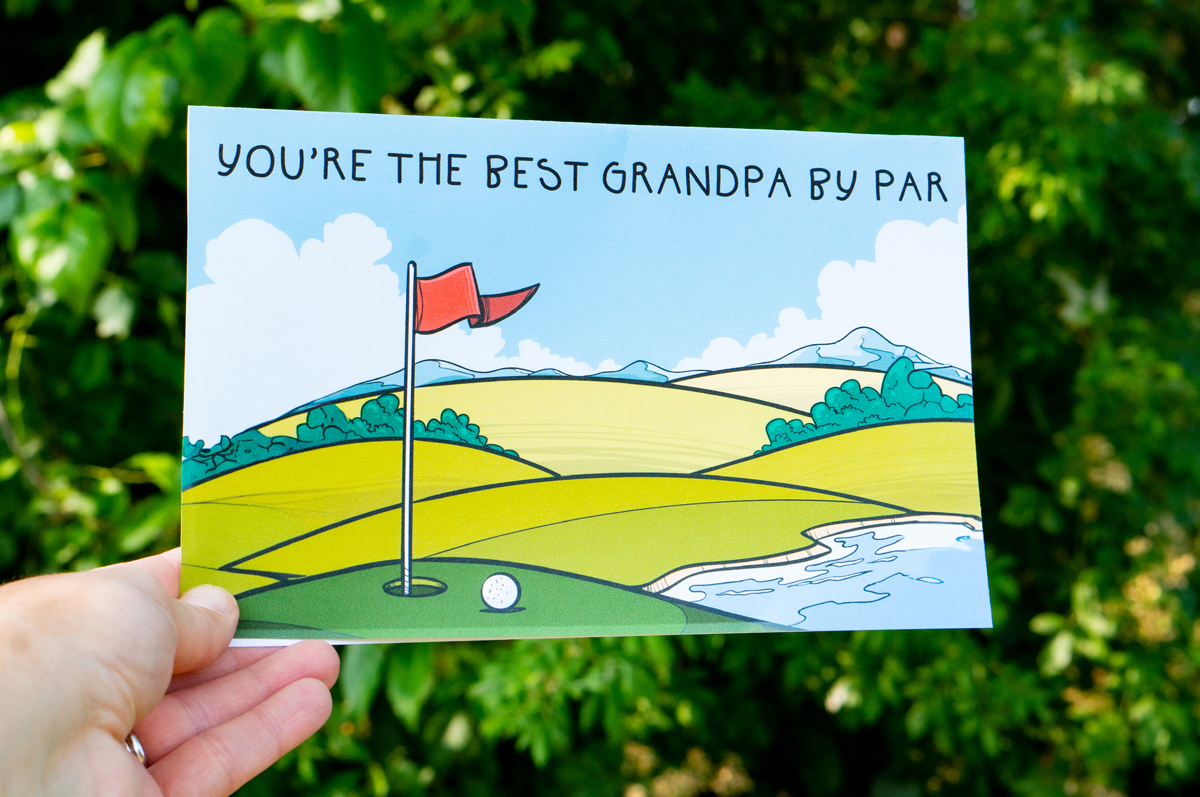 For the handymen in your life, this is a great generic "Happy Father's Day" card.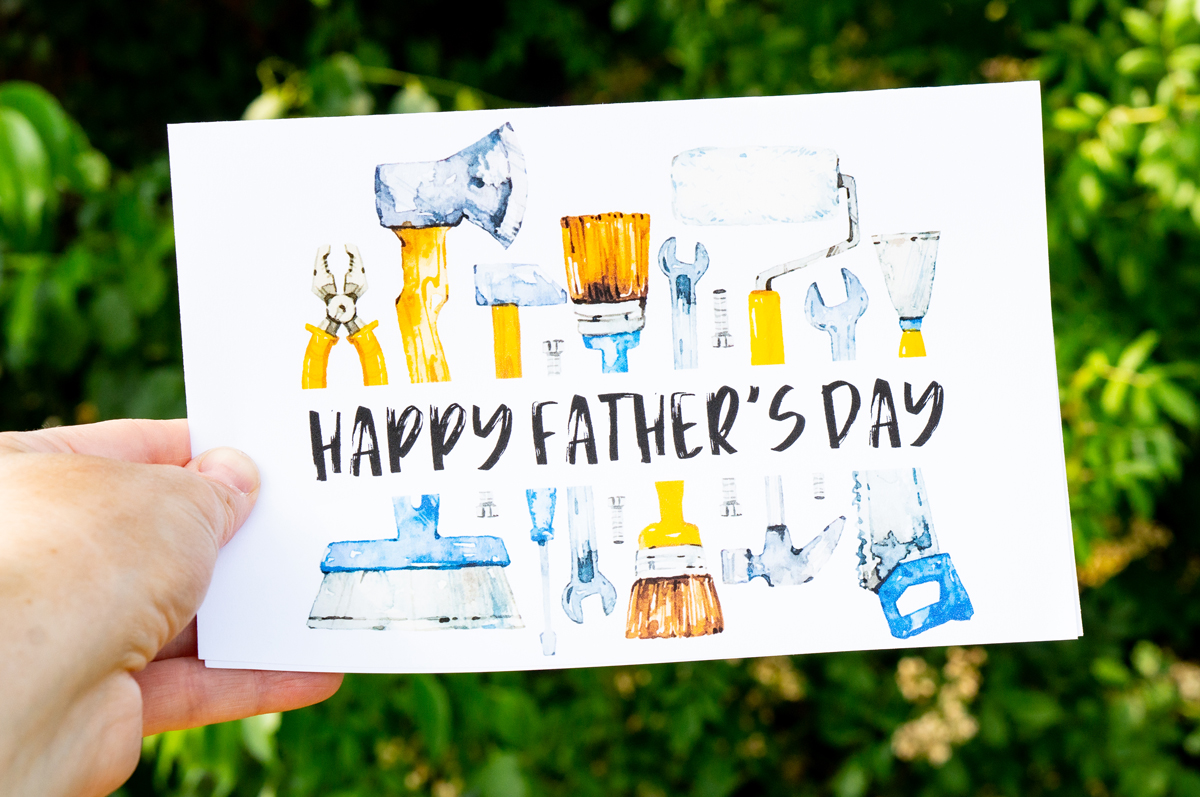 Retro-Video game lovers will think this Video Game inspired card is awesome. It says, "Happy Father's Day You're on Another Level."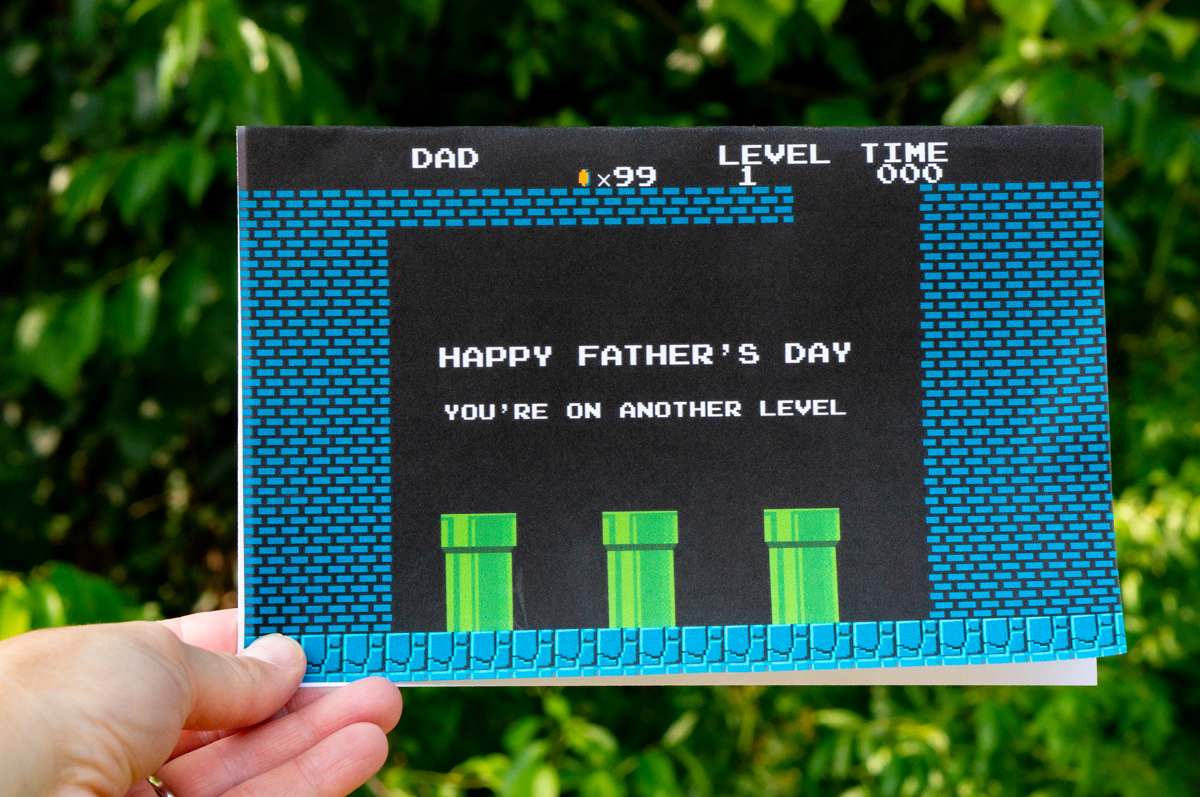 This card features a toolbox with the words, "Happy Father's Day to the guy who can fix anything!"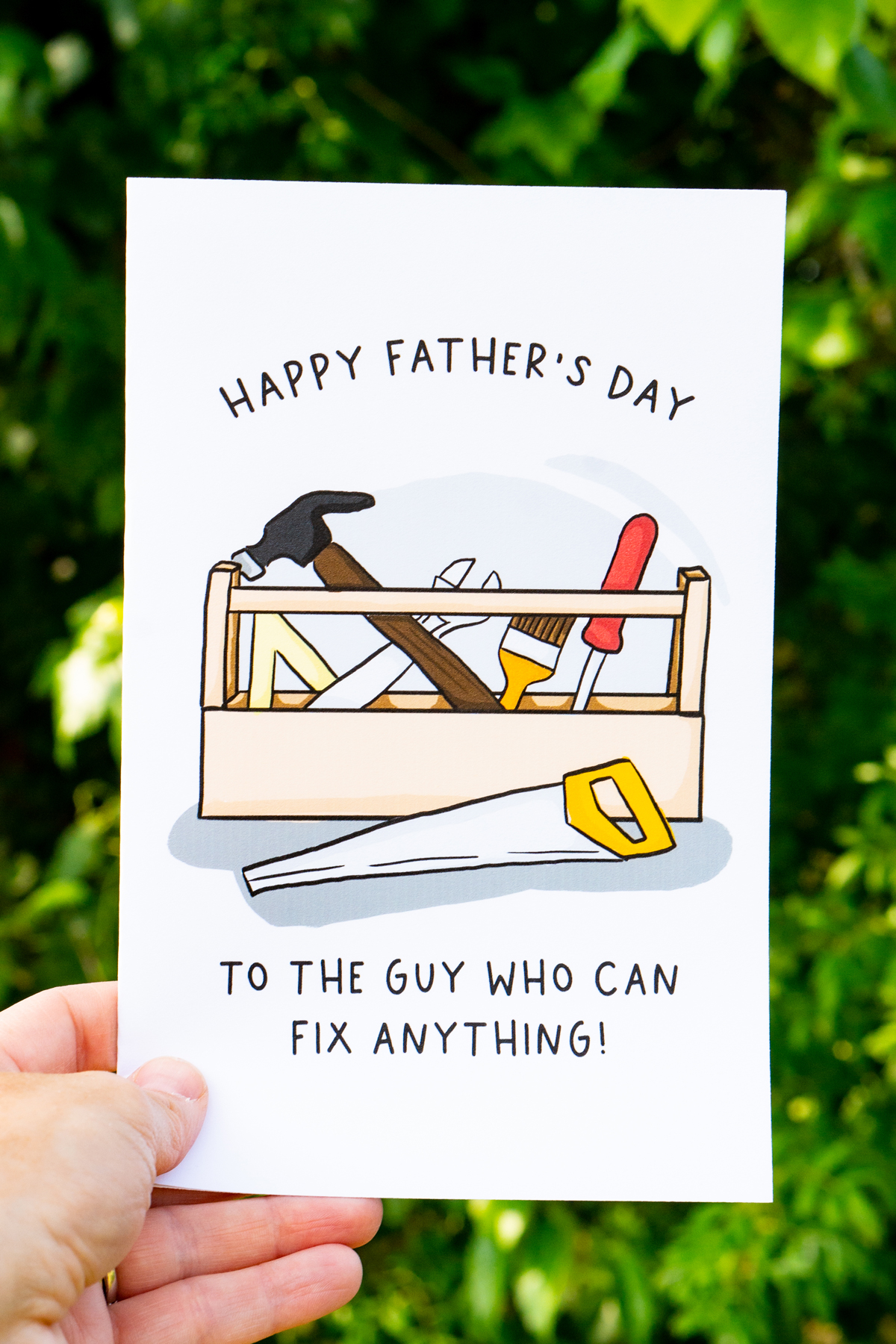 This is a special card for the men who inspired a love of music. It says, "Happy Father's Day! Thanks for my excellent taste in music."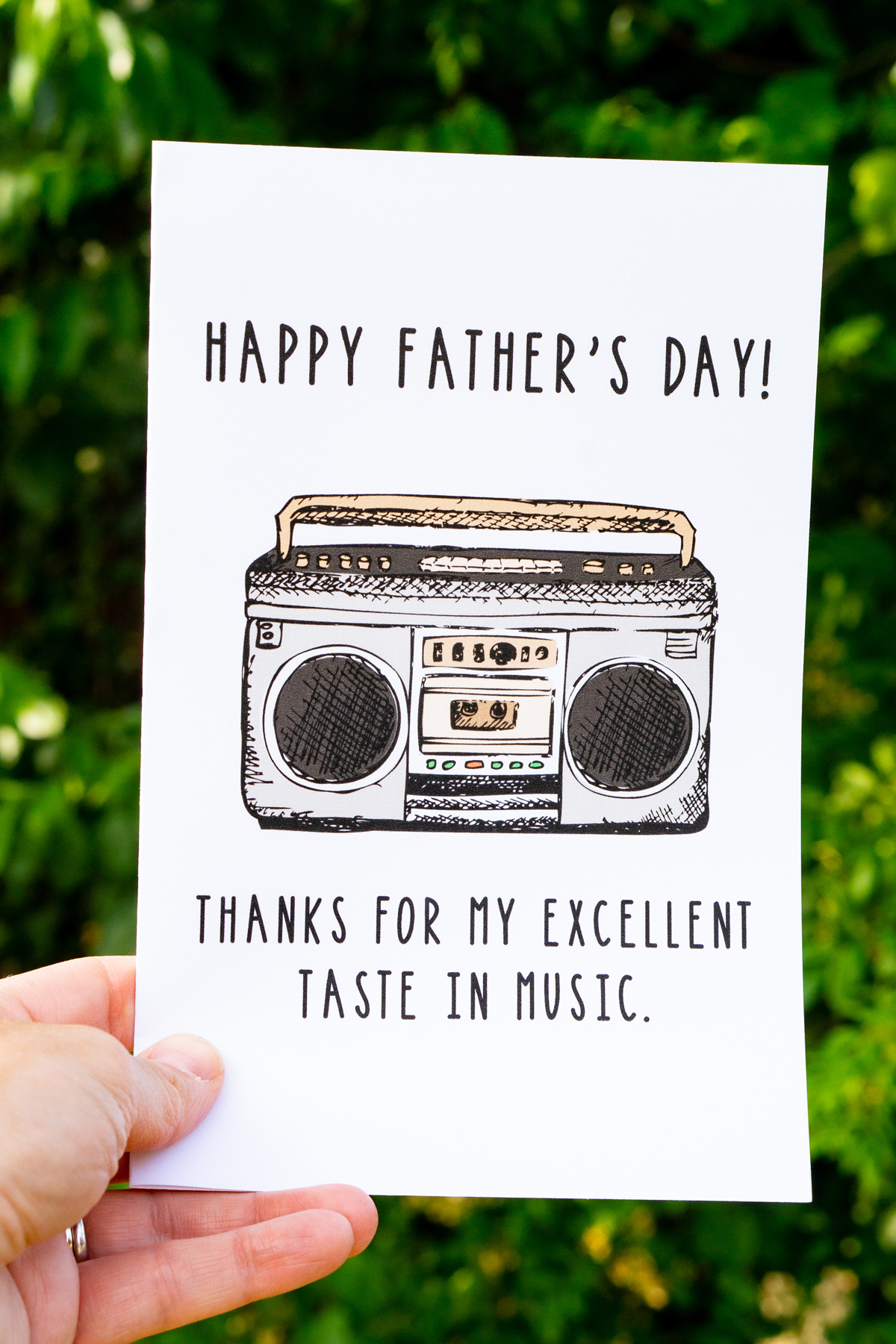 Sports fanatics will enjoy this free printable card featuring a foam finger. It says, "Happy Father's Day from your Number 1 Fan!" It also includes a version that says fans so that it can be given by more than one child.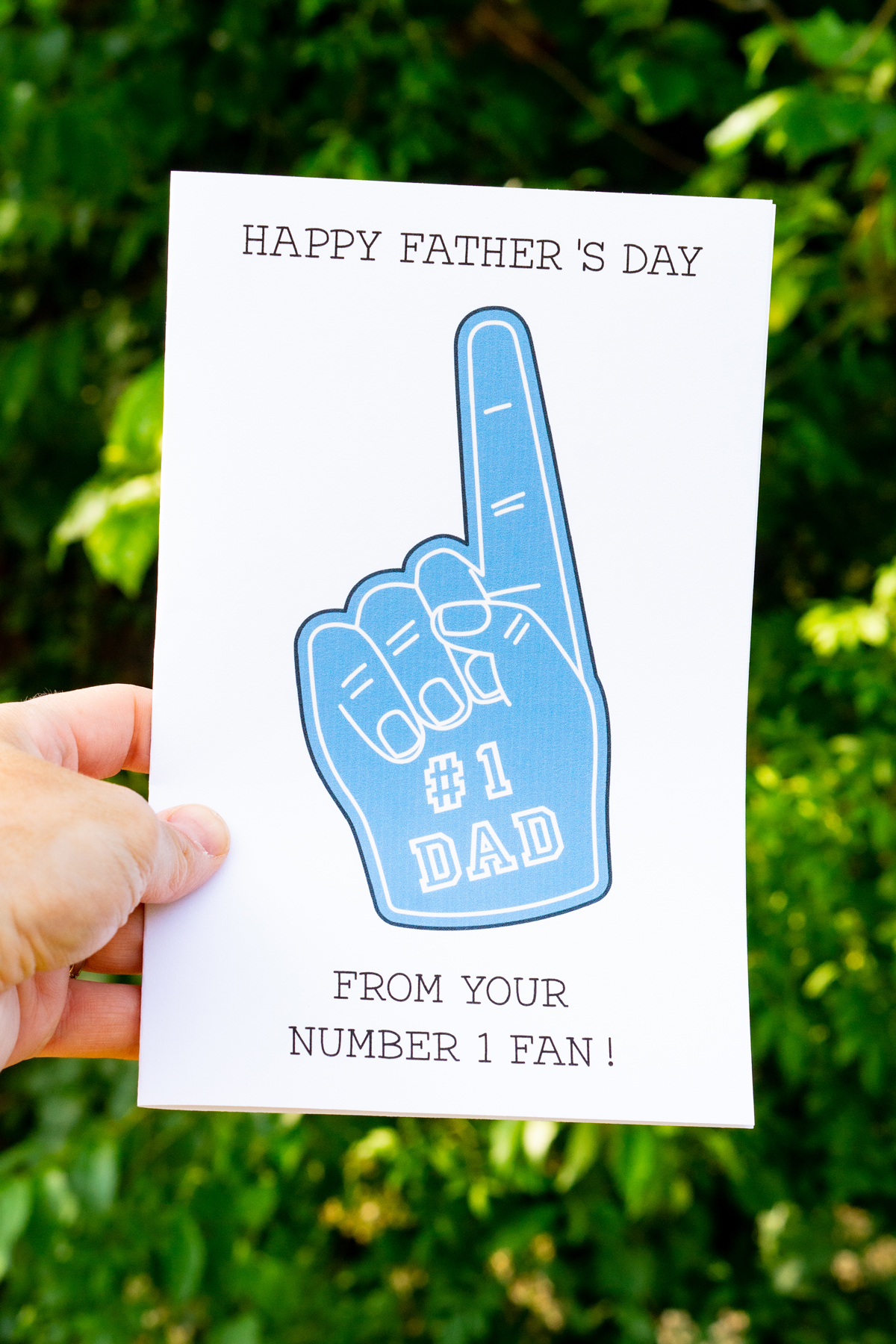 Do you have a "Super Dad" or "Super Grandpa?" Give them this simple card featuring a Clark Kent look-alike in a suit partially unbuttoned exposing a superhero outfit.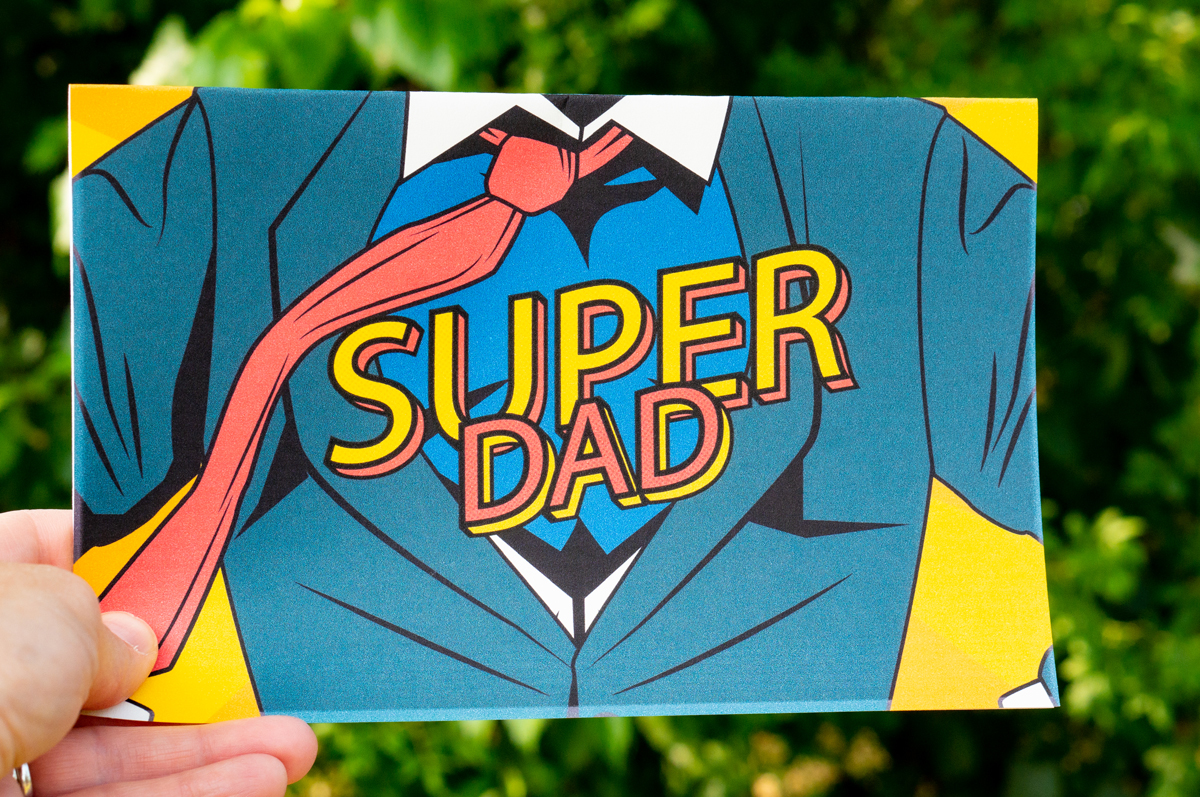 How Do you Download the Free Father's Day Cards?
You can click here to download the cards or you can click the image at the bottom of the post that says Click to Download.
What Paper Should you Print the Father's Day Cards on?
For best results, I suggest printing the cards on card stock. This is my favorite white cardstock that I use for all of my cards and projects. If you print the cards on a different color card stock, understand that the cards' colors will not be anything like the ones pictured on the screen because the color of the cardstock will affect the designs.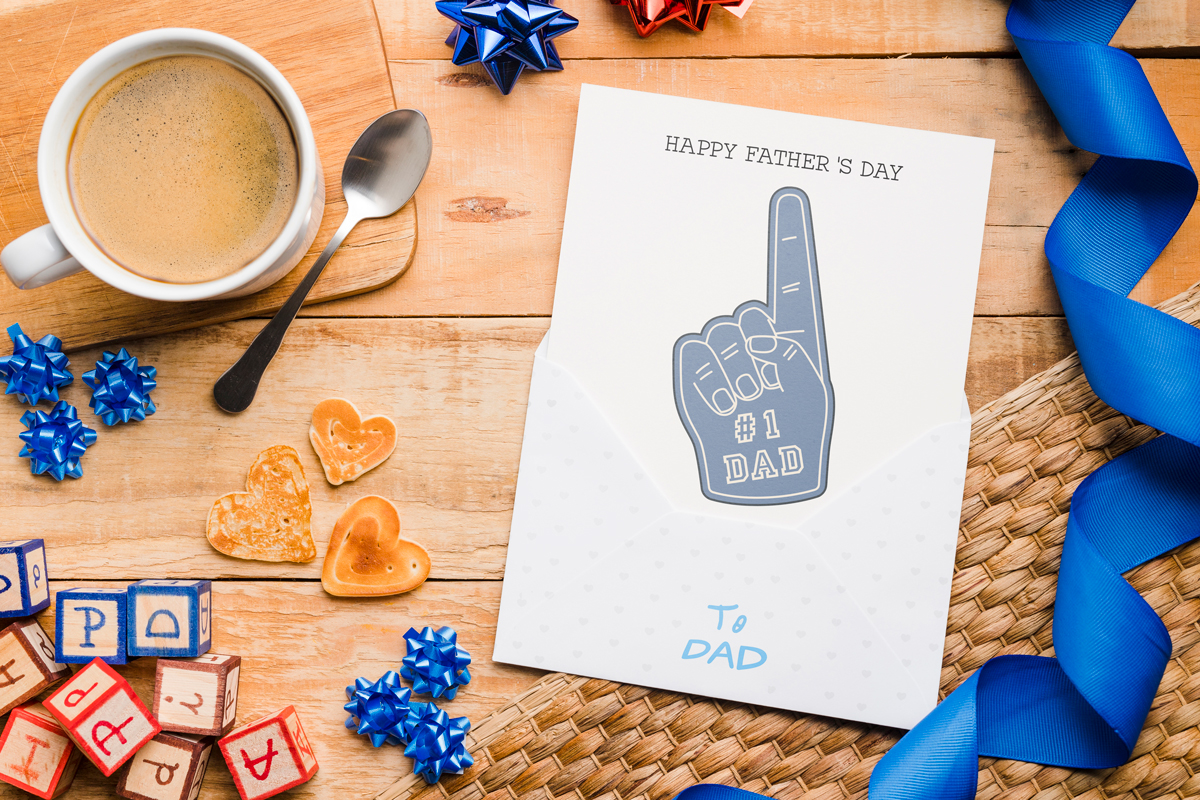 Can You Send the Cards to be Printed Somewhere?
In addition to printing the cards at home yourself, you can definitely send them to your local print shop to be printed. Or, you could even print them at the library if that's an option for you. The only thing is that cards do need to be printed on a color printer, so make sure whatever option you choose uses color.
What File Types are Included?
You'll get a pdf file for each separate card as well as a JPG file.
What Size are the Cards?
When the cards are printed at full size, they are designed to be printed on standard letter size paper (8.5 x 11). All you need to do is print and fold them in half. But, if you prefer a smaller card, you can print them smaller.
In the printer settings, I like to select to print 2 or 4 per page to create small or mini cards. Or you can choose a percentage to print the cards at. You'll just need to trim the card after you print it.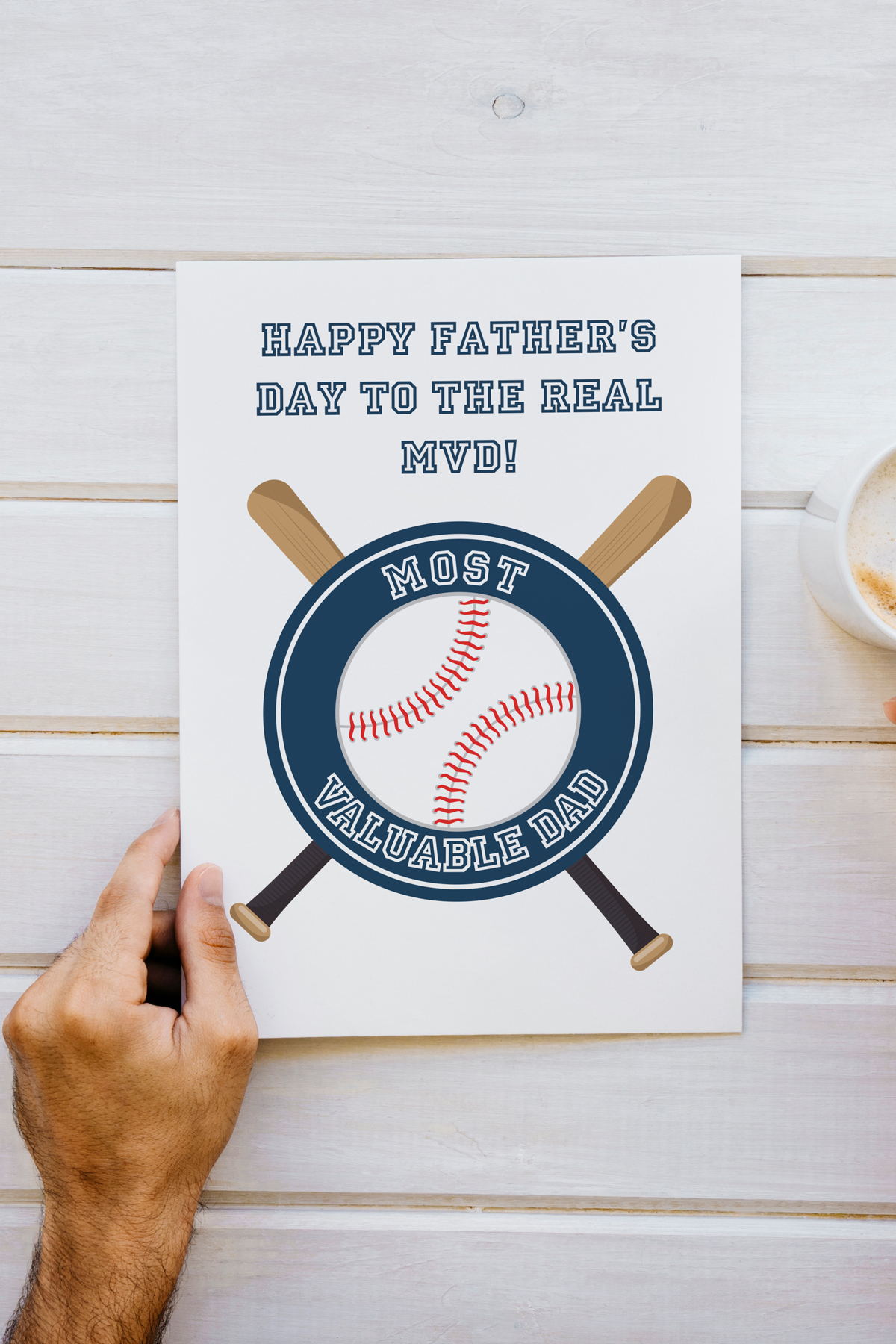 Print Borderless if you have the Option
If you have the option to print borderless, it will fit the full page. This is especially important for the designs that take up the entire front of the foldable card.
If you can't print borderless, no big deal! You may just need to trim the card a bit.
Looking for More Free Printables?
Mom Envy has over 300 free printables (including teacher printables) on our site! All you need to do is enter your email address to subscribe to our FREE Mom Envy e-mail club, you will get a members-only password to get access to all of them for free. Click here to subscribe.
Already a member but forgot the password? Don't sign up again. Look at the end of any newsletter from me for the free password or just send me an e-mail here: [email protected]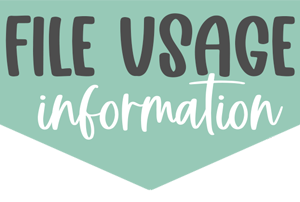 Copyright MOM ENVY 2023. Files may be used for personal use only. No commercial use of the file is available. Files may not be directly shared within Facebook groups, on websites, or in any other way. If using for educational purposes, the file may be printed and copied for classroom use. A link to the web page to download the files may be shared as well as one photo. The file may not be printed and then sold (including local yard sale sites and groups or at local craft fairs). The images may not be used in any way other than to share with a link to the original web page.