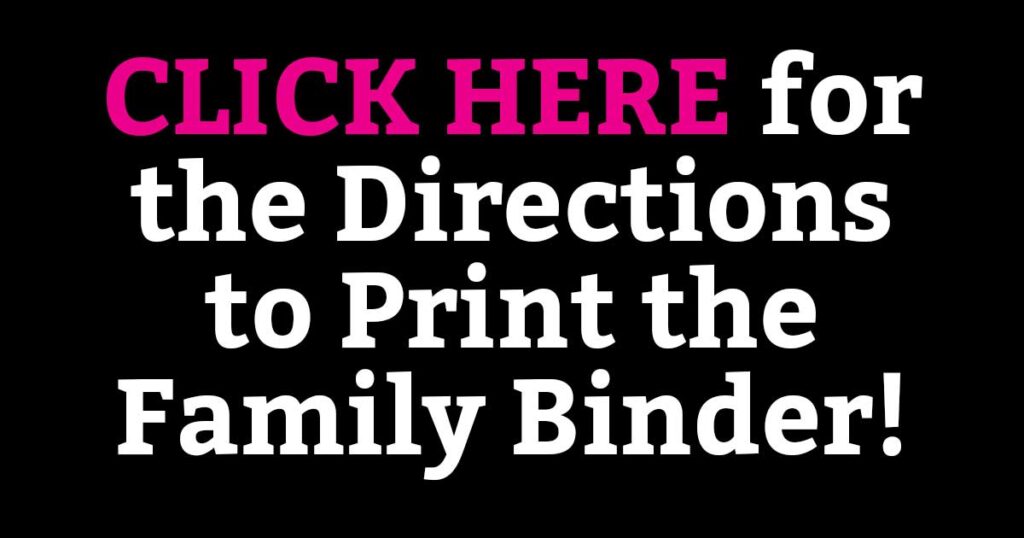 Family Binder Directions
If you're looking for the directions to print the family binder, you'll need to click here. Unfortunately, while the text was correct in my guide, the actual link was incorrect.
Thanks for understanding! Now, if you're here for the adulting planner, you're in the right place!
Adulting Planner Directions
If you purchased The Adulting Planner and would like a few tips on how to print and assemble it, you've landed in the right place. There is no right or wrong way to print the Adulting Planner but there are definitely some tips to make it easier.
Do you prefer reading or viewing the tutorial? Don't worry, I have both a video tutorial and written directions. Pick whichever way works for you.
Don't know what the Adulting Planner Is?
If you're here but have no clue what The Adulting Planner is, make sure to check it out! It proves that staying organized doesn't need to be boring.
Want even MORE Planner Printables
Do you love planner printables? I have over 250 pages of more planner printables on my site that are totally free for my e-mail subscribers.
Click to Sign Up and Receive Access!
Tip Before you Print
Printing can get expensive, before you print, check out the HP Ink Program. I am an affiliate and it's for a good reason – it's amazing and totally worth it. You can check out my review and get a free month of ink (or more – depending on their current promotion for referrals)!
Video Tutorials for The Adulting Planner
How to Navigate & Print the Adulting Planner Files
How to Print the Adulting Planner Files Back to Back
How to Set up your Adulting Planner
Written Instructions for How to Print the Adulting Planner
Planner Sizes
I have included 2 different sizes. Letter size and Classic Happy Planner size. If you'd like to print your planner in a different size, no problem! Follow my tutorial on how to resize planner printables for ANY size planner. Just select the letter size version to be able to follow the tutorial.
How to Resize Planner Printables for Any Size Planner
In case you want to print in something other than letter size or classic Happy Planner size, here are the directions to help you with that!
Planner Sections
The planner files are divided into folders for each planner section. This way, you can print just what you need. They are in the following folders:
Calendars at a Glance

Covers

Dividers

Extra Pages

Habit Tracker

Half Sheets

Monthly Calendars

Stickers

Weekly pages
What's Inside Each folder?
First, some of the folders have a folder called Basic. For some of the sections (such as the weekly spreads), I have included basic versions that have blank titles or simpler titles. This allows you to print and fill in the titles yourself.
In the planner world, I often hear complaints about having to cover up titles with stickers because they don't meet their needs. I want you to be able to have a planner that meets your individual needs without having to cover up sections and titles.
So if you find that the standard adulting version isn't quite what you need, check out the Basic folder to see if you can print a plain version and fill it in yourself!
Let's check out what else is in each folder.
Calendars at a Glance
In this folder, you'll find a single page year at a glance for 2019, 2020, and 2021. This is great to print and put at the front of your planner. Next, you'll find a 2 page spread of yearly dates – it's Calendex style. A leap year version is included.
Covers
You'll find 3 different covers. In addition, I have included a "This Planner Belongs to…" page.
Dividers
There is a divider for each month of the year. I have included a color version and a black and white version.
Extra Pages
Currently Page (print 1 per month and fill out how you are currently doing/your current favorites)

Daily Planner (including a "back up dinner" section in the menu for those with picky kids that eat separate meals)

Daily Planner (including a snacks section in the menu instead of the "back up dinner" section)

Funny moments tracker (track all of your funny moments – great for memory keeping)

Goal setting page

Goal setting page (no quote = basic version)
Habit Tracker
There is a habit tracker for 28, 29, 30, 31 days.
Half Sheets
I LOVE half sheets. They're one of my favorite planner printables. They're great for when you want to add something to your planner but don't need a full page. The half sheets included are:
Lined (no title)

Listers Gonna List

Listings What I Do Best

People to call / People to Text

Menu Page (Sunday-Saturday)

Menu page (Monday-Sunday)
Monthly Calendars
There is an undated monthly calendar for each month. It includes a different quote/design for each left page. The right page is the same for each month. So you'll need to print 12 (or however many months your planner will be).
Stickers
I included a set of punny, sarcastic stickers. It's one full-size sheet of basic everyday stickers and menu stickers.
Weekly pages
There are 2 weekly versions. A dashboard version and a vertical version.
Print What you Need!
You simply print the pages that you need and you've got yourself a planner! Because the majority of the pages are undated, you can print it as much as you want and use it year after year. Plus, you don't have to start it in January!
I try to organize my planner as the following
**This is easier to see in the video tutorial. I highly recommend watching the video up above because written directions just don't hold up to seeing it on the video**
Cover

Belongs Page

Year at a Glance

Calendex style calendar

Divider

Currently Page

Monthly Spread (with the left side printed on the back of the currently page)

Weekly spread (x 4 or 5 – depending on the month) with the left page printed on the back of the right page of the monthly).

Extra pages

Repeat for each month
If the dividers aren't your style (you can grab free dividers here).
How to Create your Own Planner – More Info
If you want a little additional info on how to make your own planner, visit: