I've found the best laser engraver for tumblers, Yetis, and cups of all kinds. As a craft hobbyist, I am always looking for fun new tools that can help me create gifts and items for my family, friends, kids' teachers, etc.
This laser engraving machine can engrave cups made of multiple different materials: powder-coated tumblers, stainless steel cups, Yeti mug or cups, wine glasses, and cylindrical objects of all types. The fact that it can handle such a wide range of materials and a far lower cost than so many laser machines, makes it my top choice of laser engravers.
What is My Top Choice for a Laser Engraver for Tumblers? The xTool M1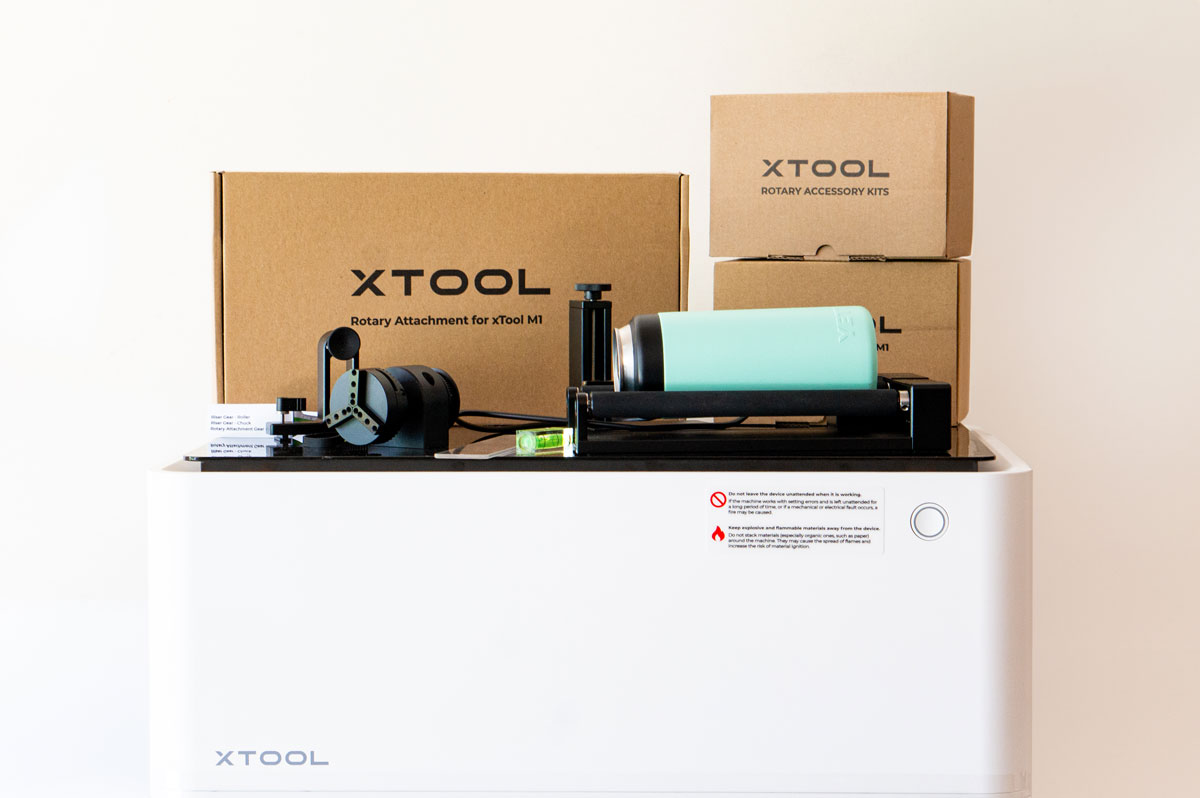 As an Amazon Associate, I earn from qualifying purchases. I am also an affiliate for xTool, the HP ink program, ShareaSale, and CJ Networks. Click here to read more.
Why is the xTool M1 the Best Choice?
The xTool M1 is a versatile machine – it's a hybrid that is a laser cutter, laser engraver, and blade cutting machine. It uses a diode laser that makes it easy to safely use inside of a home office or craft room.
Plus, the machine can work with so many different types of material. So even though you are here reading to find a laser that can do tumbler engraving, it's great to know that it can do so much more.
But, since we're here to talk about the best laser engraver for tumblers, we're going to focus on why it's the best option for that. The M1 has a special rotary attachment that makes engraving designs on tumblers so simple.
Learn More about the xTool M1's Other Capabilities
Want to learn even more about the xTool M1? Read my full xTool M1 review to learn what else the hybrid laser machine can do.
The xTool M1 Rotary Attachment: The RA2Pro
Adding a rotary attachment called the RA2Pro, turns the xTool M1 into the perfect laser machine for laser engraving tumblers.
The first thing I love about it is that it is a 4 in 1 tool. It includes:
Roller rotary
Chuck rotary
Sphere rotary
Ring rotary
Unlike many rotary options, you can engrave the full 360 degrees of an object. Plus, you can engrave objects up to 100 mm in diameter with the chuck and sphere, objects up to 198 mm in diameter with the roller, and up to 70 mm in diameter for the ring attachment.
The RA2Pro makes the laser engraving process painless. As a laser machine beginner, I was easily able to set up the rotary roller and engrave two pieces right away. Having the right tools is so important and the RA2Pro is my top choice for laser rotary attachments.
Did you know that another desktop laser that came on the market in the summer of 2023 by a competitor can't even engrave tumblers? Despite its popular brand name, it can't engrave anything round. It's just one of the many reasons that make the M1 the best desktop laser.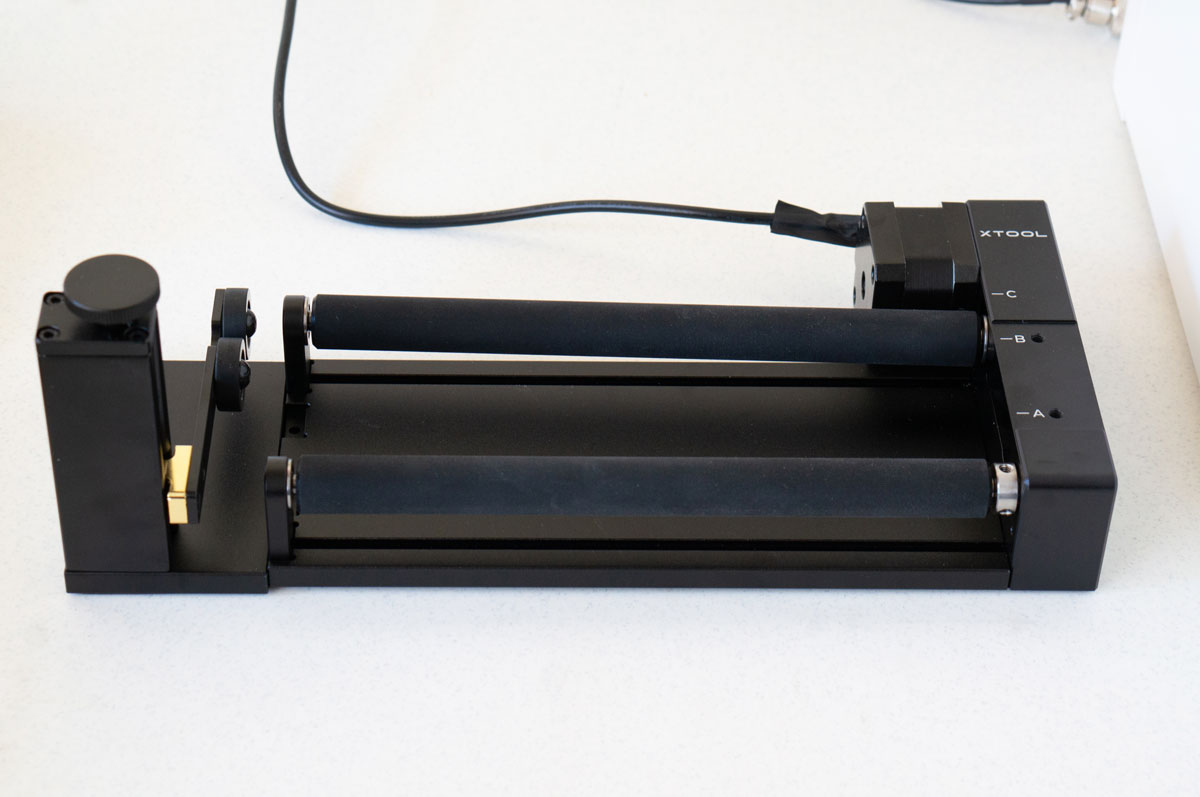 High Quality Laser Engraving Results
Definitely. You could use this laser engraver as a small business looking to sell engraved tumblers. At 10W, it may not be as high efficiency as some options but it's a great option for small businesses.
Look at the great result I got on my second laser attempt. This was an inexpensive tumbler from Walmart.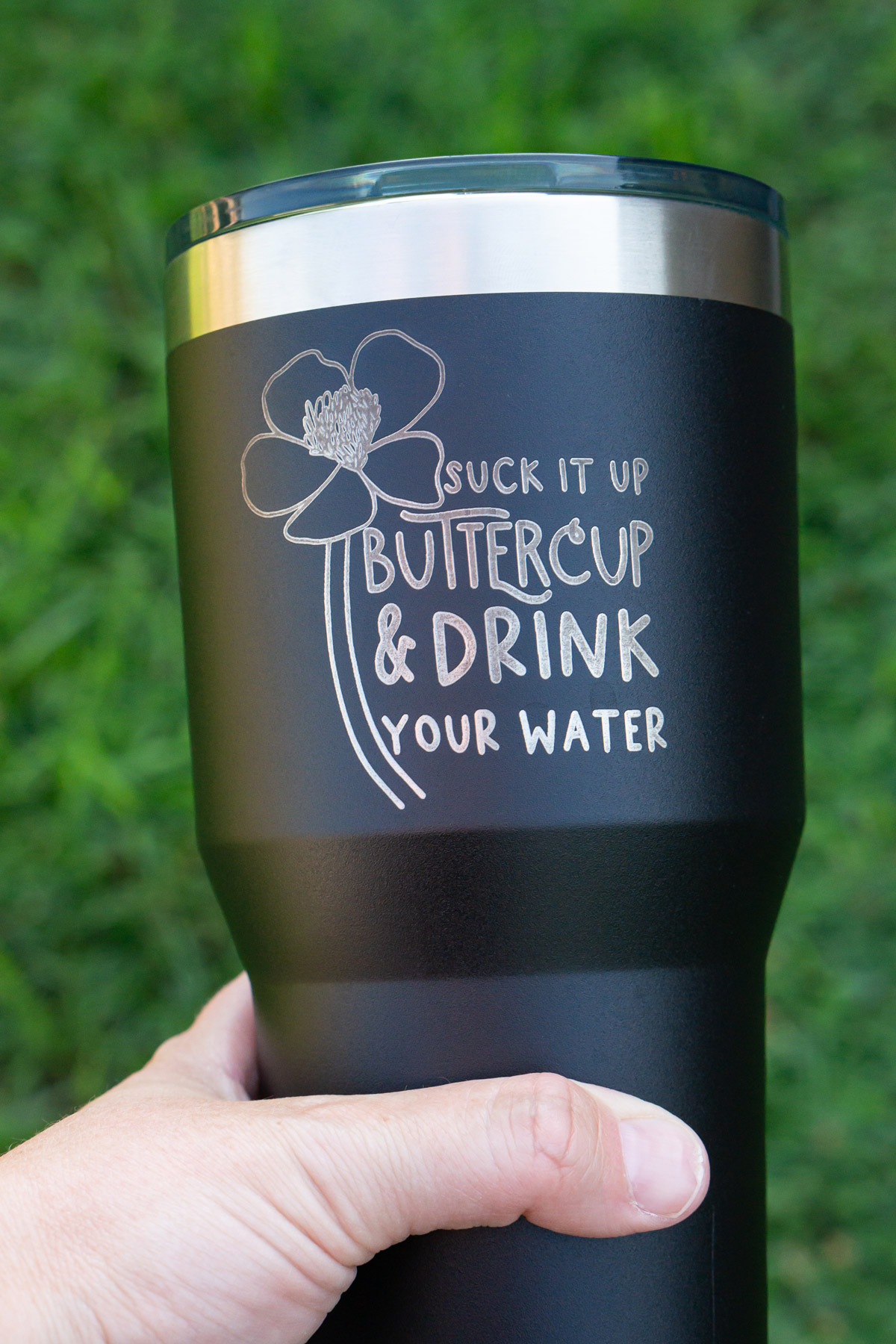 Desktop Size Laser Machine
Thankfully, the M1 is not a large engraving machine – it is desktop size which is all you need for engraving tumblers. It's not much bigger than a desktop printer. If you're looking to do much larger projects, this may not be the best choice but tumblers are your main focus, it's a wonderful more compact option.
Great, Lower Price Point than Competitors
Budget-friendly users will like the price point of the M1. It is not the cheapest but it's far from the most expensive. You get a high quality laser that's still at a more affordable price point.
You can get the RA2Pro in a bundle with the M1 and save even more. Check out the bundle from xTool here.
xTool's 3rd Anniversary Carnival Sale!
Right now, xTool is hosting a 3rd Anniversary sale from September 20 to October 6. You can grab the xTool M1 (which I used for this project) for a great price.
Machines are up to 60% Off, plus 4% cashback!
It's the perfect time to grab the xTool M1 for a great deal. There are multiple bundle options to save even more.
The M1 Pricing will be:
xTool M1 10w basic – $949
xTool M1 10w deluxe(RA2 pro)- $1199
xTool M1 All-in-one bundle – $2042
​Protective Shield from the Laser Built In
Another great benefit of the M1 is that you don't need a ton of personal protective equipment. The machine has a shield that protects your eyes from the laser light. You can still add some safety goggles but they are not required.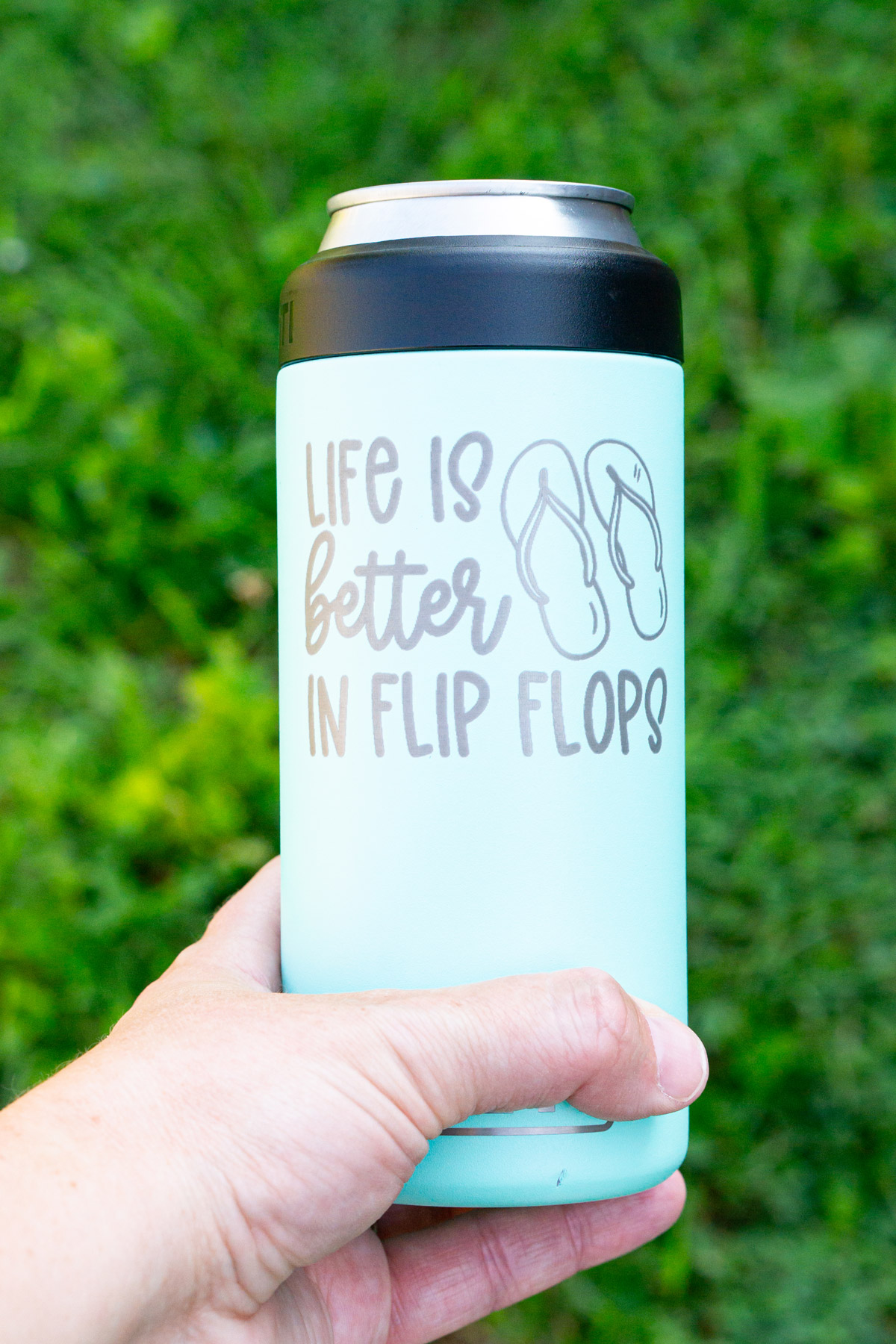 If it's a Diode Laser, Can You Engrave Glass?
Yes! While a diode laser can't engrave clear acrylic, it can still engrave glass. So your wine glasses, drinking glasses, shot glasses, etc. can all be done with the rotary tool. You'll just need to apply something like black chalk paint to the glass before engraving and place balled-up foil inside of the glass as well.
​No Guess Design Placement
Thanks to the M1 image capture, design placement is easy. The machine has a camera that takes a picture of your tumbler within the machine. That image is then displayed in the program where you're able to place your design on your tumbler.
​Use framing to ensure that you've placed your design correctly before you begin. It will help you get perfect results every time.
Set Up the RA2Pro with Ease
Setting up the RA2Pro takes just a few simple steps. You can see it in my video below.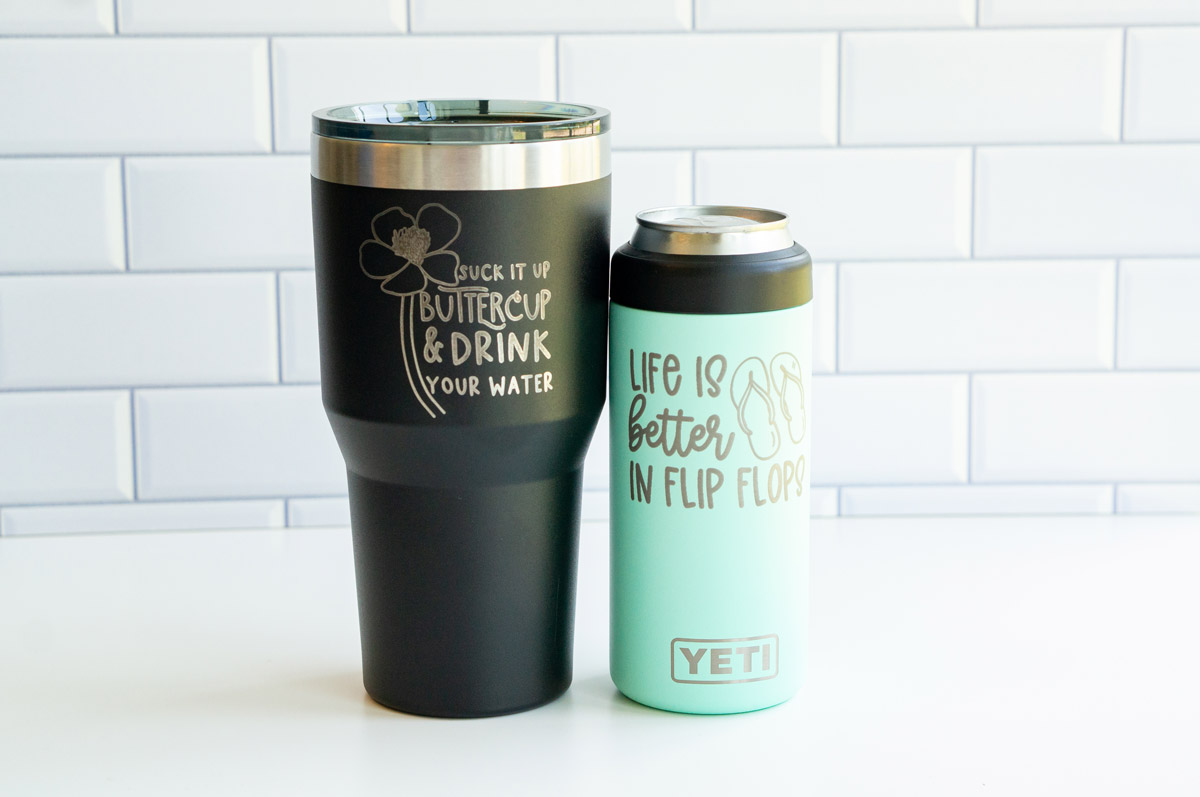 How to Use the xTool M1 with the RA2Pro to Engrave Tumblers
Want to learn how to use the RA2 Pro? Watch my tutorial where I walk you through engraving not one, but two different types of tumblers.
One is a Yeti colster that is all one level. The second is an Ozark tumbler that is irregular and tapers. I show you both types of setups in my video below.
Free SVG Files to Engrave on your Own Tumblers
In the video above, I used two different free SVG files right here from my site. You can get an instant download of the free water-themed set here. See each included design toward the bottom of this post.
If you're looking for a fun summer design (like the life is better than flip flops I did on my Yeti, you can download it from this free set of summer SVGs.
Suggested M1 RA2Pro Settings for Powder-Coated Tumblers and Yetis
These are the settings I have used, You may be able to use a faster speed or increase the laser power (or decrease it) but this is what I found works best so far.
70% power
75 mm/s
220 lines per cm
1 pass
Bi-directional
Suggested M1 RA2Pro Settings for Stainless Steel Tumblers (no powder coating)
Again, these settings may need to be adjusted for your own machine and tumbler. These are the best speed and power settings I have used.
If using laser marking spray **I highly suggest using marking spray
100% power
50 mm/s
200 lines per cm
1 pass
If not using a laser marking spray
100%
20 mm/s
160 lines per cm
1 pass
Important Note: Leveling
Before you begin, one important thing is that you need to make sure your machine and rotary toll are on flat surfaces that are level. Next, you'll need to make sure that your tumbler is level on the rotary roller.
When you want to have high-level engraving quality it is imperative that your tumbler is level. The RA2 Pro comes with its own small level and a special leveler piece for irregular and extra long tumblers so that you can easily level your tumbler.
How close the laser module gets to the entire engravable area will affect the outcome of your finished product. To have good results, you have to make sure your tumbler is level.
If your tumbler is not level, the laser will not engrave evenly across your cup. The closer the laser beam is to the engraving surface, the deeper it will engrave. One side will engrave deeper/darker than the other part of the material surface that is lower and further from the laser head.
Changing the Height of the Laser Engraver
If you are using the M1, you'll need to change the height of the machine so that it will allow for the rotary tool to fit. Don't worry, you won't need to make an extra purchase. The RA2 Pro comes with risers for the M1 (and if you're using an xTool D-1, it comes with risers as well).
Who is the M1 and RA2Pro For?
Both hobbyists and small businesses will love the M1. You can click to read more about why this machine is the best budget laser engraver option.
What Software Can You Use?
You can use the following programs:
xTool Creative Space
LightBurn
LightGRBL
What Else Can You Engrave with the RA2Pro
The RA2Pro can engrave various materials – not just the tumblers that I have shared about within this post. Some other product options include but are not limited to:
ornaments
baseballs
baseball bats
wine glasses
rings
mugs
cylindrical wood blocks
rolling pins
vases
wine bottles (without wine)
bracelets
small flower pots
glass cups of all size (drinking glasses, shot glasses, highball, rocks glass, etc).
glass bottles
Yeti cups, bottles, and colsters of all sizes
Can You Use the RA2Pro with Other Laser Machines?
xTool has a rotary tool for the xTool D1Pro/D1, P2, and the F1. In addition to xTool's machines, their website says that they work with other types of laser machines with an open structure.
What Do the Free Water-Themed SVGs Look Like?
If you're looking to laser your own tumbler, grab this set of free SVGs that are perfect for tumblers. Each design is a joke about drinking enough water in a day – trying to inspire you to increase your water intake.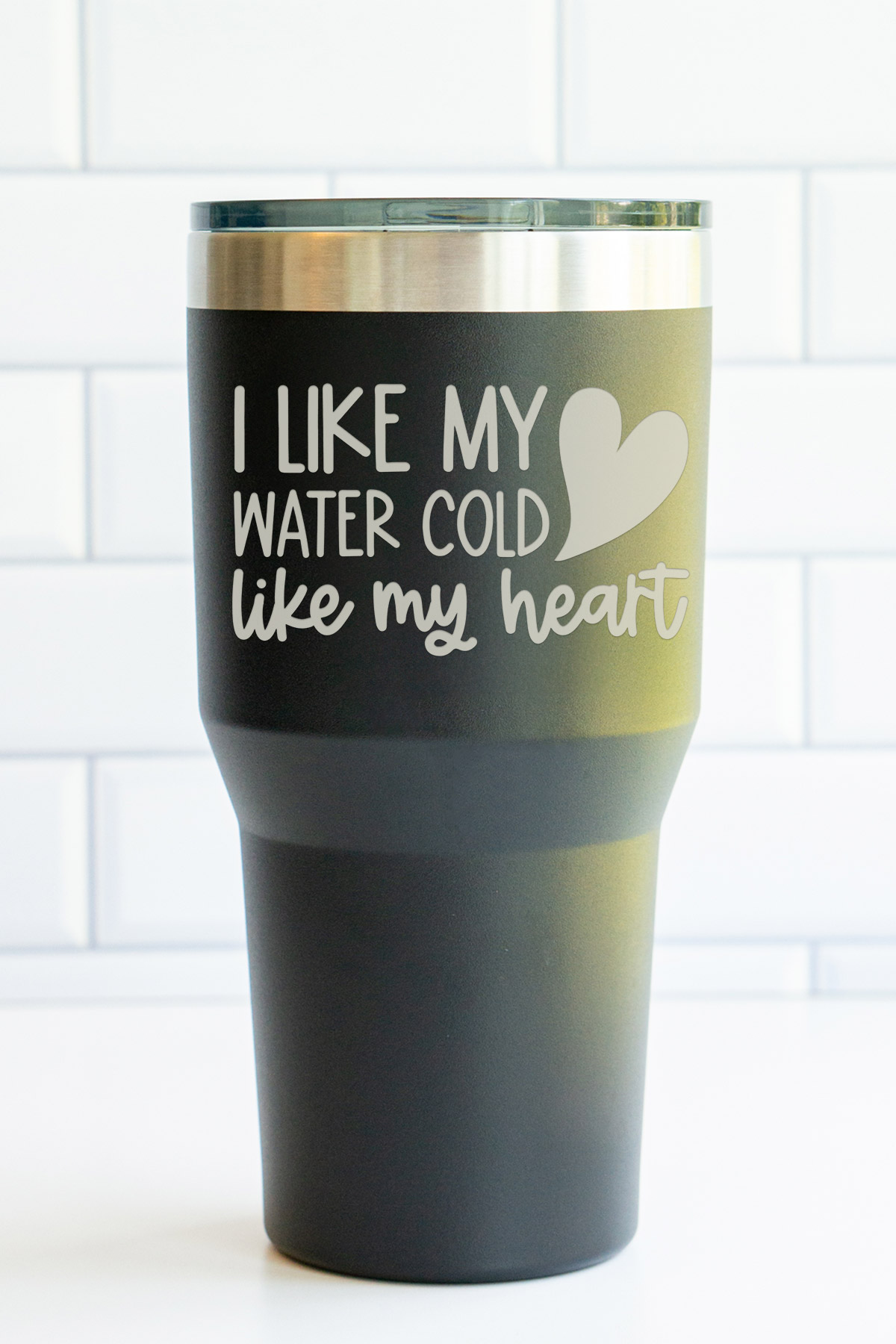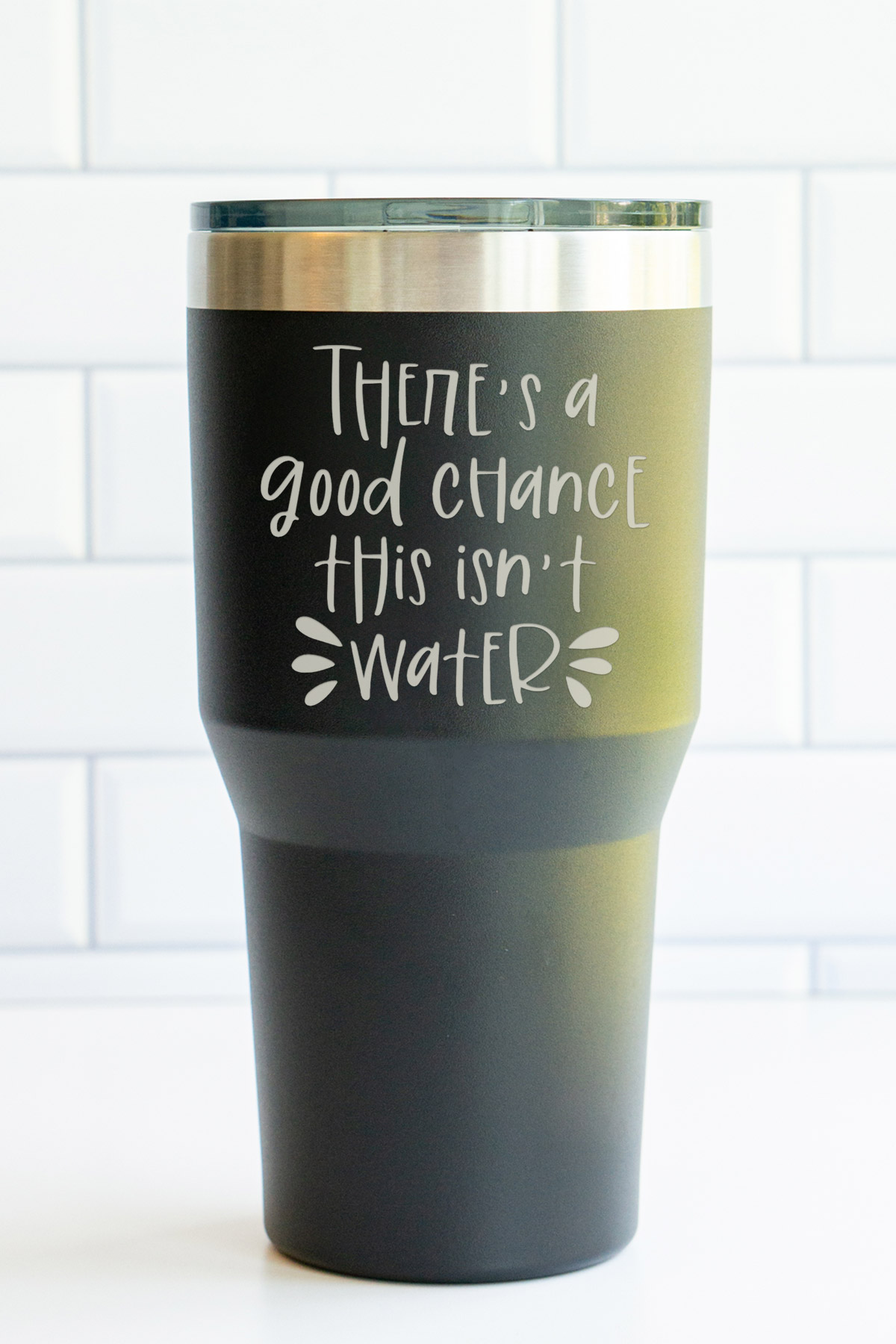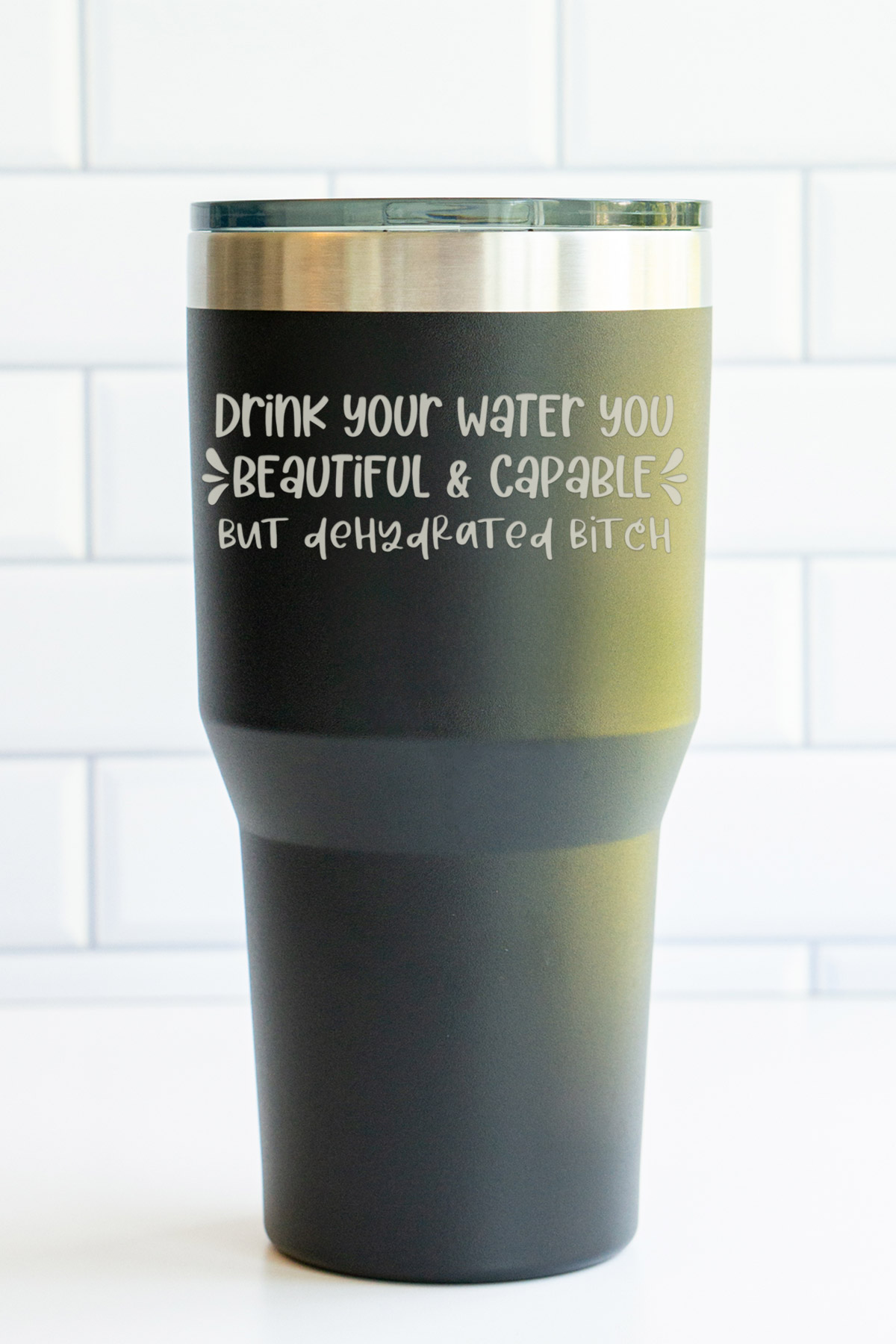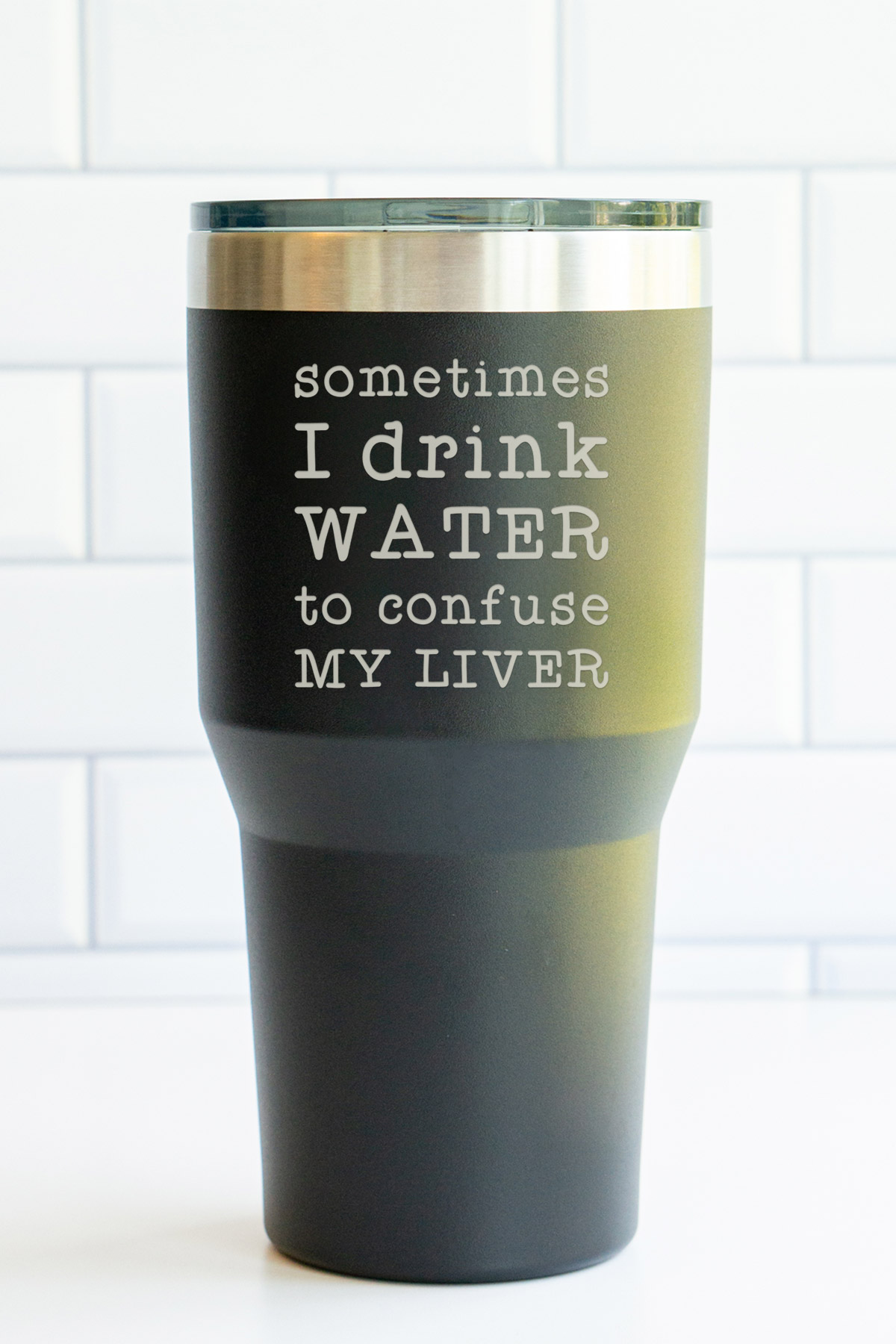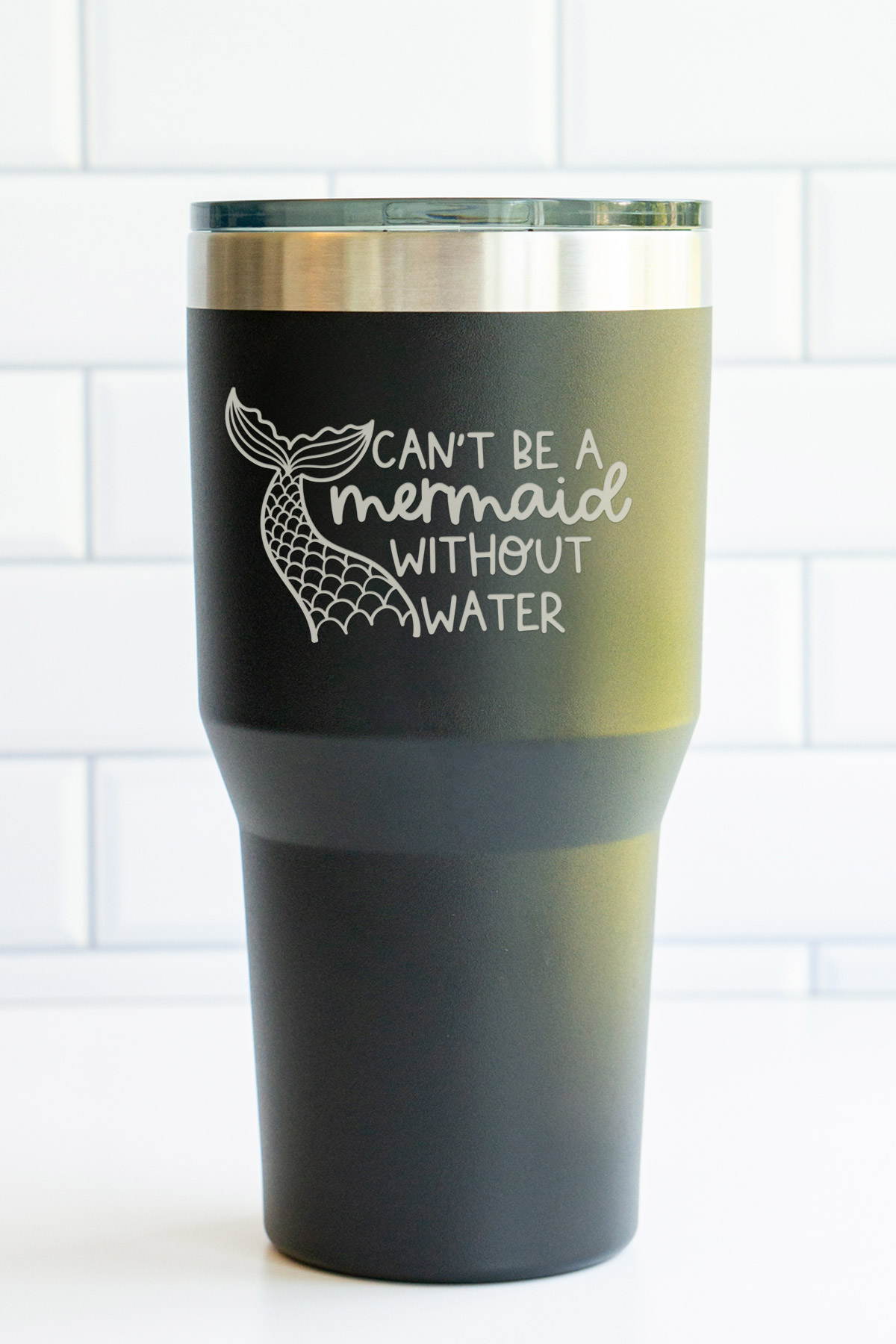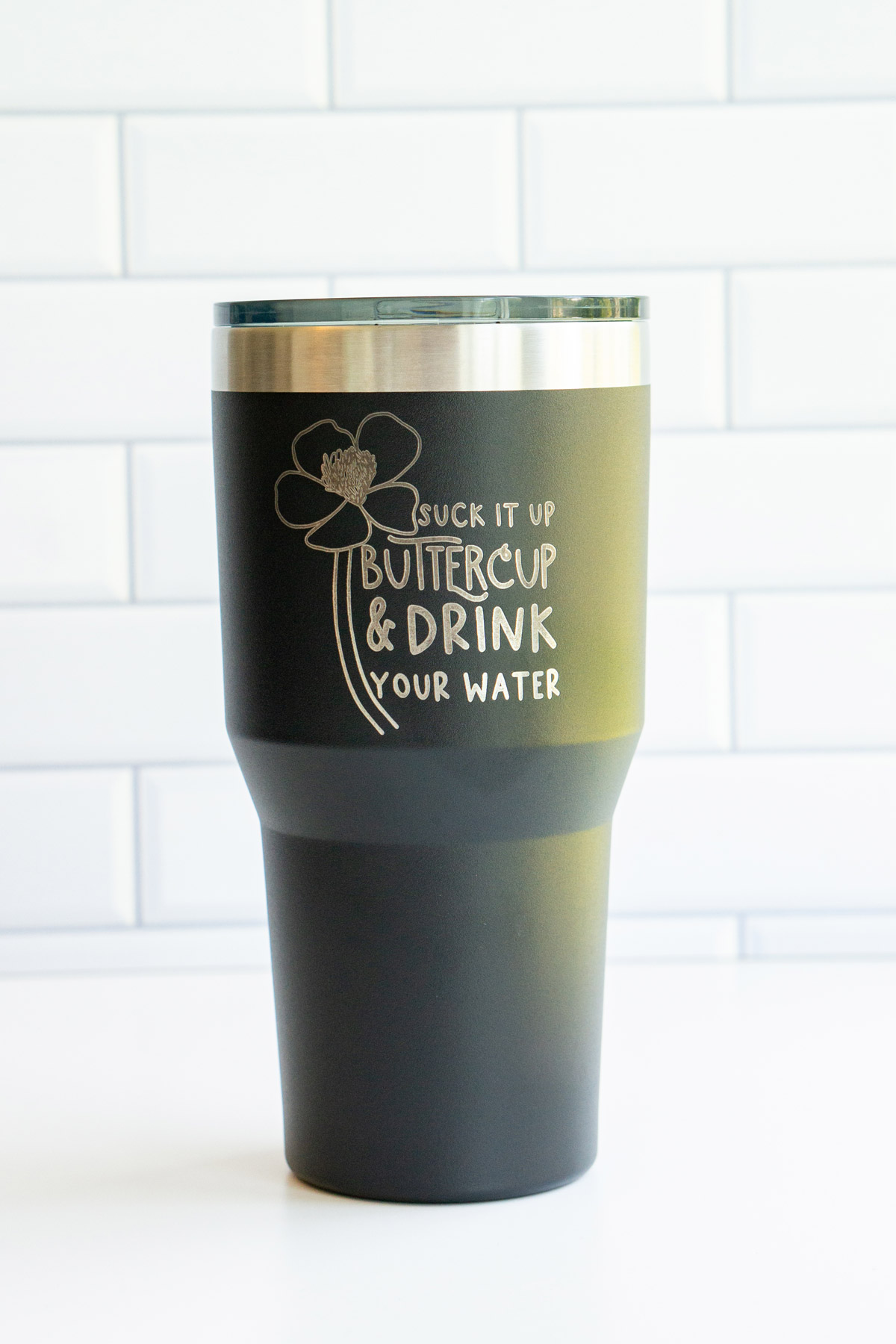 What Do You Get in the Free Download?
You'll get the following file formats for each of the 7 free designs.
SVG format
PNG format
Silhouette studio format
Can the Free SVGs Be Used for Other Projects?
Of course! They can be used for anything SVGs can be used for. They'd work well as vinyl on tumblers and cups, too.
Can I Purchase a Commercial License?
Yes! These free files are for personal use only unless you purchase a commercial license. If you're looking to purchase a commercial license, click here to purchase.
Want to See Other xTool M1 Projects I've Completed?
Click here to see all of my xTool M1 Laser tutorials and information.
Want More Free SVG Files?
When you sign up for my Members-only club, you'll get my free members-only password to gain access to my hundreds of free designs. There are tons of freebies for your next project.
Just make sure to check your junk folder because oftentimes the sign up email ends up there. Here is the link to all of my free SVG files on my site.
​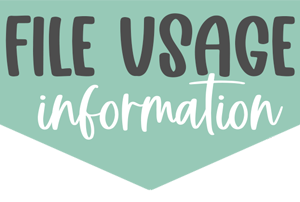 Copyright MOM ENVY 2023. Files may be used for personal use only. Commercial licenses may be purchased for SVG and Silhouette cut files. Click here to purchase a commercial license for a file. No commercial use is available for printables. Files may not be directly shared within Facebook groups, on websites, or in any other way. A link to the web page to download the files may be shared as well as one photo. The file may not be printed and then sold (including local yard sale sites and groups or at local craft fairs). The images may not be used in any way other than to share with a link to the original web page.