How to stage a house? What are the tricks to get my house to sell? How to prepare a house to sell?
These are the many questions we asked ourselves when we prepared our own home to sell. We spent hours researching and planning our home remodel projects (it was a great excuse to binge-watch HGTV – Drew and Jonathan make great teachers). We created a plan with one goal in mind: to sell our home for as much money as possible.
And our efforts paid off. We sold our house on the first day for $100,000 more than what we paid seven years prior. Yep, you read that right, $100,000.
Is staging your house worth it? Definitely. Are a few weeks of hard work and elbow grease really going to make a difference? You betcha. Is it going to suck? Probably.
How to Prepare a House to Sell – Two Things to Remember
Before I teach you my secrets for staging a house to sell, I need to give you a little tough love. There's a big difference between completing DIY projects for the purpose of selling your house and completing DIY projects for your forever home.
When remodeling a home for the purpose of selling, keep these points in mind:
Your personal style and taste don't matter. What's important is the style that will appeal to the most amount of people.
Is the DIY project or modification adding more value than what it will cost to do the project? If the project is going to cost more than it's value, don't do it. It's not worth the time and energy – no matter how much you love it. (My husband had to talk me down from quite a few non-value adding, projects).
How to Stage a House
How to stage a house, without breaking the bank, can be difficult. I'm here to teach you how to prepare a house to sell without going over your budget. We were able to remodel our house on a budget and build a lot of equity while doing it. And that's because we were smart about the choices we made. Here are the guidelines we followed.
1. Pick One Identity for Your Home
When staging your home, you want the entire house to feel like the same person designed it. Having various styles throughout the house is going to confuse your buyer and make things feel less cohesive (and too eclectic).
Make sure every room in your house – from your bathroom to your family room – is designed with a similar style, color palette, and decor. What style should you choose? That leads us to point number two.
When we were selling our house, I was tired and left one room untouched. Our amazing realtor pushed us to update the room to match the rest of the house. Even though we were exhausted, we completed the room and it made such a big difference to the overall feel of our home.
2. Determine Which Design Style is Best for your Current Market
Staging a million dollar apartment in New York should look completely different than styling a farmhouse in the middle of Texas.
Your local area and the current trends determine the design style best for staging your home. Are you a lover of all things contemporary but living in South Carolina? Unfortunately, your style isn't going to quite match the stream of people that will be flowing through your doors.
How do you determine which style is best for your home?
Visit local open houses for model homes. They've already done the research for you – they've looked at their target market and determined what style would help them sell homes in their new neighborhood best. Take a camera or a notepad and keep track of the style of the house.
Look online at local houses that have recently sold at price point you want your house to sell for. Pay attention to their style and design elements – are the houses modern? farmhouse? Cottage-like?
Watch some current HGTV episodes and see what styles and design elements you keep seeing again and again (make sure you aren't watching reruns from five years ago). Head to Pinterest and see what is trending under Home Decor. Look up Houzz and pay attention to the styles and decor you see over and over again. Popular design trends can really help increase the interest in your home. For us, farmhouse-style is all the rage (everyone is hoping for a house done by Chip & Joanna). So we added shiplap and a barn door to help draw our potential buyers in.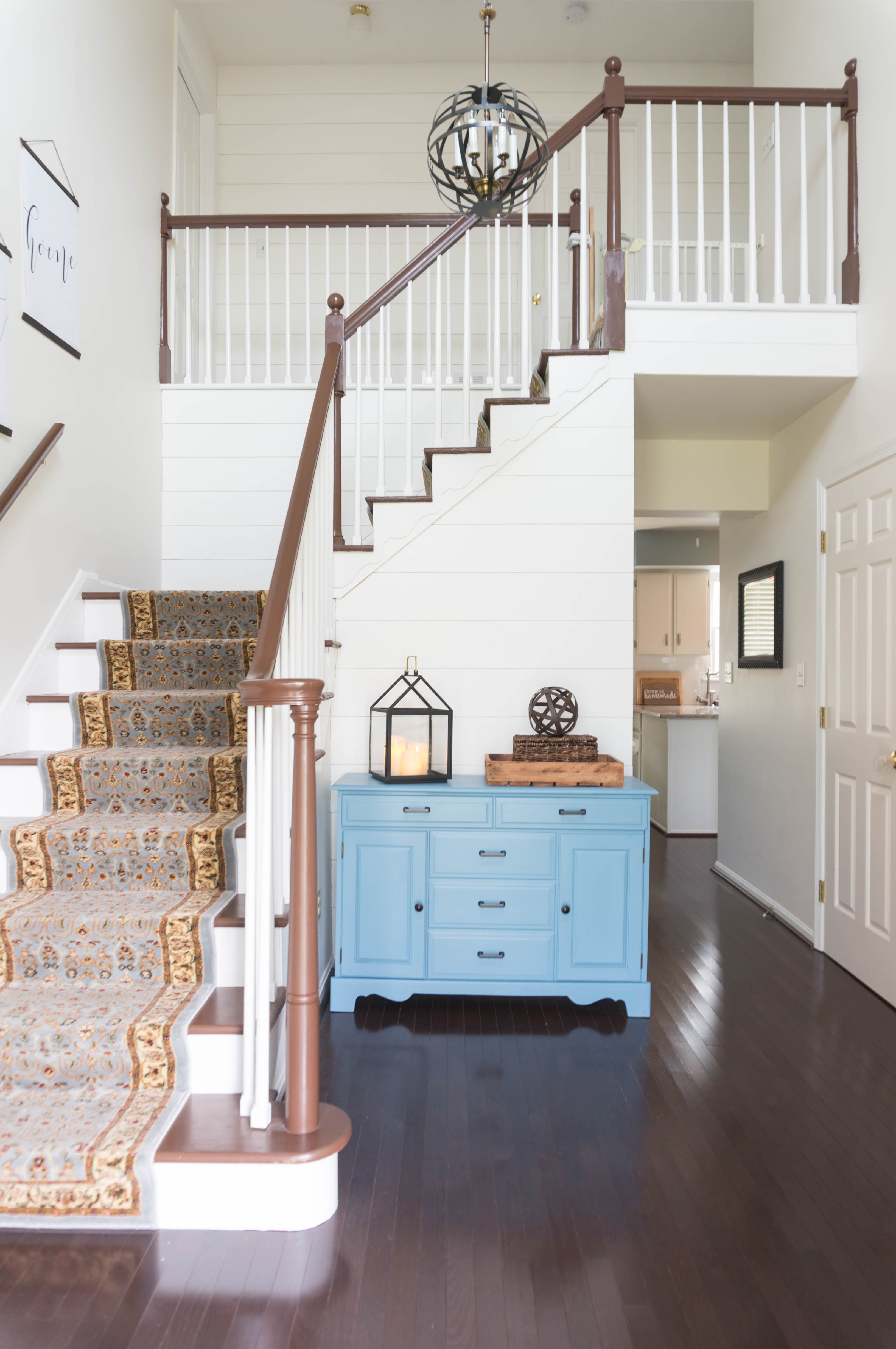 3. Declutter
I know, you've heard this one before. But it's for a good reason. Decluttering your home will make it feel cleaner and more open. Have too many pieces of furniture in a room? Take something out. If you aren't going to use it in your future home, sell it. If you are, then find another place in your home for it (such as another room or a basement). Don't have space? Rent a storage unit. The small investment of renting a storage unit to house your items you've decluttered will be well worth it.
4. Neutralize
Have some crazy paint colors? Grab a can of neutral paint and get going. Unfortunately, bright colors aren't everyone's style. While beiges, grays, and greiges won't be everyone's style that walks through the door, it won't be off-putting. People will see your home as a blank palette.
Neutralizing your environment doesn't just pertain to paint colors. Don't forget about your fabrics such as bedding, pillows, and curtains. You don't want anything wild and crazy. You can order solid colored curtains for cheap on Amazon (no need to spend big money on them – nobody will be looking hard at the quality of the curtains).
Check out how we decluttered, neutralized, and found the identity of our master bedroom. I still can't believe the before and after. Read more about our makeover here.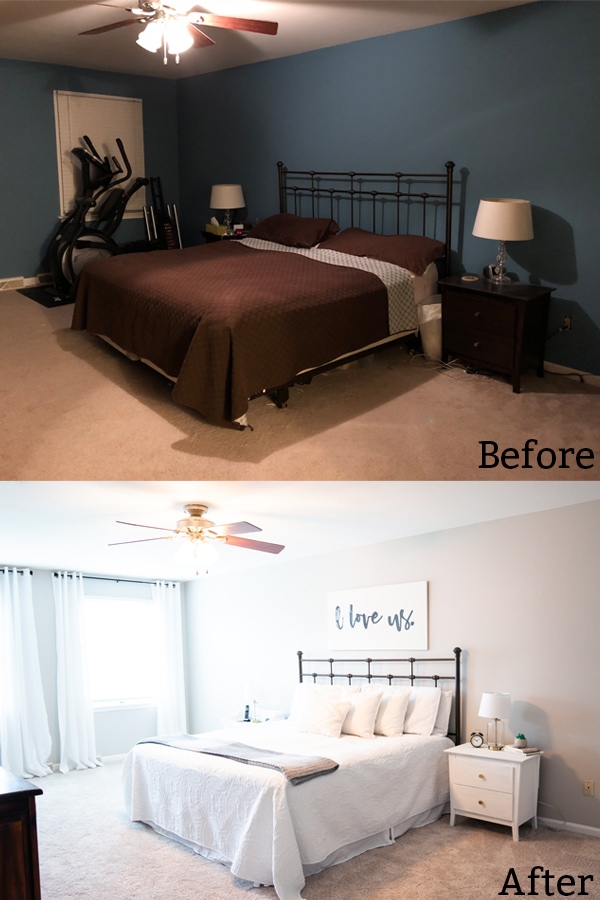 5. Home Sweet Home
This tip is a little bit different than my other ones. A while ago when we were selling one of our other houses, I received a tip about placing signs or a sign somewhere that had a phrase about home.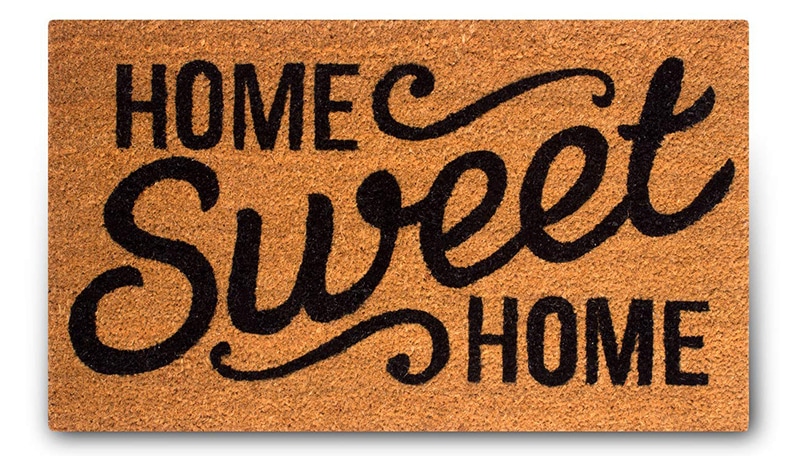 Examples:
Home sweet home
Welcome Home
There's no place like home
It's so good to be home
It is suggested that psychologically this can create a positive feeling in your buyers. Here is how I used it. (Click here to join the Mom Envy Home Decor Club and get the free SVG file and print of the sign below).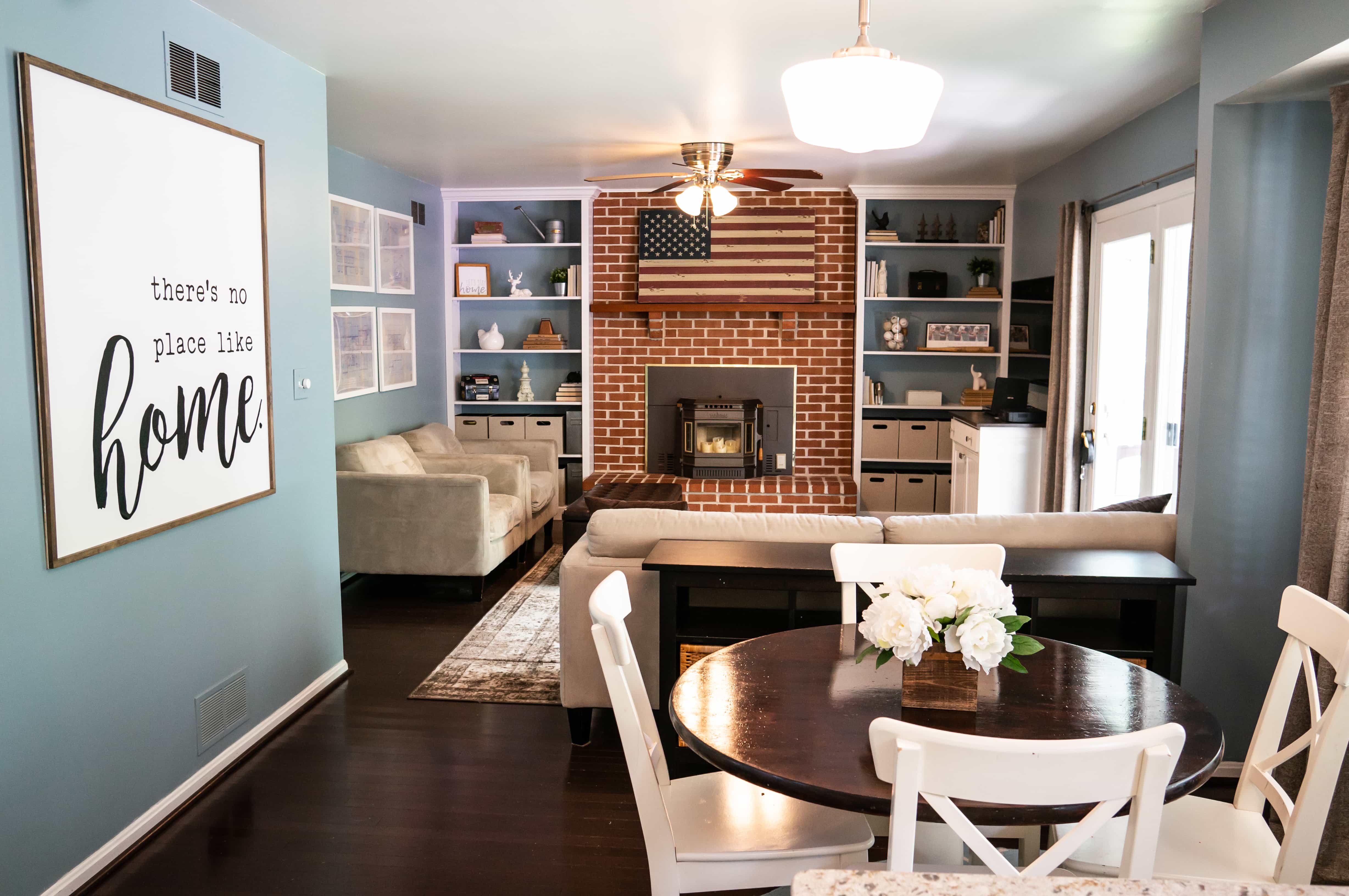 6. Remove animal beds and items where possible.
Animal beds can get stinky over time and removing them will remove the smell. You don't have to get rid of them completely but during showings, it would be best to move them to an area like a basement, under a bed, in a closet, garage etc. instead of out in the open.
7. Focus on the most important rooms in your house.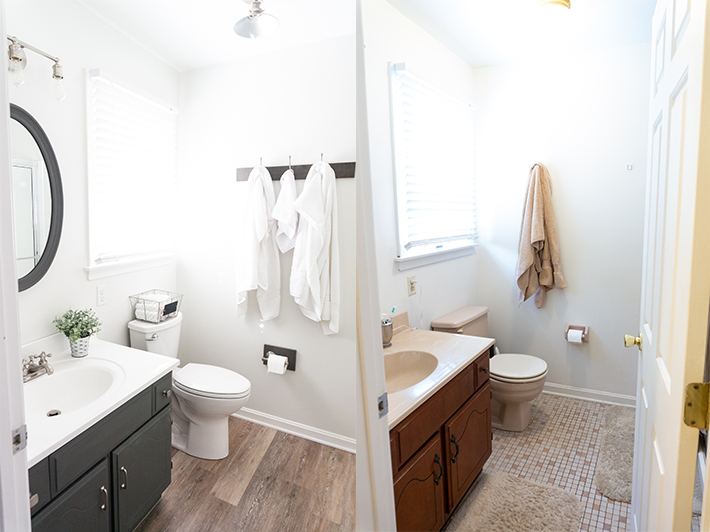 Your kid's rooms are not nearly as important as your kitchen. Remember to put most of your focus in the following rooms: kitchen, master bedroom and bathroom, and family room. They are the core of the house and your buyers will be looking closely at these rooms. Kids rooms should be tidied up as well but they aren't nearly as important.
As you can see above on the right, our master bathroom was in desperate need of an upgrade. If we hadn't upgraded it, our house would have been a hard sell. It would have been considered a fixer-upper. For about $900, we were able to give our master bathroom a complete remodel including the addition of a barn door. We got our investment back and more. If you want to see how we remodeled our bathroom, start here –> farmhouse bathroom remodel.
8. Clean Up.
Cleaning will give the impression that you take care of your home. A messy house will lead potential buyers to think that you haven't maintained your home. Why is this an issue? You don't want people fearing that you haven't been caring for your home behind the scenes. A clean house will help buyers to feel that everything is kept up and they will feel more confident in their choice to purchase your home.
When you're cleaning, don't forget to put down your toilet seats, empty the trash, clean up the fridge, use a magic eraser around light switches and door knobs, and organize inside of your cabinets. You want to give the best impression as possible.
9. Stop buying in bulk and large quantities while your house is on the market.
I'm all for saving money and love to buy in bulk when possible. The only issue is storing the items can be difficult when you're trying to make your house look tidy and organized. We found that avoiding bulk purchases close to listing our house allowed us to keep our cabinets and closets much more clutter-free.
10. Every space needs a purpose.
Have an odd room that has no real purpose? Your potential buyers are going to see it as wasted space. Give every room in your house a purpose. Have an extra bedroom? Create a guest room (you don't need a fancy bed, you can use an air mattress to fake a bed).
And every space should match its actual purpose. Have a dining room that you turned into a craft room? You'll leave your buyers worried that there is no space for a dining room. It's best to turn it back into a dining room for the time your house is on the market.
11. Curb appeal is king.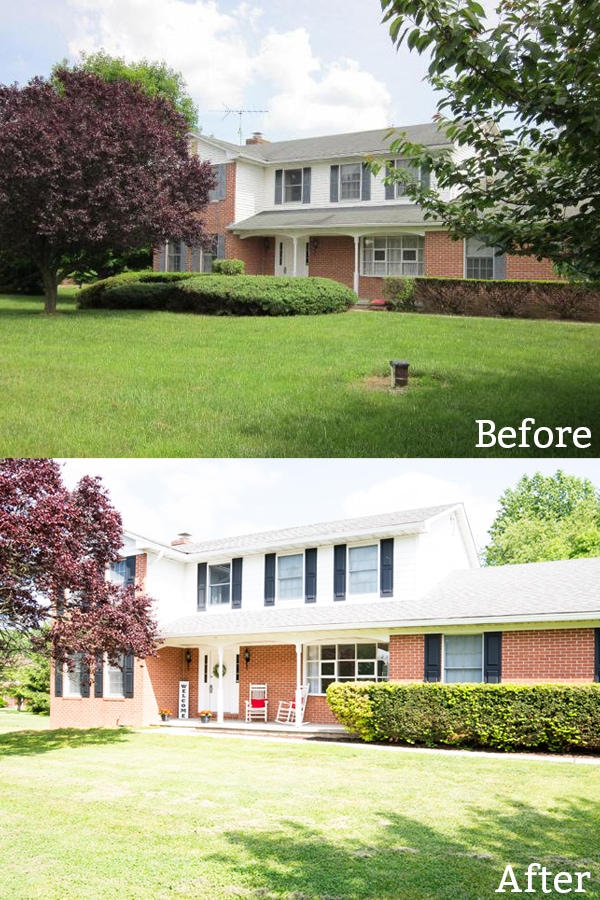 First impressions are everything. You don't have to do an entire outdoor renovation but take some time to trim your hedges, cut the grass, and grab some potted plants. Think about painting your front door or porch if it needs a refresh.
Have a patio, front porch, or deck? Set up furniture to show off your home's outdoor living potential. You can see above that we kept our curb appeal simple and clean. We removed the antenna, replaced the shutters, removed the big shrubs in the front left, brought the front right bushes back to life, power-washed the sidewalk/porch, painted the porch lights, and painted the front porch. (We also replaced the siding during our time in the house due to storm damage).
12. Freshen Up
Bringing in fresh flowers, and/or plants to freshen the place a little bit.
13. Fix the little things.
Replace burned out bulbs, tighten loose door knobs, replace missing or worn our door stops, recaulk tubs if needed, caulk molding if needing, etc. Those little things may stick out like a sore thumb. You don't want your buyer looking at your house and seeing a ton of projects that need to be done. The more unfinished projects, the more your house becomes a fixer-upper. And fixer-uppers don't bring top dollar in the real estate market.
Do you need any free wall art for staging?
I have multiple free printable pieces of wall art, SVG files, and how-tos for creating cheap and easy wall art. Click on Freebies on the top menu bar.