An IEP Binder used to be part of my everyday life. In a former life, I was a special education teacher.
I actually started my first blog, Bed Rested Teacher, when I was on bed rest (hence the name). It's when I got the blogging bug. Once I decided to stay home, I realized that maintaining a teacher blog while I was no longer teaching wouldn't be the best choice. One thing I learned as a teacher, is how important it is for parents of children with an IEP to stay on top of things.
IEP Binder: Stay Organized & Know Your Rights
As a teacher, one of my schools was strict about the information I could give parents to advocate for themselves. This was extremely difficult for me (and the opposite of the other school I was in).
I am passionate about the education that students with disabilities receive. It breaks my heart when I hear about a bad experience a parent has had with another teacher or school. It's what has made me want to make sure parents of children with disabilities have the knowledge they need to advocate for themselves.
One way I knew I could help would be through creating a few printables for you to create your own IEP binder. Keep your IEP binder separate from your other school information sheets.
It will keep you better organized to only have IEP and special education information in the IEP binder rather than anything family-related. This binder should travel with you anytime you go to a meeting or appointment related to your child's disability.
This page has a little more information than I traditionally include with my free printables. I feel it is important to explain to you why you should use these IEP binder printables.
On a side note, if you are a parent of a child with disabilities and are unsure of your rights, Wrights Law is a great resource.
Can These IEP Binder Worksheets Work for a Teacher?
While these printables can work for teachers, I designed them originally with parents in mind. BUT…they can definitely be used by teachers as well. I always had an IEP Binder with each student's IEP and important information (divided by tabs). These sheets work great as an easy IEP at a glance resource.
Let's look at the free printables for your IEP Binder you will be receiving below.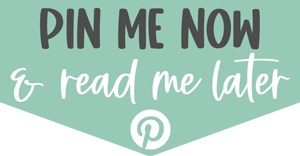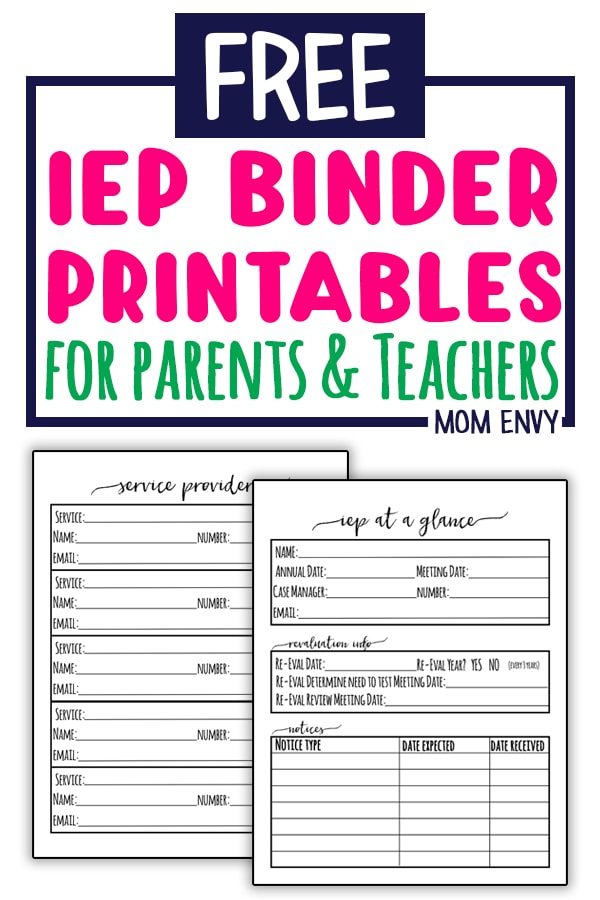 IEP Binder – Special Education Inserts to Keep Organized
IEP at a Glance
The first three printables are IEP at a glance worksheets. I have created a version for parents and teachers. This is all of the main information you need to be keeping track of as a parent or a teacher.
As a parent, it's important to know what your State's laws/best practices are for sending out parental meeting notices and draft IEPs. By tracking the dates of your IEP and notices, you can make sure your child's case manager is following the correct protocol.
For the services page, it's important to know what services your child is receiving. If you're a teacher, it's also important for you to have service hours easily on hand.
Aside from your own services (if you are the provider as well), you need to keep track of the other professionals such as speech and language pathologist that see your student. If you're a parent, you want to keep their contact information close so that you can easily get a hold of them if needed.
Parent Version Page 1
Teacher Version Page 1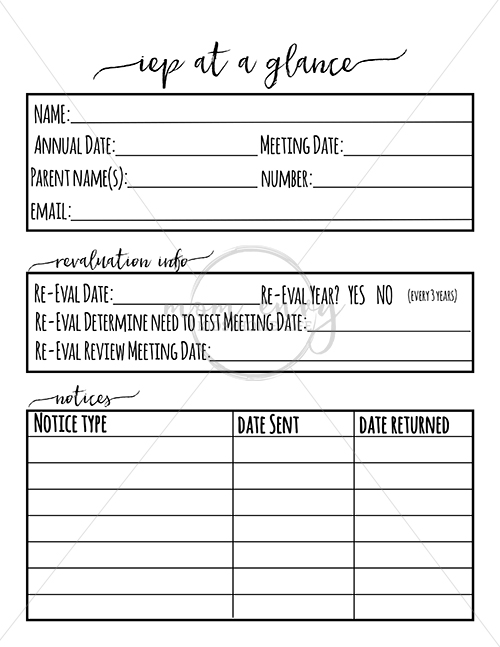 Parent & Teacher (Same Version) Page 2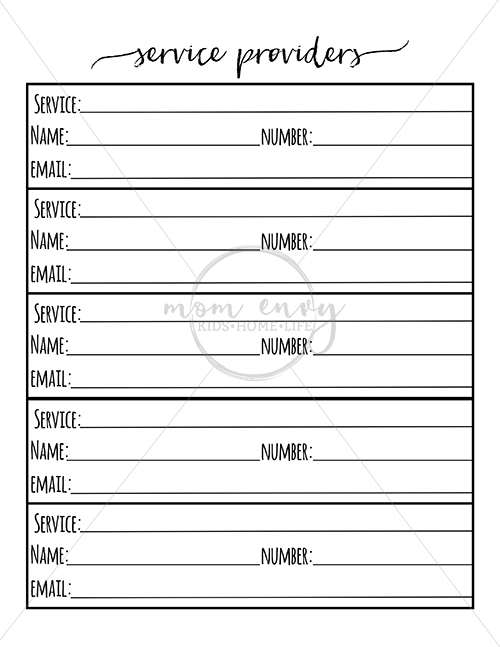 Parent & Teacher (Same Version) Contact Tracker

As a parent or a teacher, keeping a log of all communication is so important. As a special educator, you have to maintain some sort of contact log.
This is the perfect tool to print and take with you while making a phone call or to write a summary on from an e-mail. As a parent, please keep track of all the conversations you have and any actions the case manager/specialist says they will complete.
Frequently check back with your contact trackers to make sure the staff is following through.
*Side note for Parents and Teachers – While talking on the phone with a parent/teacher can be easier to tell tone, sometimes it's not worth the struggle of remembering everything from the conversation.
By using e-mail, you are creating a paper trail. If a teacher/parent says they are going to do something, you have it in writing. I always tell parents to make sure they are using e-mail. If you have a phone call, let the teacher know you will be sending a follow-up email with the notes. Ask the teacher to respond and confirm that they agree to the phone call notes.
If you are requesting to determine if your child needs to be tested, put it in a written letter and send/drop it off at the school (make sure to make a copy before you mail it and always write down the date you sent it/the school received it. That's the date the timeline starts).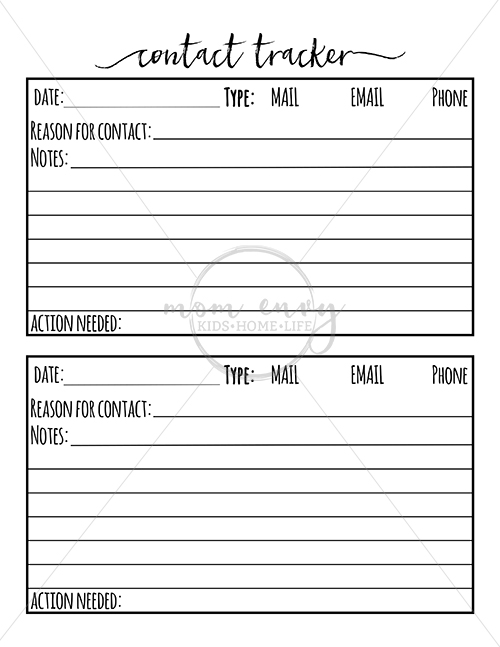 The IEP Binder set includes:
IEP at a glance for parents (pages 1/2)
IEP at a glance for teachers (pages 1/2)
Contact tracker
As an Amazon Associate, I earn from qualifying purchases. I am also an affiliate for the HP ink program. Click here to read more.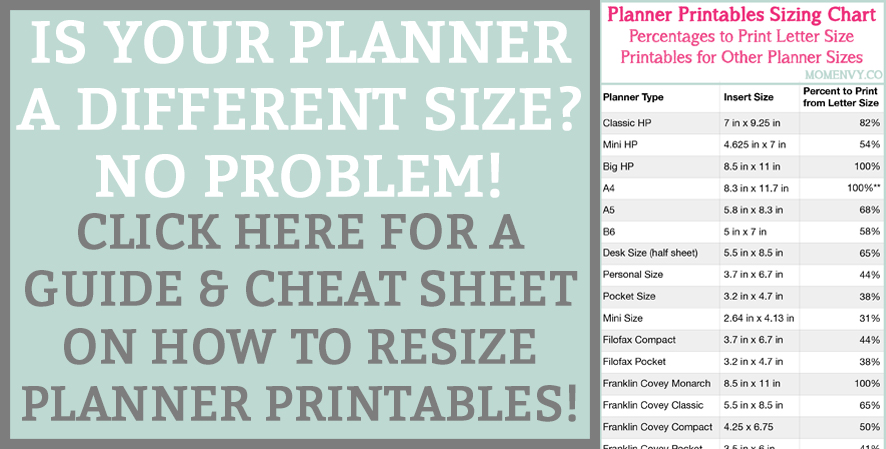 Notes on Using the IEP Binder Printables
To download this set of files or any of the files from our family binder, you need to sign up to receive your free members-only password. Click here to sign up.
They come in Letter size, A5, and Classic Happy Planner. You can print in any other size with this tutorial.
If you print the letter size, I suggest getting a 1 or 1 1/2 inch binder.
Print the babysitter forms each time you need them OR laminate them and use a dry erase marker.
Print on cardstock for added durability. (this is my favorite from Amazon)
I know, ink can get expensive, so invest in an HP printer that has instant ink and you can print until your heart is content! Click here to use my referral and earn 1 free month! Looking to buy a new HP instant ink compatible printer? This one is great.
If your planner inserts are smaller, use a paper cutter for easier cutting (or this one).
Looking for more family binder inserts including more school-related printables? Click on one of the images below.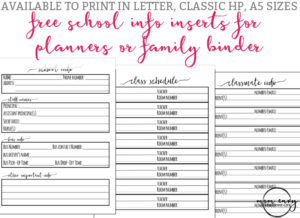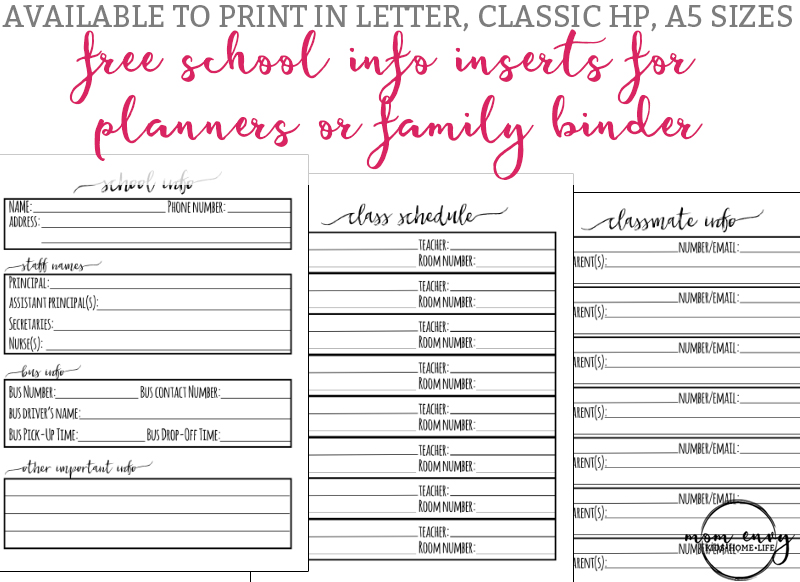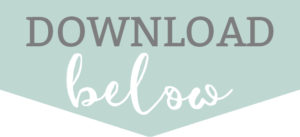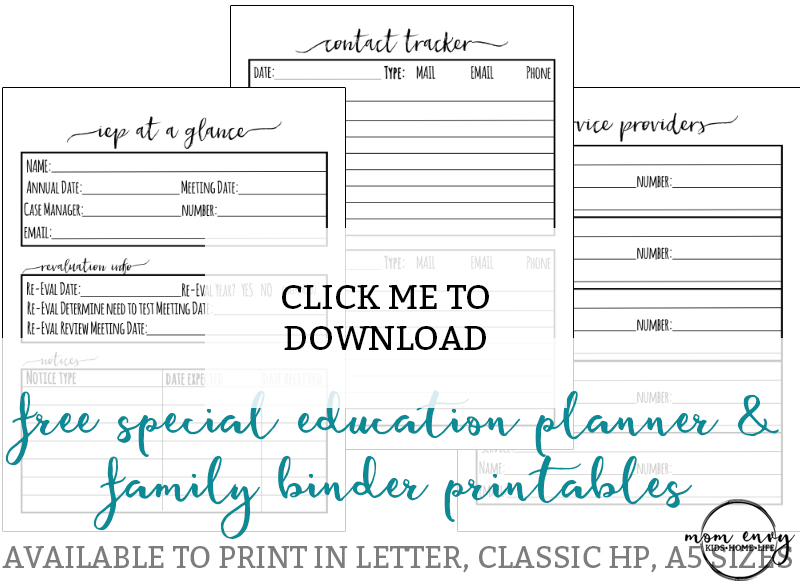 File Usage Information
Please Note, all Files on Mom Envy are for personal use only. Files may not be resold, modified, or used commercially. Sharing the file for free or for money on Facebook groups is prohibited (you can share a picture and link back to the post). Sharing the link, my site's name, and one picture on a blog post is okay, as long as the entire text of the post and the actual files are not shared. If you are interested in selling them commercially, please contact me directly.