Using a birthday tracker template makes keeping track of important dates easy. They don't have to be used as just a birthday list – you can use them to keep track of birthdays, and important events like Anniversaries, too.
Never forget a family member or friend's birthday again. Place it somewhere you will see it often – in the front of your panner, hang it near your family calendar, or place it on the inside of the door of a cabinet you use every day. You don't want to miss saying Happy Birthday to someone you love.
Whether or not you use a planner doesn't matter – you can use the free special occasion tracker on its own. Hang it on a wall, staple it into your monthly calendar, etc.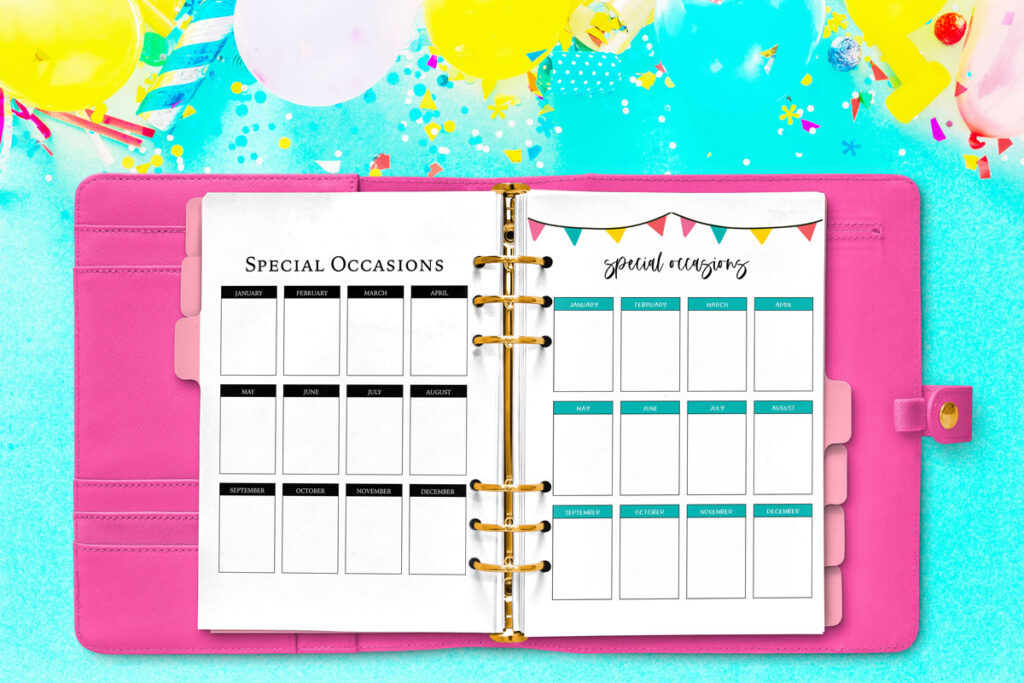 As an Amazon Associate, I earn from qualifying purchases. I am also an affiliate for xTool, the HP ink program, ShareaSale, and CJ Networks. Click here to read more.
Teachers could use this tracker for their classroom birthdays. Kids love to see when their friend's birthdays are. And employers could use this to make an employee birthday calendar so that everyone knows the upcoming birthdays each month.
The best part about this calendar is that it is a perpetual birthday calendar. You don't have to change it and redo it every single year.
Instead, all you need to do is update it when you find out about a new birthday or special occasion that you want to remember. Keep this printable birthday calendar template year after year.
Yes, you can use email reminders or web apps, or Google calendars (or other such calendars) but many people are still using both paper and digital planners where they want to still track birthdays and anniversaries themselves in their own planner or hang it on their wall where they will see it often.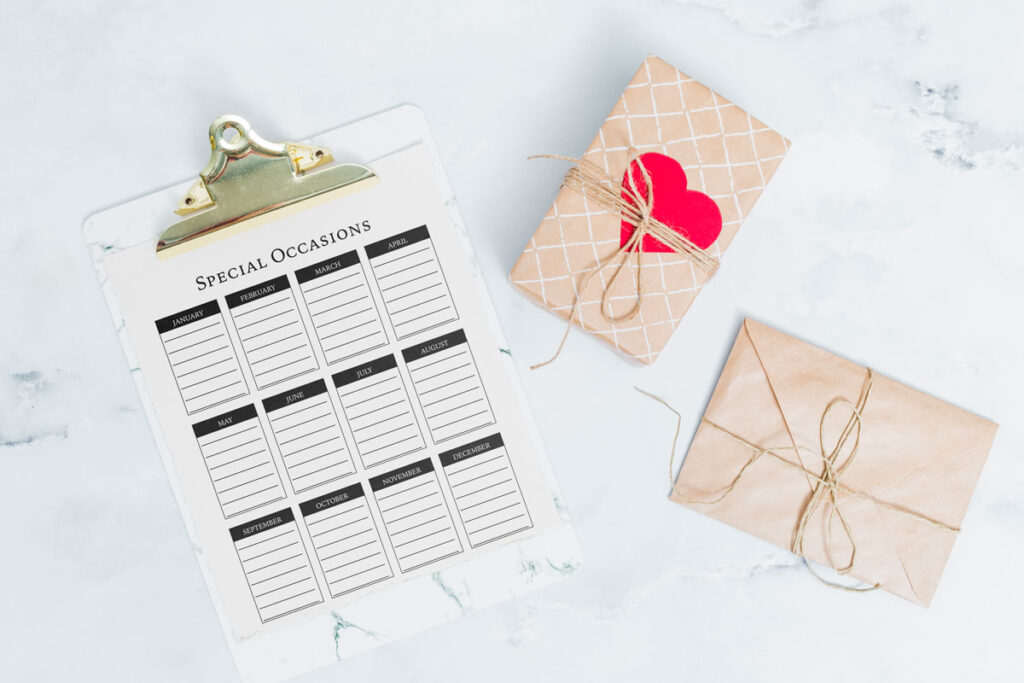 Laminate the Free Printable Birthday Calendars
Are you using this calendar for workplace or classroom birthday calendars? Laminate the calendar and use a dry erase marker. That way you can easily add and take away birthdays as needed.
The good news is that if it gets a little worn out or tired-looking, you can just print a new one!
How Many Months are Included in the Printable?
It is a yearly calendar. All 12 months are on one page. If you prefer a 2-page version (which provides a large area to write), you can download this bullet journal style set of free birthday calendars.
6 Birthday Templates are Included
There are two different main designs for the birthday template. The first one is a colorful, party-themed design. It matches the free wish list printable I have on my site.
The second design is a simple black and white design. It can go with any style of planner or a simple calendar you already have on hand.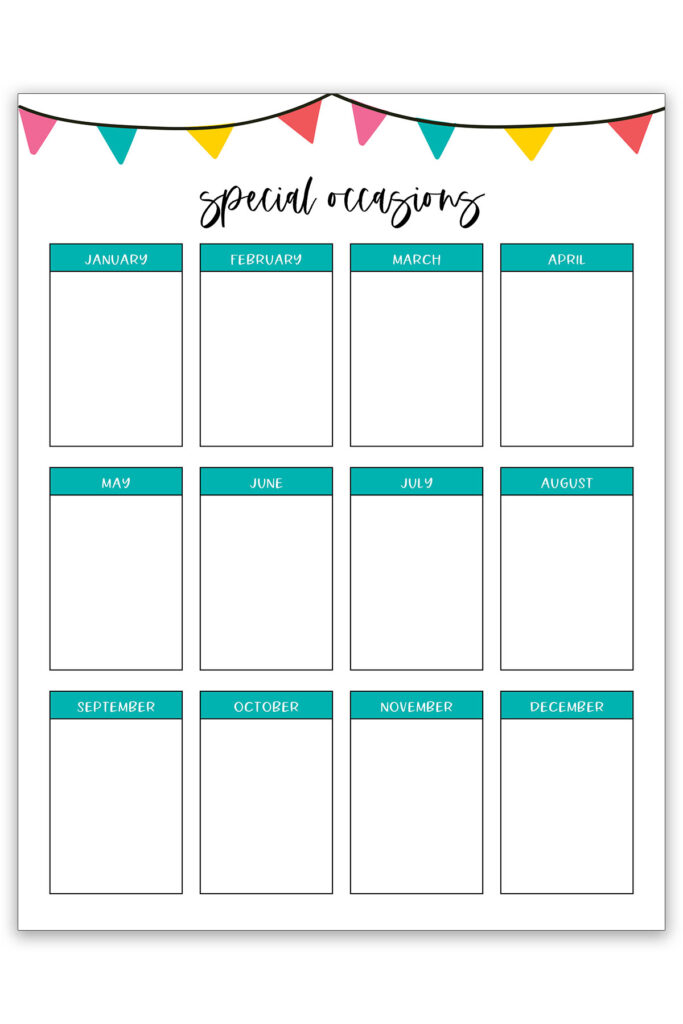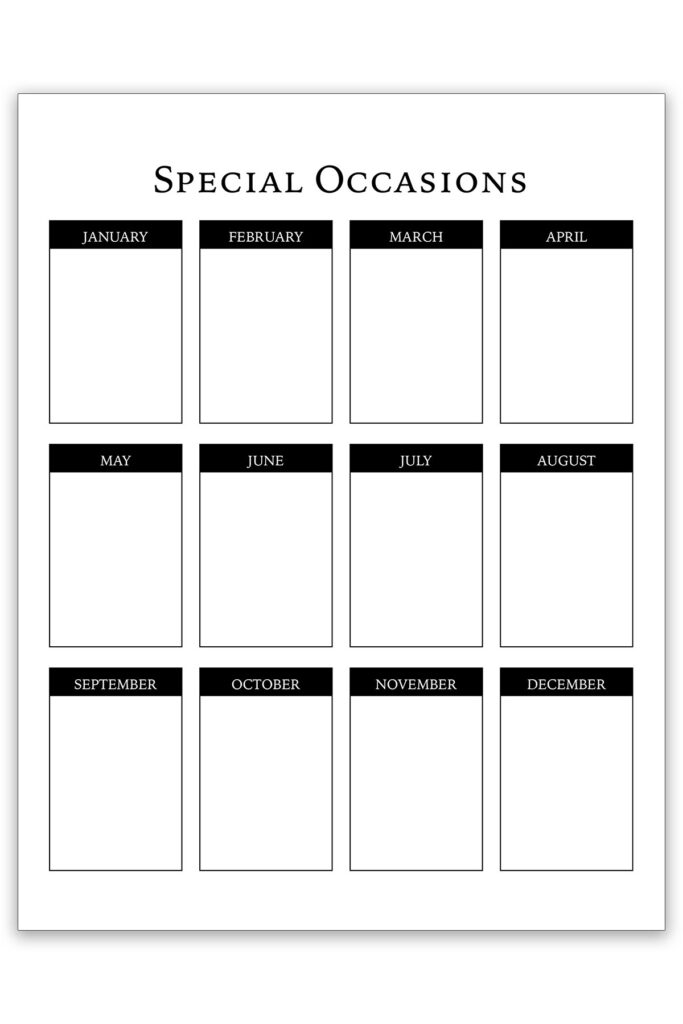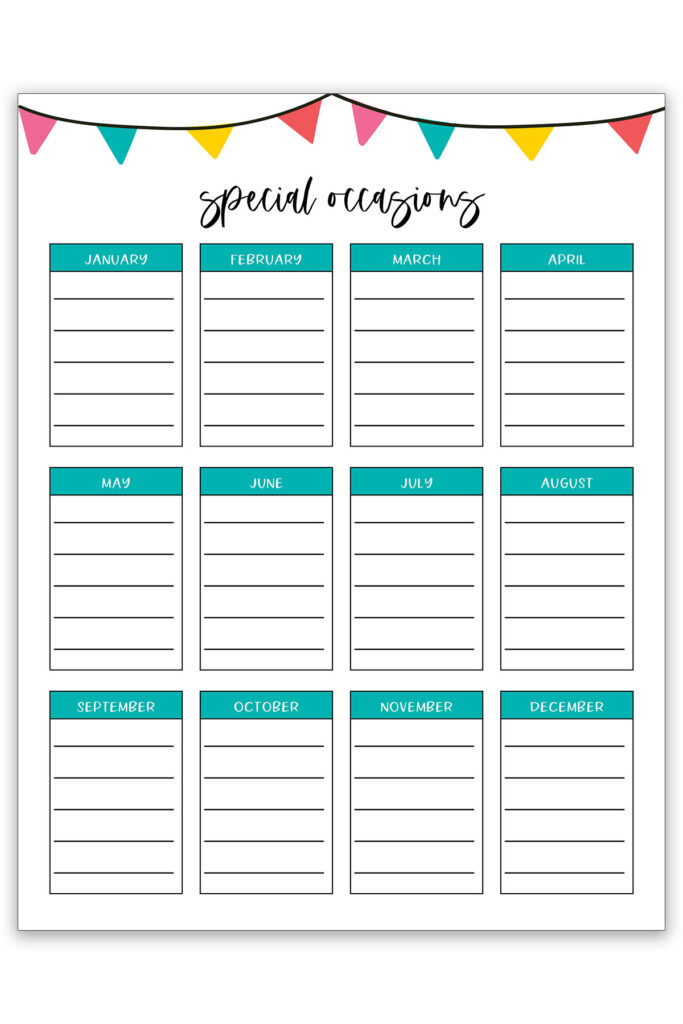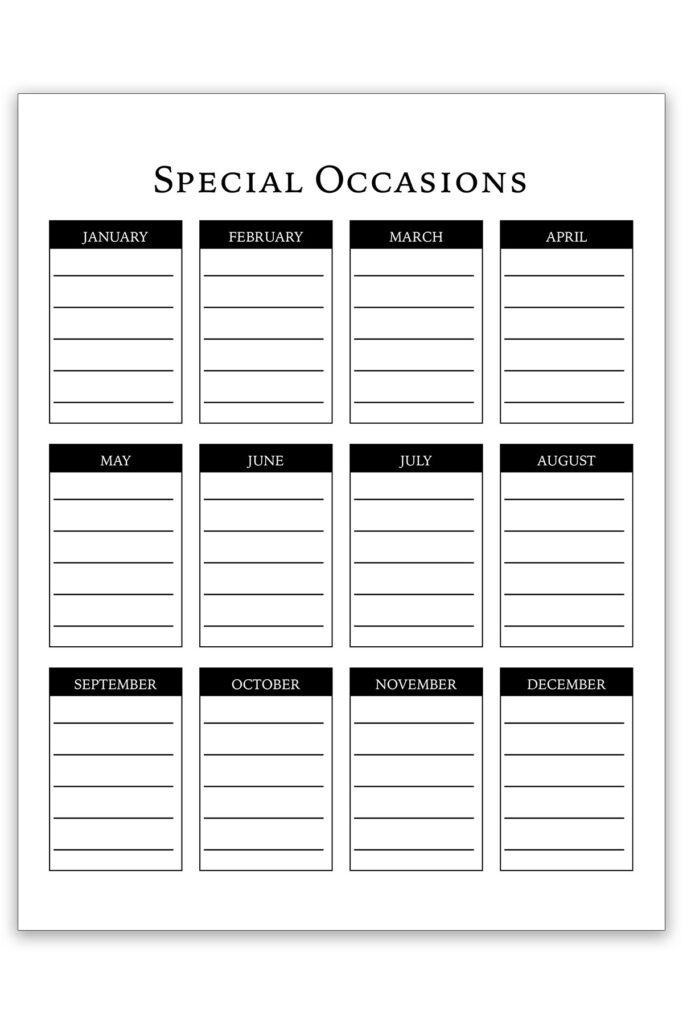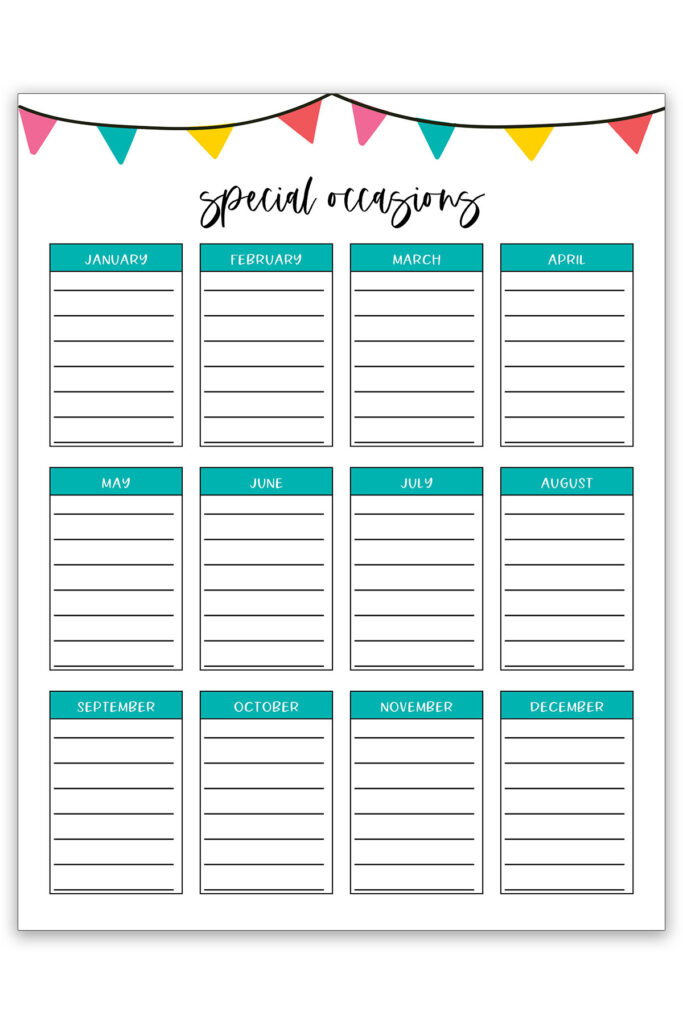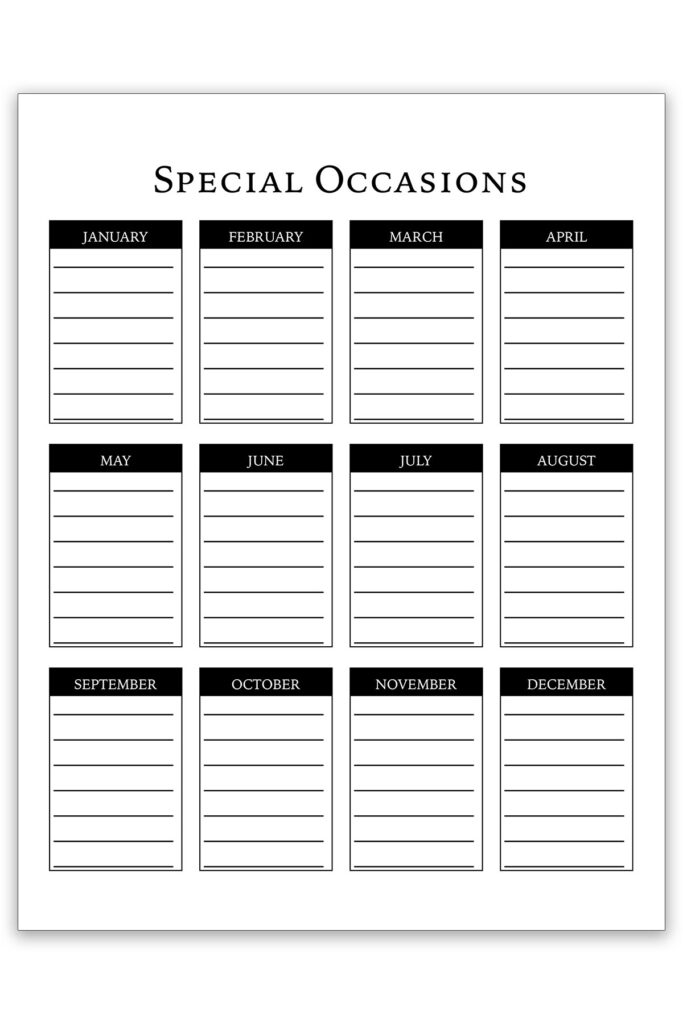 What Paper Size is the Free Birthday Calendars?
The calendars come in 3 sizes. But did you know you can print them for any size planner? Read my tutorial on how to print them for any size planner.
The printable files come ready to print in
Letter size (Big Happy Planner)
A5 size
Classic Happy Planner size
What file types are included?
There is a pdf file versions, JPEG versions, and PNG versions.
Can the Files be Used in a Digital Planner?
Yes! The files come with a transparent PNG version. These make them easy to insert into any digital planning app.
Want a birthday-themed digital notebook you can use to put the file into? Check out my free birthday planner stickers. They come with a free sticker Goodnotes notebook that could be used as a birthday calendar notebook, too.
How to use the Free Birthday Trackers?
You can use them any way that works for you. You can print them out and use them as stand-alone printables. (Just make sure you remember where you put them!)
Or, you can print them to use inside of a planner. I love to keep them in the front of my planner after my calendar at a glance. That way I see it all of the time.
If you're a digital planner, you can use the files on their own or you can insert them into a digital planner.
Are the Trackers just for Birthdays?
No. They can be used to track birth dates for sure but they are also for special occasions like anniversaries.
Is there Not Enough Space for you to Track all of the Birthdays of your Friends and Family Members?
Download this 2-page version of bullet journal style set of free birthday calendars. It has only half a year per page so there is a lot more room if you have a lot of different friends and family's birthdays and anniversaries.
Want to Keep Track of Gift Ideas, too?
Then don't miss the matching free templates – my wish list printable. It is a simple list where you can track gift ideas for yourself and a second free birthday printable where you can track gift ideas you have for other people.
What Type of Paper Should I Print the Simple Birthday Calendar Printable?
You can use either a thicker, planner paper such as this paper. Or, you can print it on card stock which is even thicker than the planner paper. It will add a lot more durability so that you can use it each year.
Need a Last Minute Birthday Card for Someone?
Don't miss the free printable birthday cards we have on our site. They are all blank inside so you can add your own personal birthday wishes.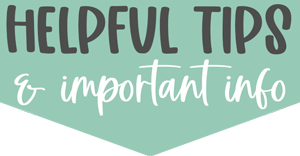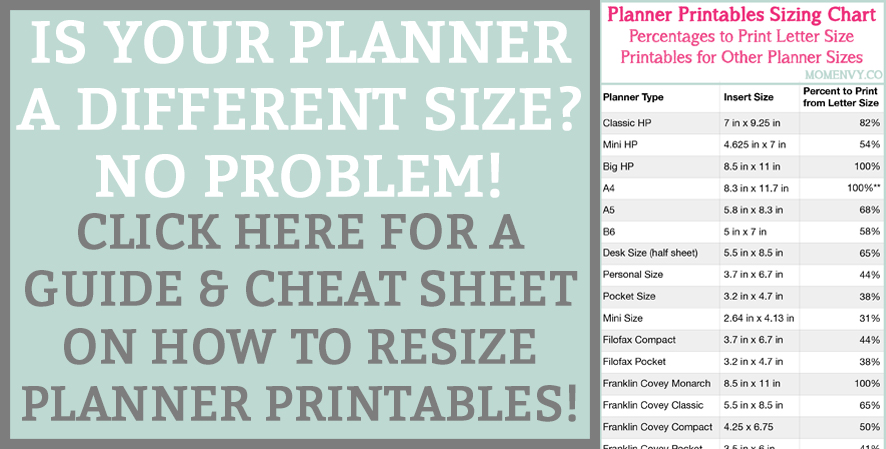 Have a differently sized planner or a traveler's notebook? No worries! You can print the letter size calendar for any size planner. You can read the full directions on how to resize planner printables here (including videos).
Tips for Downloading the Free Files
Below is an arrow that says Download Below. Underneath that is a large image that says Click to Download the free files.
Once you click that, you will enter the members-only password and click submit.
The page will reload the same image and now when you click the image that says Click to Download the free files, it will open the Google Drive folder containing the free files.
How do you get a members-only password?

You can sign up here to be a free Mom Envy club member.
The password will be sent to you within a few minutes. Make sure to check your spam and/or junk folder if you don't see it.
Already a member but forgot the password? Don't sign up again. Look at the end of any newsletter from me for the free password or just send me an e-mail here: [email protected]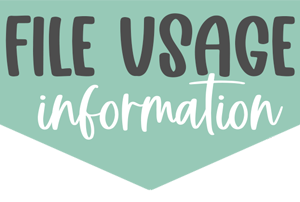 Copyright MOM ENVY 2022. Files may be used for personal use only. No commercial use of the file is available. Files may not be directly shared within Facebook groups, on websites, or in any other way. If using for educational purposes, the file may be printed and copied for classroom use. A link to the web page to download the files may be shared as well as one photo. The file may not be printed and then sold (including local yard sale sites and groups or at local craft fairs). The images may not be used in any way other than to share with a link to the original web page.