Did you know you could paint cork board with chalk paint? Cork board is cheap and easy to find anywhere. It makes it a great option for creating framed chalkboards on the cheap.
Recreating My Inspiration
On Pinterest forever ago, I fell in love with this Christmas wreath wall hanging from Live on Virginia Street. I wanted to recreate it in a way that would allow me to change out the wreath for various seasons.
For this project, I decided to head to the thrift store to find a piece of art I could paint on top of. But, I had no luck finding a piece in the size I was looking for. I remembered a while back seeing on Pinterest that you could paint cork board with chalk paint.
I know I had the perfect piece of cork board for the space. Believe it or not, the cork board I used for this project is from my childhood. It's the cork board that was on my wall throughout childhood.
How to Turn a Cork Board into a Chalkboard
Materials
Chalk paint (you can get a smaller container, you don't need a lot)
Painter's tape
Brush
Stain (if you want to change the color of the frame)
Directions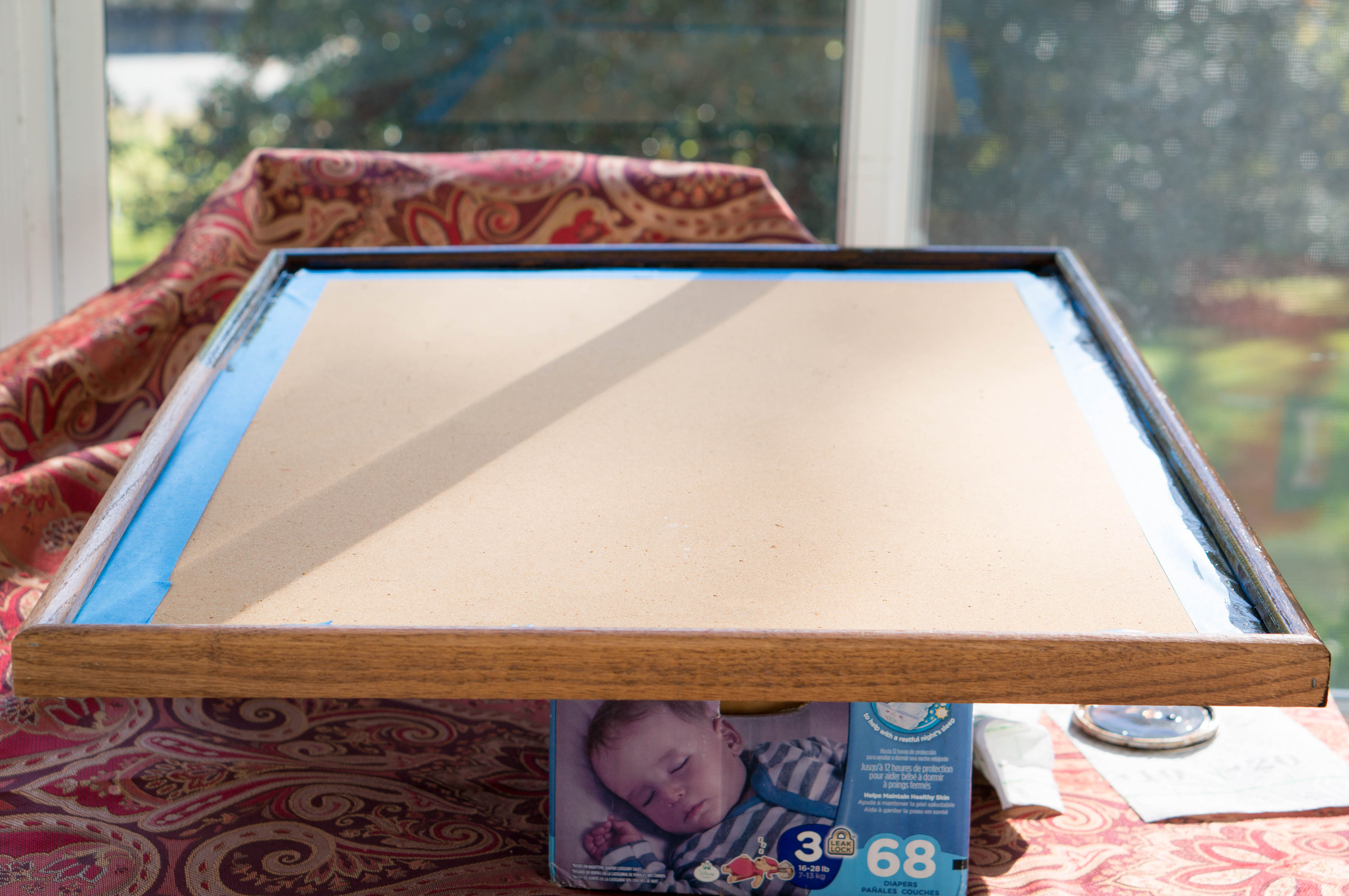 If you want to stain your frame, start with lightly sanding the wood frame.
Tape off the cork board.
Stain your frame two coats (allow drying time in-between the coats).
Remove the tape.
Tape the frame.
Paint the cork board with chalkboard paint at least two coats. (Allow drying time in-between the coats).
Allow the chalk paint to dry for three days before using chalk on it.
Prime your cork board chalkboard by using the side of a piece of chalk to color over the entire chalkboard. Then wipe off and you're good to go.
Dressing up my Cork Board Chalkboard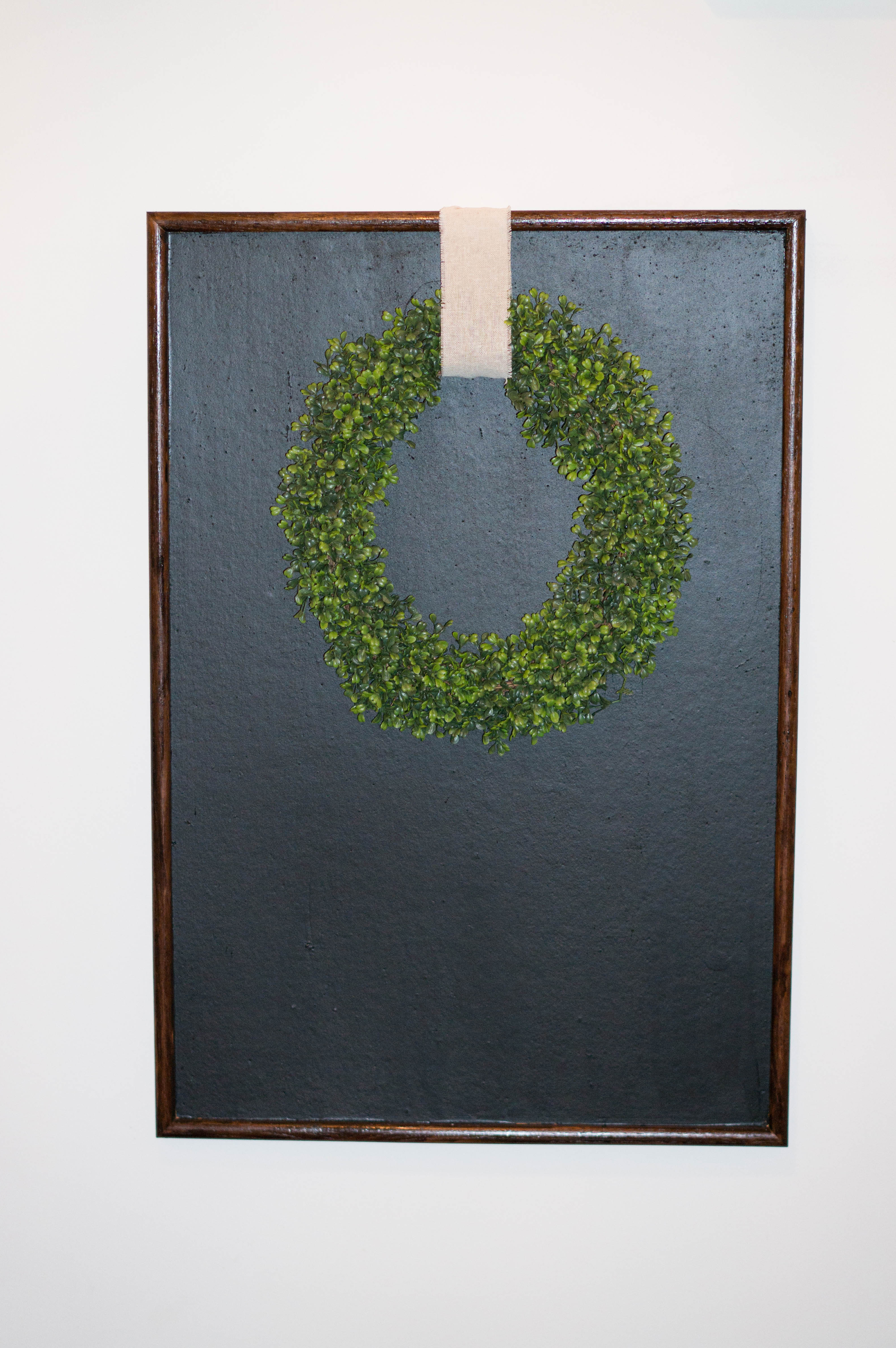 To dress up my chalkboard, I added a boxwood wreath. JoAnn had some wreaths on clearance that were in the shape of various letters. I grabbed an O which of course was the perfectly shaped wreath.
The ribbon they used for it wasn't long enough to hang on the chalkboard so I used some ribbon I had on hand. I can't wait to try out some fun ribbons for various the holidays.
I have to admit though, that if you look behind the frame you'd probably laugh at me. But, I wanted to be able to change my wreath out soon for the Christmas season (and for future seasons) so I had to get creative.
So, I simply pulled the ribbon through the picture hanging hardware. It was staying great on it's own but I decided to add some painters tape to secure it even more. I figured it can easily be removed later to change the wreath.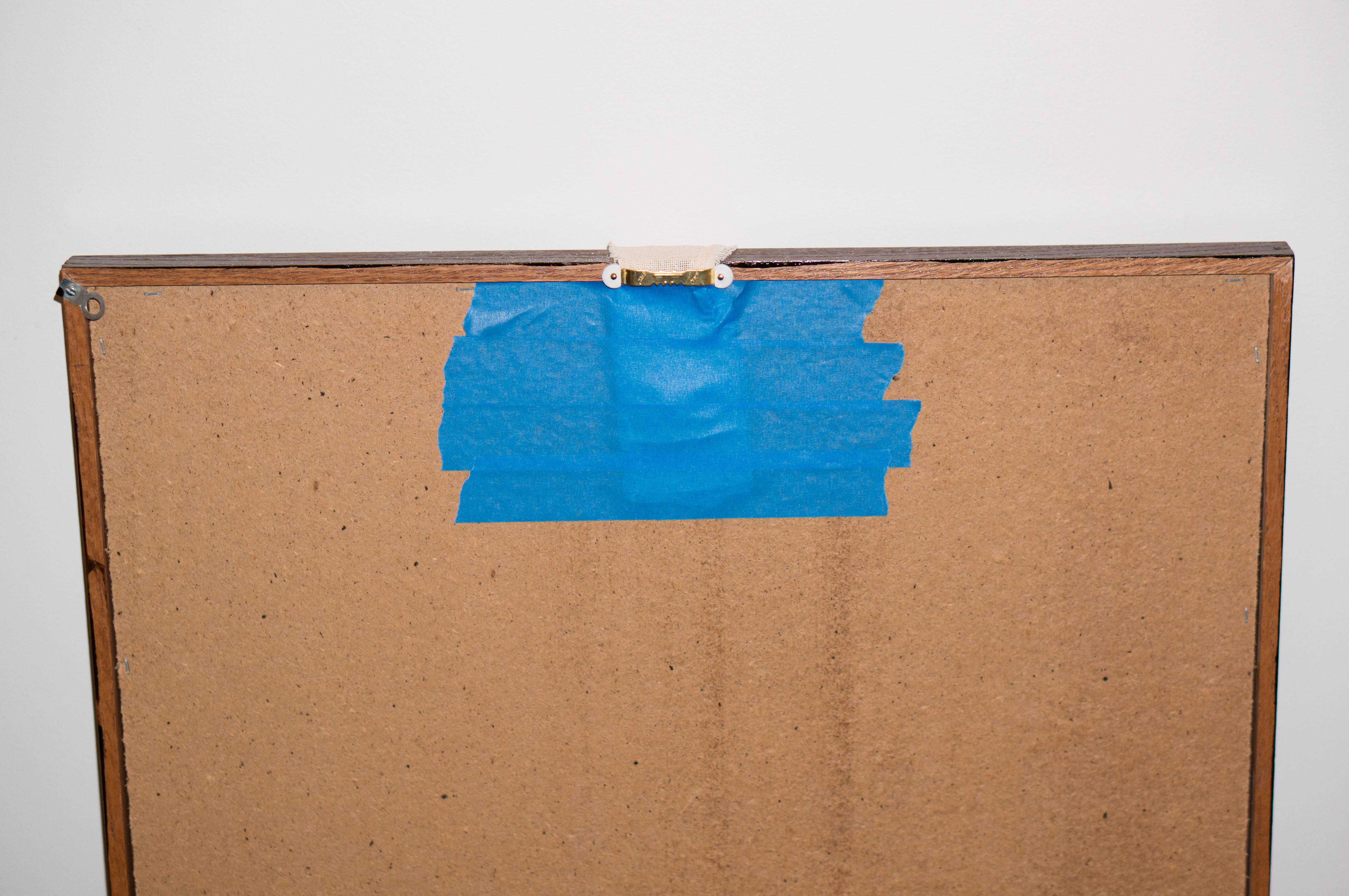 Next, I wanted to add some writing. I grabbed the can of paint to see how I needed to prime the chalk board. And that's when I saw that I couldn't use my chalk on the board yet because it hadn't been three days.
I decided for now to just cut some 631 vinyl with my Silhouette. I used 631 so that I could remove it later.
Anyone else a lover of This Is Us the show? It's one of my favorites. As you can tell, it inspired my wording choice.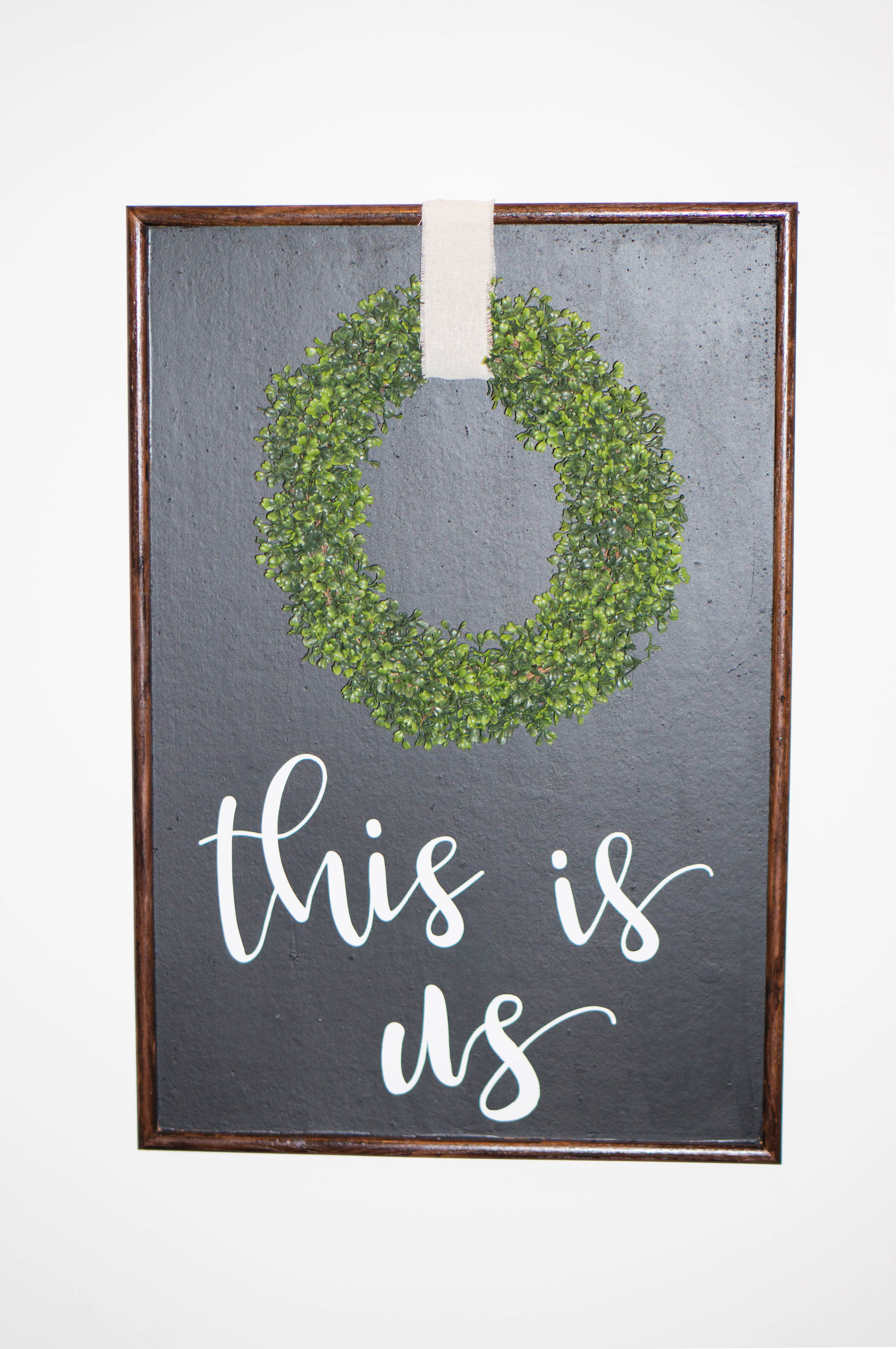 Want more updates?
I can't wait to show you this piece in the foyer. This coming week, I will be creating more wall art and decorating the top of my dresser. So definitely check back next week!
Follow Along
Want to see the rest of our challenge – check out these posts:
Need More Inspiration?
Don't forget to check out the rest of the One Room Challenge Guest Participants and the Feature participants. (The One Room Challenge brings bloggers together twice a year to redo one room in six seven weeks – the challenge was extended one week this year due to hurricanes and wildfires).