Did you know that you can make your own kraft paper table runner using HTV? Who knew that you could use heat transfer vinyl to create your own paper table runner.
I am not going to lie, I had a small fear that I *may* set a fire when I tried to use heat transfer vinyl on a roll of kraft paper. But I thought if it works on wood and canvas, wouldn't it work on kraft paper?
And guess what, my inkling was correct. HTV does indeed work on kraft paper! My mind started to race thinking about all of the ways I could use it in my home.
Don't know what heat transfer vinyl is? Then check out my post about two of the most popular craft cutter brands, Silhouette and Cricut.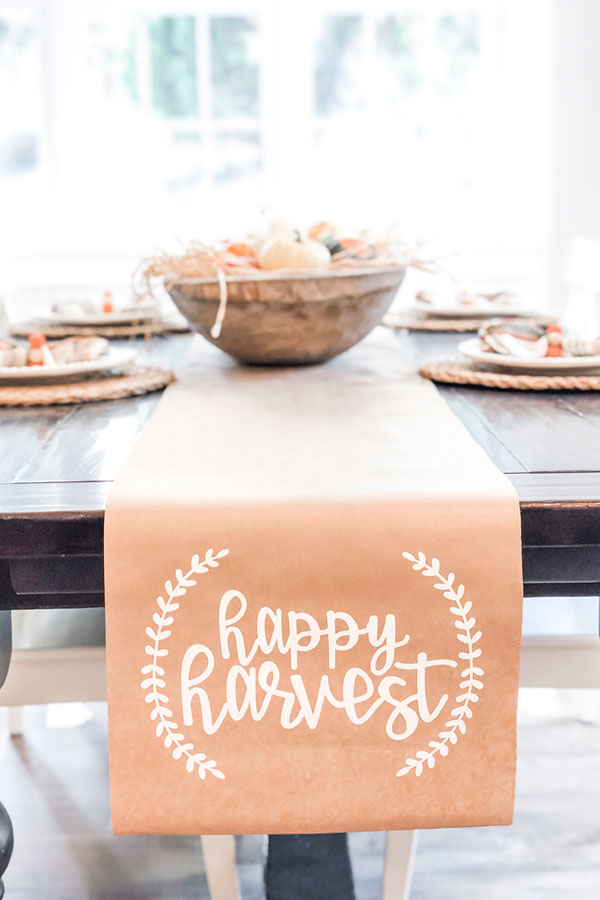 Kraft Paper + HTV Ideas
Creating your own runners for the holidays is the obvious way to use heat transfer vinyl on kraft paper. But, there are many other ways to use it.
DIY kraft paper table runner for weddings
Kraft paper placemats (you could even do a cute kid-themed mat that is also pleasing to the eye – perfect for weddings!)
DIY kraft paper scroll wall hanging (no need to try to free-hand a design)
DIY wrapping paper (you could add sweet little additions for various occasions)
Kids craft projects (you could make a fun roadway)
Large kraft paper signs for a wedding
..and so much more!
DIY Farmhouse Thanksgiving Runner
My project I tested this method on was for a DIY farmhouse Thanksgiving runner. I spent so much money on new fall decor that I decided to try to save a little money on my table runner.
I had a roll of kraft paper laying around from Ikea. I decided it would make a quick and easy rustic farmhouse runner for my table. The problem is, it was a little boring. I thought about using vinyl and placing it by hand (since transfer tape would just rip the paper) or writing by hand (man would that look awful) and then I got the idea… why not just use heat transfer vinyl!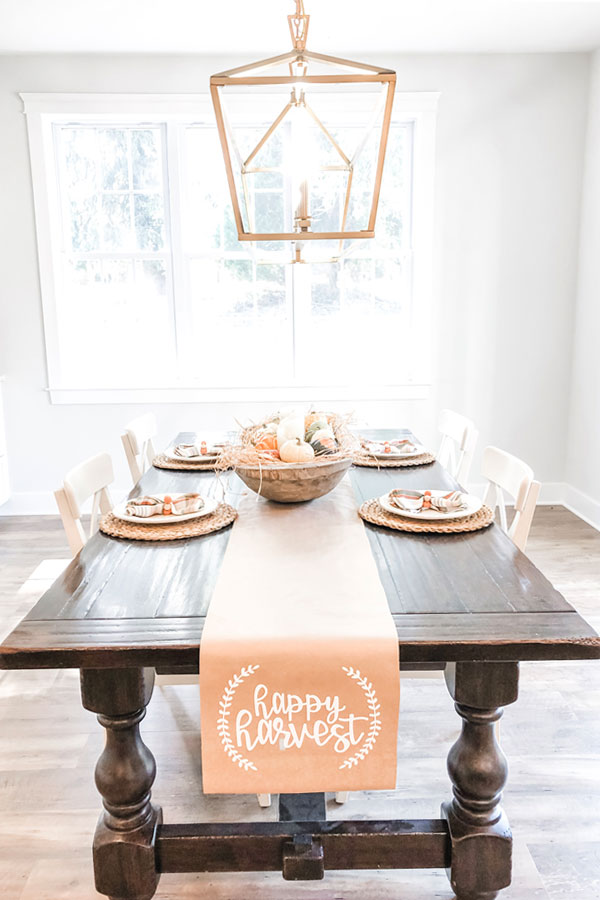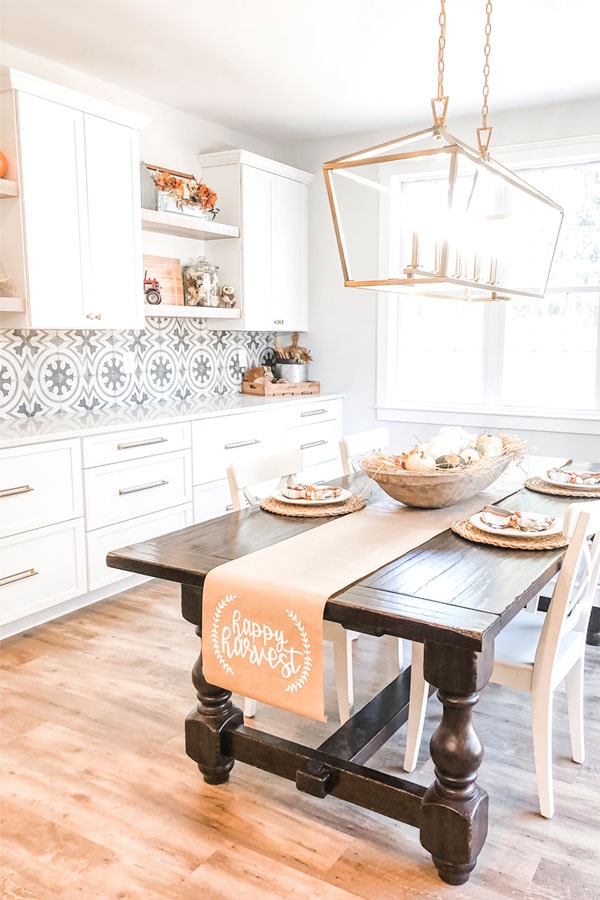 As an Amazon Associate, I earn from qualifying purchases. I am also an affiliate for the HP ink program. Click here to read more.
Kraft Paper Table Runner Full Video Tutorial
This full-length video shows you how I created my fall table runner.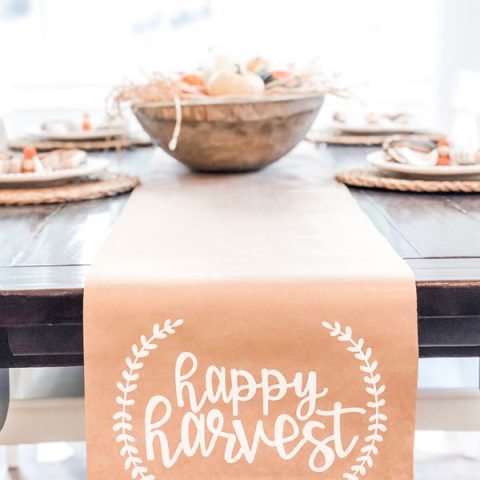 Kraft Paper Table Runner with HTV
Learn how to make your own DIY kraft paper table runner using heat transfer vinyl (HTV) and a craft cutting machines such as a Silhouette or Cricut. See how I use the technique to create a Thanksgiving table runner. The free SVG and Silhouette files are included.
Materials
heat transfer vinyl
kraft paper roll
Tools
heat press
Teflon sheet
weeding tool
Instructions
Cut your kraft paper runner to size.
Cut your design to size (use the included file or your own).
Weed the design.
Heat your heat press to 275 degrees Fahrenheit.
Pre-press your kraft paper in the area you will be pressing the design.
Place the design on your runner on the heat press.
Place the Teflon sheet over the HTV.
Press for 20 seconds.
Peel off the heat transfer backing.
Let cool.
Place your runner back on the table.
Notes
Be sure to be safe when using your heat press with paper. Do not make your heat-press too hot and do not press for too long.
Recommended Products
As an Amazon Associate and member of other affiliate programs, I earn from qualifying purchases.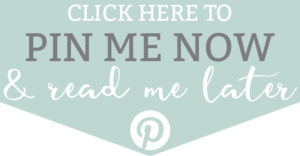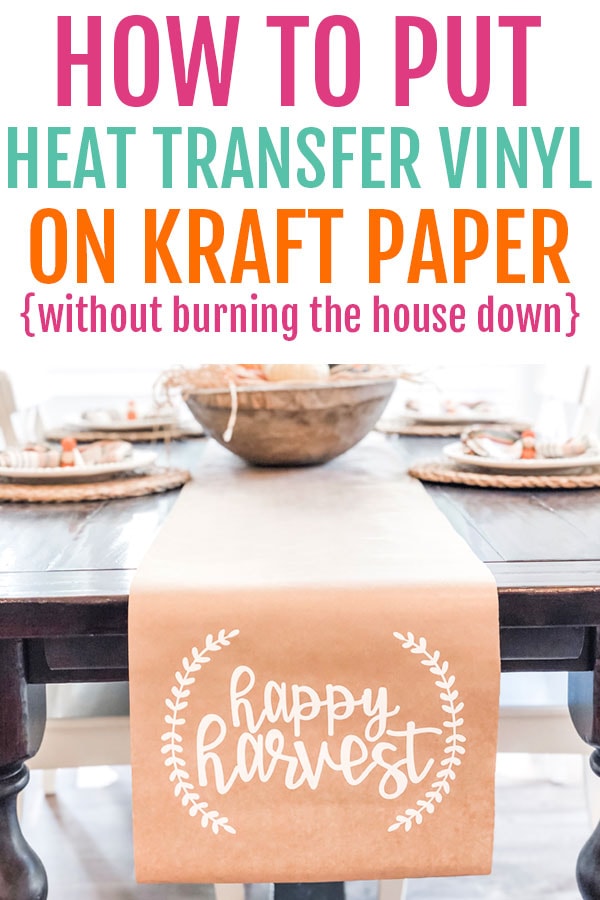 Download Tips
To download for free, you must be a member of one of Mom Envy's clubs – sign up here!. If you're interested in more free SVGs, make sure to sign up for the "All Things Mom Envy" group. Once you're signed up below and confirm your subscription, you will be e-mailed a password to download the file. Please be patient, sometimes the password e-mail may take a bit of time while your address is verified.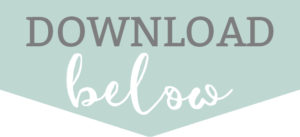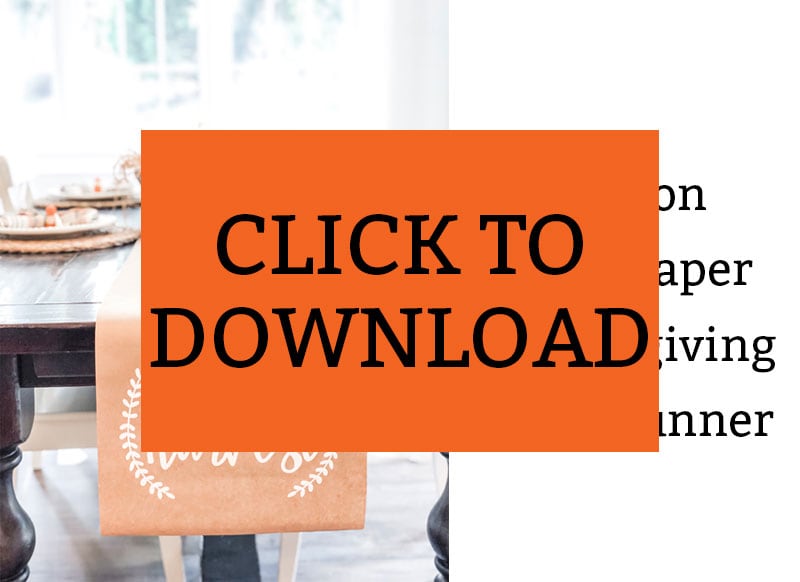 Copyright MOM ENVY 2019. Files may be used for personal use only. No commercial use of the file is available. Files may not be directly shared within Facebook groups, on websites, traced in Silhouette or Cricut program, or in any other way. A link to the web page to download the files may be shared as well as one photo. The file may not be printed and/or created using vinyl and then sold (including local yard sale sites and groups or at local craft fairs). The images may not be used in any way other than to share with a link to the original web page.