Use this printable weekly meal planner with grocery list to help you plan your weekly meals. This free printable meal plan and free printable grocery list are the perfect addition to any planner or to use on their own as a stand-alone printable.
Trying to meal plan and create a grocery list is one of my least favorite chores. Over the years, I have learned tricks and implemented systems to make meal planning easier.
With the help of this free printable weekly meal planner, you can plan out your entire week ahead of time. By pre-planning your week, you can avoid extra trips to get fast food and meal prep some of the meals ahead of time to make your dinners less stressful.
Going to the grocery store can be overwhelming. If you don't go with a set grocery list, it can be hard to ensure that you get everything you need for your meals. This grocery shopping list will help make your trip to the store go smoother.
Menu planning can be extremely difficult to meet the needs of all of your family members. Often times it falls to one person to think of the meals for everyone.
One of the best ways to alleviate adding extra stress to just one person is to sit down as a family to plan your daily meals. And if you can't all decide on which delicious meals to cook, just have each person choose a meal or two they would like for the week. It will make the process much faster.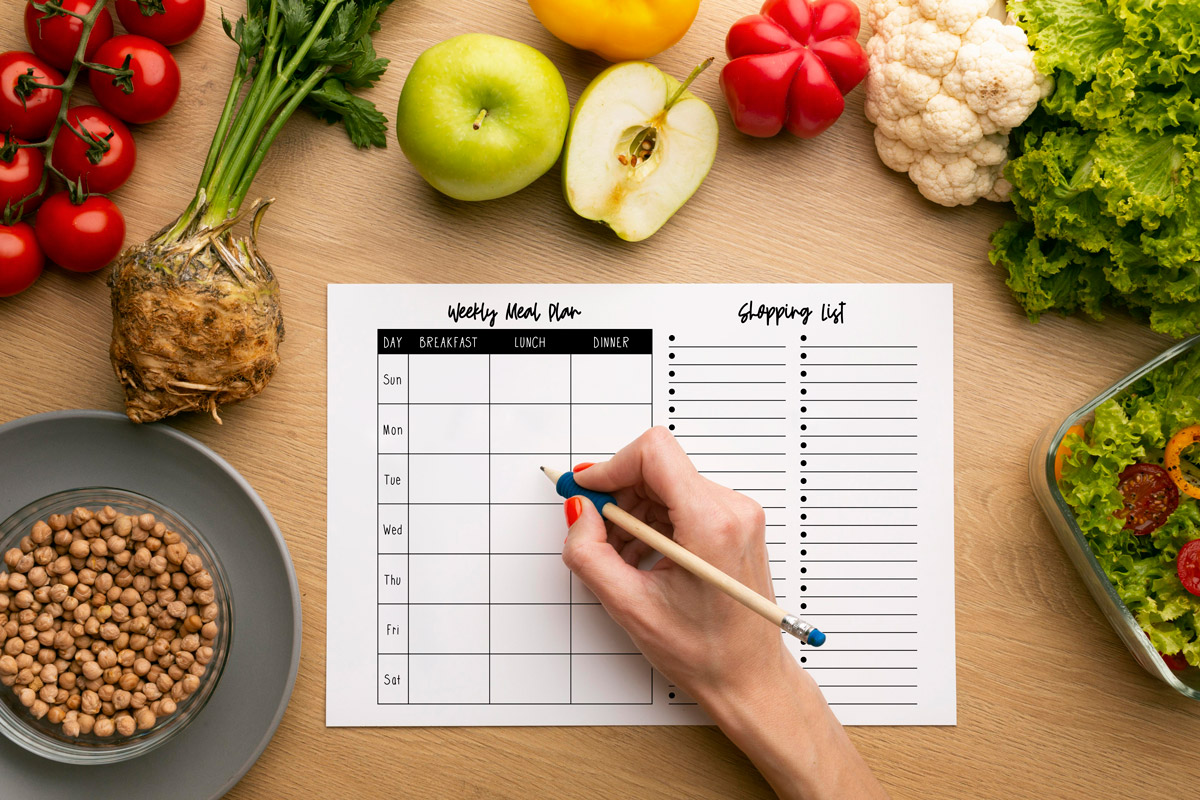 Create a Weekly Meal Planning System
I know there are many people out there that do not spend much time on meal planning. Instead, they just throw together random meals based on the ingredients they have left in the house.
While this system works for many people, for most it leaves people feeling frustrated and stressed.
Instead, try to plan your meals one week at a time. I know many people will use Sunday afternoon to grocery shop and plan their meals for the week. It's a great day of the week because it's the start of a fresh week and you can get all of your groceries before heading to work for the week.
One of the benefits of meal planning on a weekly basis is that you are more likely to cook at home than order food or get take out. Plus, it is a great way to incorporate healthy meals into your weekly meal schedule. If you don't plan ahead it can be hard to cook healthy meals without buying the fresh ingredients you need.
In addition, I find creating a grocery list helps me keep the grocery bill down. Instead of buying random items and trying to come up with a meal when dinner time hits, I can buy just the items I need to have on hand for the weekly meal plan.
Plan for an Entire Month at a Time
Instead of just planning out one week, you could pre-plan an entire month of meals for your whole family. Or you could plan 2 weeks or 3 weeks worth of meals. The important thing is that you do what works best for your family.
I have a friend who always plans out one month at a time but for our family, we prefer to plan on either a weekly or bi-weekly system.
What Day of the Week is Best for Meal Planning?
Any of the days of the week are the best meal planning days. You have to find a day that works best for your family. For many, that would be Sunday so that they can start their work off better. But, if you work weekends, Sunday may not work for you.
What Do the Weekly Meal Planner Template Pages Look Like?
The pages do not come in different colors, instead, they are all black and white. They have a simplistic look with no clip art.
There is a portrait and a landscape version of the free printable meal planner template. You can pick the orientation that works best for you.
First, we have the portrait option. This one is like a weekly dinner planner – it only focuses on dinner.
This section option is meant to plan out breakfast, lunch, and dinner. Plus, even though the shopping list is shorter in height, it has two columns which makes sure to give you enough space when creating your grocery list for the week.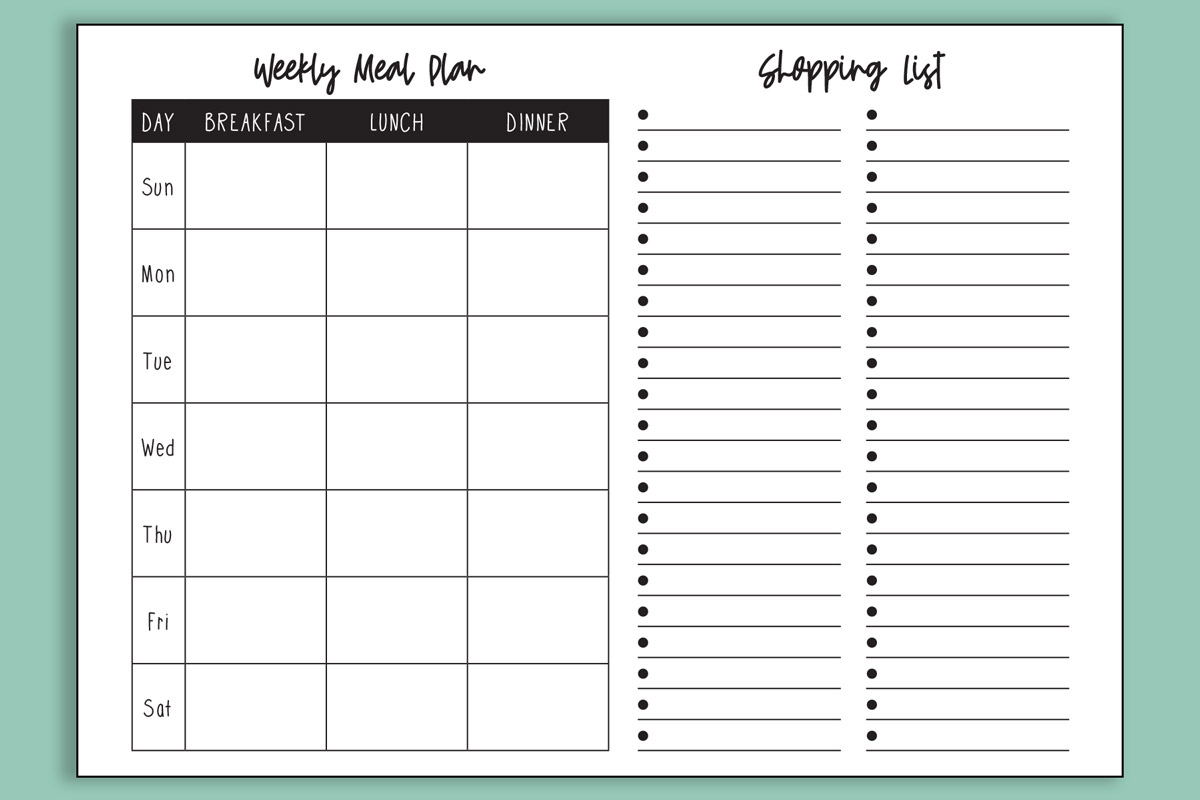 Add Easy Meals and More Difficult Meals
If you are creating a weekly meal plan, don't burn out by trying out all-new, complicated recipes all of the time. Instead, you'll have the best results if you find some balance.
What is Included in this Set of Free Printables?
This set comes in various styles, sizes, file types, and start days.
Portrait weekly meal planner for dinners
Landscape weekly meal planner for all meals
Monday start
Sunday start
Two sizes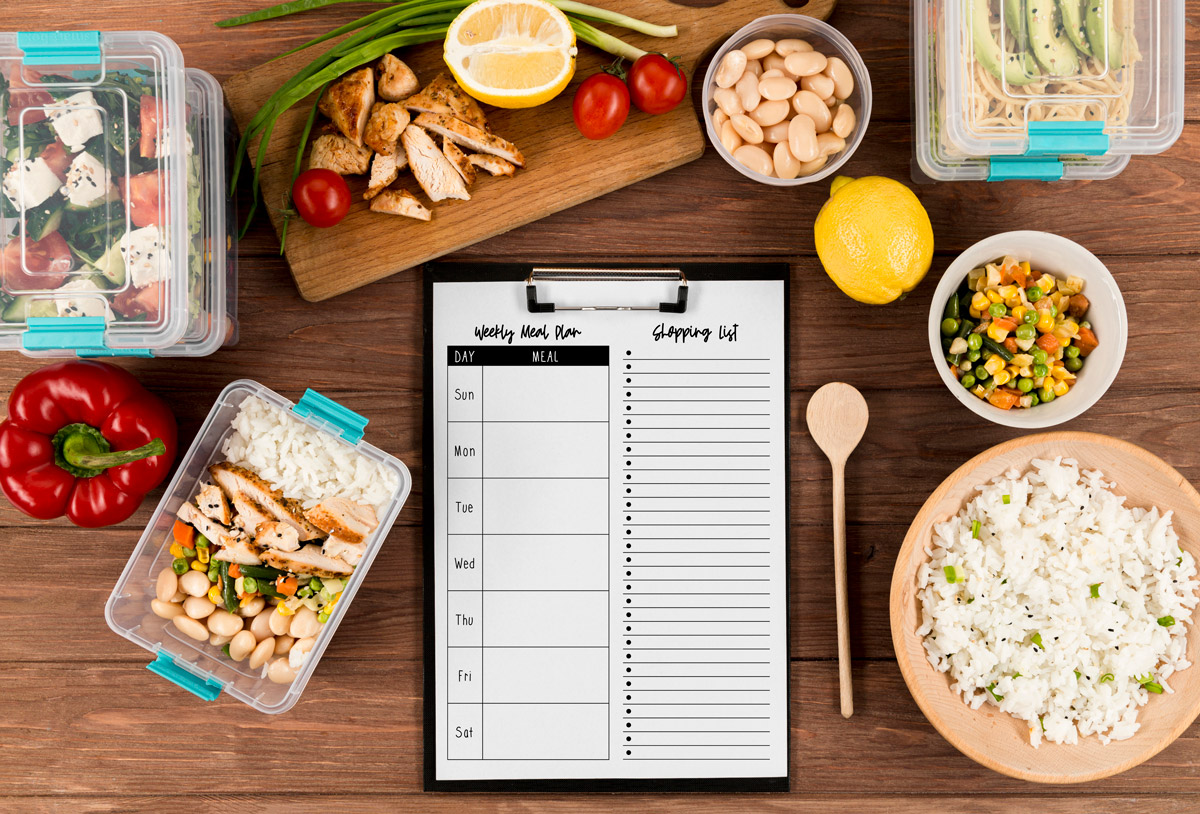 How to Use the Meal Planner Printable Set
I think that the weekly menu planner is pretty self-explanatory but I'll still give you a bunch of information. First, you will look at all of your favorite recipes and select their favorite meals to make that week.
What Size Do the Printables Come In?
You'll get both US letter size and Classic Happy Planner size.
Want to Print the Printable Meal Planners in a Different Size?
You can print the Letter Size files two to a page and they will turn out half letter size. If you want a more specific size, check out my tutorial on how to resize planner printables for any size planner. Use the US Letter Size pages and the directions to print any size planner printables.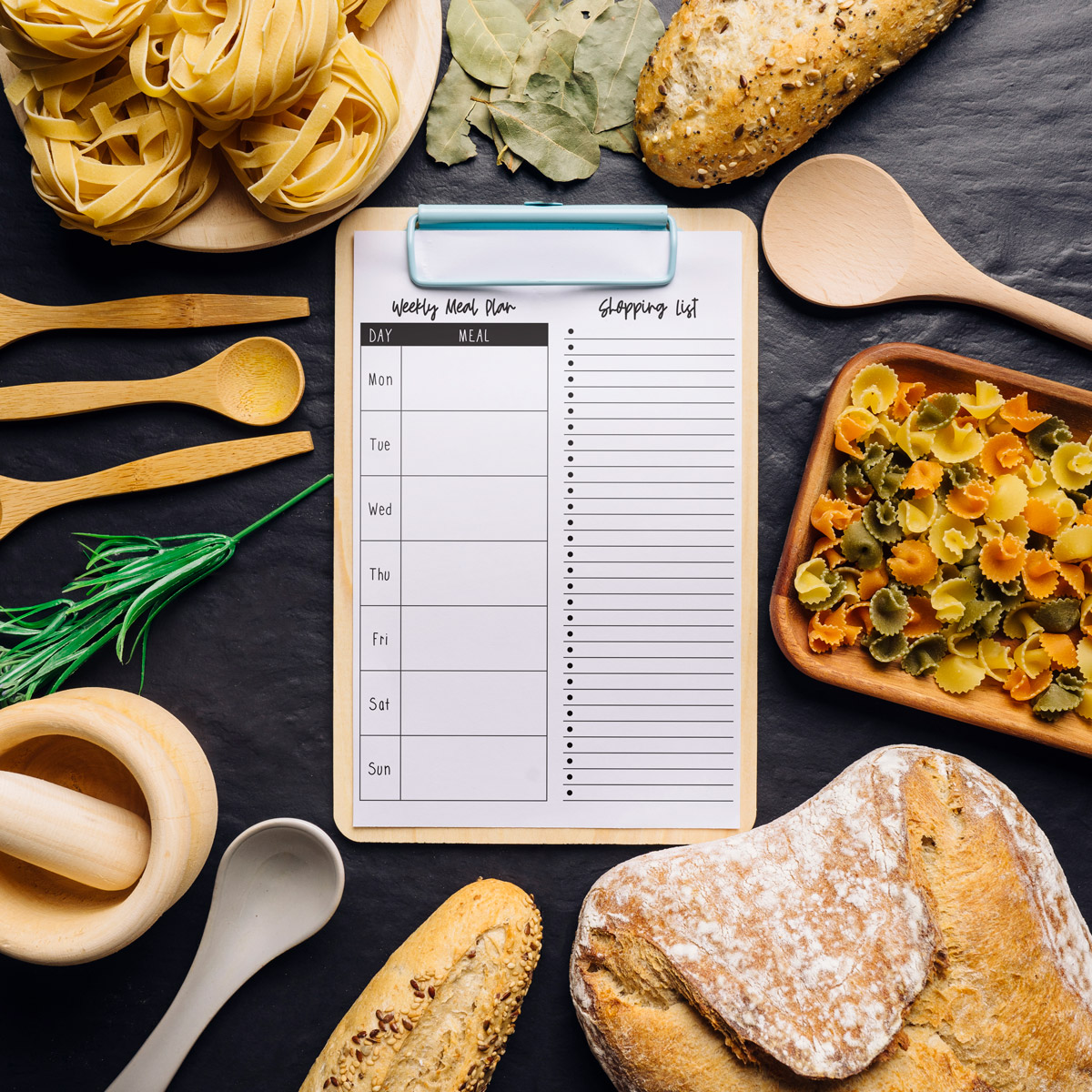 What File Types are Included?
You'll get multiple file types, including:
PDF Format
PNG transparent format
JPEG Format
The files are divided into separate sheets rather than putting them all into one document to pick and choose from.
What Paper Should I Print the Weekly Planner On?
You can print the planner pages on any type of paper but here are my suggestions. For the planner inserts, I would suggest using a 65 lb paper. It's thicker than copy paper but isn't too thick that it will make your planner bulky.
Can You Use the Files in a Digital Planner?
Yes! This set comes with transparent PNG files. This means you can copy and paste the files directly into your own digital planner.
Or, if you prefer, you can import a PDF file from the set into a digital planning app such as Goodnotes.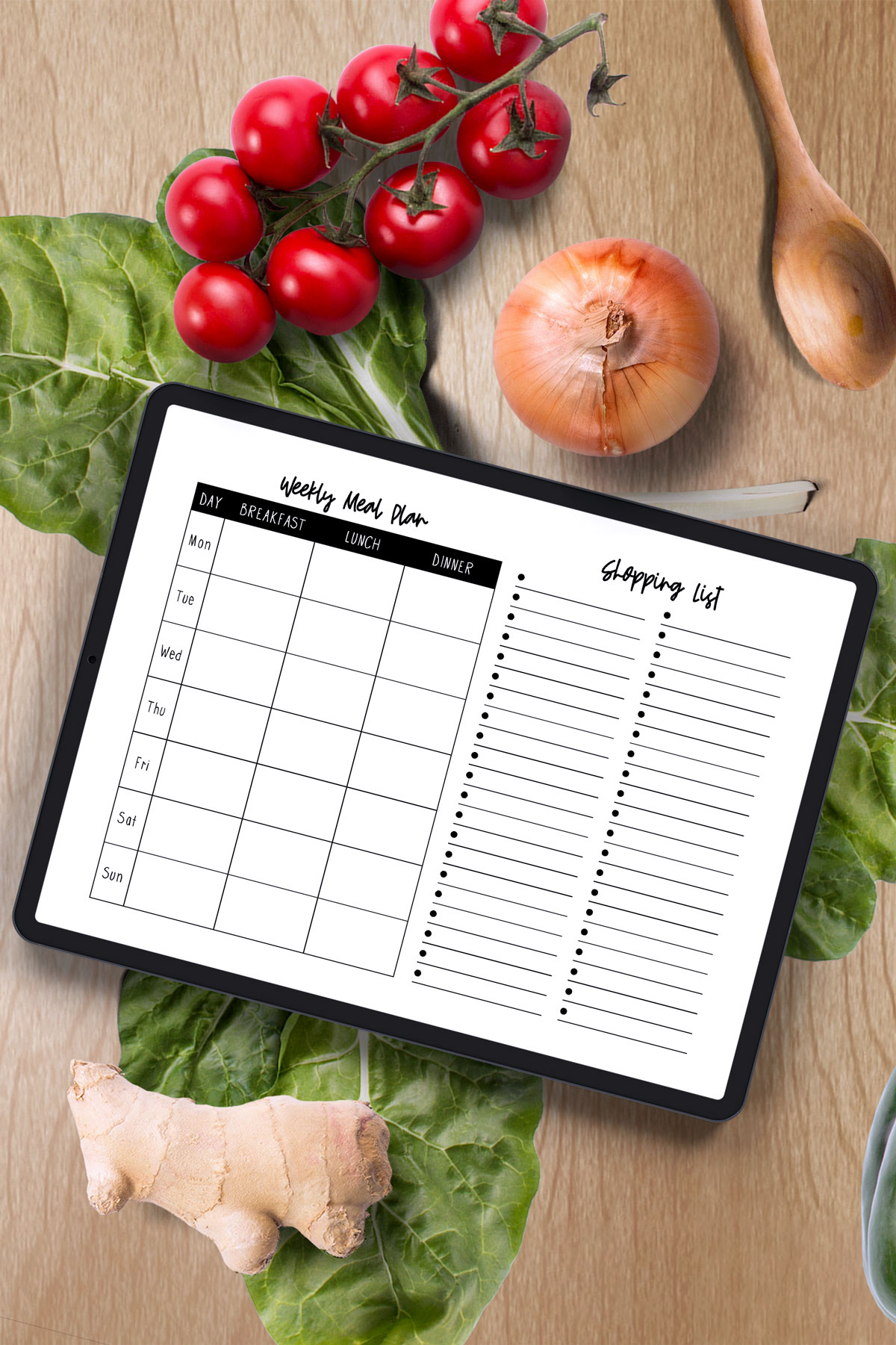 How to Use the Same Weekly Planner Over and Over
Instead of printing a new weekly meal plan template each week, you could laminate the page and use a dry-erase marker. This way you can use the same page over and over again.
The other option is to use the digital files instead.
How Can you Get the Free Downloads?
You can get the free files here or you can download them at the end of this blog post. You'll click on the image under the Click Here to Download.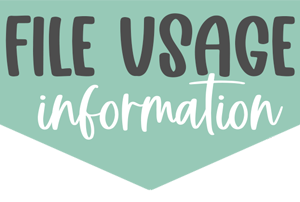 Copyright MOM ENVY 2022. Files may be used for personal use only. No commercial use of the file is available. Files may not be directly shared within Facebook groups, on websites, or in any other way. A link to the web page to download the files may be shared as well as one photo. The file may not be printed and then sold (including local yard sale sites and groups or at local craft fairs). The images may not be used in any way other than to share with a link to the original web page.