Looking for a March mood tracker or March habit tracker? This clover themed mood tracker and habit tracker is perfect for the month of March.
March is a fun month because we welcome spring, celebrate St. Patrick's Day, Mardi Gras, and sometimes, we even celebrate Easter. With so much happening, I have seen some amazing spreads with fun themes for the month of March.
St. Patrick's Day is the theme I decided to go with for my free March tracker. But, since it's just clovers and not a cute little leprechaun, it works well for a spring theme, too.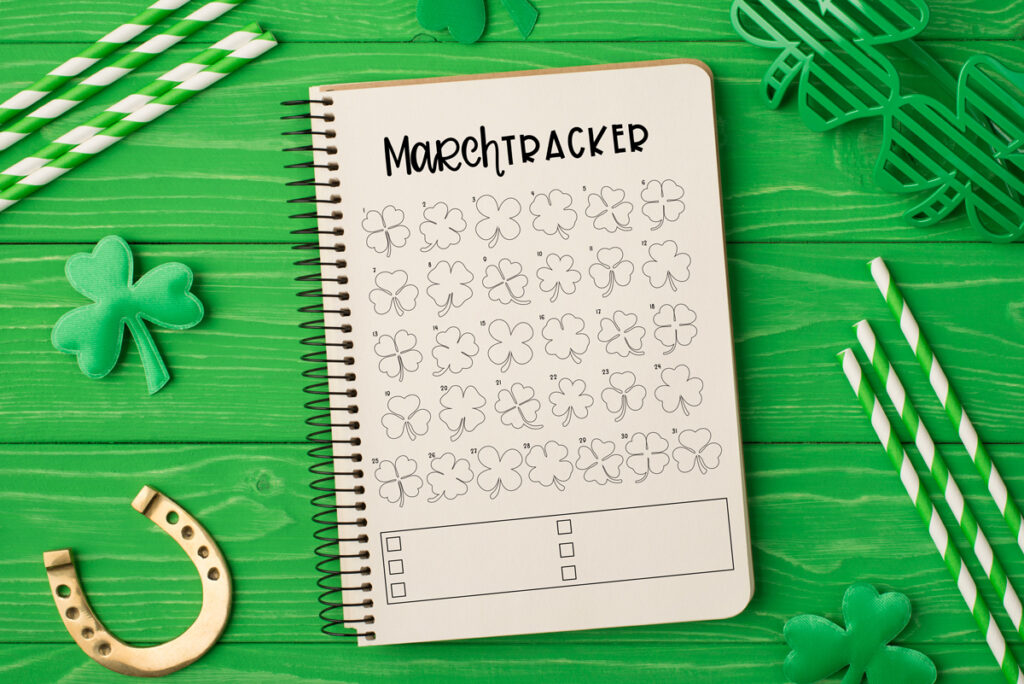 What is a Mood Tracker used for?
Mood trackers are a great way to track your moods on a daily basis. You color in one shape representing your mood for each day of the month.
For those that are struggling with mental health, it can be very helpful to use a monthly mood tracker. First, it requires you to reflect on each day as a whole and how you are feeling – like a mood diary.
Second, by looking back at your month's moods, you can see if there is a trend or pattern in your bad days and happier ones. Then you can possibly adjust your lifestyle to remove common bad day triggers or add in more of an activity that results in good days.
Can I use this as a Habit Tracker or Health Tracker?
Yes! This tracker is versatile as it comes included with multiple versions of blank keys. Instead of filling in your daily mood, you can fill in your habit each day.
For example, you can use it to track water intake. You can have a different color represent a certain amount of water. Then, you'll just color in the corresponding color for each day based on your water intake.
Another example would be to use it as a no spend tracker. You could use one color for no spend and a second color (or no color) for a day you spent money. Each day, you could color in the tracker to correspond if you spent money or not.
There are so many ways to use habit trackers. There is no perfect way to use it – you can use it however it fits your own personal needs.
Need some more ideas of what to track? Download this generic habit tracker and a list of habits you can track.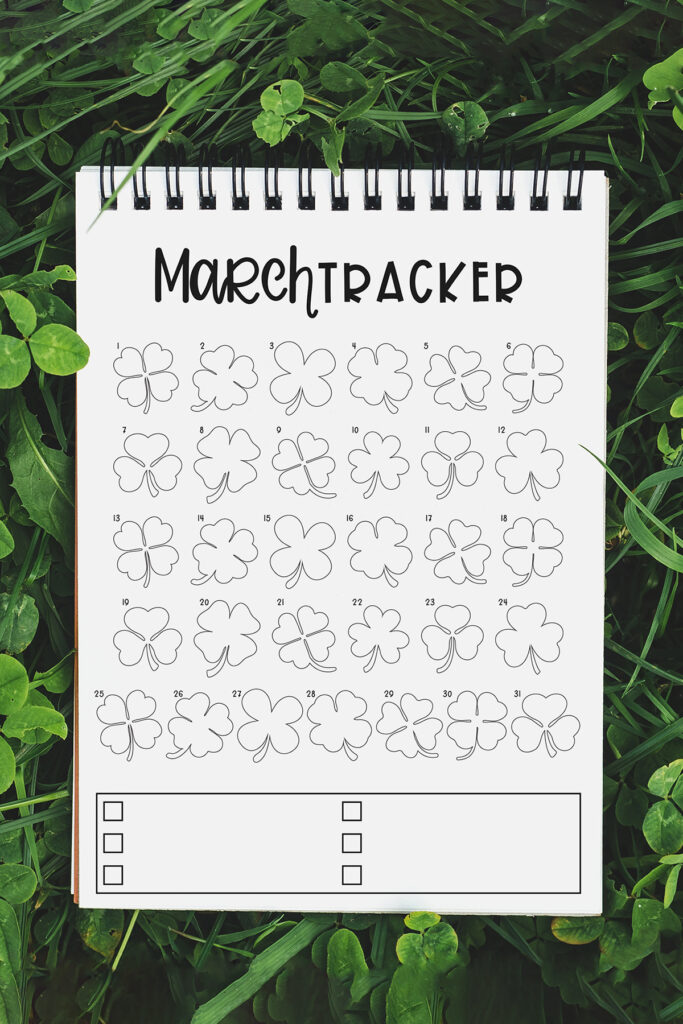 March Mood Tracker & Habit Tracker – Shamrock-themed Tracker
For this March tracker, you will color in a shamrock in a different color (or a different shade of green) for each day of the month. There is a blank key at the bottom of the tracker so you can make each color you choose represent whatever you would like.
Whether you want to track good and bad mood days or you want to track a habit. It's flexible and can be used in a way that works for you.
What type of Planner can I use the Tracker in?
You can use it for any size planner or type of planner. The standard sizes the planner printable is made in are:
Letter size (or Big HP)
Classic HP size
A5
If you would like to use it for a differently sized planner, check out our guide for how to resize any planner printable to fit any size planner.
If you're a bullet journal user, you can use this as a mood tracker spread by printing it and gluing it into your March bullet journal section. Another great idea would be to use some St. Patrick's day washi tape to tape it into your bullet journal (wouldn't that look cute??) It would be a great addition after your monthly spread or at the end of your weekly spreads for the month.
Can I use a Digital Planner?
Yes, you can use a digital planner. I have included a PNG with a transparent background and a white background for each file so that you can paste it into your digital planner spread for March. Download the files from the folder called Digital Planning Files.
Another cute, free St. Patrick's Day planner printable?
In addition to this March tracker, I have another free planner printable for St. Patrick's day. This free planner printable set for March includes planner clips or die-cuts and planner inserts. The inserts are flexible and are similar to half letter size or fauxbonichi size – they're meant to be an overlay in a weekly spread or monthly spread.
You can write down your menu plan for the week, track your to do list, write about why you're lucky, or use it another way that works best for you.
More Mood Tracker Ideas
Need an April mood tracker? Check out our adorable bunny-themed mood and habit tracker for April. Want to track another month or want a different style? This free circle habit tracker can be used for any month.
As an Amazon Associate, I earn from qualifying purchases. I am also an affiliate for the HP ink program and CJ Network. Click here to read more.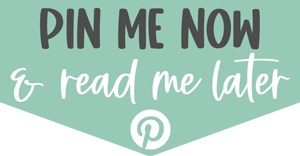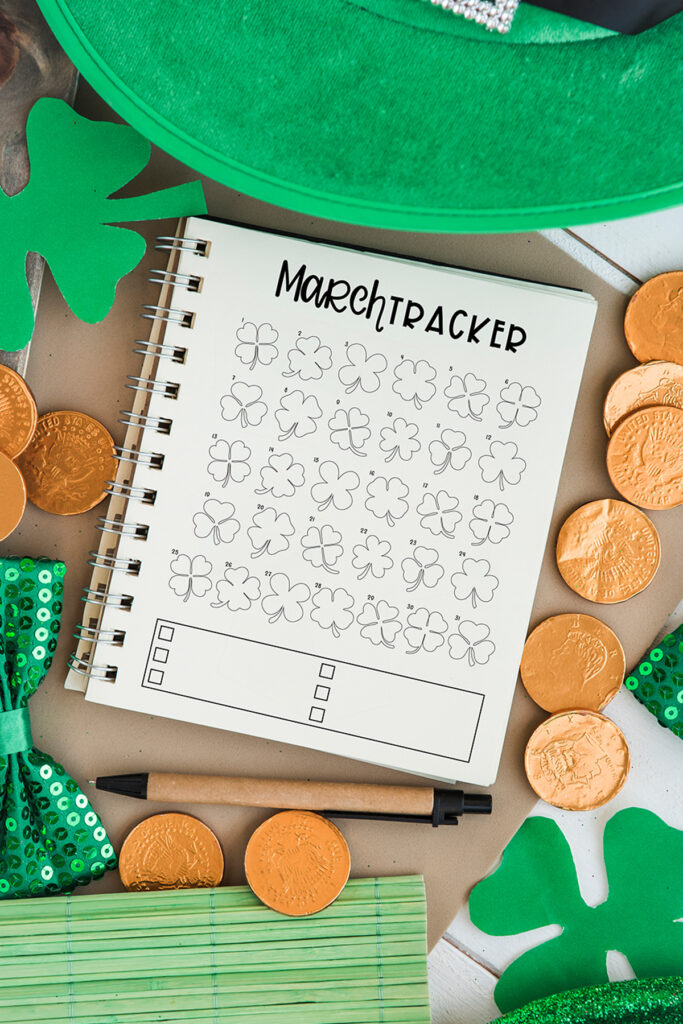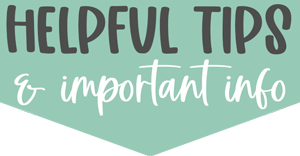 Have a differently sized planner or a traveler's notebook? No worries! You can print the letter size calendar for any size planner. You can read the full directions on how to resize planner printables here (including videos).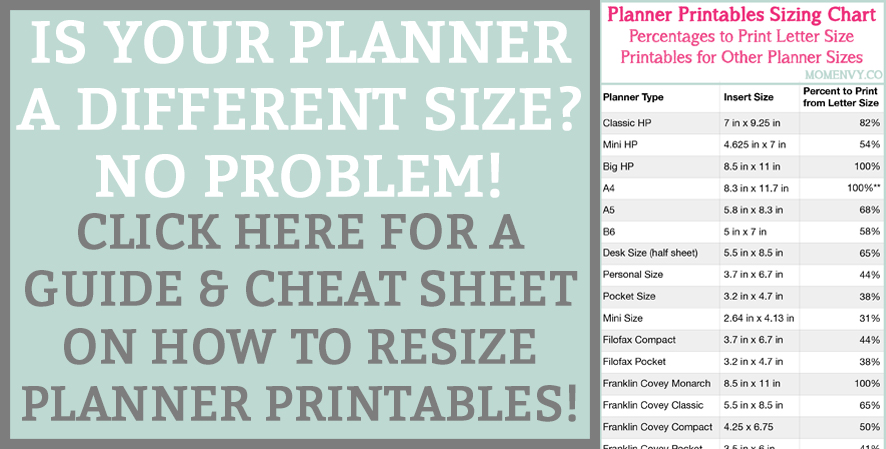 Tips for Downloading the Free Files
Below is an arrow that says Download Below. Underneath that is a large image that says Click to Download the free files.
Once you click that, you will enter the members-only password and click submit.
The page will reload the same image and now when you click the image that says Click to Download the free files, it will open the Google Drive folder containing the free files.
How do you get a members-only password?

You can sign up here to be a free Mom Envy club member.
The password will be sent to you within a few minutes. Make sure to check your spam and/or junk folder if you don't see it.
Already a member but forgot the password? Don't sign up again. Look at the end of any newsletter from me for the free password or just send me an e-mail here: [email protected]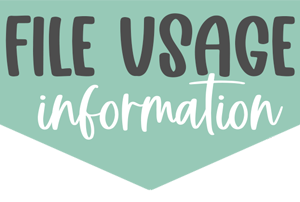 Copyright MOM ENVY 2022. Files may be used for personal use only. No commercial use of the file is available. Files may not be directly shared within Facebook groups, on websites, or in any other way. A link to the web page to download the files may be shared as well as one photo. The file may not be printed and then sold (including local yard sale sites and groups or at local craft fairs). The images may not be used in any way other than to share with a link to the original web page.