Print this sweet May mood tracker and habit tracker. This floral mood tracker will brighten up any planner in the spring. If you would rather use this for habit tracking instead of mood tracking, you can use it that way as well.
This tracker is designed like any bullet journal mood tracker style – it includes a floral design and there is a flower that represents each day of the month. You will color in each flower based on the color code that you create in your key below the tracker.
If you're working on your bullet journal layout for the month, you can incorporate this design by cutting it and pasting it into your bullet journal. I find that washi tape also works well to place a page within a bullet journal. Just print the page at a smaller size (see directions here for how to resize printables for any size planner).
If you are new to bullet journaling, adding in a tracker is a great way to add to something in addition to your monthly spreads each month.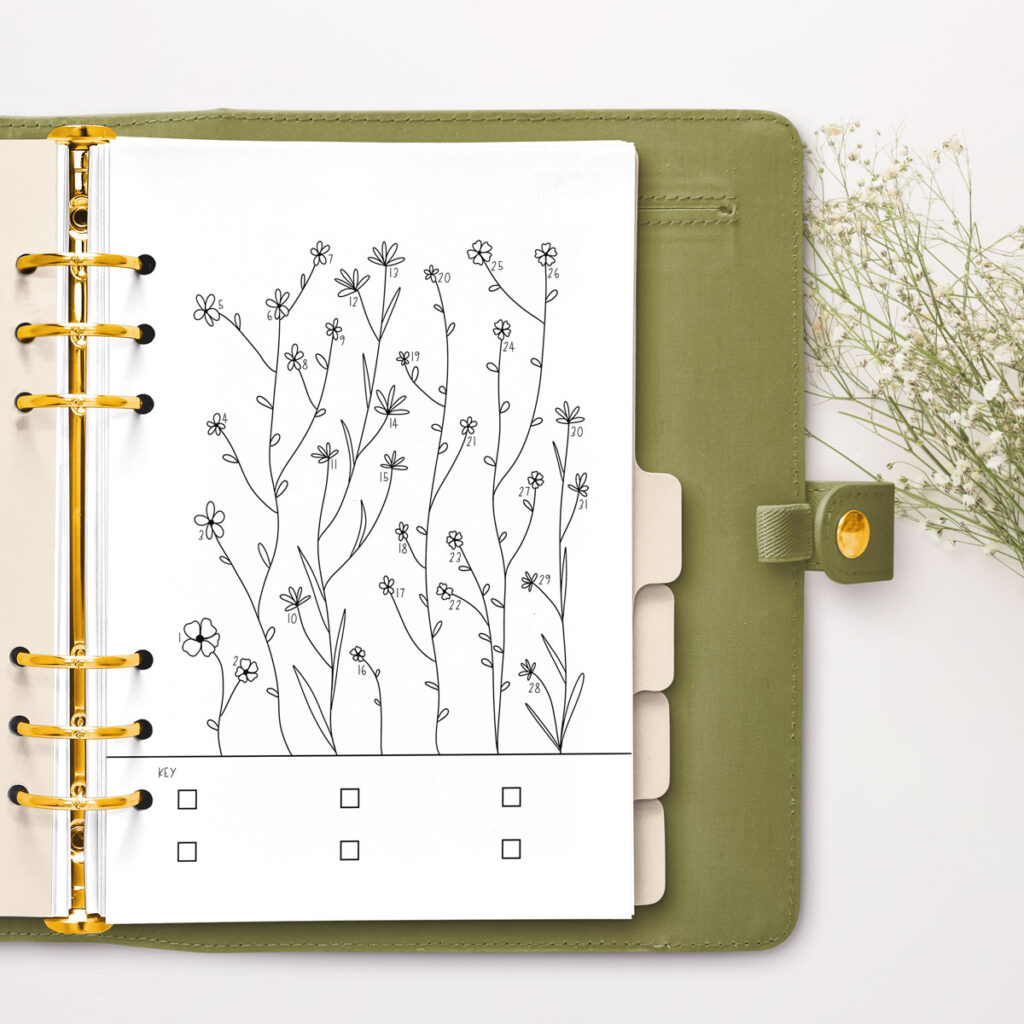 What is the benefit of tracking mood changes in a month?
If you are looking for mood patterns – it can help to track your mood on a daily basis. It is extremely important if you or your doctor are wondering if you have any sort of mood disorders or a family member is struggling (such as a child), or you are trying to get a better understanding of your moods and what triggers specific moods.
And I am not just talking about bad moods or negative emotions. It can be helpful to track your positive emotions and mood shifts of any sort to see if you can find a pattern in what causes the change in your mood. For example, maybe you notice there is a pattern related to your monthly period. Or, maybe you notice that you seem to have better days after a night out with friends.
You can take the information you gain from your monthly mood tracker to make better plans for the next months so that you can increase activities that brought you better days. Or you can try to decrease triggers that caused you not to be in a good mood.
Using the May mood tracker to track daily moods
No matter your daily moods – if you're having good days, bad days, sad days, excited days, anxious days, – this mood tracker will work for you. The key is designed so that you can put in your own choice of different moods.
Just choose different colors for each mood. Write the mood down on the key and color in what color you would like to represent the mood. Then at the end of the month, you can easily tell how your month went overall by seeing which colors of the flowers you have the most and which ones you have the least.
Keeping track of your moods all year can really help!
If you use monthly trackers for the entire year, you can keep track of your emotions even further. Maybe you'll notice there is a pattern based on the temperature outside, holidays, school, etc.
Bring your mood trackers to your therapy or doctors appointments
If you have professional help related to your emotional states or mental health, keeping a mood log is a great way to communicate how you have been. Clinical psychologists, therapists, and doctors, will all be able to obtain more information about you.
This is especially important if you are trying to obtain information on possible mental disorders. Mood trackers can truly be powerful tools in helping you monitor your mental state and anything that has a huge influence on your overall mood.
Here is an example of what the floral mood tracker might look like when filled in for May.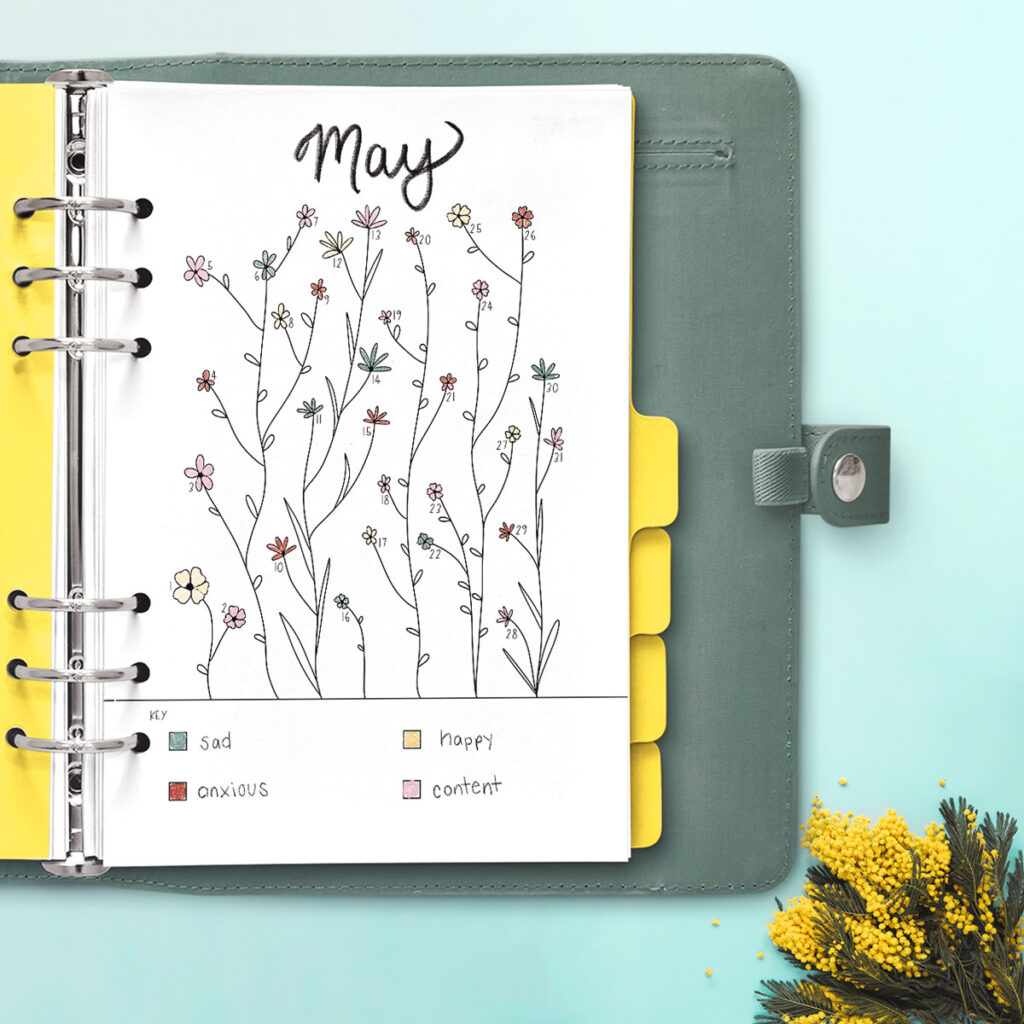 Using the May Mood Tracker as a Habit Tracker Instead
This May mood tracker can easily be used to track habits instead. There are various reasons to track specific habits.
Whether you are using a bullet journal system, or not, habit trackers are a great way to track different things in your life such as:
how much time your spending on devices
physical health (how much you exercise, steps, water intake)
no spend
coffee intake
soda intake
time reading
Want more ideas of what habits to track? Check out this extensive list of what to track with a habit tracker.
The color key included at the bottom of the printable mood tracker can easily be used for a habit tracker instead.
Does the tracker have a key area?
Yes, there is a key at the bottom of the tracker. You have a few different options for keys – 2 choices, 4 choices, and 6 choices. You'll also have one that has a blank key area in case you want to make your own mood chart for the key.
Can I use this mood tracker for more than May?
Yes! Even though I have called this a May mood tracker, in reality, you can use this tracker for any month with 30 or 31 days.
Why isn't there a title on this mood tracker?
People use these trackers for so many different things other than just their daily moods. I wanted people to be able to use it for anything and not be tied into just using it as a mood tracker for May. I did leave space to write in your own title that fits how you are using the printable tracker.
What file types are included in this set of free printable mood trackers?
There are multiple file types included. A PNG file is included for those that want to embed the tracker into a digital planner program such as Goodnotes. The file types included are:
PDF files
JPG files
PNG files
What size is the May mood tracker and habit tracker?
You can resize the files for any size planner – use my tutorial here for how to resize printables for any size planner. But, my files come in the following standard sizes:
Letter size
Classic Happy Planner size
A5 size
Want more cute mood trackers and habit trackers?
I have many more mood and habit trackers on my site with lots of different styles. Here are a few of my favorites.
As an Amazon Associate, I earn from qualifying purchases. I am also an affiliate for xTool, the HP ink program, ShareaSale, and CJ Networks. Click here to read more.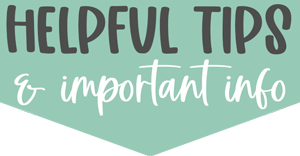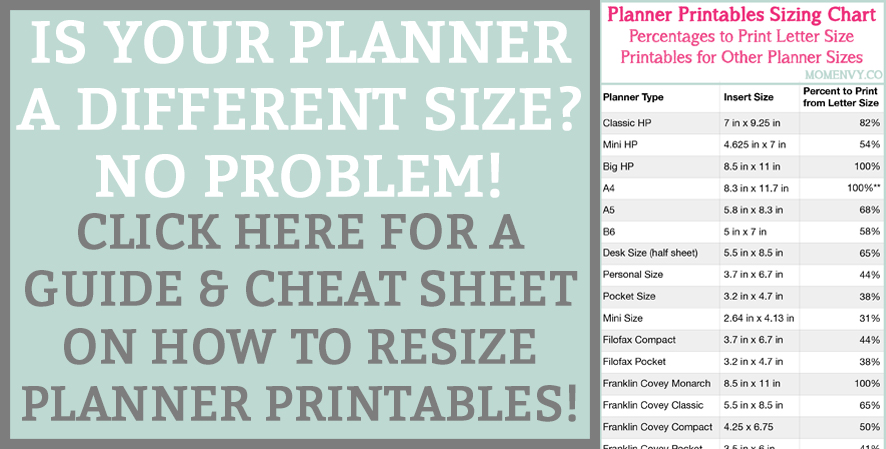 Have a differently sized planner or a traveler's notebook? No worries! You can print the letter size calendar for any size planner. You can read the full directions on how to resize planner printables here (including videos).
Tips for Downloading the Free Files
Below is an arrow that says Download Below. Underneath that is a large image that says Click to Download the free files.
Once you click that, you will enter the members-only password and click submit.
The page will reload the same image and now when you click the image that says Click to Download the free files, it will open the Google Drive folder containing the free files.
How do you get a members-only password?

You can sign up here to be a free Mom Envy club member.
The password will be sent to you within a few minutes. Make sure to check your spam and/or junk folder if you don't see it.
Already a member but forgot the password? Don't sign up again. Look at the end of any newsletter from me for the free password or just send me an e-mail here: [email protected]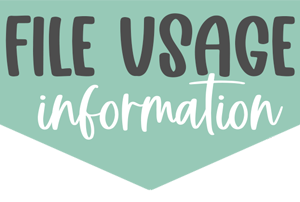 Copyright MOM ENVY 2022. Files may be used for personal use only. No commercial use of the file is available. Files may not be directly shared within Facebook groups, on websites, or in any other way. A link to the web page to download the files may be shared as well as one photo. The file may not be printed and then sold (including local yard sale sites and groups or at local craft fairs). The images may not be used in any way other than to share with a link to the original web page.