Alright, fellow parents of train-obsessed children, are you struggling to find train party games and activity ideas?
When we went to throw our son's first train party, I spent hours researching ideas for train party games.
When it came time for us to plan our Thomas the Tank Engine Birthday party, I had a harder time coming up with train games and activities because we had already used up our best ideas the year before.
So, we had to come up with new ideas that would be interesting to children that had been to Carl's birthday party the year before.
What Ages are the Train Activities Geared Towards?
Our train parties were for when Carl was 3 and 4. We had guests ranging from babies through eight years old. Due to the wide range of ages, we decided to focus on activities that could be enjoyed by all of the party-goers.
While the babies couldn't really participate, even our youngest son, Jack, could participate in some of the activities at only 1 and 2.
Do I need to Plan Activities for the Entire Party?
Starting around 3 or 4, children can participate in structured activities and games. I prefer for our parties to be mostly structured with minimal free time. I prefer to give the kids a little bit of free time and the rest is all structured time.
In my personal experience (it might be the teacher in me), too much free time can result in arguments due to the sharing of toys in the playroom.
Plus, kids aren't always completely supervised by their parents at parents. Often times parents socialize with other parents during a party. This means some kids are left with minimal parental supervision during free time.
It's safer for both the home and the kids to be in structured activities led by the party hosts.
Plus, by keeping the kids engaged with various activities and games, the time goes by quickly. The kids also truly enjoy the structure as long as the activities are age-appropriate and of interest to the majority if not all of the group.
Mixed Types of Party Activities and Games
When planning party activities, try to find games and activities that may be of interest to all of the children. While staying in the theme of the party is fun, if you go too far with the theme for the entire party, you may have some bored little party-goers.
When planning the train parties, I tried to come up with activities that would be interesting even to those children that aren't train-lovers.
It's also important to provide different types of activities so that all kids can feel included (think – drawing, physical/movement activities, etc). Some kids may have a difficult time with the games while another child may not enjoy crafts.
By mixing the party games and activities, you'll create a more exciting experience for all of the children.
Okay, now that I have given you an overview, let's get to the actual train party ideas!
Train Party Ideas – How to Throw a Train Party
As an Amazon Associate, I earn from qualifying purchases. I am also an affiliate for the HP ink program. Click here to read more.
Train Party Games and Activity Ideas
Below, I have explained the detail of each train activity and game we completed at both of our train parties. Since we had two parties, I thought it would be important to show you which activities we paired together for both parties.
Party 1 Train Party:
painting train ornament
painting a blank, wooden train car
coloring pages
Coal in the Hole
tracks around the house
cardboard trains
pin the train on the track.
Party 2 – Thomas the Tank Engine Train Party:
tracks around the house (wearing a train apron)
decorating rice Krispies train or cookies
coal in the tinder car
conductor says (like Simon says)
coloring pages
treasure hunt
Train Party Activities
Tracks Around the House (painters tape and chalk)
This was a must-have for our party both years. It has a large impact without having to spend a lot of money. Plus, the kids loved pretending to be trains.
I bought two rolls of blue painter's tape – a thinner roll and a thicker roll and used some sidewalk chalk we already had.
If you already have painters tape laying around (even if it's all one size), that will work. I used the thicker roll to create "rails" throughout our first floor. Then I used the thinner roll to create the ties.
Outside of our house, I used chalk to create tracks on the sidewalk.
Next, I added some printed signs for things such as Railroad crossing, speed limit, etc. You can grab the free printed signs from our Free Printable Train Party Printables pack.
Then, we added some details to our train tracks. To keep costs down, we used household items. We used a stool to create a bridge for the kids to climb over and a kid's tunnel to make a tunnel for the kids to climb through.
In the second year, we wanted to spruce our track up a bit. So we added a ball pit the second year for the kids to climb through.
What's great about the ball pit is that if you don't already have one, you can purchase it as a gift for your little one and then use it for the party as well.
We hung streamers in a doorway to create a "waterfall" for the kids to pass through. Next, we used Christmas to our advantage and put up our tree to represent a forest. The second year, we set up our Little People farm to make a pretend farm.
Here are some example pictures from our train track set up.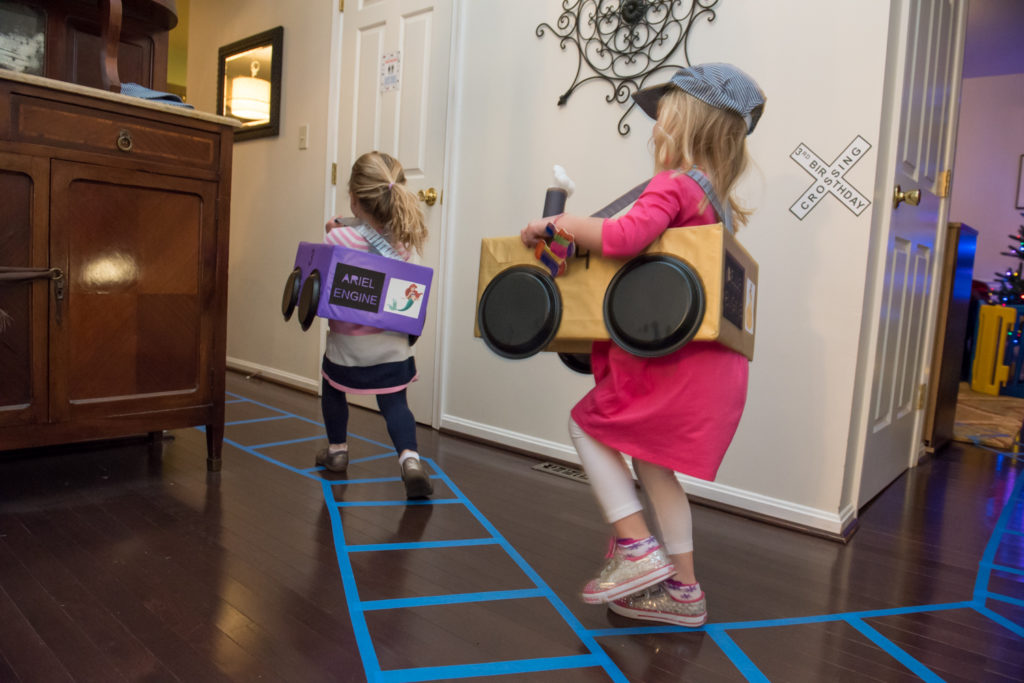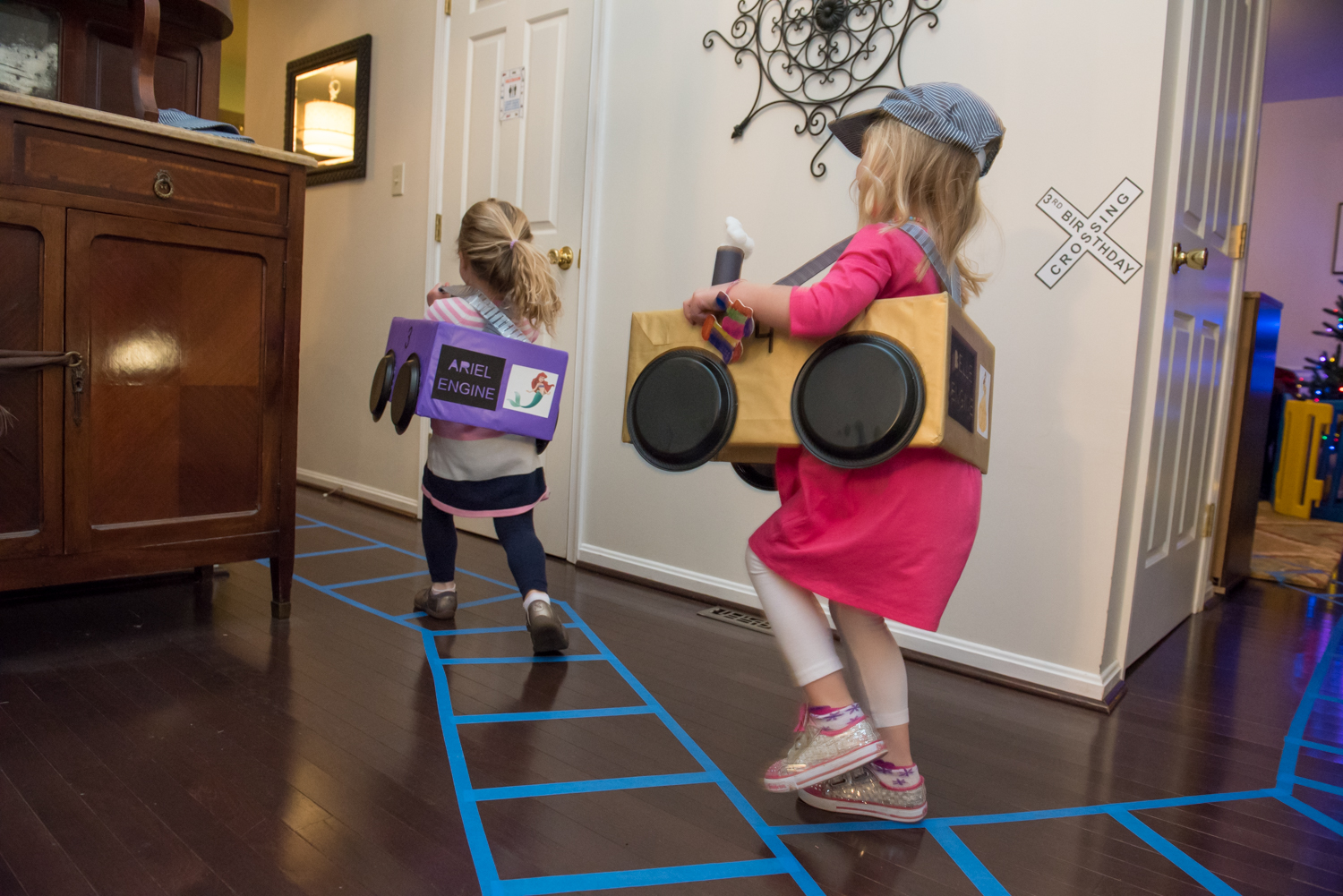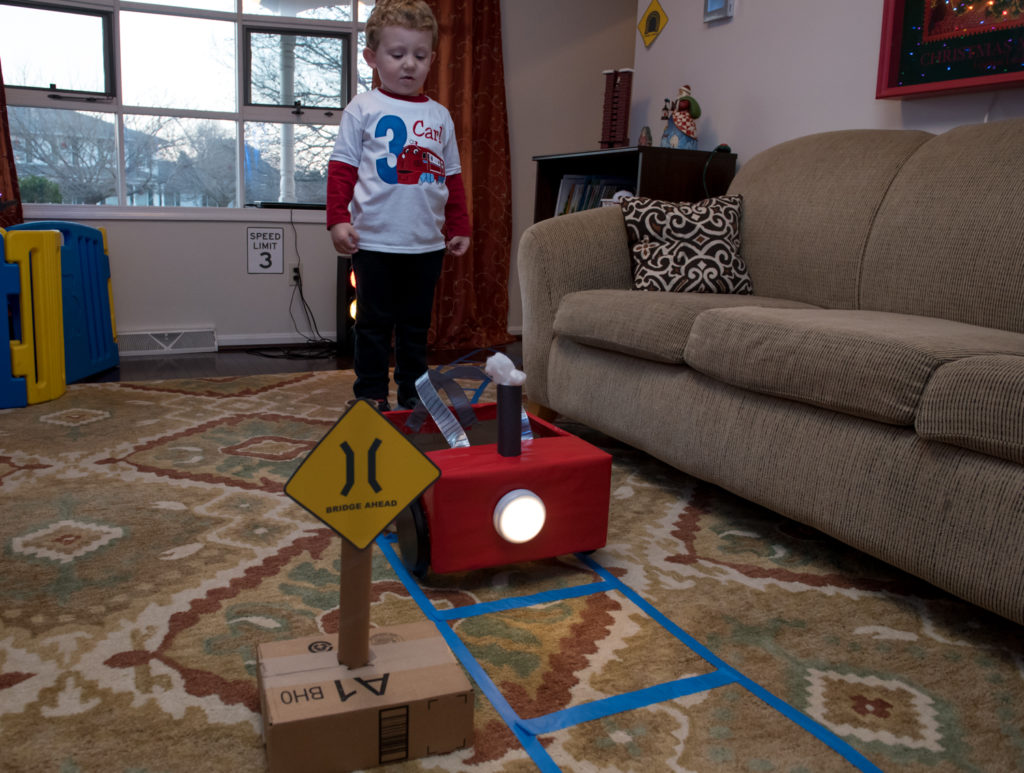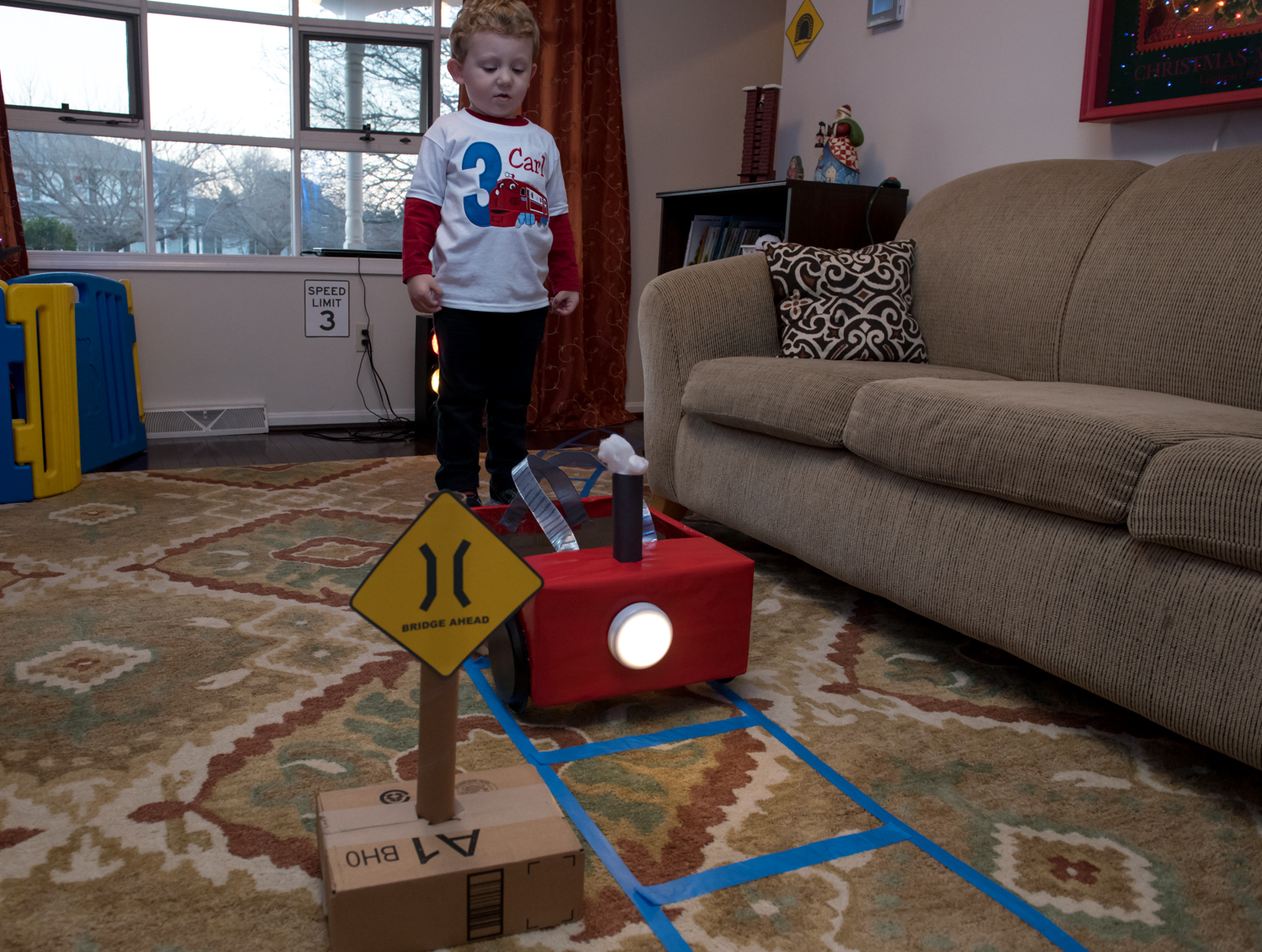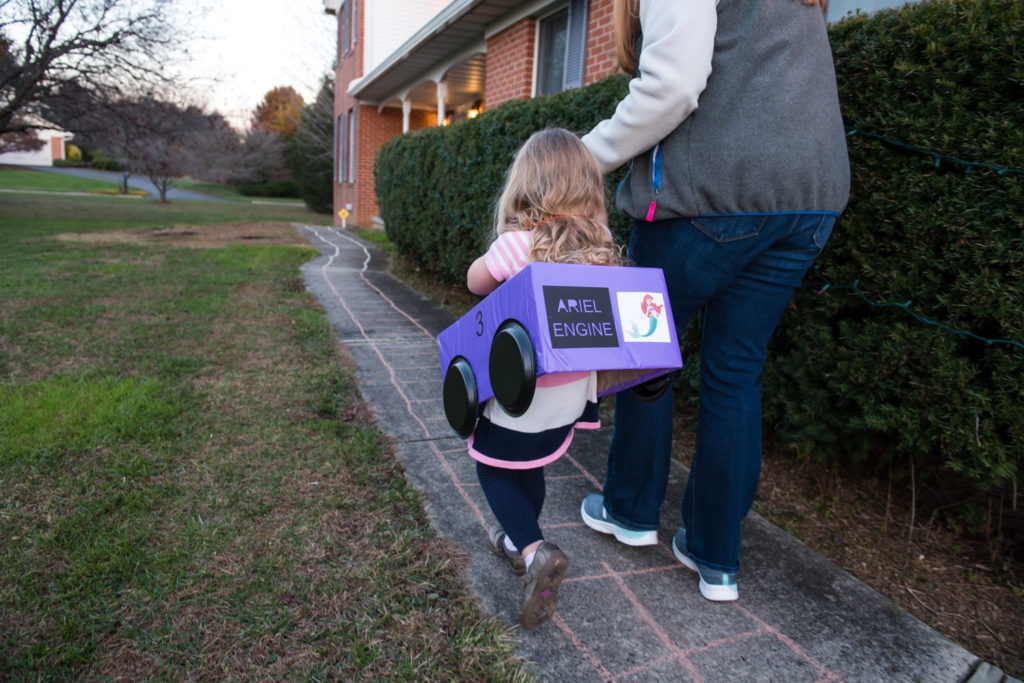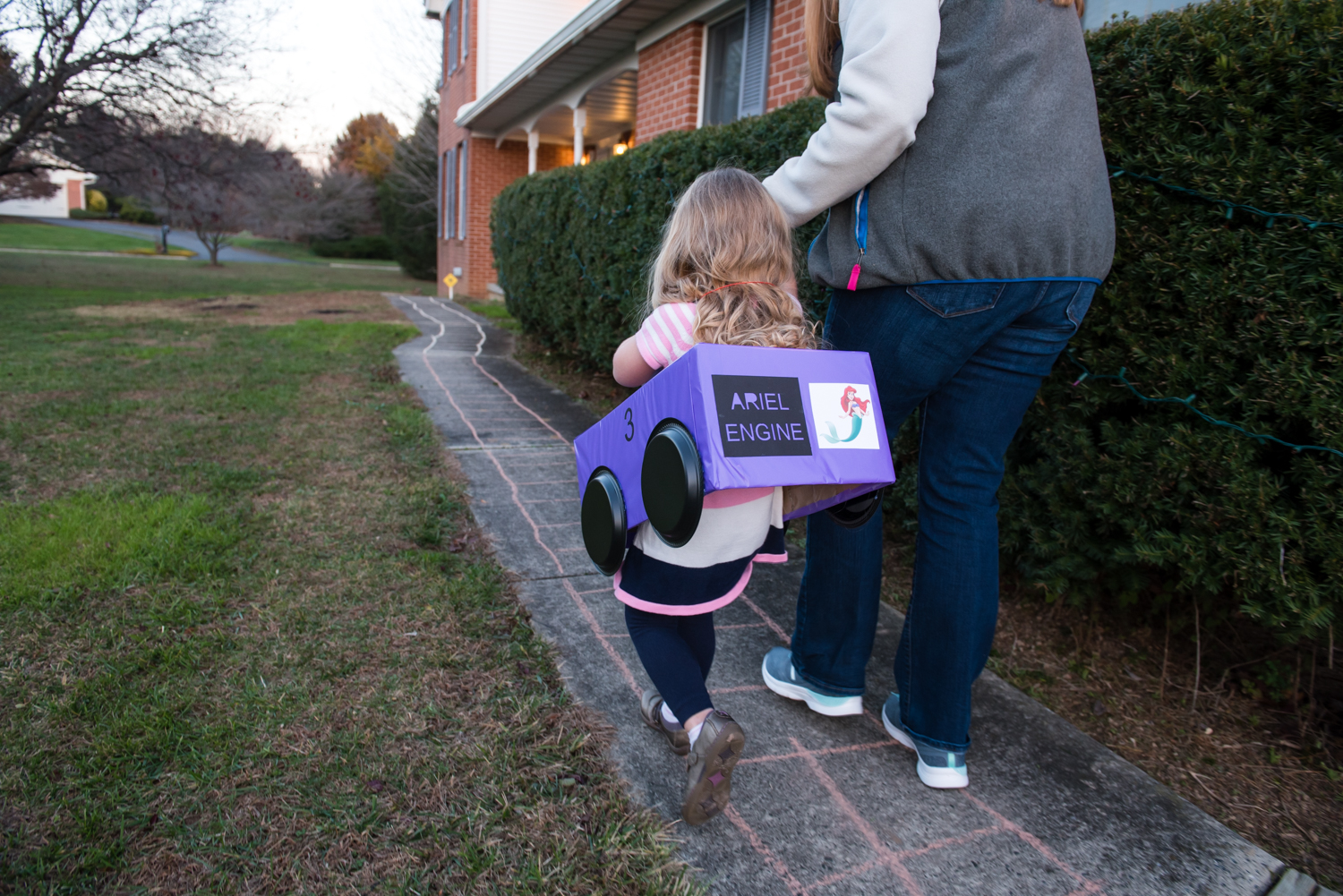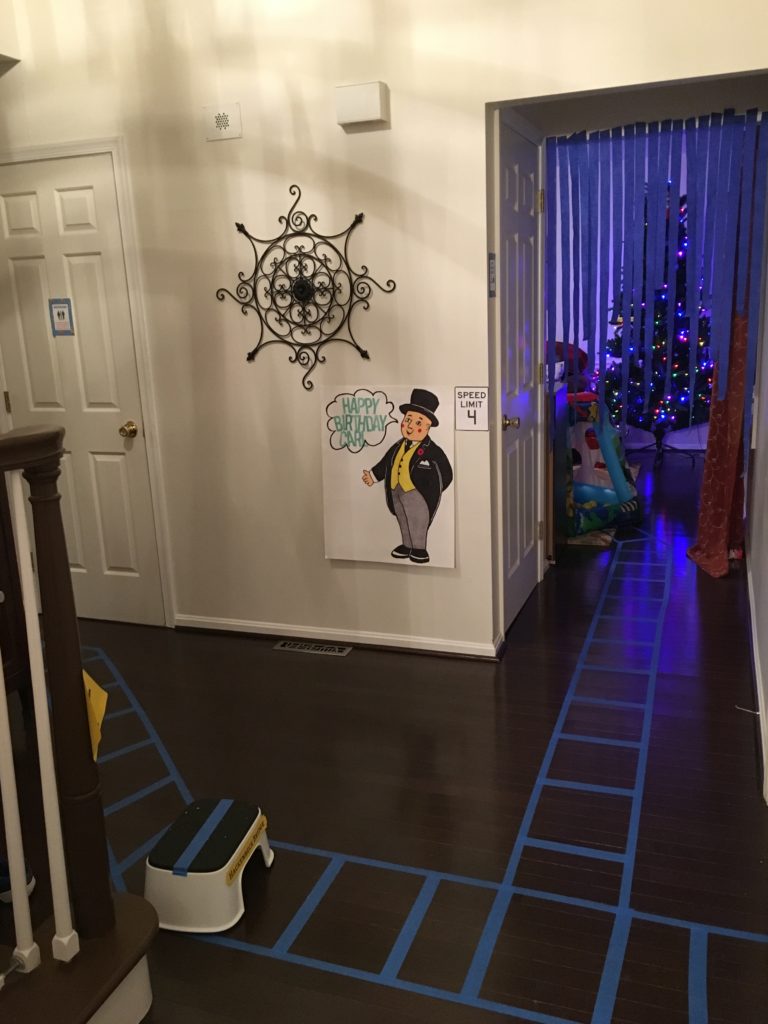 DIY Cardboard Train Cars
I am not going to lie, these things take some work. If you are short on time, opt for something simpler like the aprons I did my second year (see below).
Despite the length of time these took, I loved them. I thought they added an extra special element to the party.
Plus, it provided the kids with an instant activity. I loved watching their imaginations soar as they pretended to be trains running on the tracks.
What to know how to make the train cars?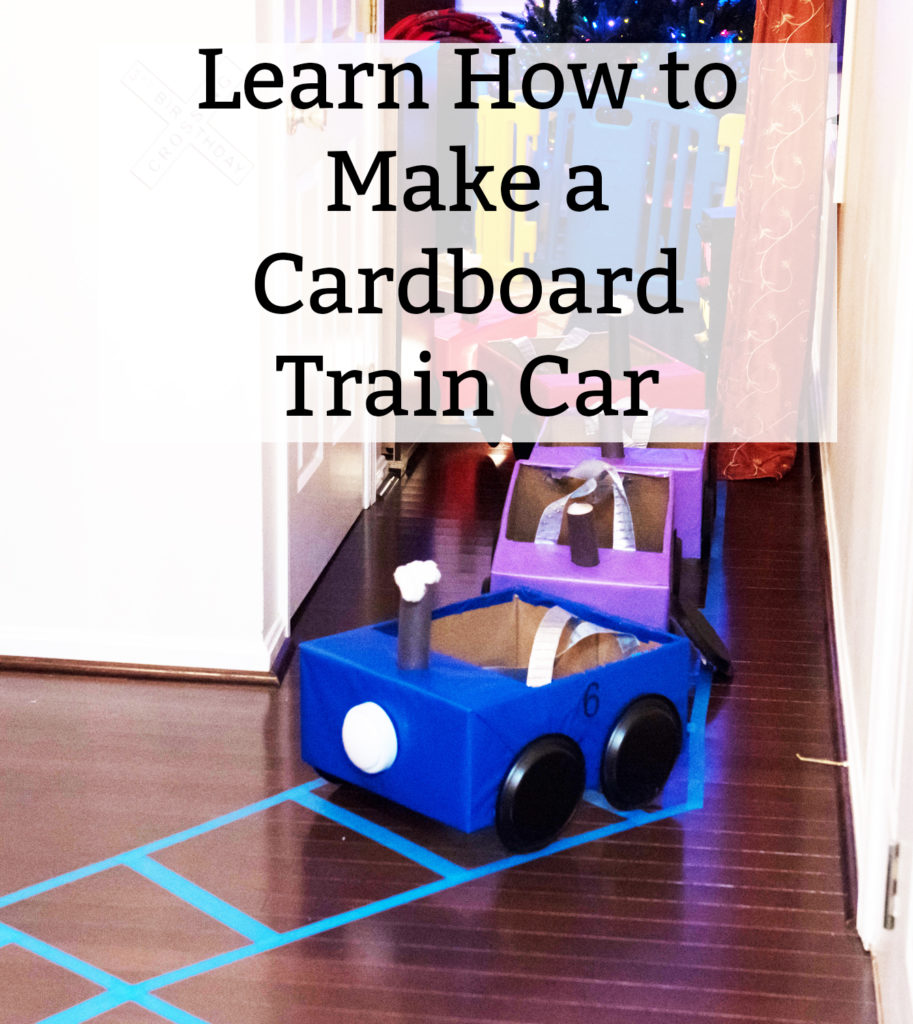 Thomas Character Aprons or Shirts

This is a much easier way to make the kids into trains. I used these aprons from Amazon. I found some of the Thomas character's faces online and printed them on printable HTV (I prefer Jet-Pro and I got it from Amazon).
Then I used my Silhouette to cut them out and press them with my heat press (VERY low temp for only a few seconds).
Now, if you don't have a Silhouette or Cricut you should get one, you have two options.
One, you can print out the picture, cut it out and glue it onto the apron. I would suggest printing it on card stock.
Your other option is to use Avery's printable iron-on. Use a very low-temperature iron and press for only a few seconds at a time until it adheres.
You could also use shirts instead but the aprons went with our train decorating activity later (and they were a LOT cheaper/didn't need to worry about the size!) Here is a finished apron example.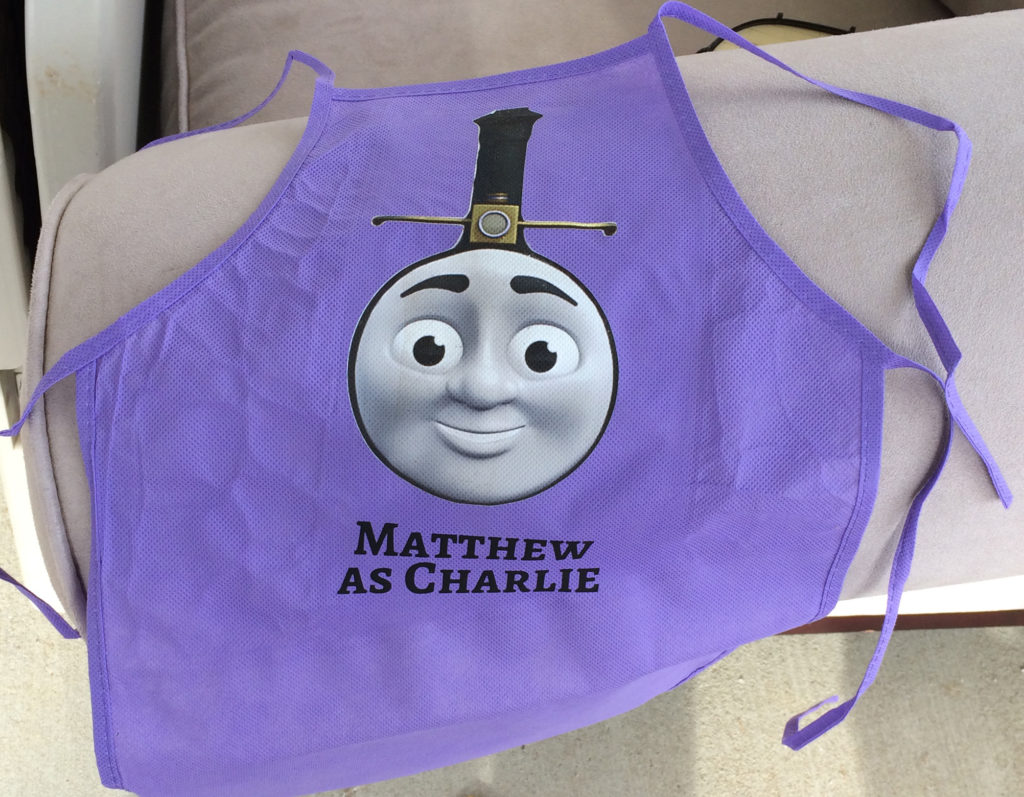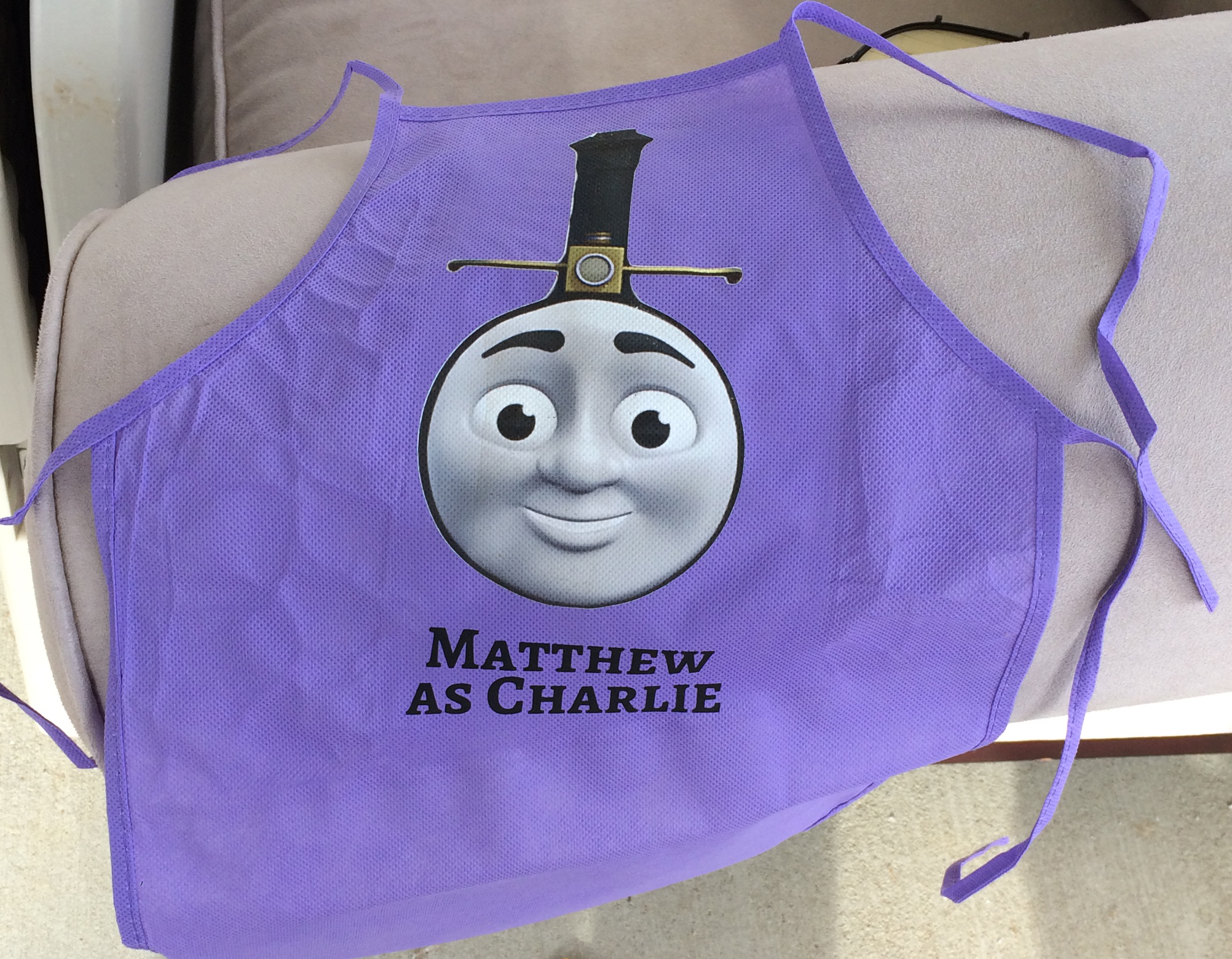 Painted Wooden Train Cars
I purchased these little train cars on Amazon and they're still there. They were a great activity for the kids.
I set out regular markers and the kids colored their train cars. Then they had them to play with and they became part of their favor.
I love to use items for an activity that can become part of a child's goody bag. It saves me money and also lets me spend a little extra without feeling guilty (although, these are pretty cheap!)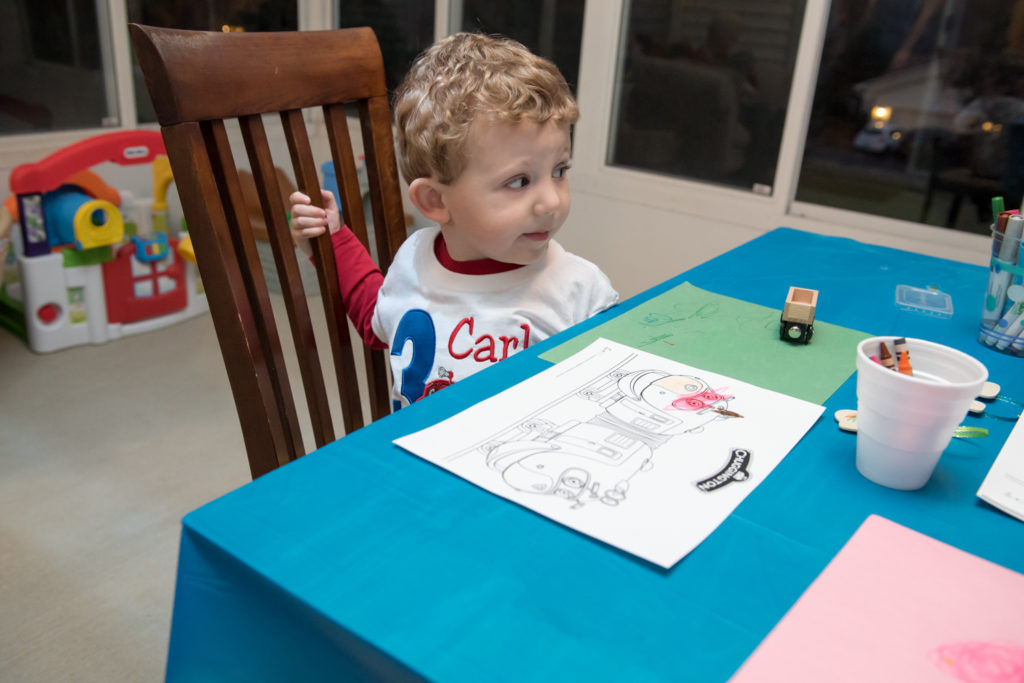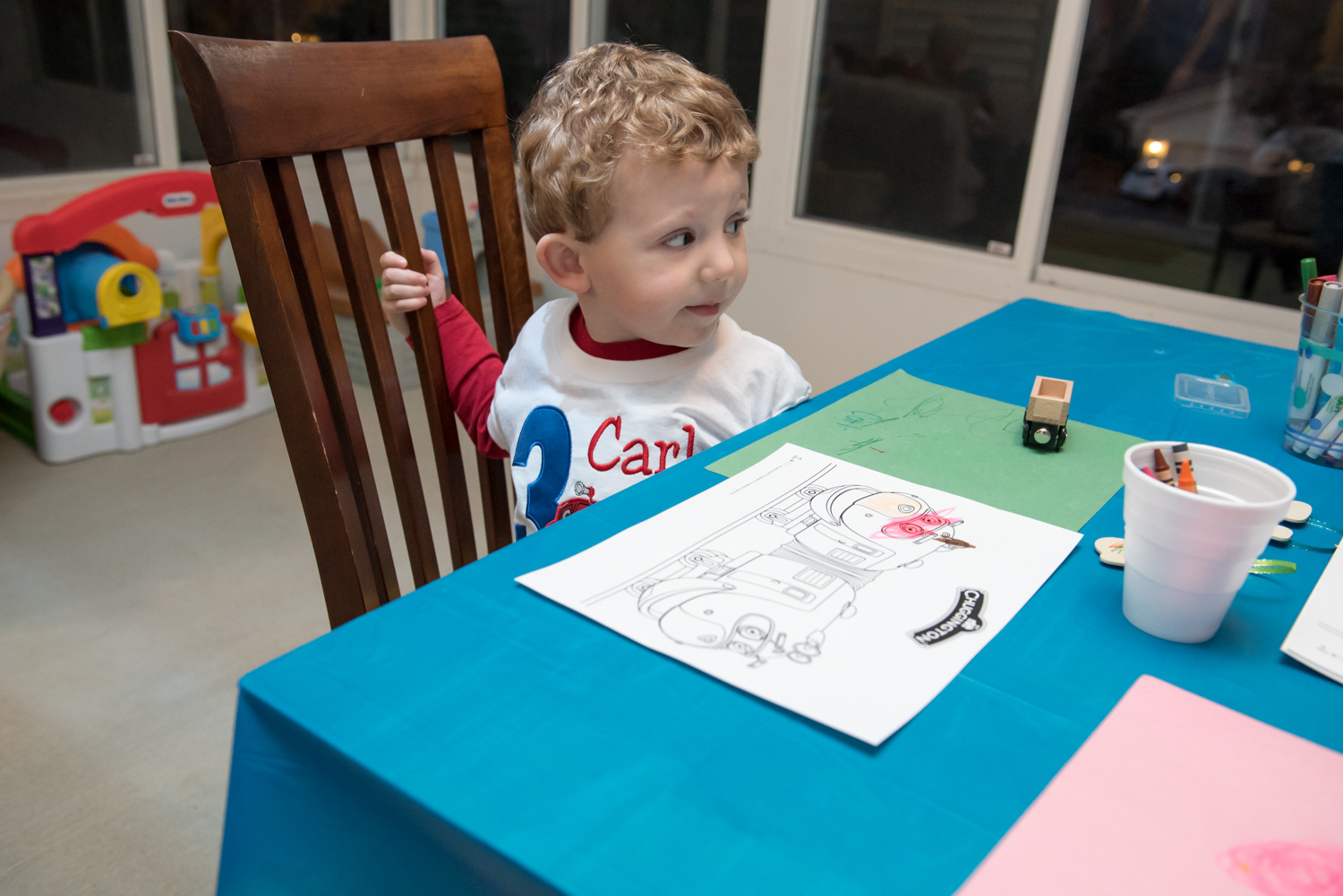 Painted Wooden Train Ornaments
I had a harder time finding train ornaments so I made my own. I bought wooden train cutouts and then used hot glue to glue on a ribbon loop so it could hang.
To save more money, you could make it using a train cut out of cardstock instead.
I had to special order these because the Michaels closest to me were out of them. Where I ordered them from no longer has them available but this option on ETSY would be great. You can even order them with a hole already to tie a string to create an ornament.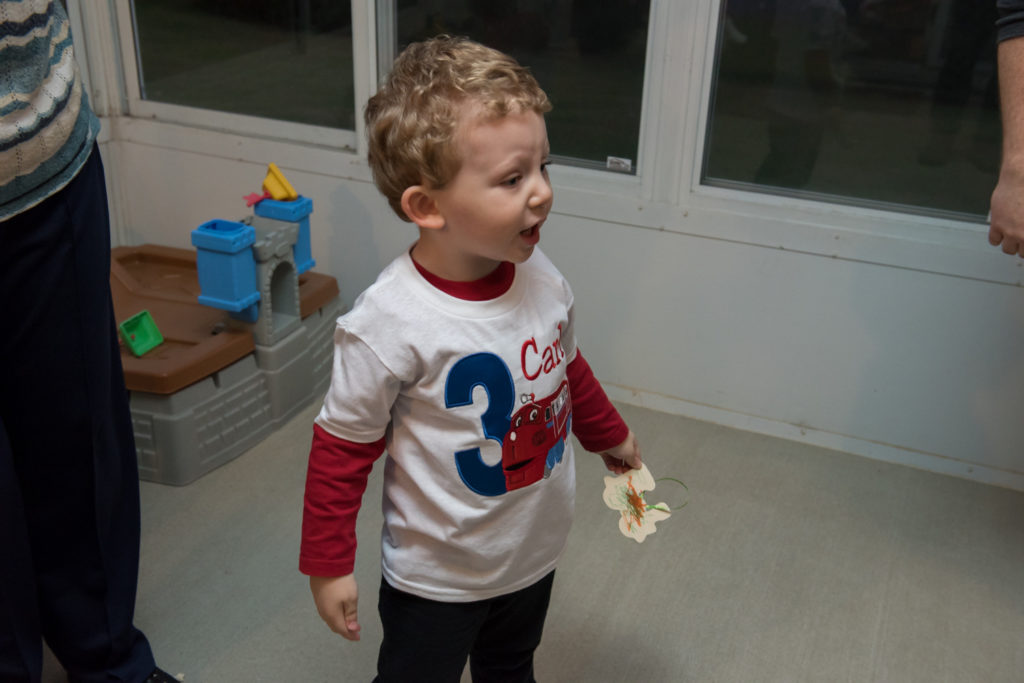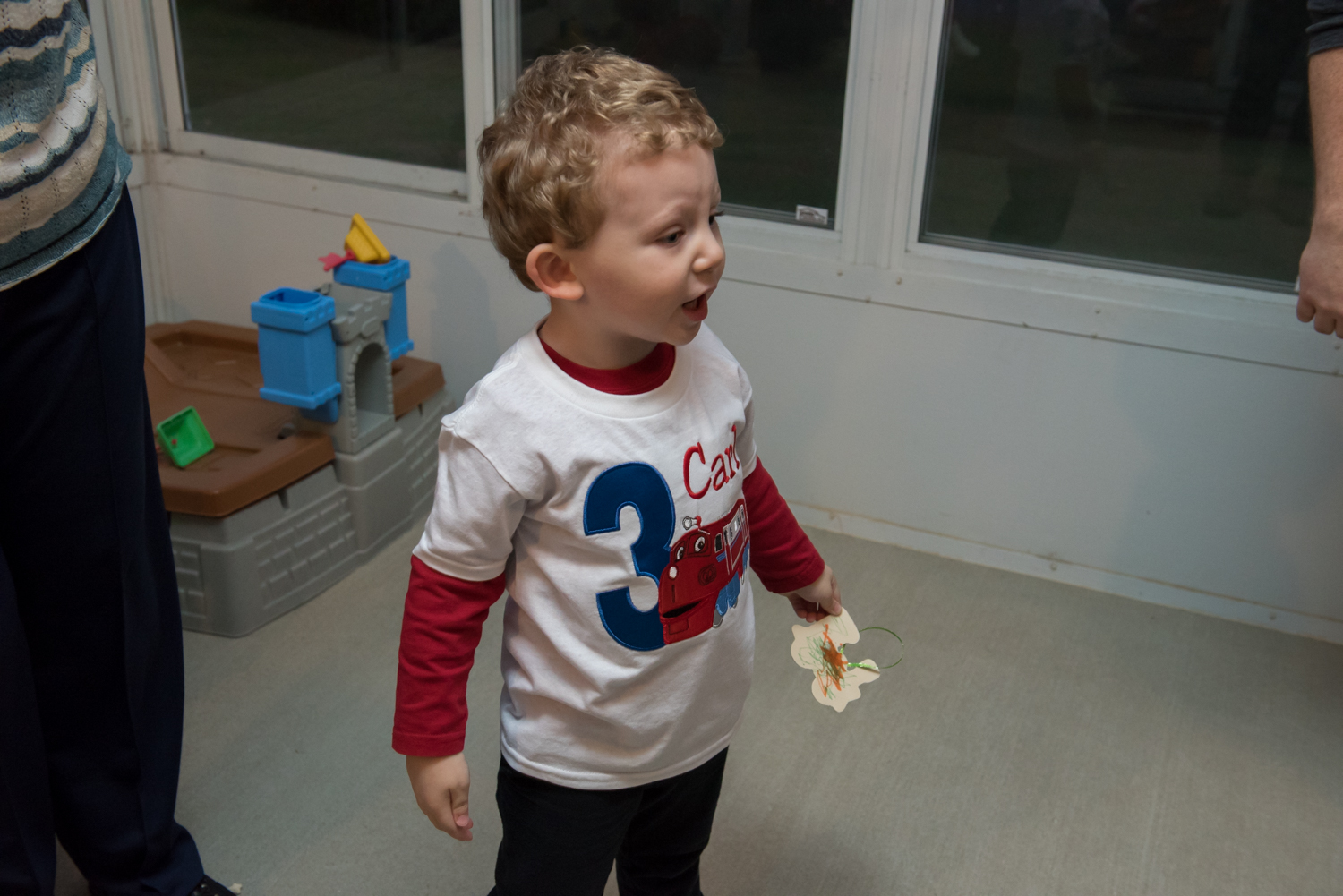 Decorated Rice Krispie Train
I purchased this Rice Krispie Treat train mold while grocery shopping one day. Carl asked to do it at his party and I thought it would be the perfect activity.
If you are lucky enough to have your party during the holiday season, you can generally still find it at local stores such as Walmart. I have seen it each year since we made it (my boys always excitedly point it out).
You could always opt to create train cookies instead by using train cookie cutters.
I was able to make a couple of batches of Rice Krispies pretty quick (including some vegetarian ones – special marshmallows) with the boys.
For the frosting, I made royal icing and placed it inside of small clear squirt bottles. You could also use pastry bags. If you use pastry bags, I would suggest using pastry bag ties or rubber bands to keep the bags from leaking.
Then I gave each child a cup full of sprinkles and various candies.
To save money, I bought a bag of various candies after Halloween on sale (I made sure they would be good for the party).
Each child had a Popsicle stick to help spread the frosting. The kids LOVED this activity. It was such a hit, that I have included some form of cookie decorating at each party since.
**Important Tip**
To make decorating and traveling home easier, I used carry out containers.
I purchased packs of 3 metal carryout containers from the Dollar Store to package each child's rice krispie treat.
The tray acted as a plate for the kids to decorate their train in. It kept things neater because the sides helped contain the mess.
Then when they were done working, they placed their lid on the metal container and took it home. I placed a label on each lid before the party so that they were already prepped with the children's names.
I was SO glad I did this and have used this method many more times at other parties for my children.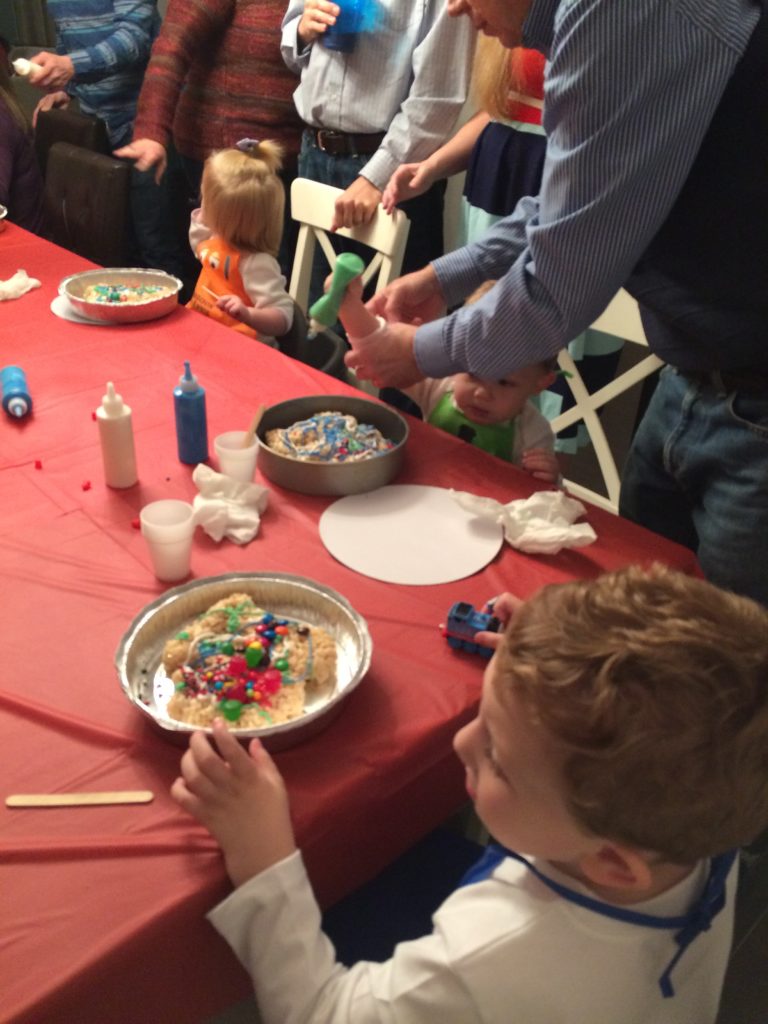 Coloring
My Mom printed off a bunch of train-related coloring pages for me. I set them up at a table with some crayons so that I had a go-to activity during any downtime.
This worked out so well the first year, we did it again the second year. I made sure to find some images on Google that had trains and also other characters (like Peppa the Pig) so that all of the kids would enjoy coloring the pages.
If you don't want to print off the coloring pages, you can purchase inexpensive coloring books and take the pages out. Most dollar stores and Michaels have Thomas coloring books for about a $1 each.
Games
Conductor Says
If you want a completely free and FUN game, do Conductor Says. It's run just like Simon Says, only you use the term Conductor.
My husband ran this while I set up dinner. It worked perfectly. He actually let the kids take turns being conductor as well. Because the kids are younger, we opted not to have kids sit out if they didn't listen to the conductor.
He wore a conductor hat, gathered the kids in a large open area, and played Simon Says (only again, using the term Conductor Says instead).
Pin the Train on the Rails and Pin Thomas in his Berth at Tidmouth Sheds
The first year, I used two table cloths from the dollar store to make the sky and grass. Then I used my Silhouette to cut out train tracks which I glued on. Then I cut out trains.
The year after, I found this amazing FREE printable Pin the Thomas in his Berth game during my Google Search.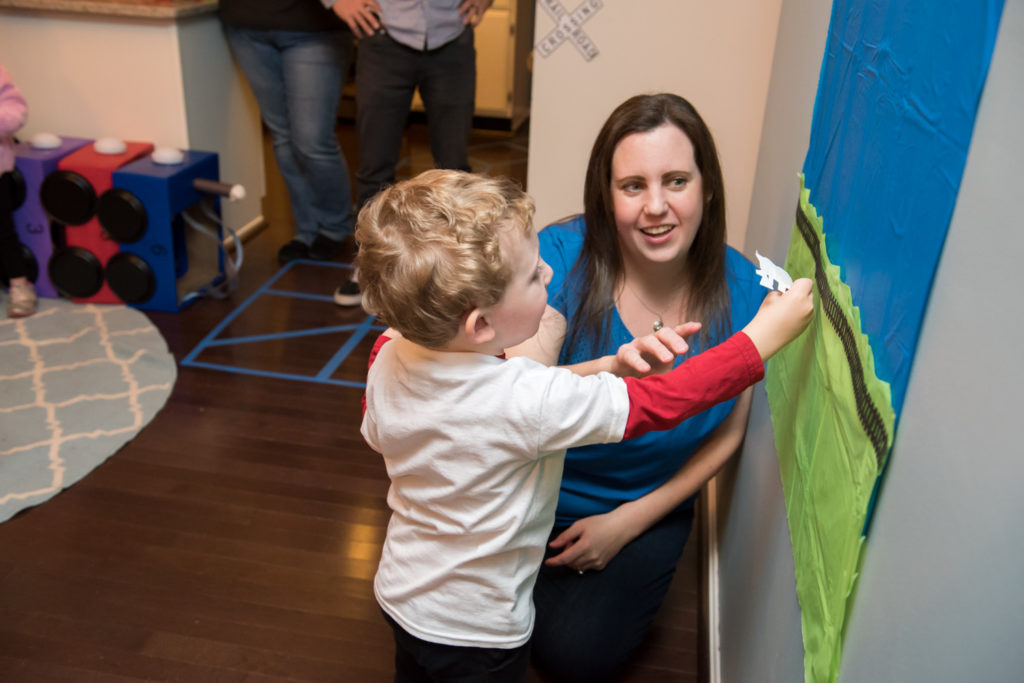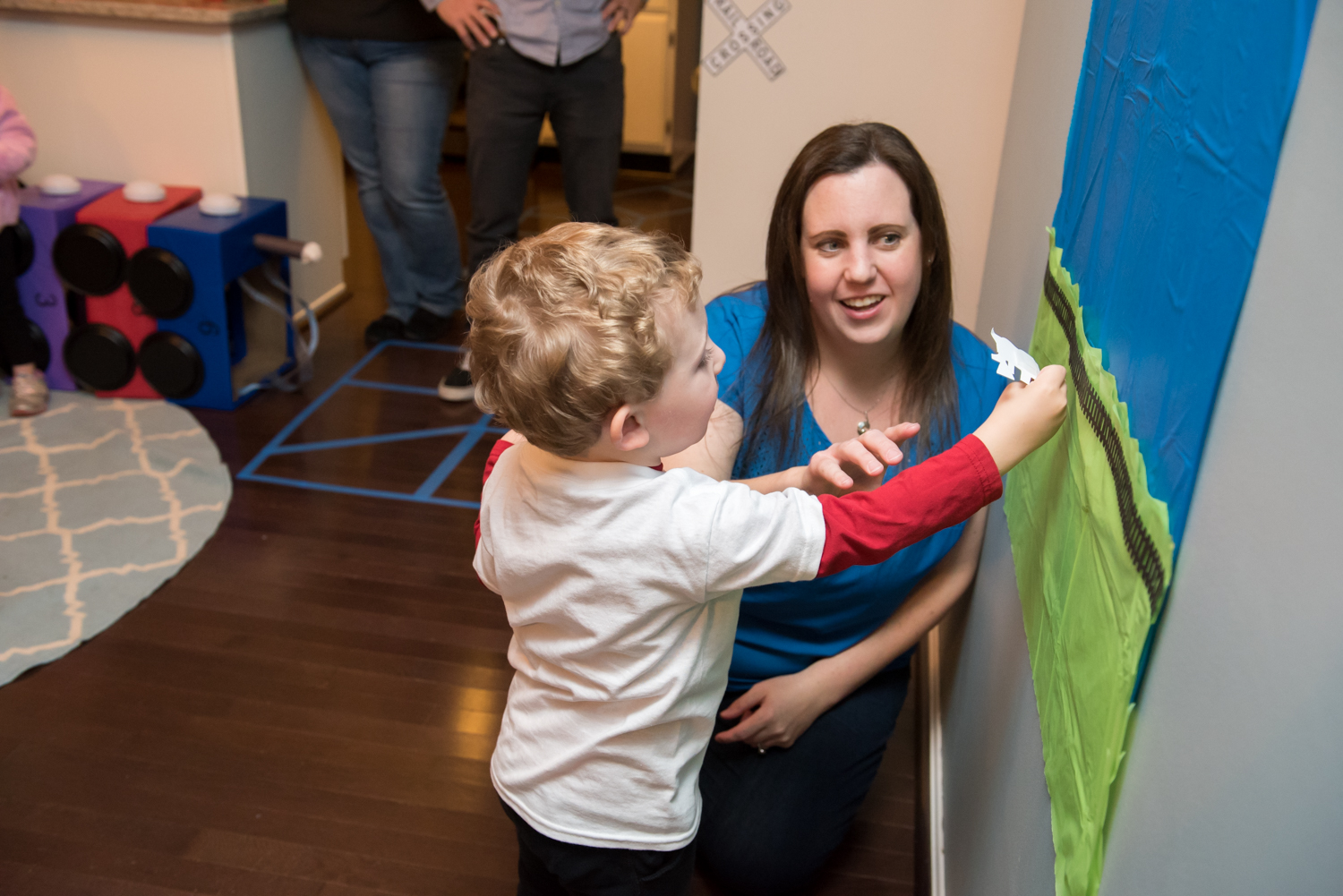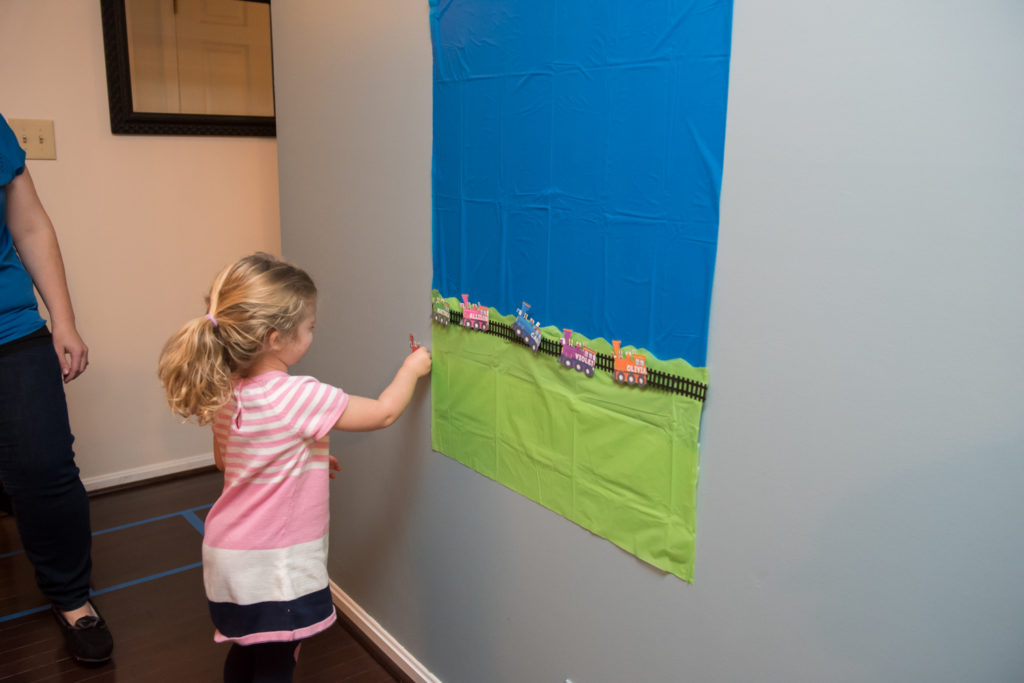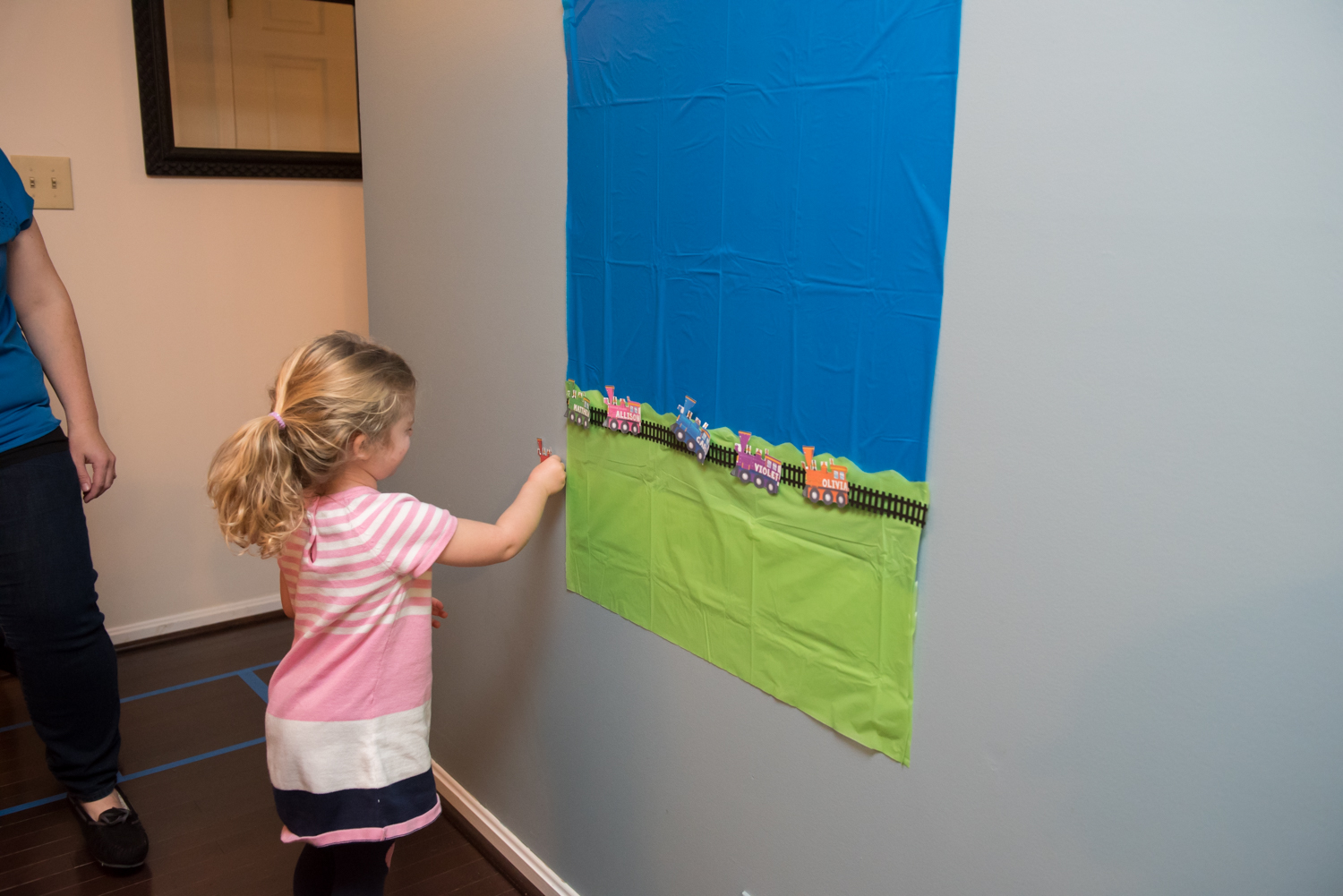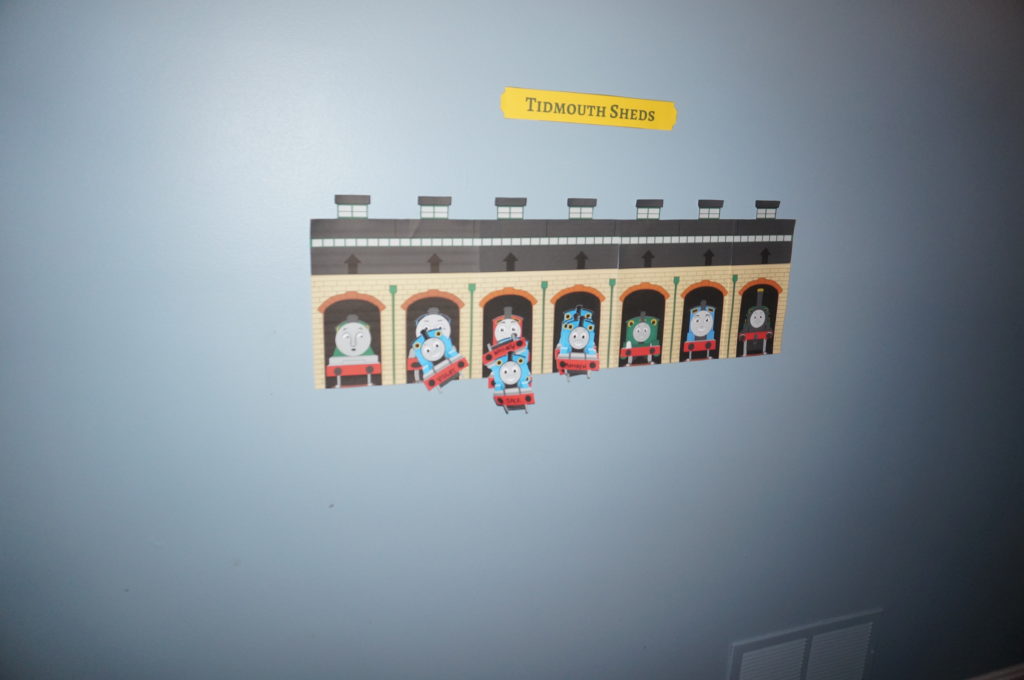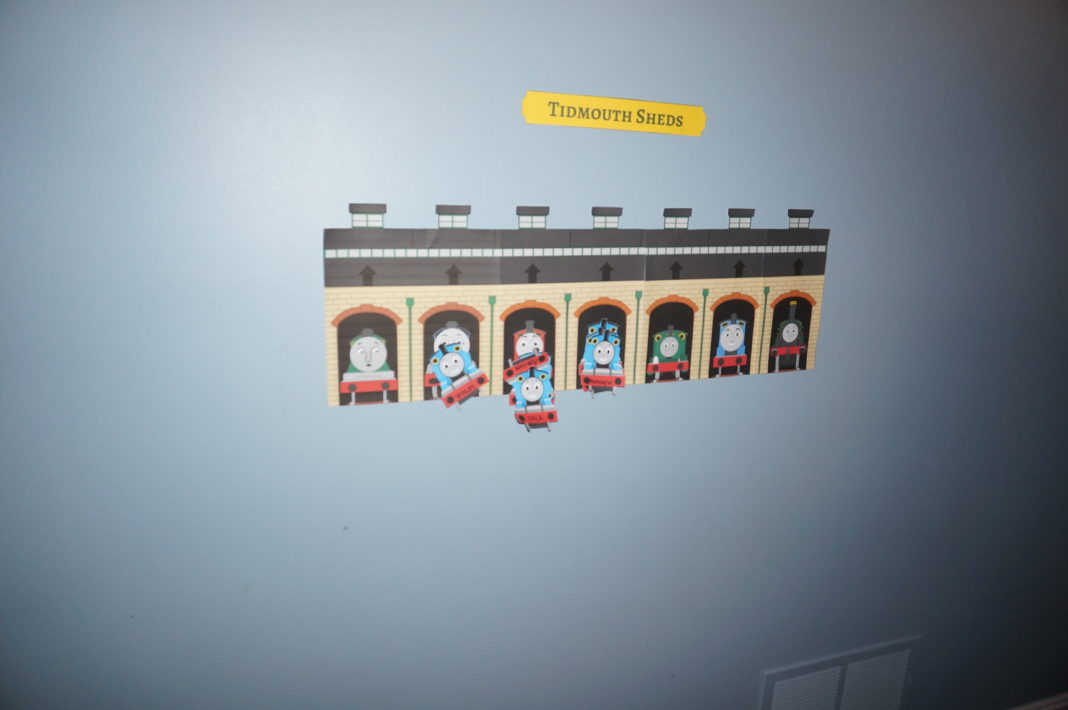 Feed the Firebox
All of the credit for this amazing game goes to my husband. I told him the idea and asked if he could make it, and he ran with it.
We used the Silhouette to cut out the letters and he cut the fire by hand out of construction paper.
We ordered some coal stress balls (at the time we got them from Oriental Trading Company but you can get them on Amazon. Although they cost a little bit of money, we have used them since the party for Christmas gag gifts).
My husband used a giant box, cut out a hole, wrapped it in black wrapping/craft paper, and then decorated it. We added some balloons at the top to make pretend "smoke."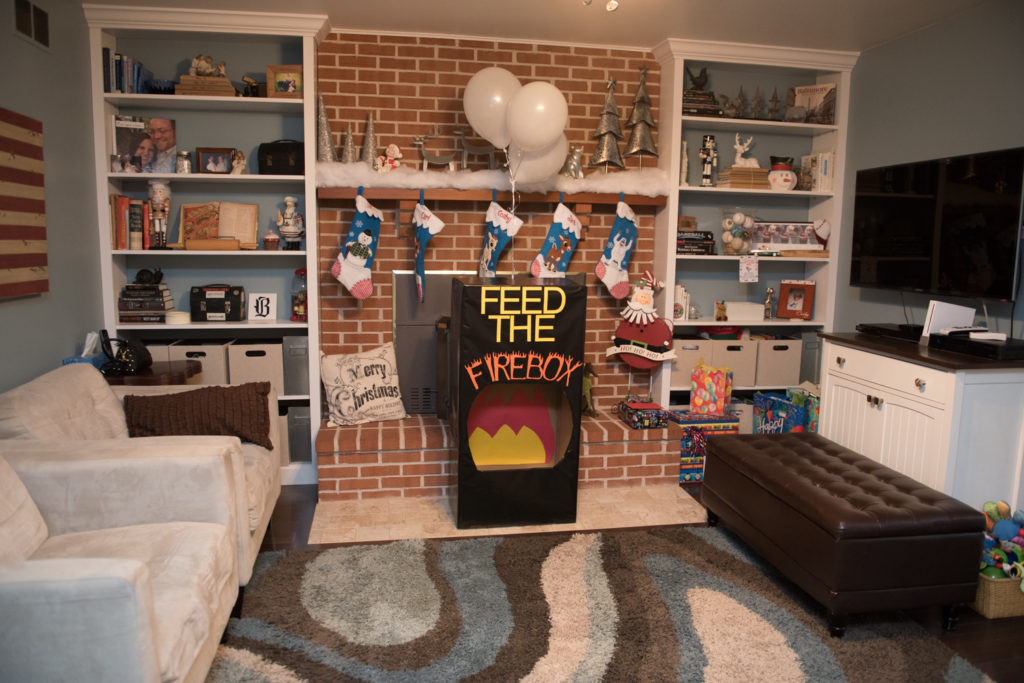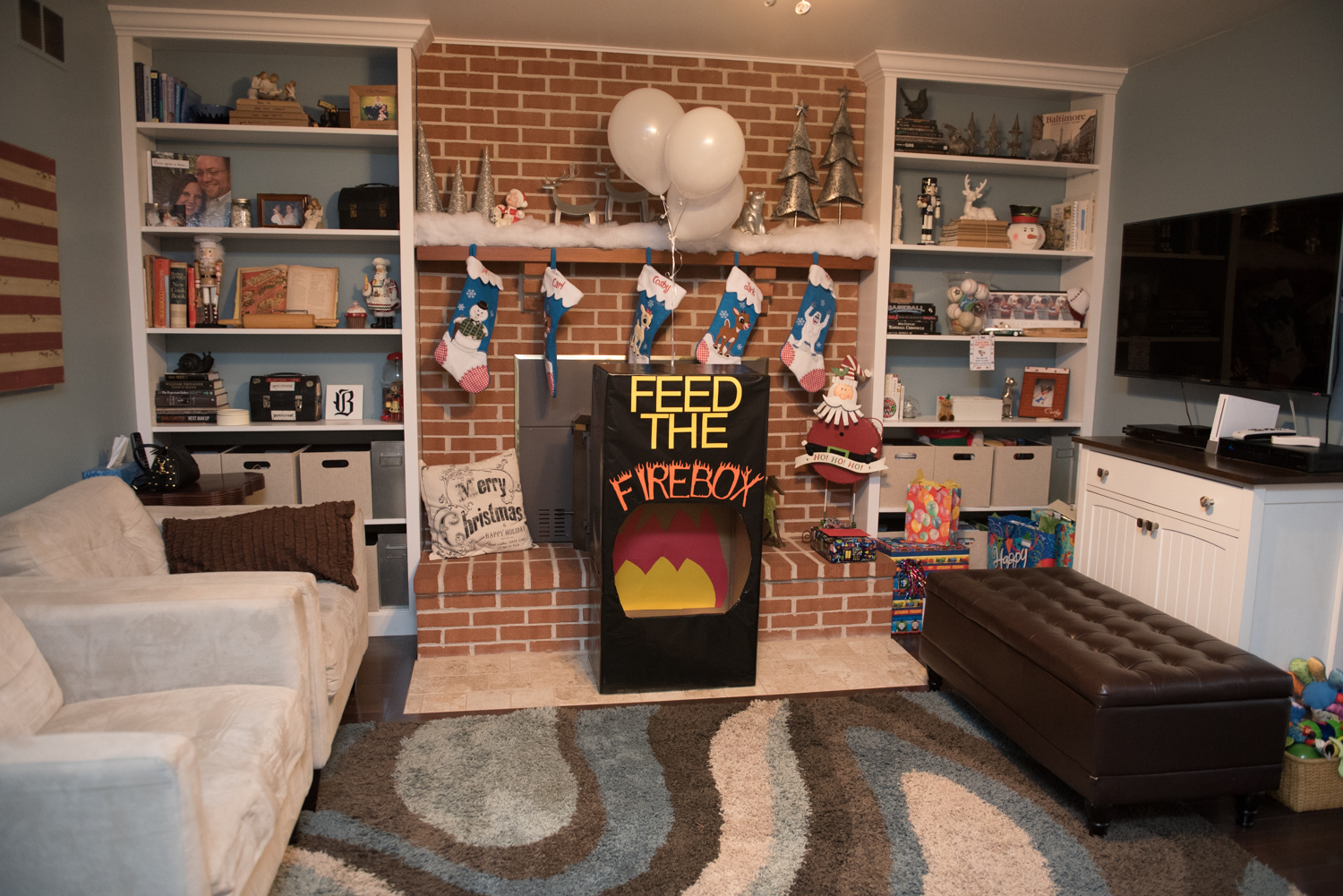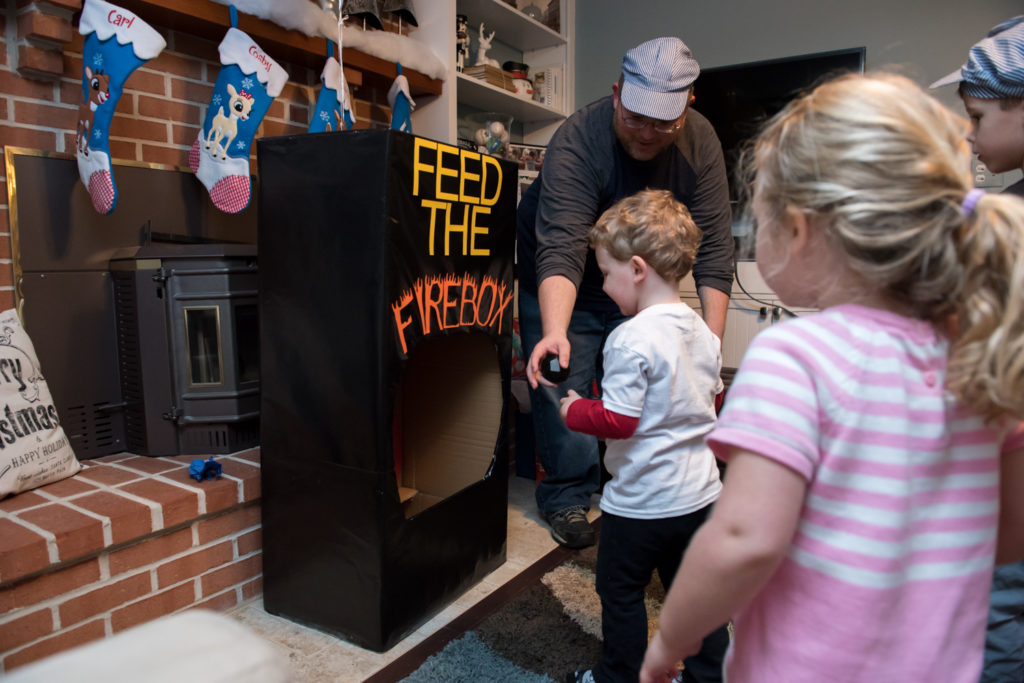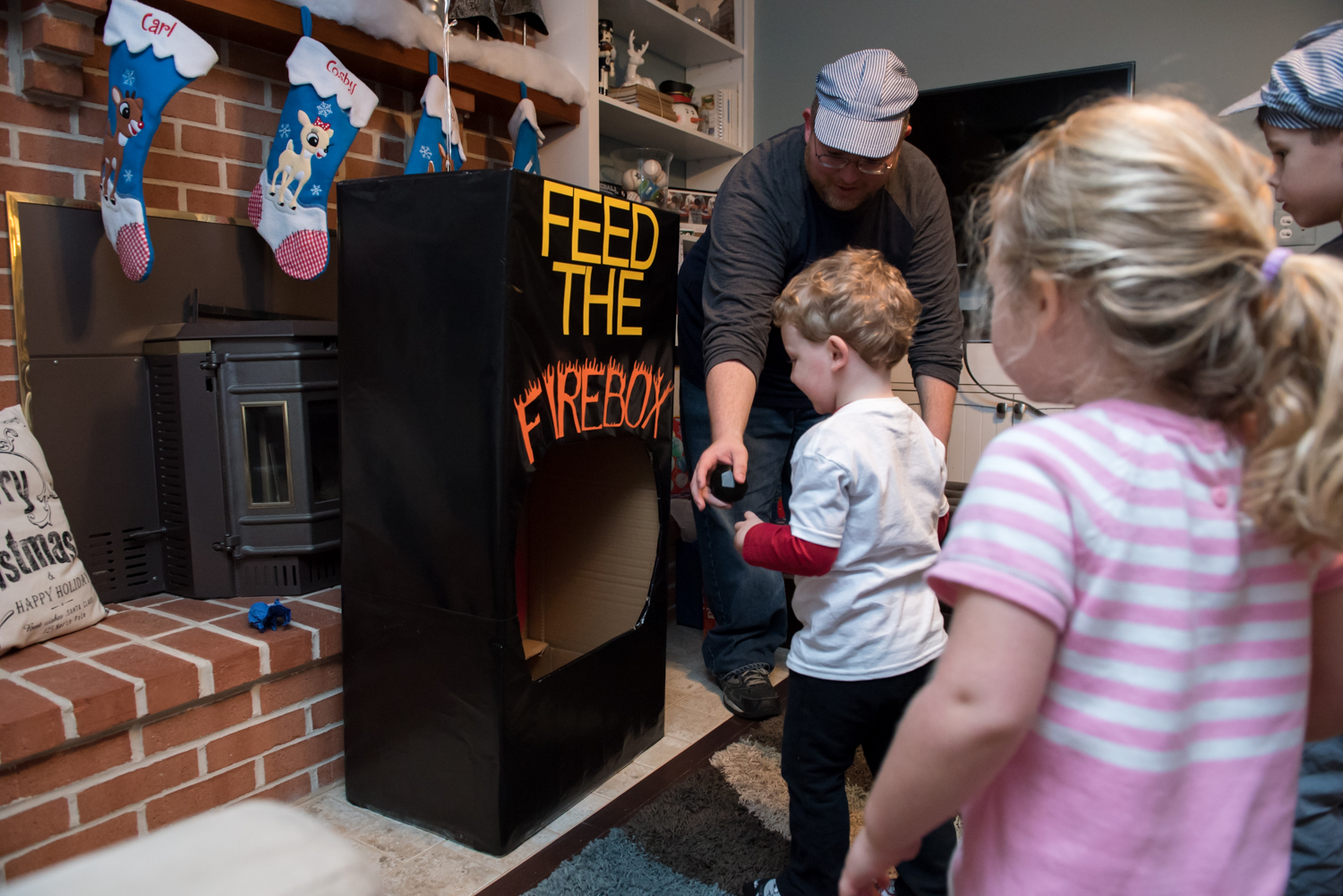 Fill the Tinder Car
Carl saw this game when I was scrolling through Pinterest and wanted to play it despite it's the similarity to the coal in the hole. This is great for people without as much room.
My wonderful husband, again, crafted this game. He took a smaller box that was the shape of a train car. Then he cut a hole in the top and covered it with craft paper.
I cut out train wheels with my silhouette for him to add on the front. Unfortunately, I don't have a picture of it before Jack destroyed it. He spent the gift opening climbing in and out of the tinder car.
You can still see below that it was a basic small box, covered with blue paper, with a large hole cut out of the top.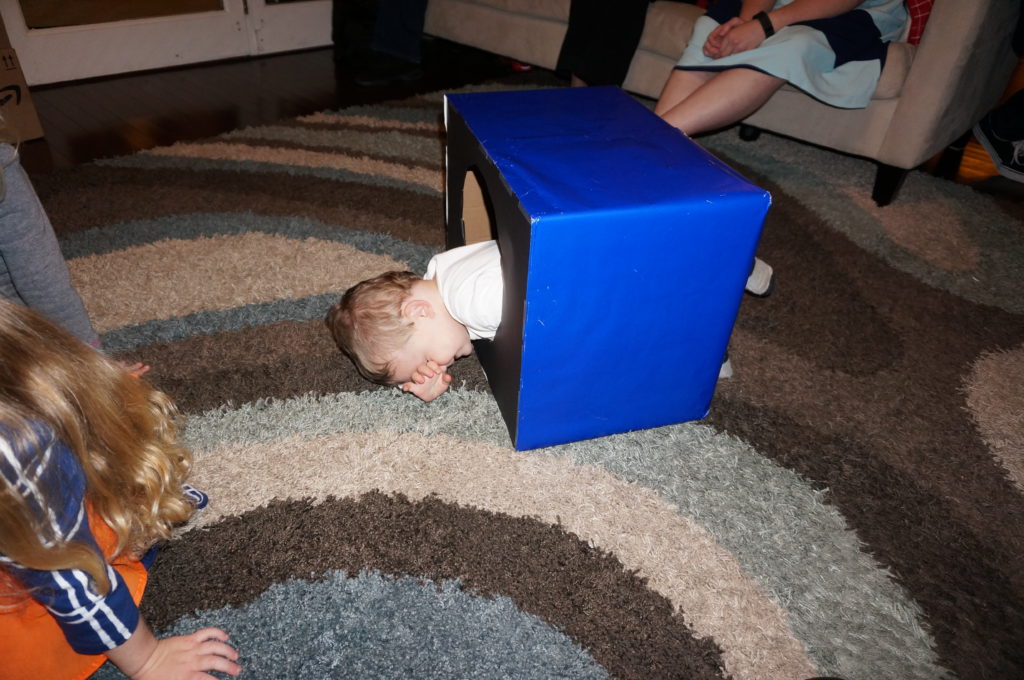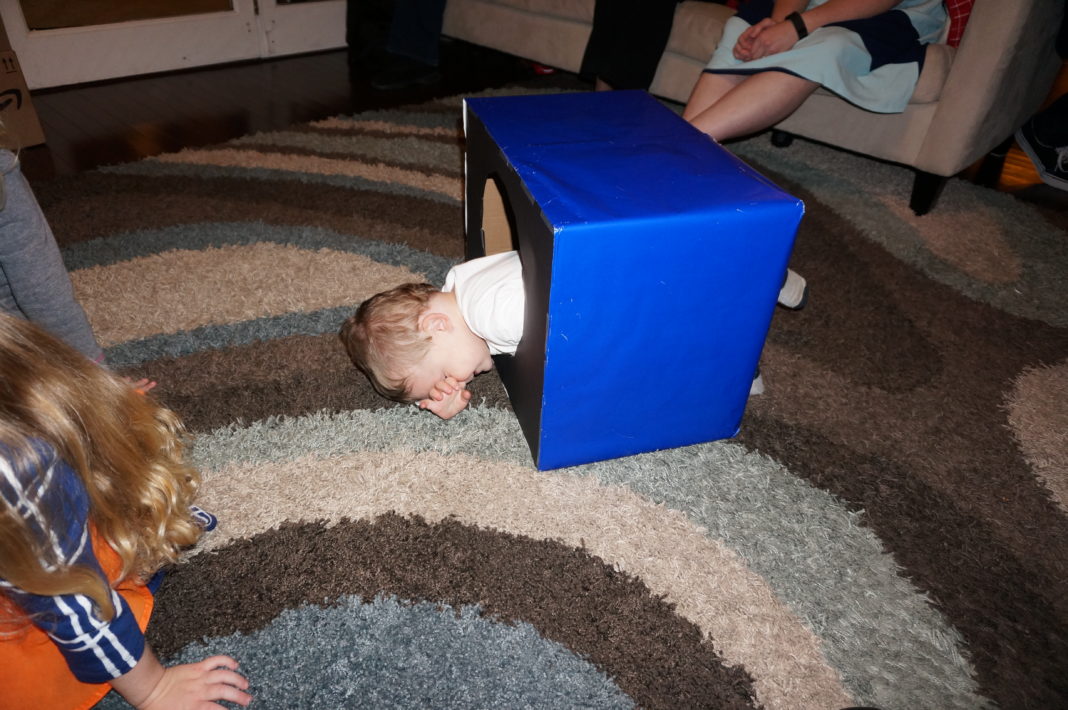 Treasure Hunt
Okay, this isn't train-related at all. But I had to share my favorite birthday tradition.
Growing up, my parents always created a treasure hunt. Our parties became known for them. The end prize was our goody bags. My husband agreed to let me do the same thing with my kids. It was definitely a fun way to end the evening!