Valentine lunch box notes are a fun way to brighten up your child's school day in the month of February. It's amazing how much a little note can put a smile on a child's face.
While I have some lunch notes with jokes, I didn't design these with valentine jokes. Instead, I kept these more like little love notes to your child.
They're the perfect way to give your child a little extra love during their school day. When a child is struggling or missing home, a simple note in a child's lunch box is an easy way to make their day a little more special.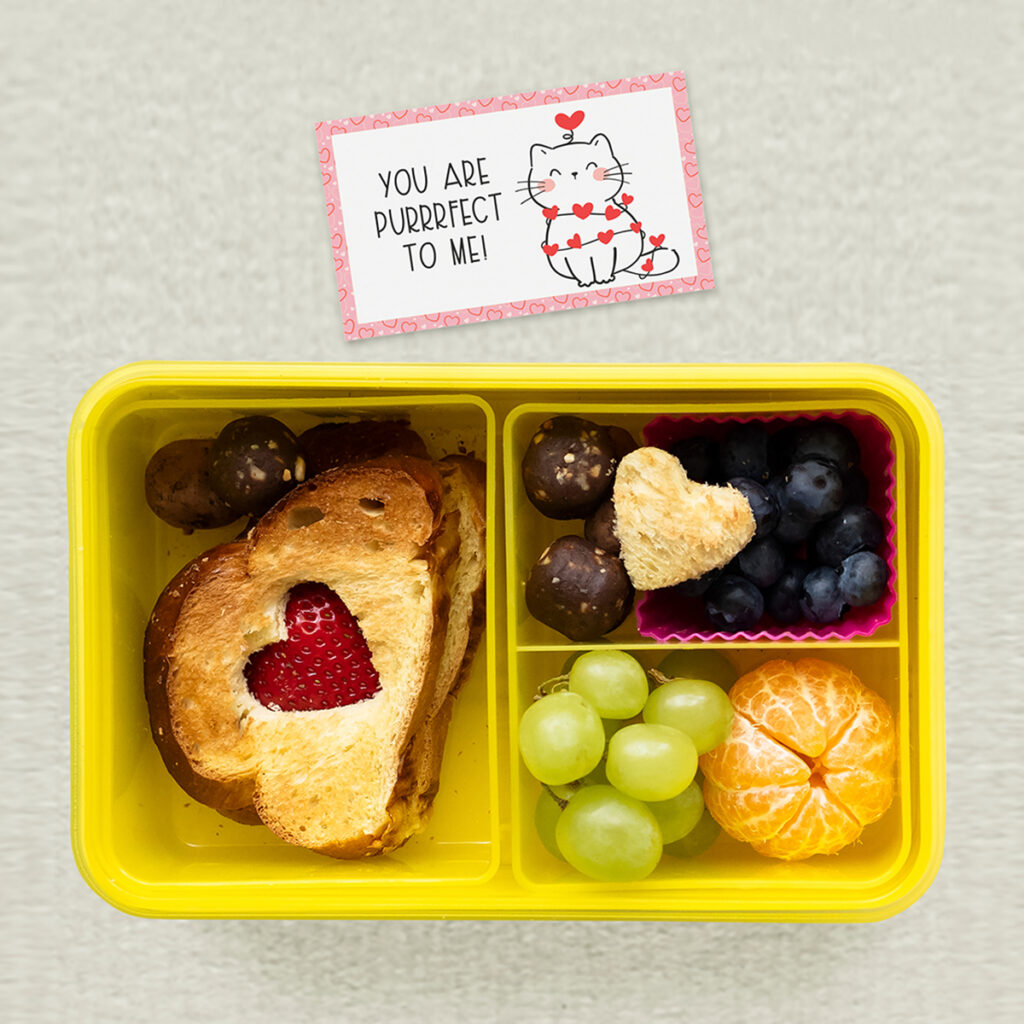 Even though Valentine's Day is only on February 14th, I like to use these free printable valentine lunch box notes all month long. They're great for any day of February (or even toward the end of January).
My children love little surprises of any kind – and these lunch notes are so much fun. They're a special note that will make any child's day better.
What's Included in the free printable valentine's day lunch note set?
You get 2 PDF printable sheets. Each sheet has 8 different note cards. Here is what they look like.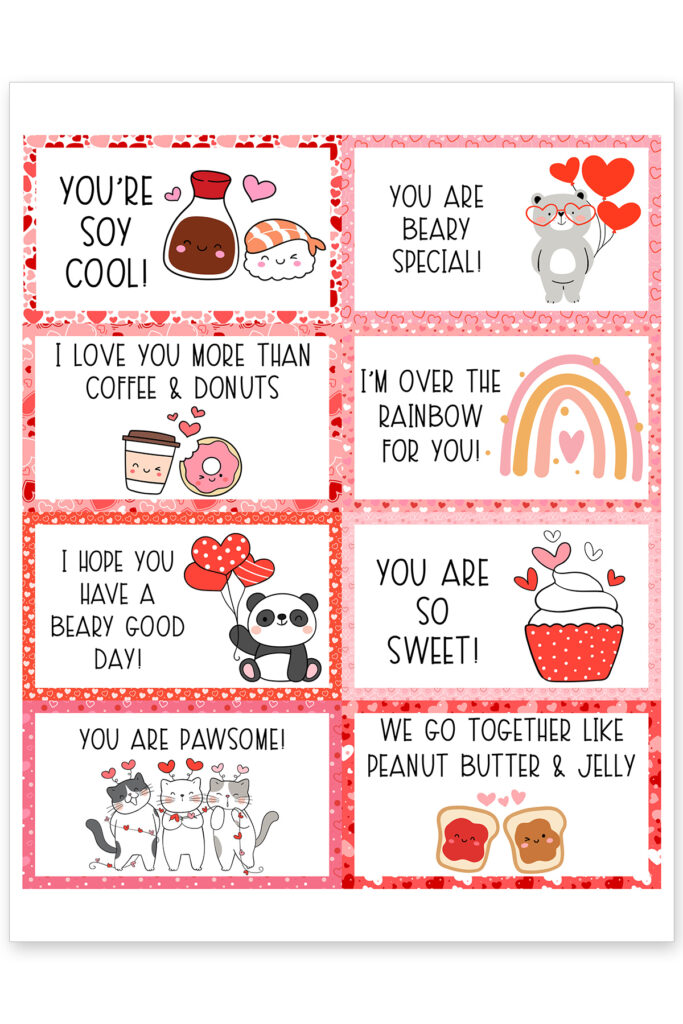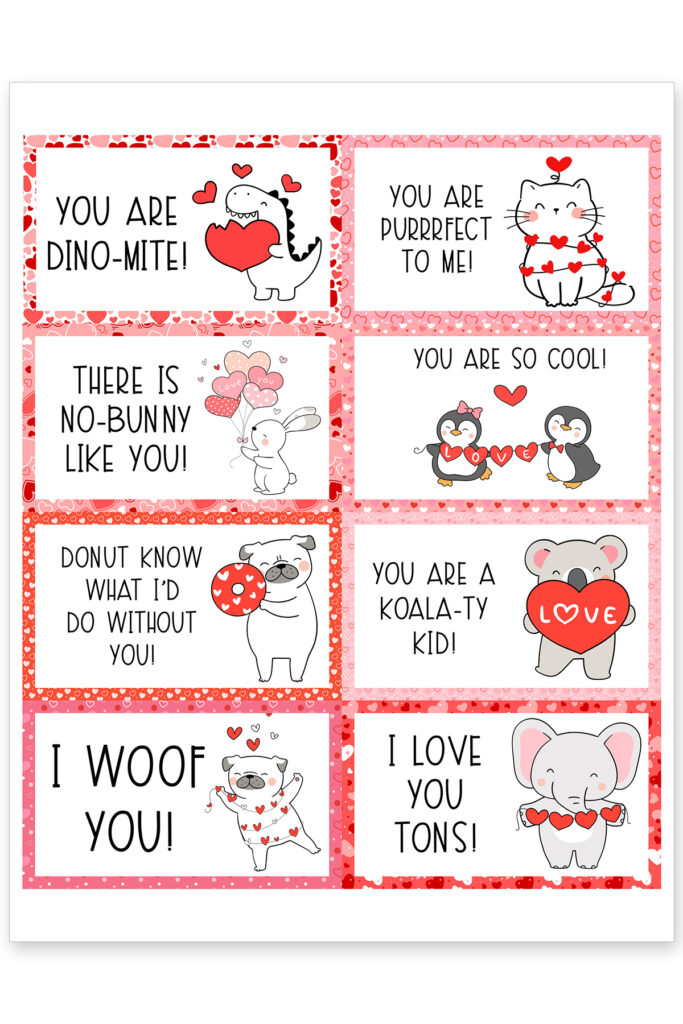 Who are the valentine lunch notes for?
The lunchbox notes don't just have to be for a kid. They're a cute addition to a significant other's lunch box, too!
Does your child get school lunches instead of packing?
You can still use these adorable notes. Instead of packing them in a lunch, just print the free note and add it to their backpack where they keep their lunch money, place it at their seat for breakfast or dinner, or leave it on their pillow for them to find at bedtime. It's a subtle way to show your child you're thinking of them.
There are lots of fun ideas to use these notes in other ways. They make great small valentines for a class or can be given out by a teacher to her class, to a significant other, for grandparents to use, etc.
Directions for Printing the Valentine Notes
Download the free printable lunch notes at using the download link at the end of this post. It's a large image that says Click to Download the Free Files.
Print the lunch notes.
Cut the lunch notes.
Add to a lunch box or lunch bag.
Tips for Valentine Lunch Box Notes
I add the lunchbox notes at the top of the lunch boxes for my kids. I find that if I just throw them in there, they end up at the bottom of the box. It's the best way to ensure the child sees the note.
You can print the notes on standard copy paper but you can also print them on card stock if you want them to be a little bit more durable (especially if the note may get a little damp from an ice pack or drink).
Want more free printable lunch box notes?
Check out the other lunchbox notes I have available as free printables on my blog. They're the perfect addition to any child's lunch box. I even have lunchbox jokes (a favorite around here).
Need Printable Valentines?
Tired of looking for perfect valentines in the store? Don't miss these free printable valentine options.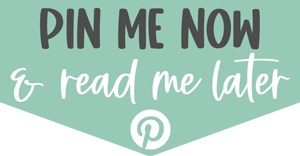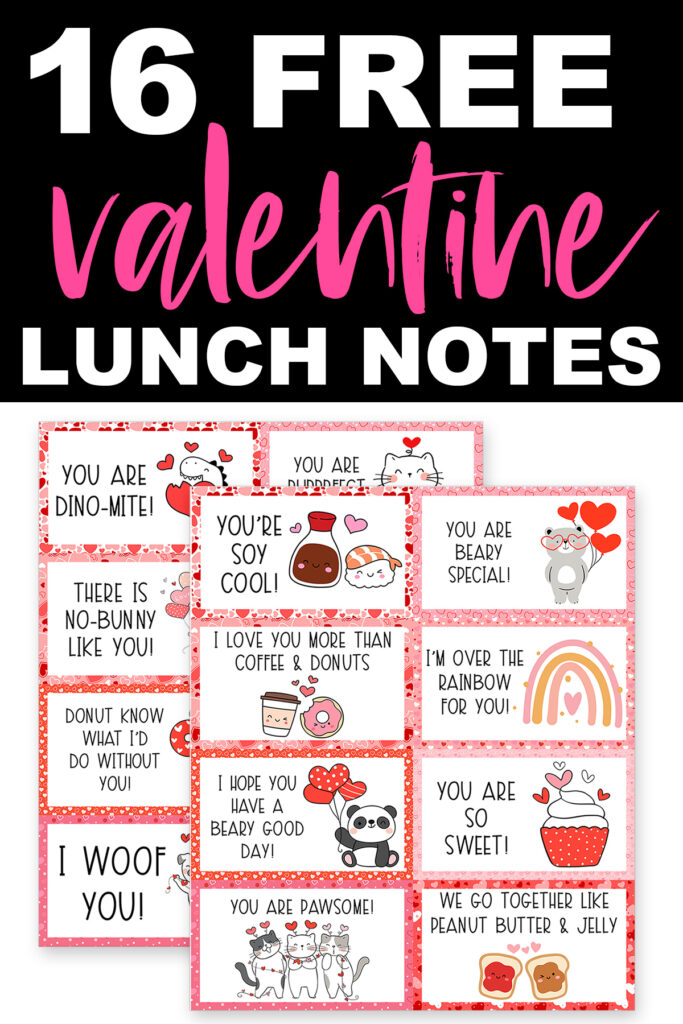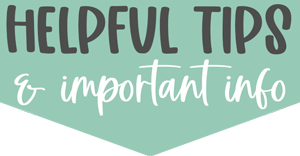 Tips for Downloading the Free Files
Below is an arrow that says Download Below. Underneath that is a large image that says Click to Download the free files.
Once you click that, you will enter the members-only password and click submit.
The page will reload the same image and now when you click the image that says Click to Download the free files, it will open the Google Drive folder containing the free files.
How do you get a members-only password?

You can sign up here to be a free Mom Envy club member.
The password will be sent to you within a few minutes. Make sure to check your spam and/or junk folder if you don't see it.
Already a member but forgot the password? Don't sign up again. Look at the end of any newsletter from me for the free password or just send me an e-mail here: [email protected]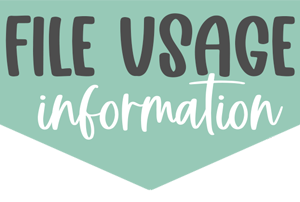 Copyright MOM ENVY 2022. Files may be used for personal use only. No commercial use of the file is available. Files may not be directly shared within Facebook groups, on websites, or in any other way. If using for educational purposes, the file may be printed and copied for classroom use. A link to the web page to download the files may be shared as well as one photo. The file may not be printed and then sold (including local yard sale sites and groups or at local craft fairs). The images may not be used in any way other than to share with a link to the original web page.