If you need to name your Elf on the Shelf, you'll want to download this free Christmas elf name generator printable. It's a fun way to name a brand new elf without the stress of trying to think of the best name.
When naming your elf, you'll want your kids to have input. But sometimes, little kids can have some odd ideas about what the name of an elf should be. Don't get me wrong, I love our Elf on a Shelf names – Ice Cream and Hiro – but, I would have preferred cute names like Snowflake or funny elf names like Mister Twinkletoes.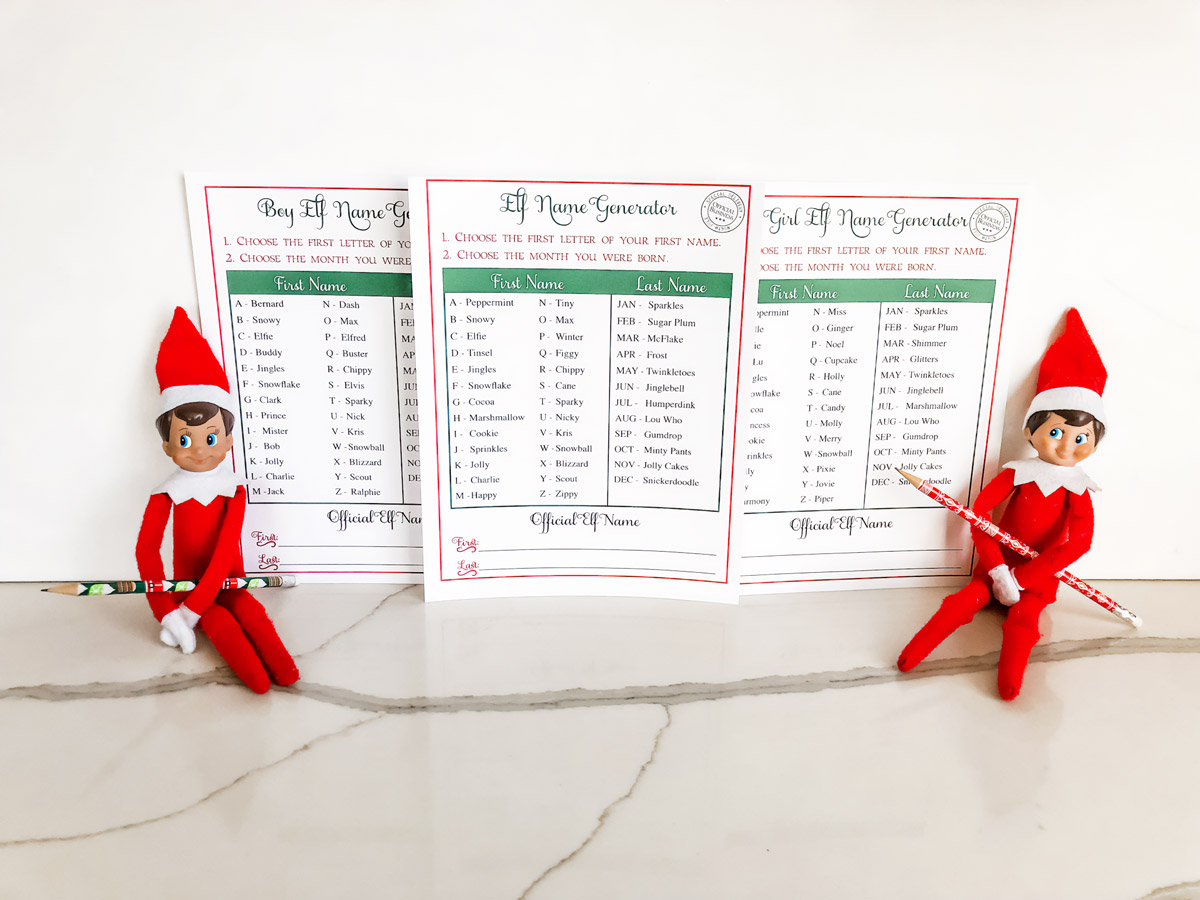 There is definitely some stress related to the Elf on the Shelf. There is so much planning to make everything perfect to keep the Christmas tradition exciting. There is enough stress during the holiday season. The last thing you need is for selecting the name of a new elf to become stressful.
So how do you come up with the perfect name for your scout elves? Well, in all honesty, any name is great. But, having a name that evokes the Christmas spirit is extra special.
All of the names that are on the Christmas elf name generator printable are full of Christmas cheer. They're related to winter, Christmas movies, sweet treats, etc.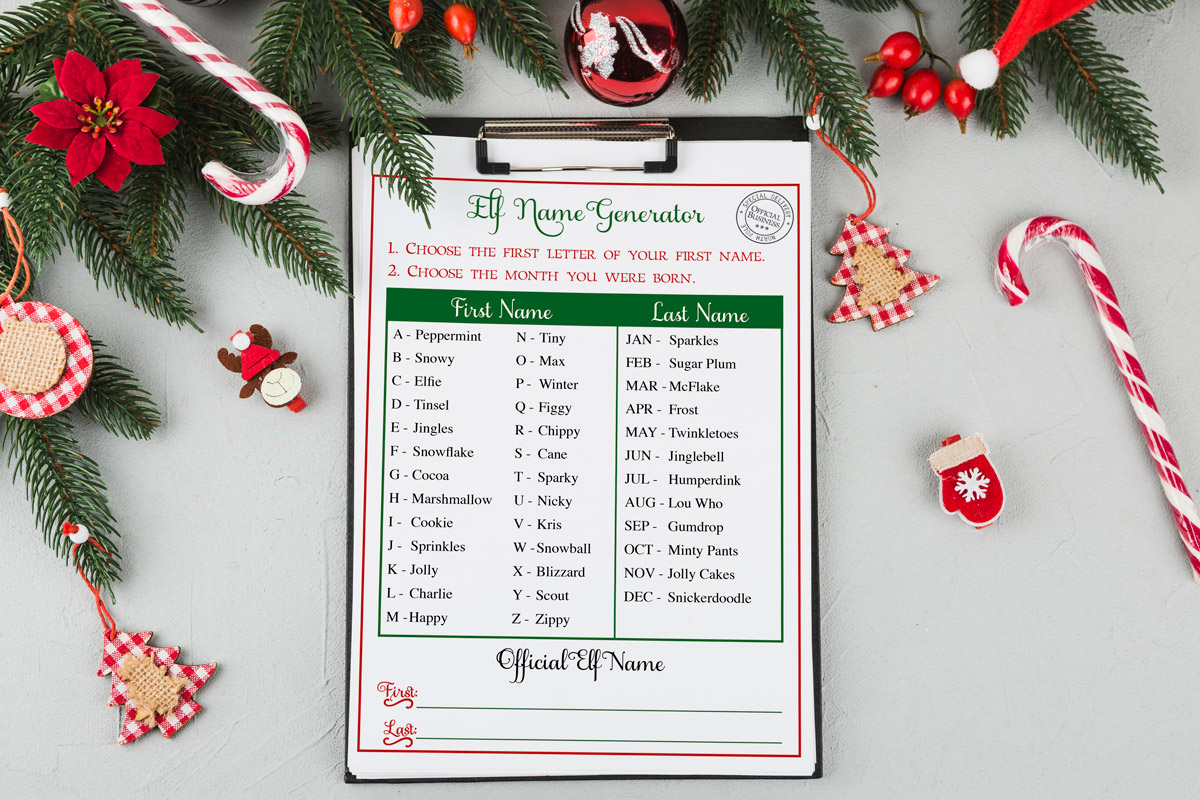 New to Elf on the Shelf?
Congratulations! This fun Christmas activity will keep you busy all Christmas season. It can be a bit overwhelming as a first time elf owner to try to keep up with it all.
Using this free generator is just one of the many ways to ease the stress of the Christmas holiday season. Don't worry, you'll be a pro by next year!
Do you need to use a name generator to pick out a name?
No! Children or the whole family can choose their own unique name for their Scout elf. This is just for those that would like a different way to select their scout elf names.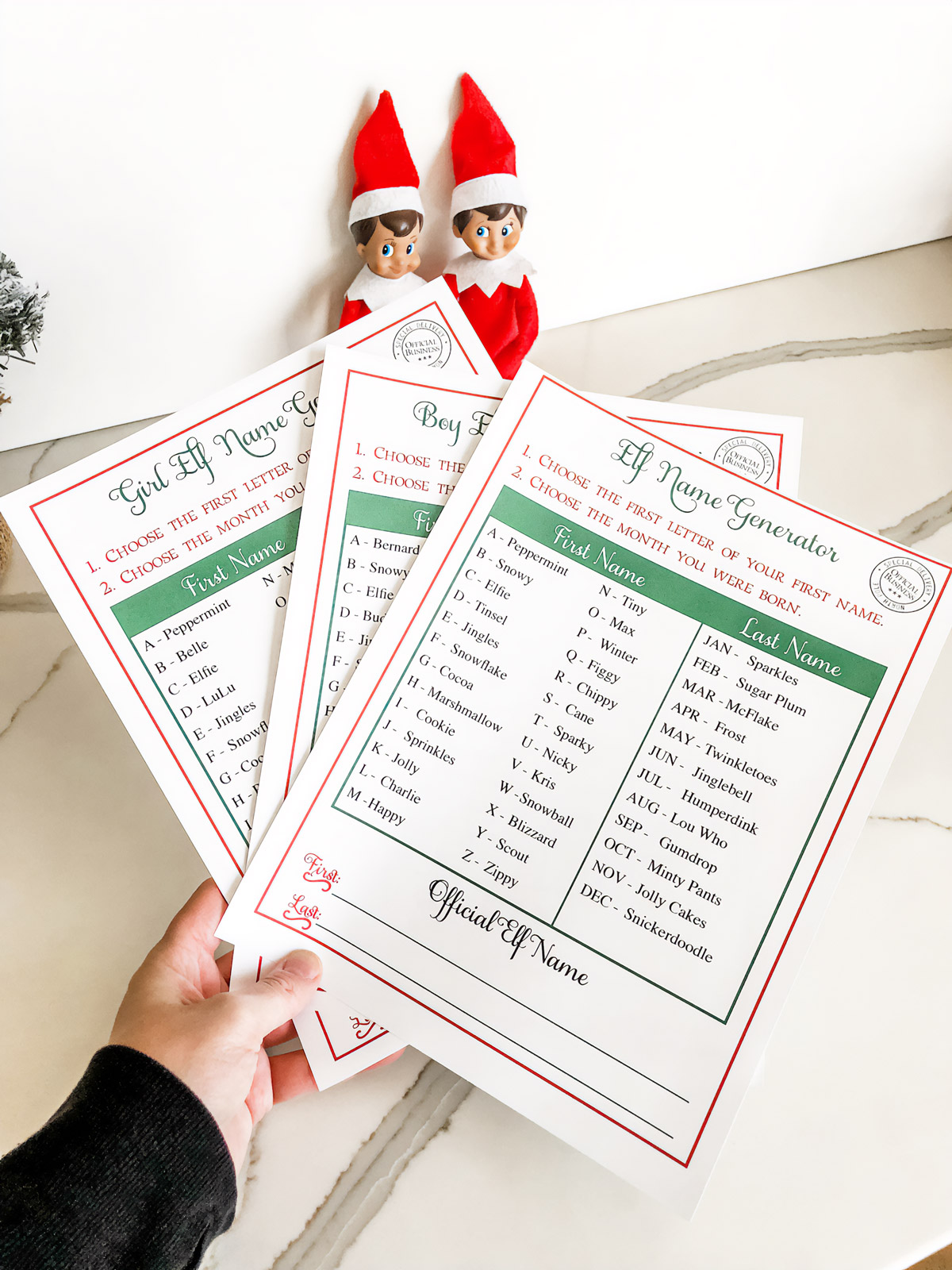 How Does the Elf Name Generator Work?
For the elf's first name, the child will select the letter in the alphabet that that corresponds with their first name.
For the elf's last name, the child will select name from the month of the year they were born.
At the bottom of the sheet, they can fill in their new official elf name.
What Comes in the Set of Free Printable Elf on the Shelf Name Generators?
Elf name generator for anyone
Elf name generator for a girl elf
Elf name generator for a boy elf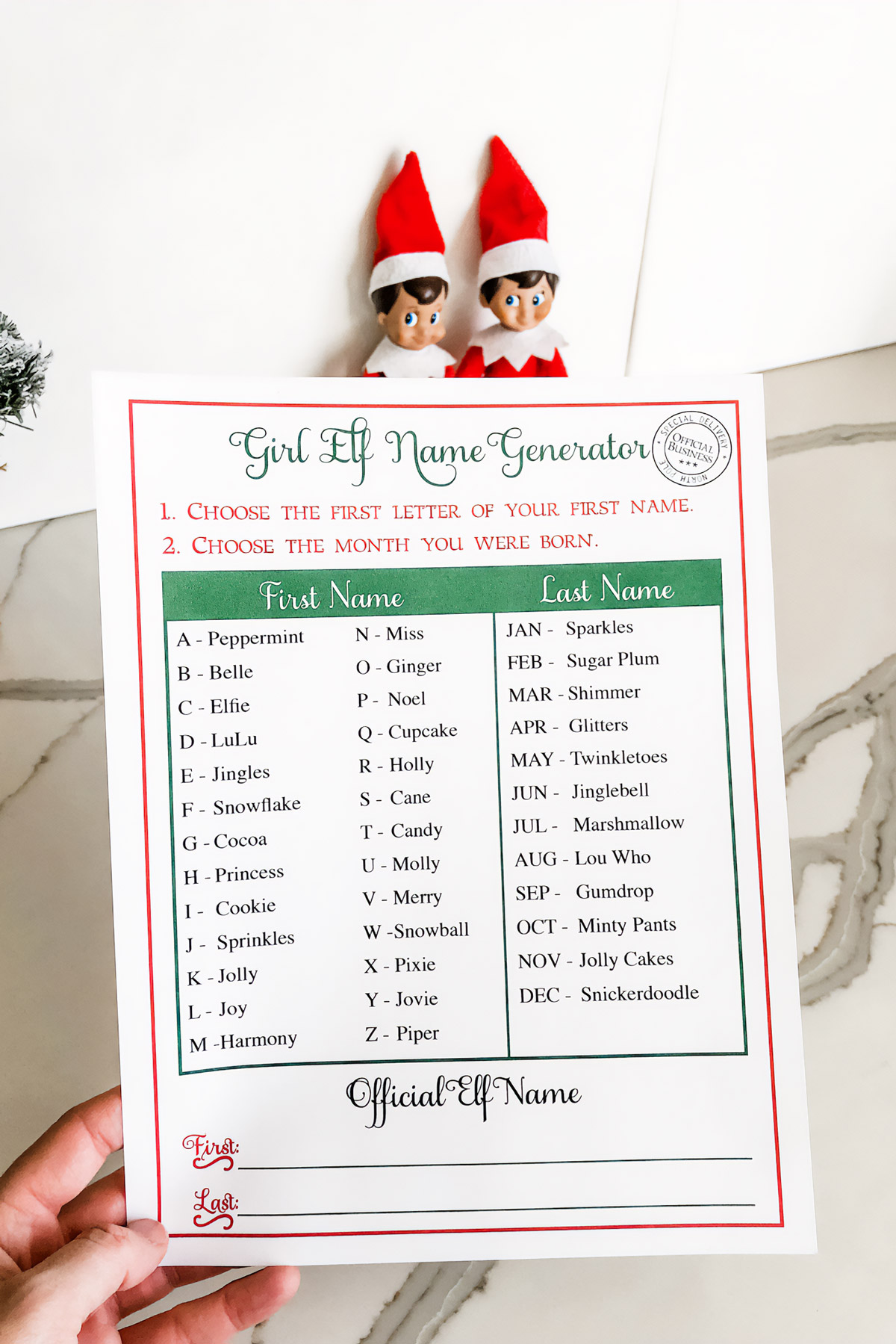 Can I use Any of the Name Generators for my Elf?
Of course! But maybe people have asked me specifically for more feminine or masculine names. I thought it was best to include those as options as well. You can use all three of them to select your name and your child select which one they like the best.
Can I use the Generator for an Elf Pet Name?
Yes, you can use the generator for a pet's name, reindeer name, baby's name, etc.
Unique Way to use an Elf Name Generator
Classroom Writing Activity
In addition to selecting a name for your new family elf or elf friend, you could use this for a creative writing activity. Pair this free printable with a writing prompt about Christmas/elves.
Children could use the generator to create elf characters for their story and they could write all about their new elf friend.
Fun Party Activity with Friends
Going to a Christmas party and need some fun Christmas activities? Use this generator to create your own elf name to use during the party. You could add some name tags and you've got a fun party game.
What Does the Name Generator Look Like?
Here is what each name generator looks like.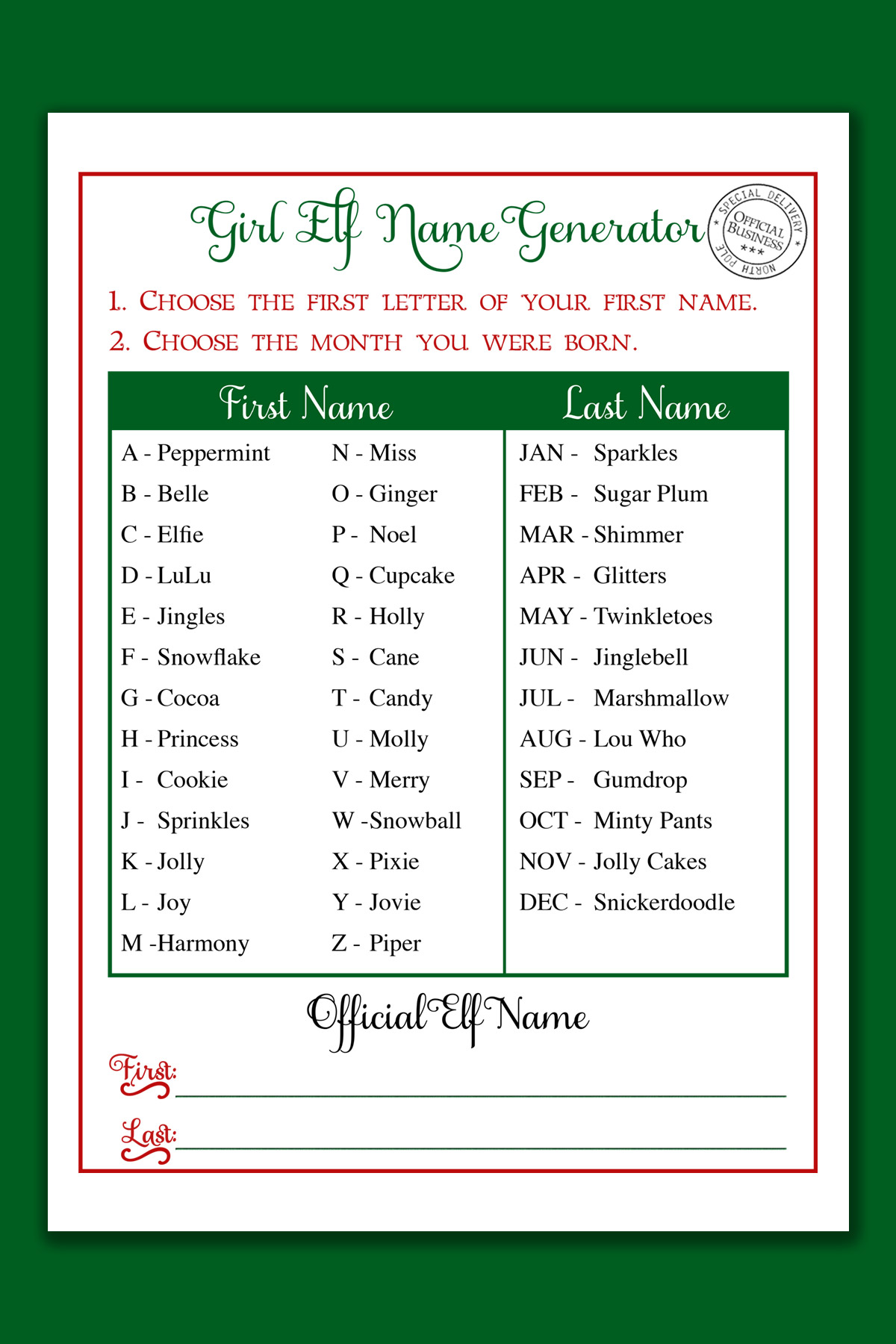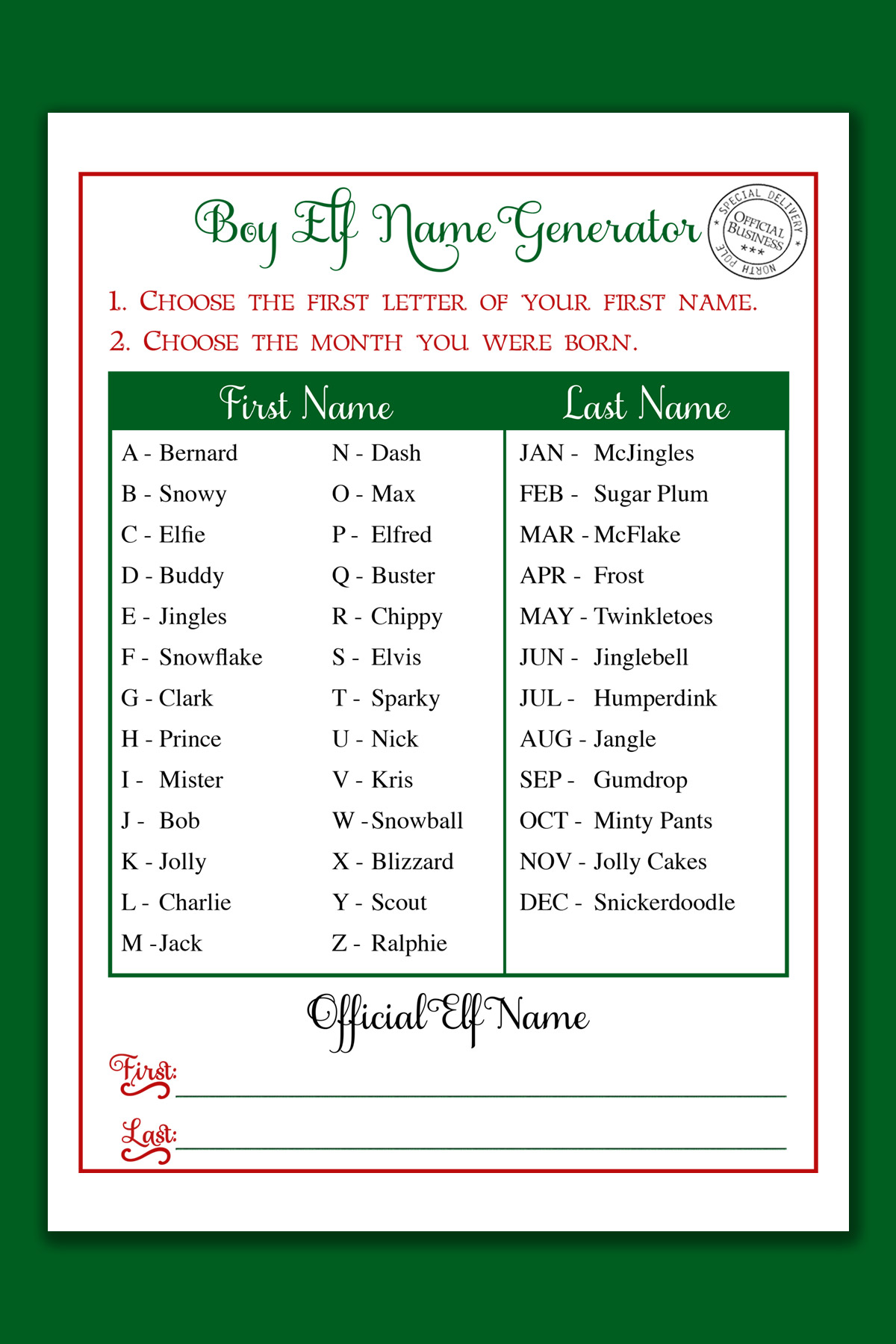 What File Types are Included?
You will get a pdf and JPG file for each generator type.
What Size Paper Should I Print the Printable On?
You'll need sone piece of paper per generator. It is standard letter size.
Coordinating Printables to Keep the Magic Alive
All of the printables on my site that are for the elf or from Santa Claus, are designed to coordinate. The consistency helps children to believe.
You can get our other coordinating free printables:
87 Elf on the Shelf Name Ideas
If you would prefer to create your own elf name, you can pick random names from the list to create your own Christmas elf name.
Check out the list below for some ideas. Create your elf's name by picking one or more names from the list below. Add a last name (or even a middle name) to your elf. It's more unique and fun that way!
Angel
Belle
Bernard
Blitzen
Blizzard
Bob
Buddy
Buster
Buttercup
Butterscotch
Candy
Cane
Carol
Charlie
Chip
Chippy
Clark
Cocoa
Cookie
Cupcake
Dash
Elfie
Elfred
Elvis
Eve
Evergreen
Figgy
Frost
Ginger
Glitters
Gloria
Gumdrop
Happy
Harmony
Holly
Humperdink
Ivy
Jack
Jangle
Jinglebell
Jingles
Jolly
Jolly Cakes
Jolly Toes
Jovie
Joy
Kris
Lou Who
LuLu
Marshmallow
Max
Maxine
McFlake
McJingles
Merry
Merry Mint
Minty Pants
Miss
Mister
Molly
Muffin
Nick
Nicky
Noel
Peppermint
Piper
Pixie
Prince
Princess
Ralphie
Rudy
Scout
Shimmer
Snickerdoodle
Snowball
Snowflake
Snowy
Sparkles
Sparky
Sprinkles
Star
Sugar Plum
Tinsel
Tiny
Twinkletoes
Winter
Zippy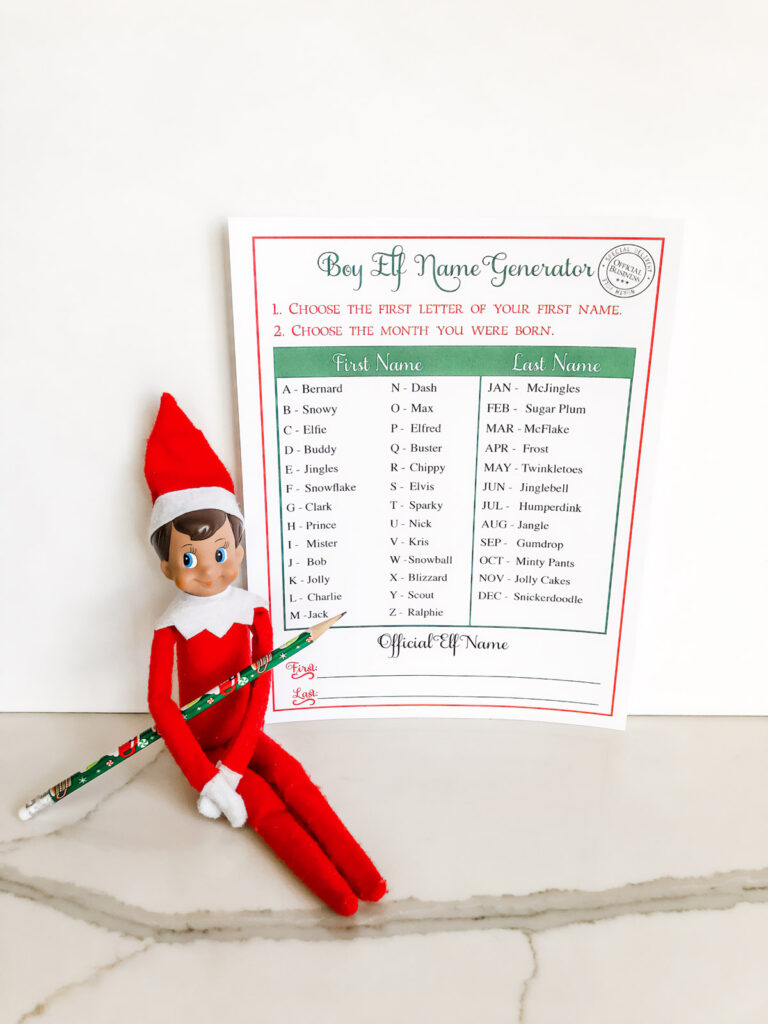 Wants more Elf on the Shelf Ideas?
Click here to see my Elf on the Shelf freebies and ideas. Here are some of my favorite posts.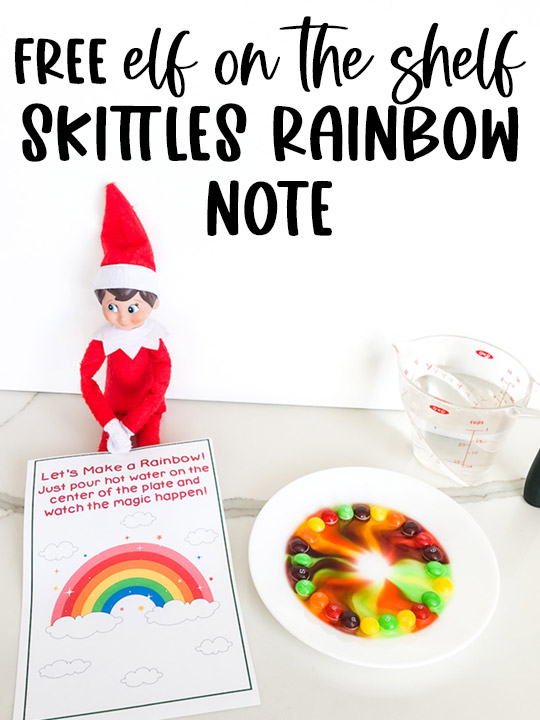 Get this Elf on the Shelf skittles rainbow printable for an easy and adorable Elf…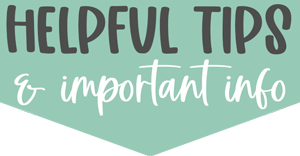 Tips for Downloading the Free Files
Below is an arrow that says Download Below. Underneath that is a large sign up sheet to become a free member of the Mom Envy Club.
Once you sign up to join the free members-only club, you'll get an e-mail sent to you. Once you confirm your account, you'll be sent the freebie AND you'll get access to over 200 more freebies!
Already a Member?
If you're already a member, you can click here.
Already a member but forgot the password? Don't sign up again. Look at the end of any newsletter from me for the free password or just send me an e-mail here: [email protected]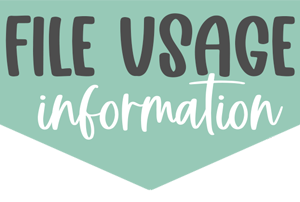 Copyright MOM ENVY 2022. Files may be used for personal use only. No commercial use of the file is available. Files may not be directly shared within Facebook groups, on websites, or in any other way. If using for educational purposes, the file may be printed and copied for classroom use. A link to the web page to download the files may be shared as well as one photo. The file may not be printed and then sold (including local yard sale sites and groups or at local craft fairs). The images may not be used in any way other than to share with a link to the original web page.