Use this Christmas potluck sign up sheet free printable to help you organize your holiday potluck party. All you have to do is print out the sheet or send out the link to the Google Sheets and people can start signing up for items to bring to your holiday gathering.
To have a perfect potluck party, you'll need to make sure you are organized. You don't want to end up with too many appetizers and not enough desserts because nobody knew what anyone else was bringing to the Christmas party. Or even worse, everyone could end up bringing paper products and you won't end up with enough food to share with everyone.
The holidays can get really expensive. Potluck dinners are a great way to help everyone save a little bit of money during the Christmas season. Instead of one person buying and making all of the food, everyone can help pitch it. It's the perfect way to reduce stress when planning a holiday party.
I have the following tips for not only the potluck sign up sheets but also for hosting a Christmas potluck meal yourself.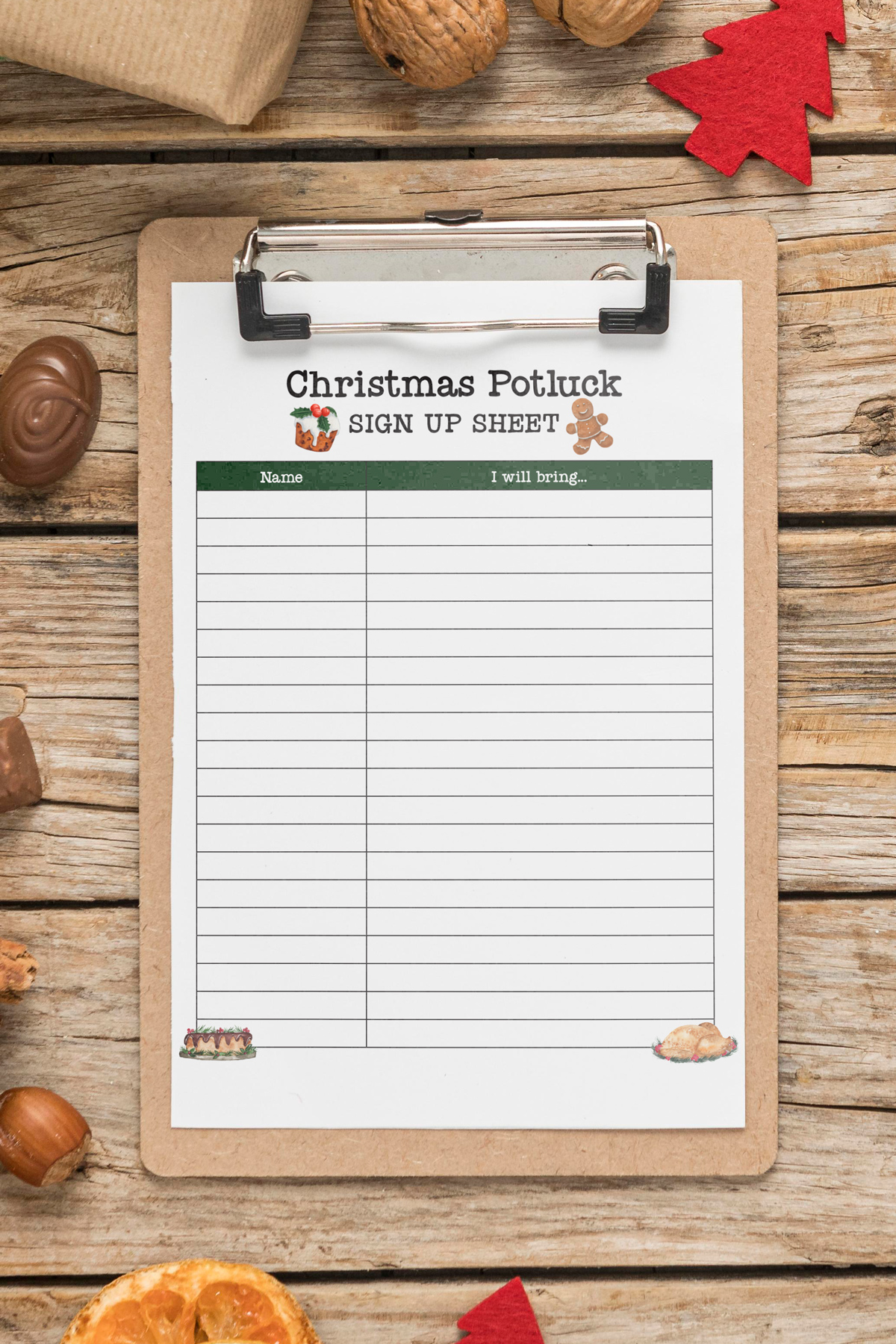 Two Printable Potluck Sign-Up Sheet Options
You'll have 2 different printable options for the potluck signup sheets. The first one is super simple. There is a section for people to fill in their names and what dish they are bringing.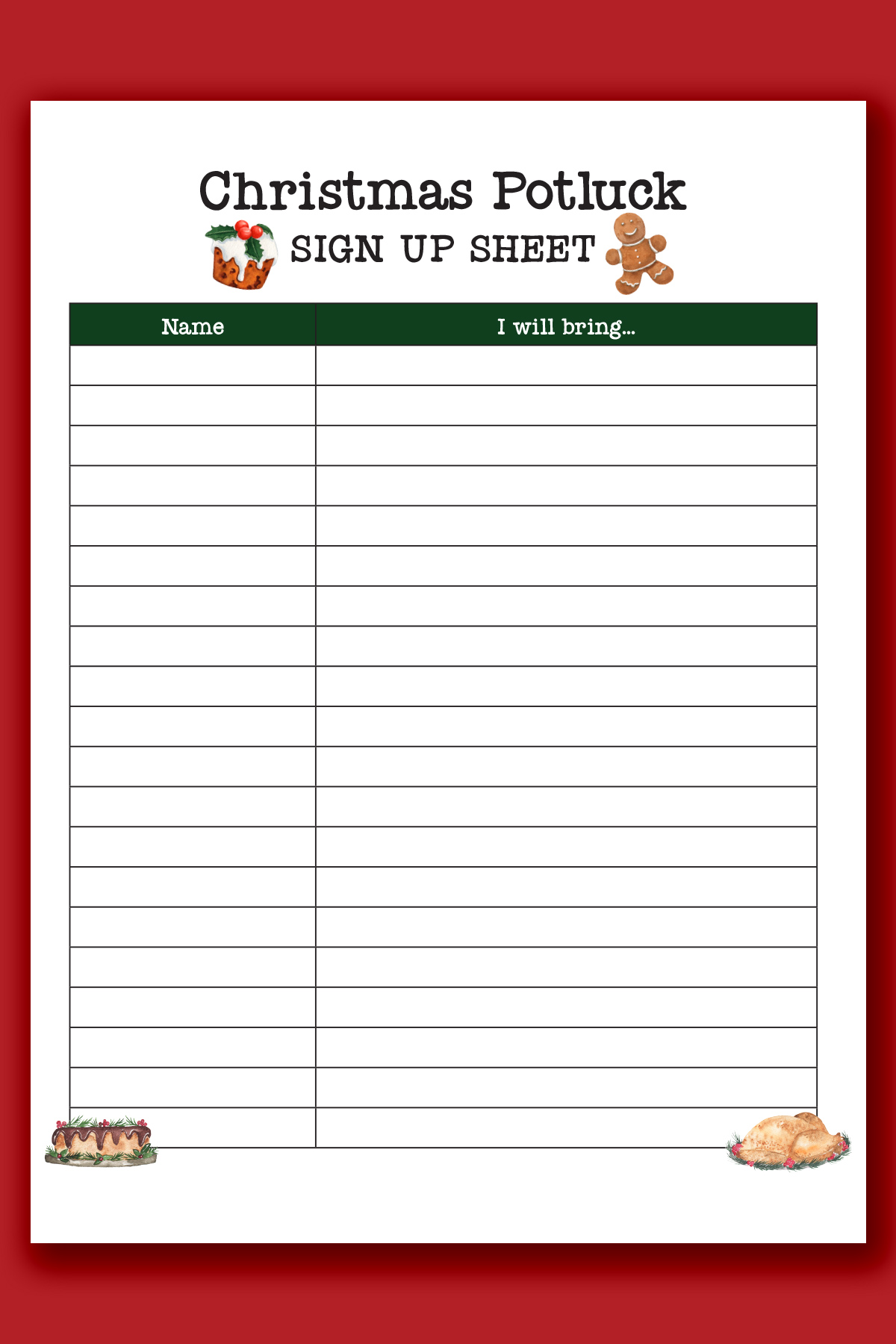 Second, people will sign up under categories. There is a section for main dishes, side dishes, appetizers, desserts, and other items (including non-food items like paper products).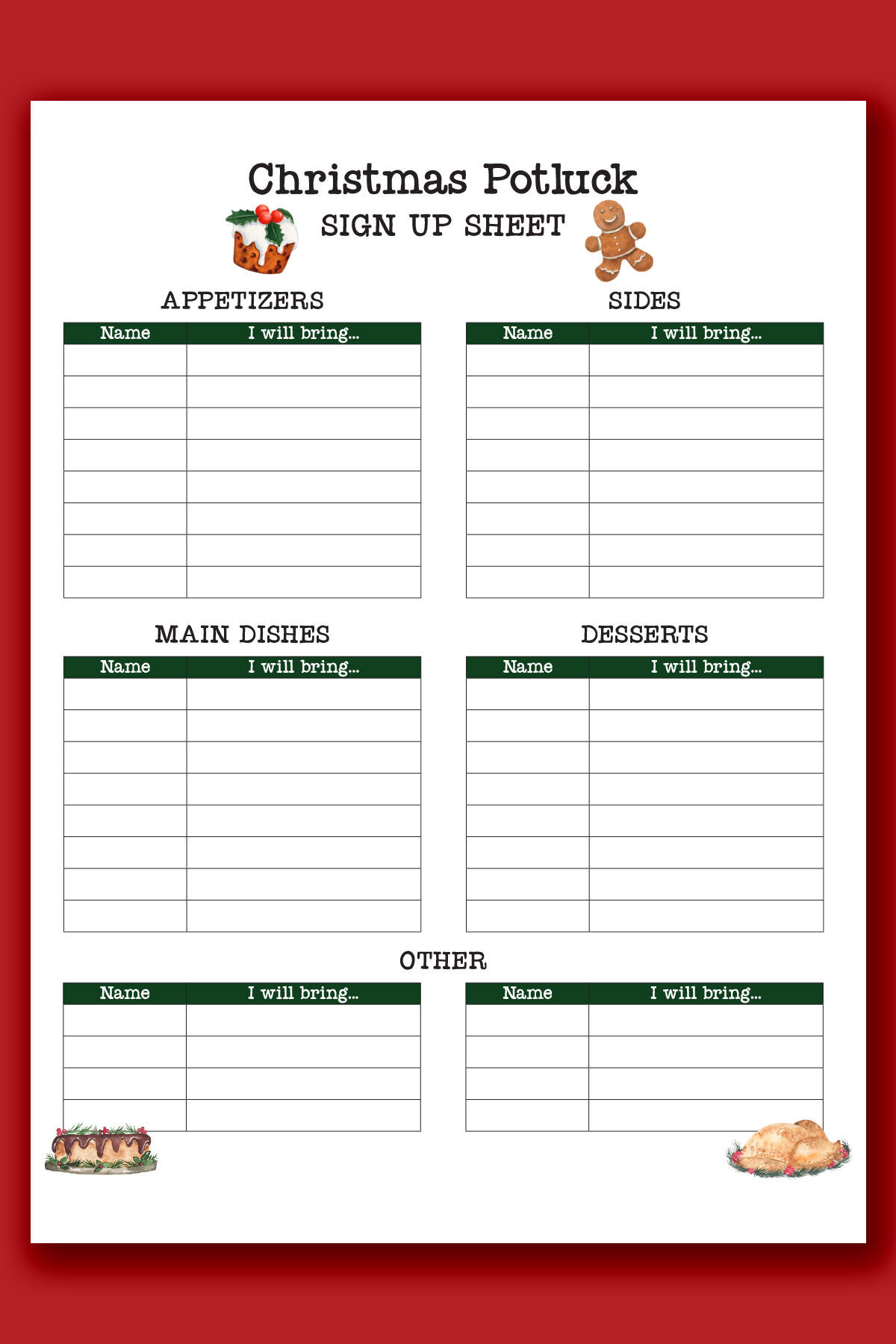 Editable Google Sheet Options
In addition to the printable potluck sign up sheets, you have also been provided two Google Sheets that you can send out digitally.
The online version of the potluck sheet is the perfect way to easily communicate the menu with your guests. Everyone can see what the other people are bringing so that there are no duplicate dishes. And since it's digital, it makes it easy for people to modify what they are bringing (just in case).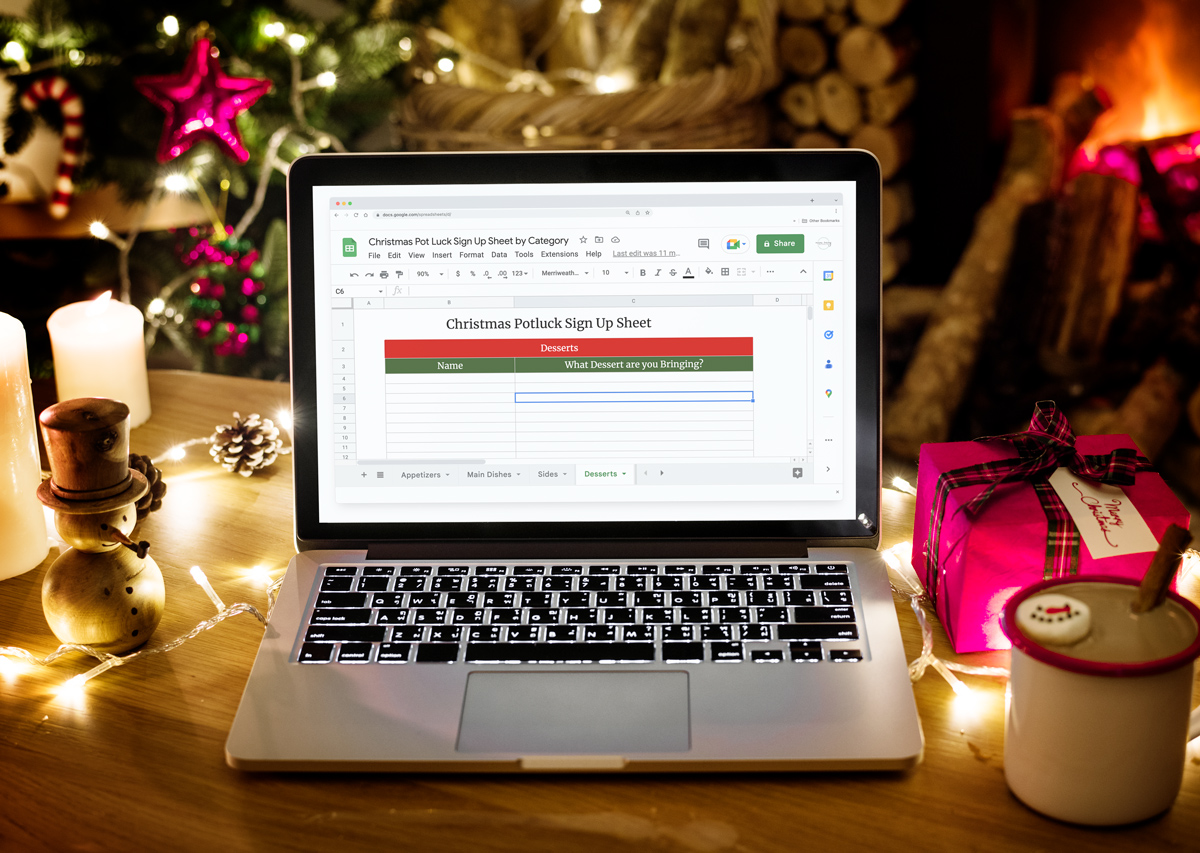 How to Use the Google Sheets Option
First, it's important that you save a copy right away when you are prompted to make a copy. That way it doesn't ruin the Google sheet template for others.
Once you have made a copy, you can edit the Google Sheets freely with your own changes based on your party's needs.
Lastly, share your completed Christmas Potluck Google Sheets with your guests. People can easily sign up from their computer, tablet, or phone.
Bonus: Use the Google Sheets for Any Potluck Party
Because you will be making your own copy of the document, you can modify it for your next potluck party after Christmas such as New Years, birthday party, Mardi Gras, etc. Whatever the theme or holiday of your next event is, you can modify this Google sheet to meet your needs.
Digital Version for Tablets
If you prefer to still have a more traditional sign up sheet but want a digital version to use on a tablet or iPad, you can either import the PDF version into a program (such as GoodNotes) or you can paste the transparent PNG into a program.
Here is what it would look like on a tablet.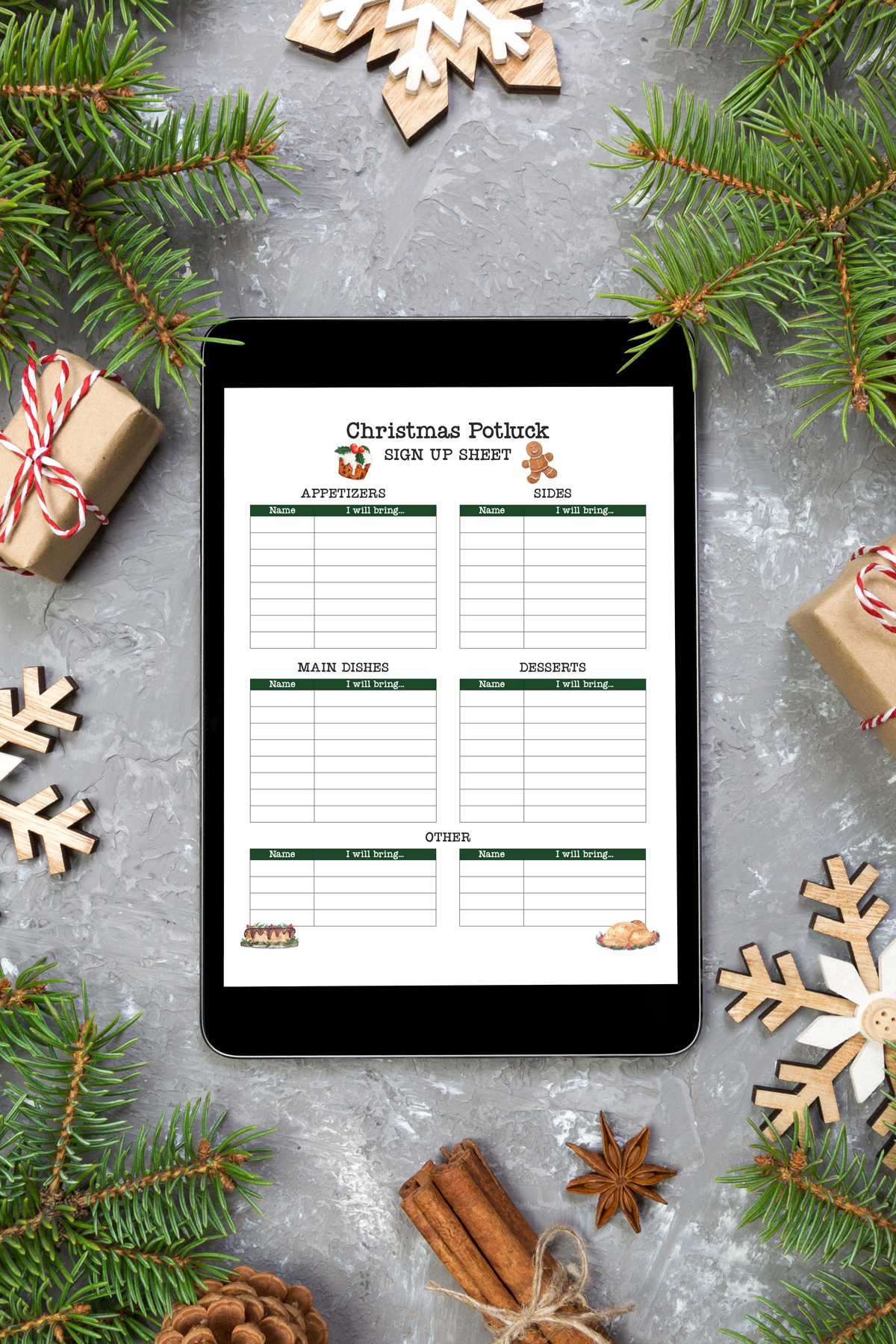 Throwing a Potluck at Work
Potluck parties can be such a great idea to celebrate the holiday season. While everyone is busy keeping up with their work and home responsibilities, sometimes you can don't get much of a chance to socialize with co-workers. If you're working remotely most or all of the time, you'll find out just how true this is.
Consider hosting a potluck lunch to give everyone a chance to catch up with each other. Plus, with the digital Google Sheets option, you can just put it in an e-mail so that everyone can sign up at home.
Throwing a Potluck Party at Home
The holiday season has enough stress and costs enough money – why not make your event a potluck party? No matter how small of a group you have, potluck events will still work.
Whether you're having just a few friends or 50 relatives, a potluck dinner could really help alleviate some of the pressure,
Getting everyone together to fill out printed potluck sheets isn't as easy to do as in an office setting, But that's okay because the Google Sheets alternative option is an easy way to have everyone sign up for a dish.
Throwing a Potluck Party at School
You can also use the printable sheet or Google Sheets for class parties at school. If you have younger children, simply send out the electronic Google Sheets to all of the parents ahead of time.
If the children are older, you could use the printable sign-up form for kids to fill in a specific dish, party decorations, etc. For many, this may be their first time being involved in a pot luck so you may need to explain to them how it works.
Don't Wait until the Last Minute
One important suggestion is to make sure you put out or send out the Christmas potluck sign up sheet well in advance. Everyone will want time to think of a dish, go to a grocery store to get all of their ingredients, and then prepare the dish.
Leave All of the Relevant Details
Make sure to include any and all relevant details for your potluck meal. For example, if you're just doing appetizers, everyone will need to know. You want to make sure you've included any important information with the potluck signups.
Food Allergies and Dietary Restrictions
Don't forget to share with all guests any important food allergies and dietary restrictions. You don't want to make anyone sick or cause any allergic reactions at your event.
The party organizer should ask each guest about their allergies and restrictions. Then, they should send that information out to the entire guestlist. You don't need to say who has what allergy or dietary restriction, just simply list them as a whole.
As a group, decide whether or not you are going to skip certain ingredients altogether OR just simply create a sign or note for any dish containing those ingredients. Since everyone is signing up on a potluck sheet, you can monitor if the food meets the guidelines you and your guests agreed upon.
Use Crockpots to Keep Food Warm
Crockpots make potluck meals so much easier. I suggest asking people to bring their dish in a crockpot or in a dish ready to heat up right before.
This 3 section crockpot is my favorite potluck party find. It makes it so much easier to serve hot food.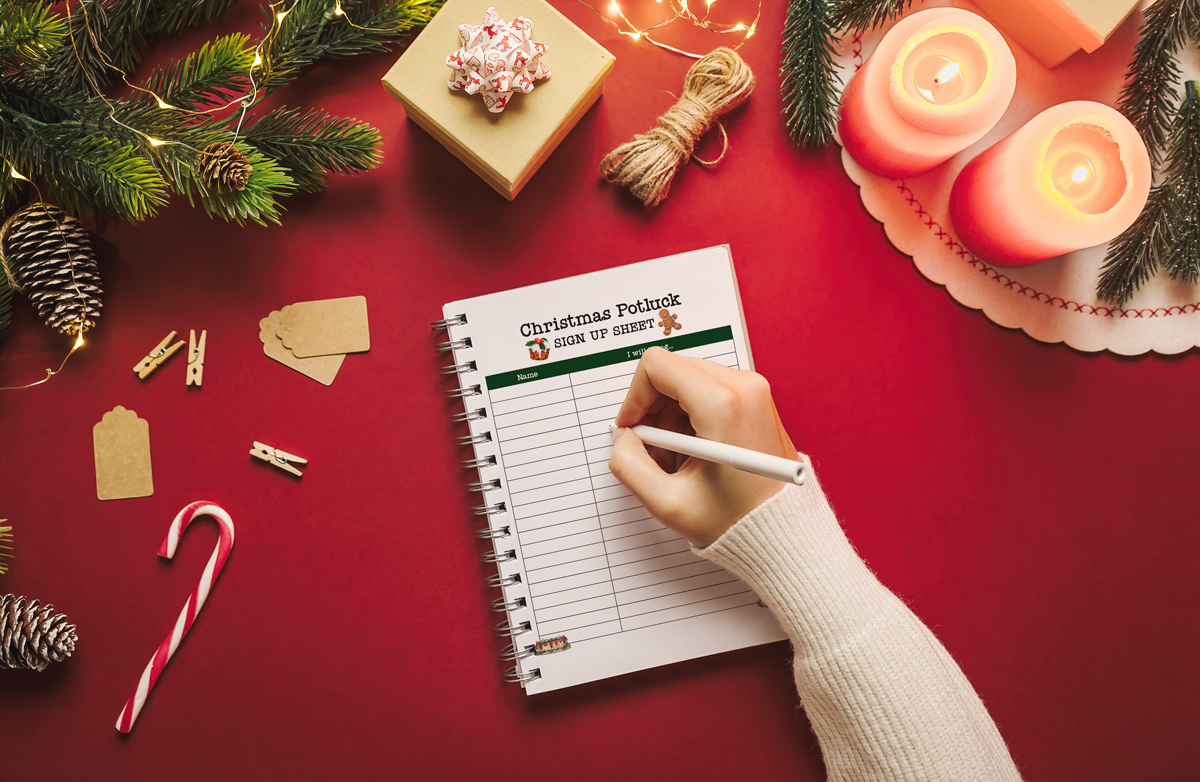 As an Amazon Associate, I earn from qualifying purchases. I am also an affiliate for the HP ink program and CJ Networks. Click here to read more.
The BEST Christmas Dinner Recipes
If you are looking for some great food recipes to share with everyone for your potluck, check out my list of favorites from Thanksgiving. Yes, I know I said Thanksgiving. BUT most of the recipes will work perfectly for Christmas dinner as well.
If you want to pre-plan for next year, don't miss my Thanksgiving version of this potluck sign up sheet. Free Printable Thanksgiving Potluck Sign Up Sheet Set.
I rounded up the absolute best recipes from bloggers – their most popular ones that people return to every single year. I have divided the recipes by categories to make it easy to find what you're looking for.
Finding a great recipe for the potluck is the first step before you can even sign up. So if you're sending out an e-mail, you can include these links for recipe ideas.
Make your Potluck a Success with My Potluck Favorites
Tips for Downloading the Free Files
Below is an arrow that says Download Below. Underneath that is a large image that says Click to Download the free files.
Once you click that, you will be taken to a Google Drive folder where you can download the files.
Having Trouble?
Just send me an e-mail here: [email protected]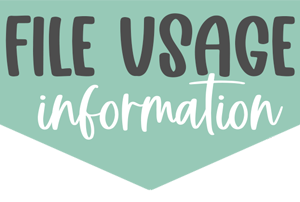 Copyright MOM ENVY 2022. Files may be used for personal use only. No commercial use of the file is available. Files may not be directly shared within Facebook groups, on websites, or in any other way. If using for educational purposes, the file may be printed and copied for classroom use. A link to the web page to download the files may be shared as well as one photo. The file may not be printed and then sold (including local yard sale sites and groups or at local craft fairs). The images may not be used in any way other than to share with a link to the original web page.