Get this free printable Thanksgiving potluck sign up sheet to help organize your holiday potluck. Whether you're in an office setting or planning a family potluck style Thanksgiving dinner, this potluck signup sheet will work for your needs.
Trying to figure who is bringing what food items to potluck dinners can be a real struggle. Make sure to put your printable potluck sheet out early so that people aren't waiting until the last minute to figure out what they are bringing. People can easily add items to their grocery list ahead of time if they know what they will be bringing.
If you want to have a perfect potluck, you'll want to have some sort of sign up sheet. If people are just e-mailing back and forth or casually mentioning what they're going to bring, you may end up without enough food for the party or lots of duplicate menu items because the details will get lost in translation.
The potluck sign up sheet with guarantee that you have a smoother event. People can check the list to see what others are bringing before they sign up so that there aren't duplicates and you can also make sure all of the basic food categories are covered.
Need a Christmas Potluck Sign Up Sheet?
If you were hoping for a Christmas version, we have one of those, too! Check out our Christmas Potluck Sign Up Sheet Free Printable.
Two Types of Printable Potluck Signups are Included
If you are unsure of what categories to go with for your event, you can use the single category sign up sheet. For this sheet, all the guests have to do is put in their name and which dish they will be bringing.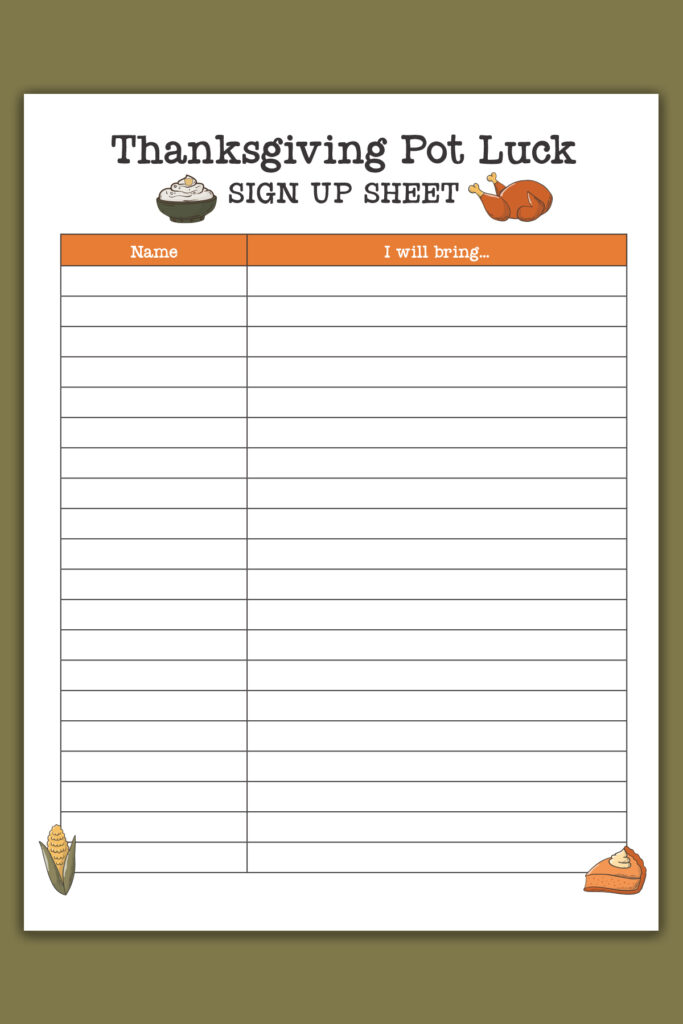 For the second option, the sign up is divided into categories. You have appetizers, side dishes, main dishes, desserts, and others as available categories for people to sign up under. If you want people to bring party decorations or paper products, they could put those items under the other category.
By having people sign up under a specific category, you can make sure that there are enough desserts or enough main course dishes or sides at your event. But this can also limit people from making their favorite recipe if there are already too many desserts. So you'll have to decide which option is best for your group.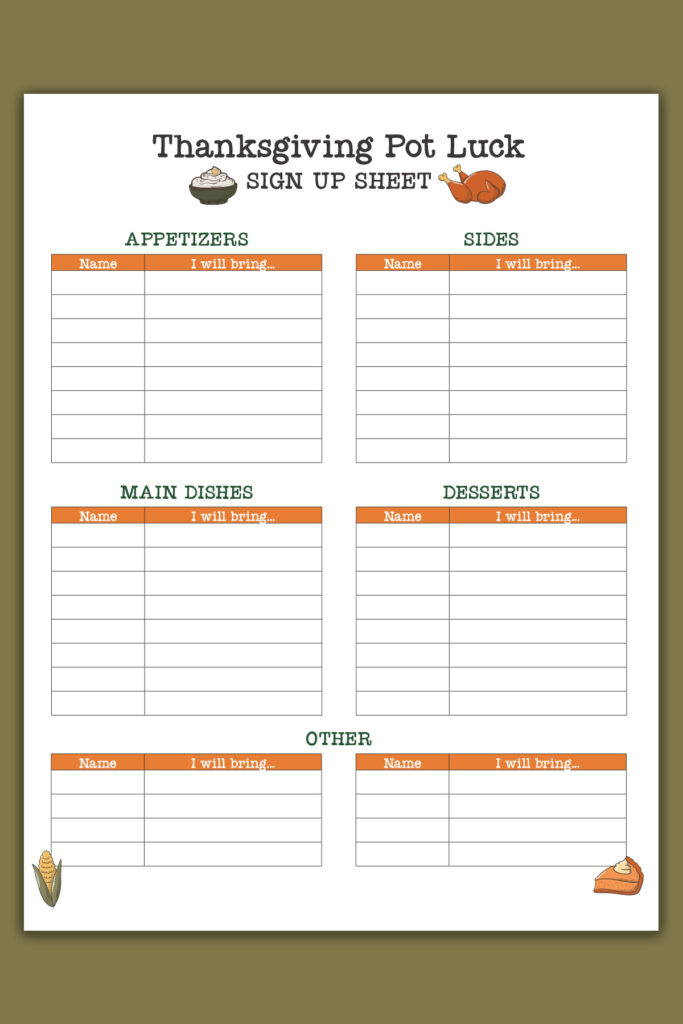 Are you a fan of Online Options like Google Docs or Google Sheets?
You're in luck. In addition to the free printable sign-up sheet, I have provided you with an editable Google Sheet version. It's important though that you save a copy right away when you are prompted to make a copy. That way it doesn't ruin the Google sheet template for others.
The online version of the potluck sheet is the perfect way to collaborate with your guests. Everyone can see what the other people are bringing so that there are no duplicate dishes.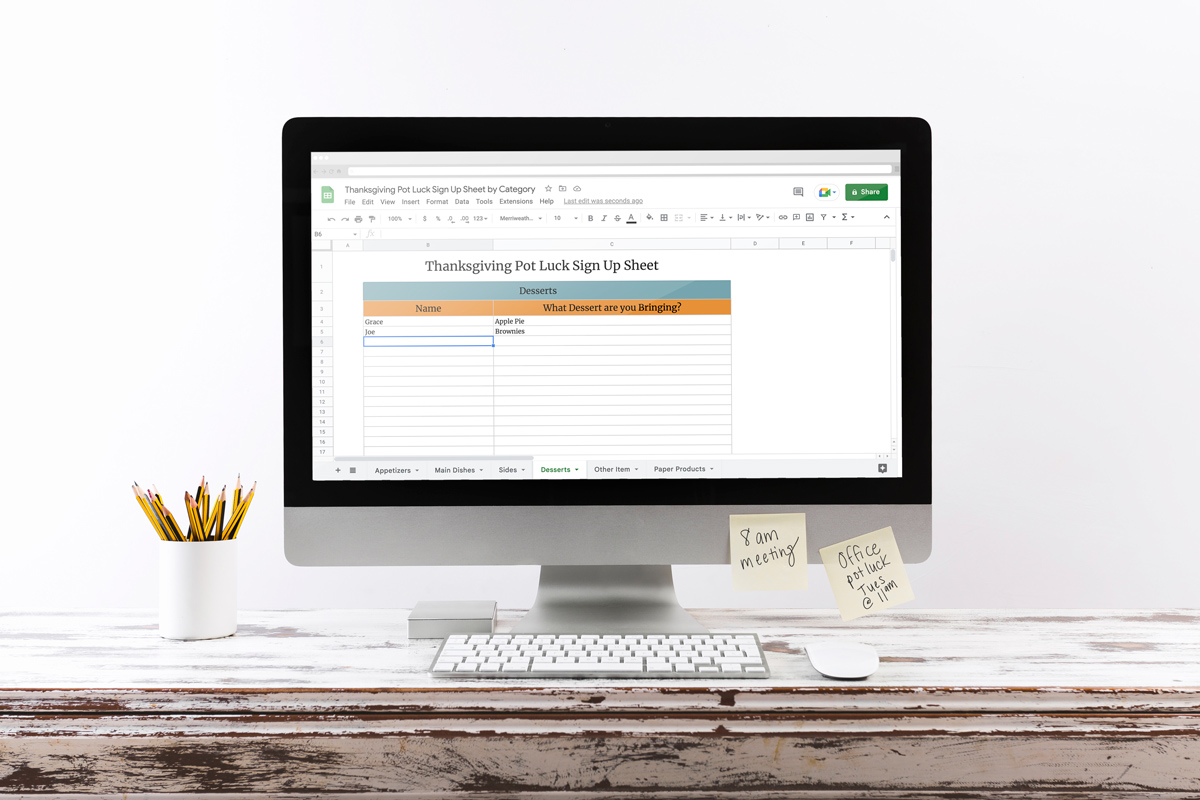 Because you will be making your own copy of the document, you can modify it for your next potluck party after Thanksgiving such as a Christmas party, holiday parties, New Years, etc. Whatever the theme or holiday of your next event is, you can modify this Google sheet to meet your needs.
You can grab your copy of the Google Sheets at the end of this blog post with the free download of the printable Thanksgiving pot luck sign up sheet set. It's such an easy way to keep track of what everyone is bringing to your next potluck. People can easily sign up from their computer, tablet, or phone.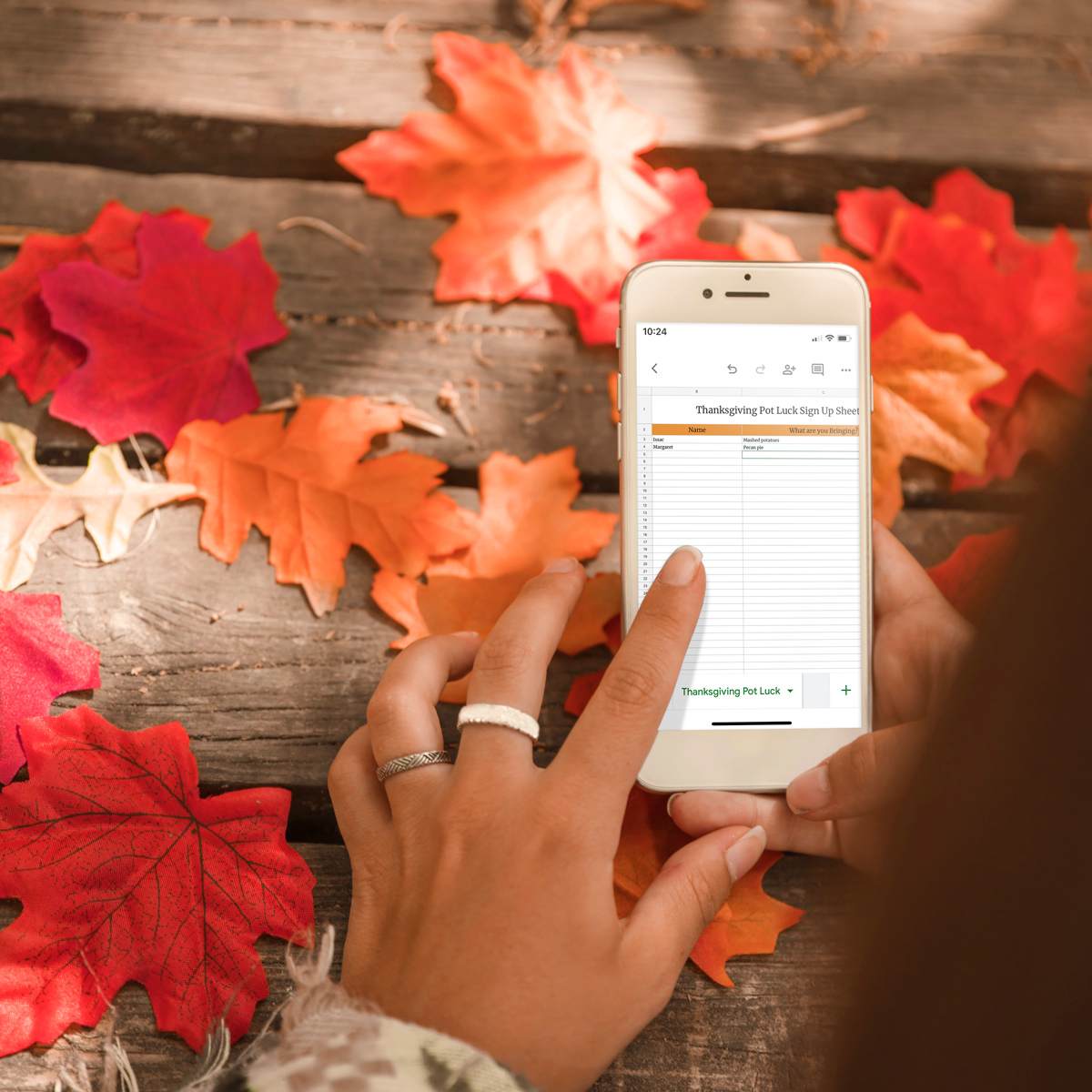 Digital Version for Tablets
If you prefer to still have a more traditional sign up sheet but want to use it digitally on a tablet or iPad, you can either import the PDF version into a program (such as GoodNotes) or you can paste the transparent PNG into a program.
Here is what it would look like on a tablet.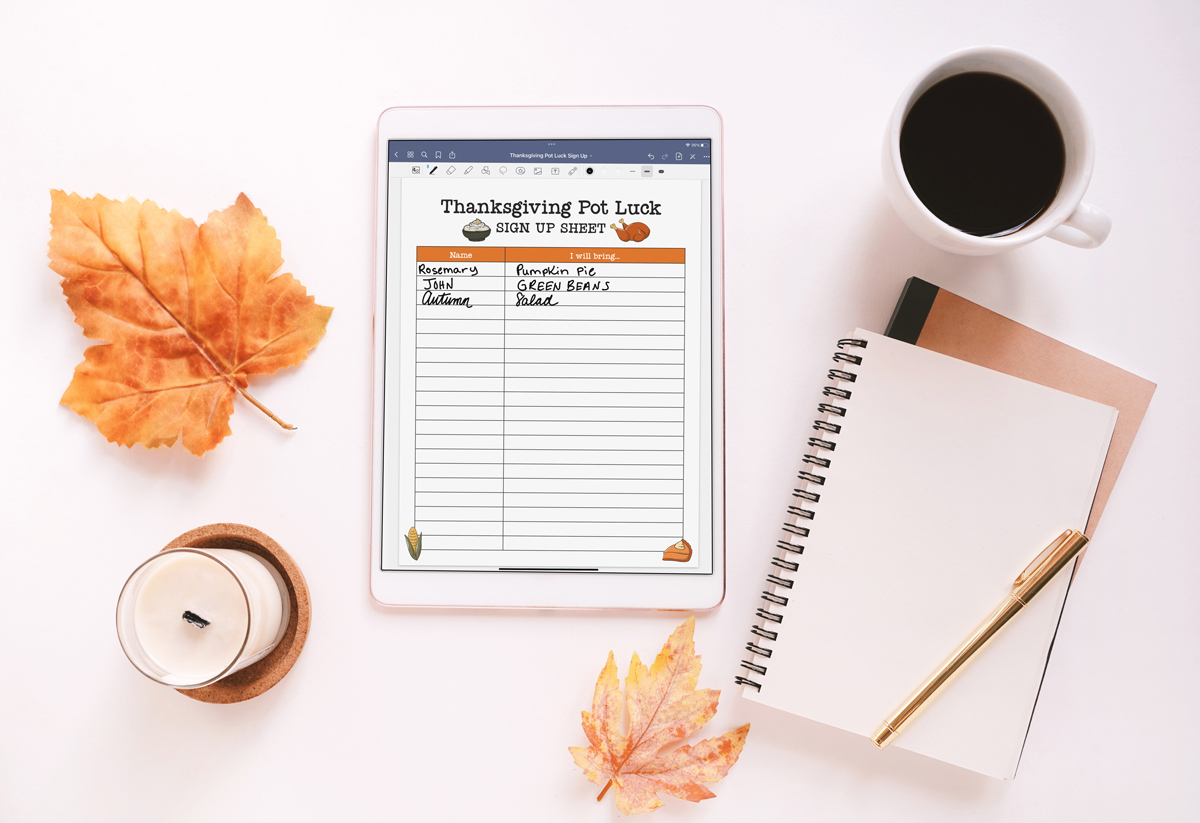 Throwing a Potluck at Work
Potluck parties can be such a good way to celebrate the holiday season. While everyone is busy keeping up with their work and home responsibilities, sometimes you can forget to take some time to socialize with each other. This is especially true for companies where the majority of the workers are remote most of the time.
Consider hosting a potluck lunch to give everyone a chance to catch up with each other.
Throwing a Potluck Party at Home
The holiday season has enough stress and costs enough money – why not make your event a potluck party – even if you just have a small group. Your whole family or friends can each sign up for a dish to help alleviate some of your holiday stress.
Getting everyone together to fill out printed potluck sheets isn't as easy to do as in an office setting, But that's okay because I have an alternative option that you can send to your entire guest list.
Just Because it's November, Doesn't Mean you Have to Have Turkey!
Who wants to eat 2 Thanksgiving meals close together? Many people won't want to eat similar food to Thanksgiving if the potluck is too close to Thanksgiving.
Instead, opt for a non-Thanksgiving food potluck theme. You could go with an Italian feast, Tacos Tuesday, brunch, all desserts, and more.
The great thing about choosing a different type of food is that people won't get sick eating the same type of food. There are plenty of ideas for themes that could work instead or just have everyone bring their favorite dish. No matter what theme you pick, you'll end up with great food.
Create an Appreciation Potluck for Teachers
If you are a room parent, PTA, PTSA, etc. member, you can have parent volunteers sign up to create a potluck supper for the teachers at school. With all of the busy fall school activities, class parties, staff meetings, sick students, etc. – teachers are extra stressed. They would definitely enjoy taking a break from making their lunch one day to enjoy a hot lunch from the parents.
Again, you may want to consider going for food that isn't typical Thanksgiving food.
Food Allergy Caution
It's a great idea if you are having a potluck to make sure to be aware of any food allergies. Add an additional sign with the printed sign up sheet or send out an e-mail letting everyone know if you have someone with food allergies. You want to make sure that all of your guests, co-workers, teachers, etc. are able to safely eat the food items without fear.
As an Amazon Associate, I earn from qualifying purchases. I am also an affiliate for the HP ink program, ShareaSale, and CJ Networks. Click here to read more.
The BEST Thanksgiving Recipes
If you are looking for some great food recipes to share with everyone for your potluck, check out my list of favorites. I rounded up the absolute best recipes from bloggers – their most popular ones that people return to every single year. I have divided the recipes by categories to make it easy to find what you're looking for.
Finding a great recipe for the potluck is the first step before you can even sign up. So if you're sending out an e-mail, you can include these links for recipe ideas.
Make your Potluck a Success with My Potluck Favorites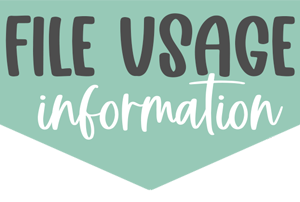 Copyright MOM ENVY 2022. Files may be used for personal use only. No commercial use of the file is available. Files may not be directly shared within Facebook groups, on websites, or in any other way. A link to the web page to download the files may be shared as well as one photo. The file may not be printed and then sold (including local yard sale sites and groups or at local craft fairs). The images may not be used in any way other than to share with a link to the original web page.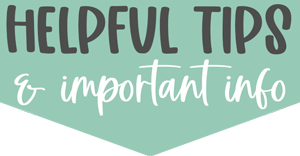 Tips for Downloading the Free Files
Below is an arrow that says Download Below. Underneath that is a large image that says Click to Download the free files.
Once you click that, you will enter the members-only password and click submit.
The page will reload the same image and now when you click the image that says Click to Download the free files, it will open the Google Drive folder containing the free files.
How do you get a members-only password?

You can sign up here to be a free Mom Envy club member.
The password will be sent to you within a few minutes. Make sure to check your spam and/or junk folder if you don't see it.
Already a member but forgot the password? Don't sign up again. Look at the end of any newsletter from me for the free password or just send me an e-mail here: [email protected]