Need a Thanksgiving shopping list printable? How about a Thanksgiving menu planner? I have a set of 5 free Thanksgiving planning printables to make your Thanksgiving prep easier this year.
Planning a Thanksgiving dinner can be stressful – even if you have others helping to make some of the menu items. It's such a big meal that it can take a lot of prep work.
You want to make sure that you give yourself enough time to prepare for the day. You don't want to have to run a last-minute trip to the store because you forgot something. Grocery shopping the day before Thanksgiving is never fun. The grocery store is always a total madhouse the day and night before Thanksgiving.
So to prepare for Thanksgiving day, you'll want to meal plan, create a to-do list, and of course, creating a grocery shopping list. Using this set of free Thanksgiving planner printables is a great way to prepare for the big day.
The first thing I do when creating a plan for the biggest meal of the year is to create a menu. I've included 2 options for menu planning. One option is if you are creating the entire Thanksgiving meal yourself.
The second option is if you are having other people assist in making the meal. When others are helping, it's even more important to plan out your entire menu. You don't want a Grandma to miss out on eating her favorite green bean casserole.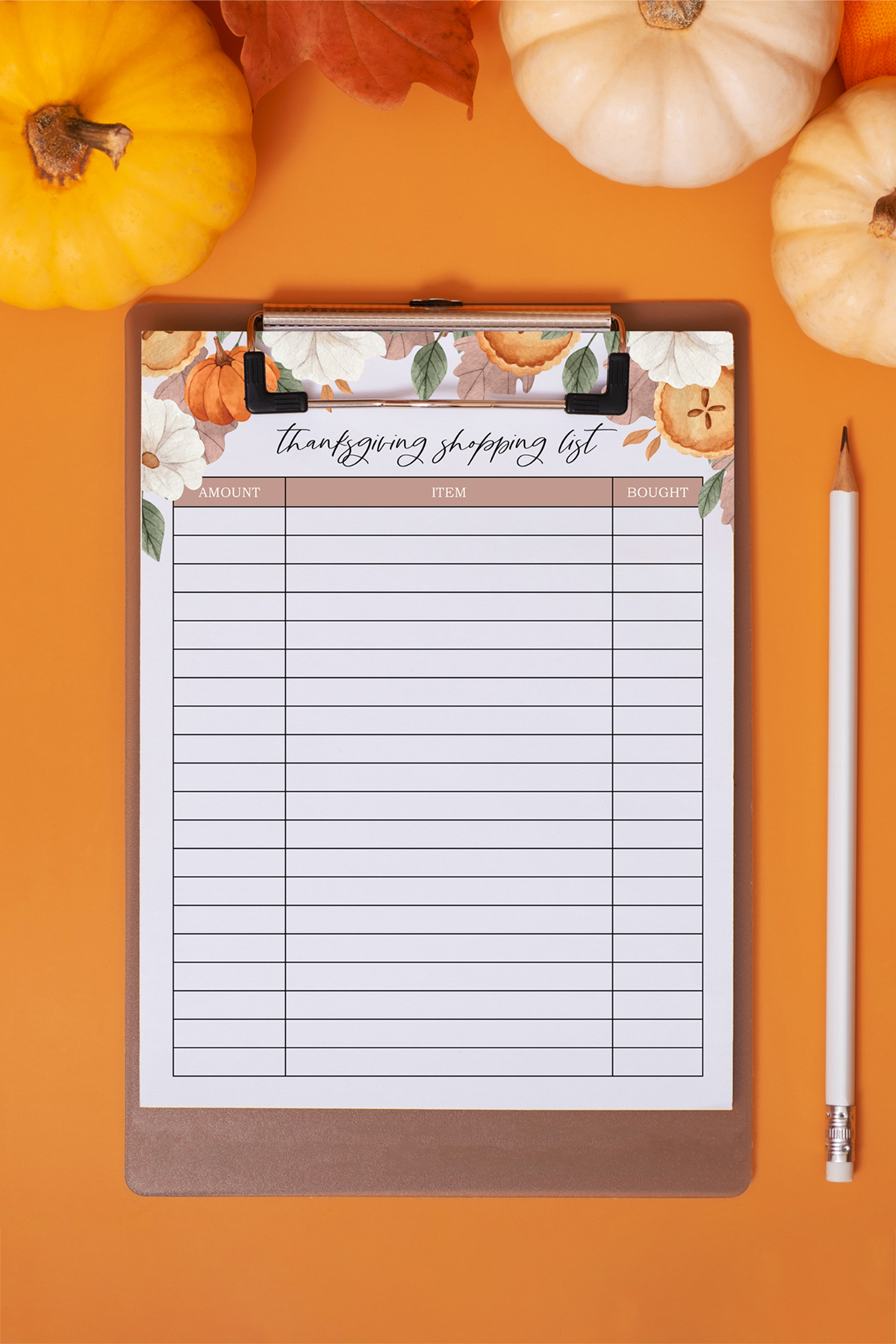 Next, I create a figure out what grocery items I will need to make whatever menu items I am creating. Don't worry, I have included a free printable grocery list, too. If you are making the entire meal, it's going to be a pretty long list so you may need to print 2 copies of the grocery shopping list.
If you're headed to the store, the list makes it easy to shop and make sure you haven't forgotten anything. If you're ordering from an online marketplace or grocery store service, make sure to have your list close by when you are making your order.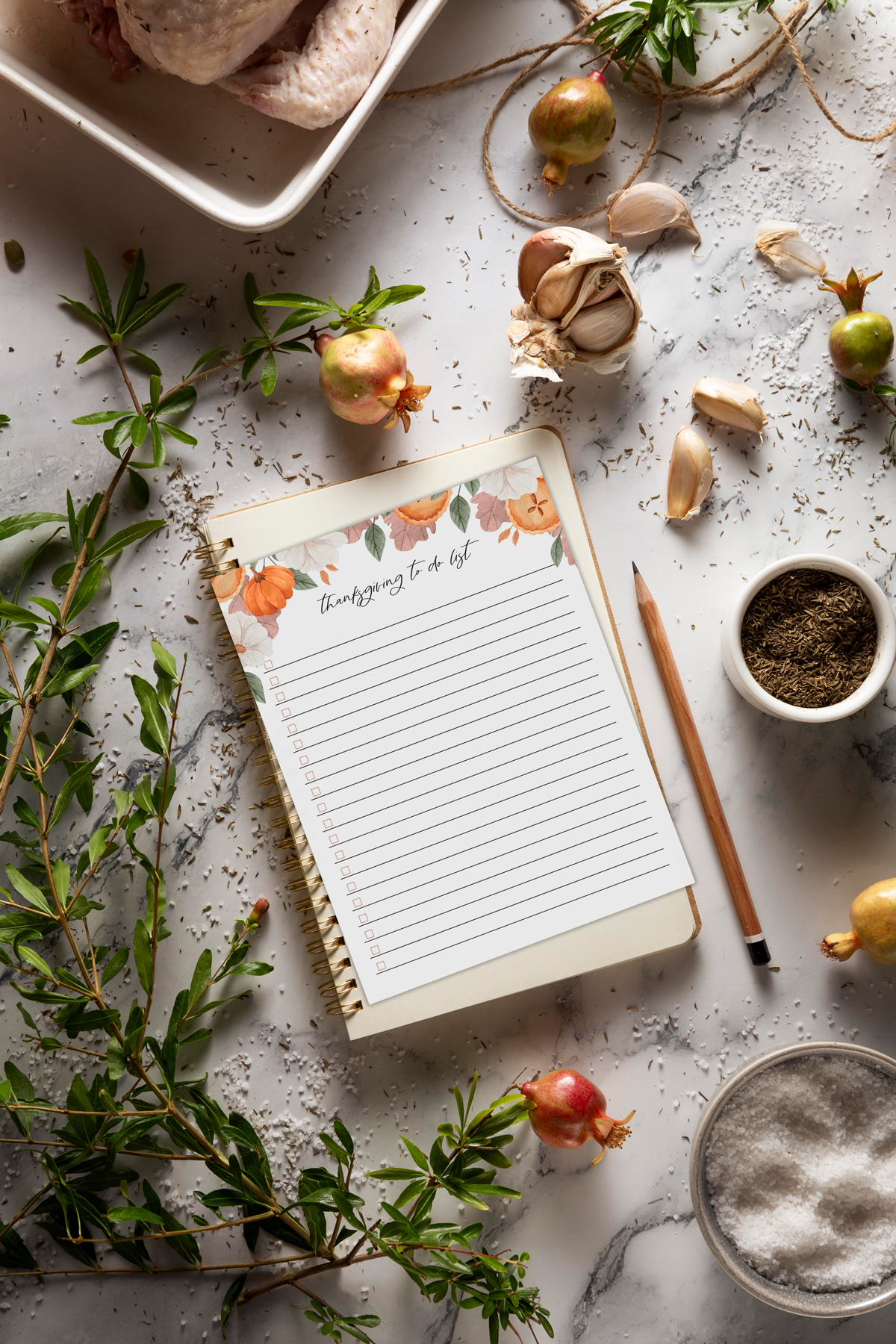 Lastly, I create a Thanksgiving to do list. Thankfully, I have included 2 different to do lists inside of this free printables set.
There is always so much to do during the holiday season. So you'll want to print the to do list printables early – it makes it so much easier to have a handy checklist to follow when preparing for Thanksgiving.
If it's your first time hosting a Thanksgiving, you'll want to start early. It's a good rule of thumb to start preparing for Thanksgiving at least two weeks before the event. It's such a stressful time of year and waiting until the week of Thanksgiving is not a great time to start planning.
Using printable lists is one of my favorite ways to feel the most prepared for the Thanksgiving holiday. If you give yourself plenty of time to prepare, with the help of these lists, you're sure to have a happy Thanksgiving!
What is included in the Free Thanksgiving Printable Set?
1 Thanksgiving shopping list printable
2 Thanksgiving to do list printables
2 Thanksgiving meal plan printables
Thanksgiving Shopping List Template
Here is what the shopping list printable looks like. Don't forget to add your most important tools you may need, too, like sheet pans, roasting pan, paper products, etc.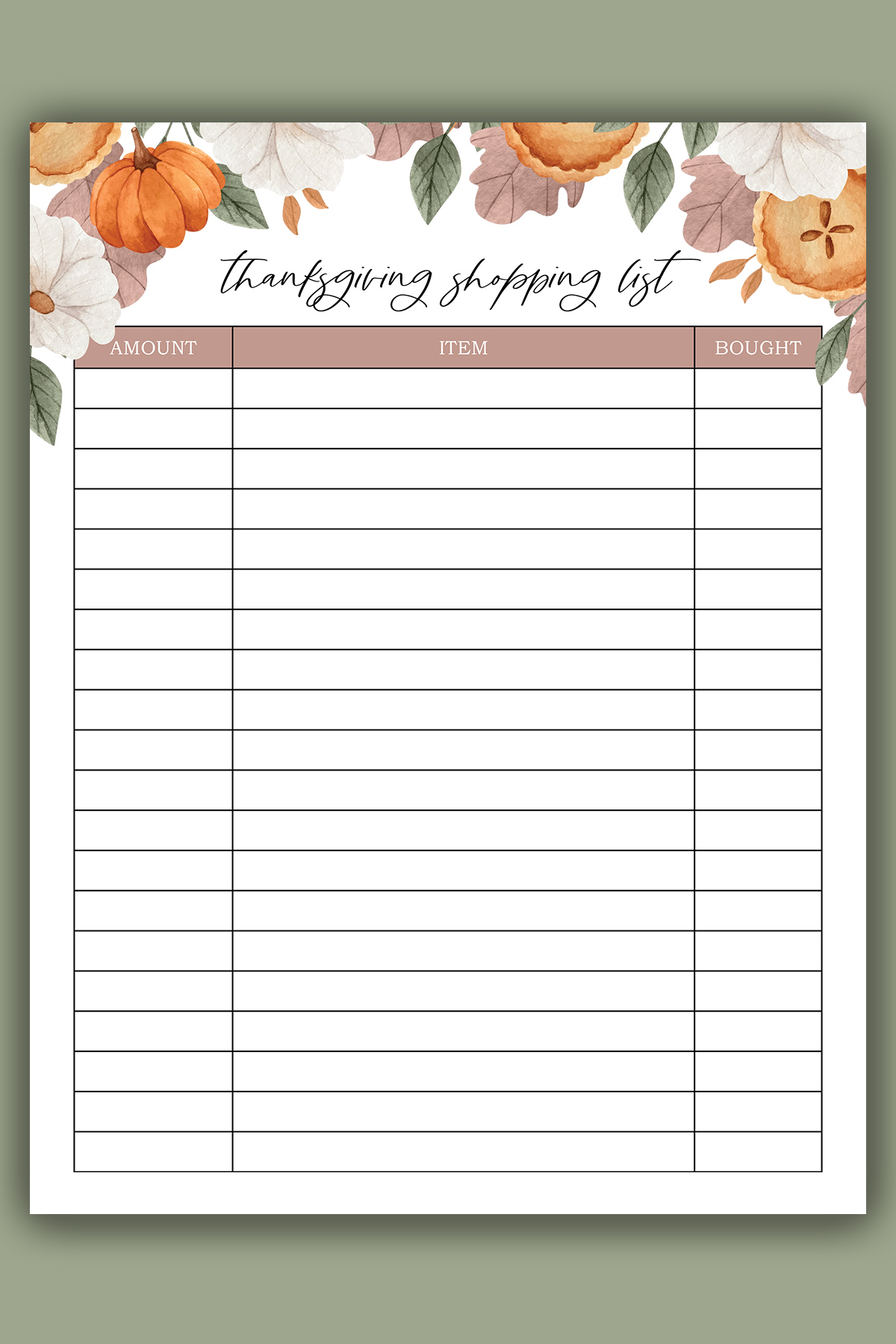 Thanksgiving To Do Lists
I have two to do free printable Thanksgiving checklists for you in this set. One is a simpler check list format. The second is more of a table where you have a column to check off whether or not the task has been completed.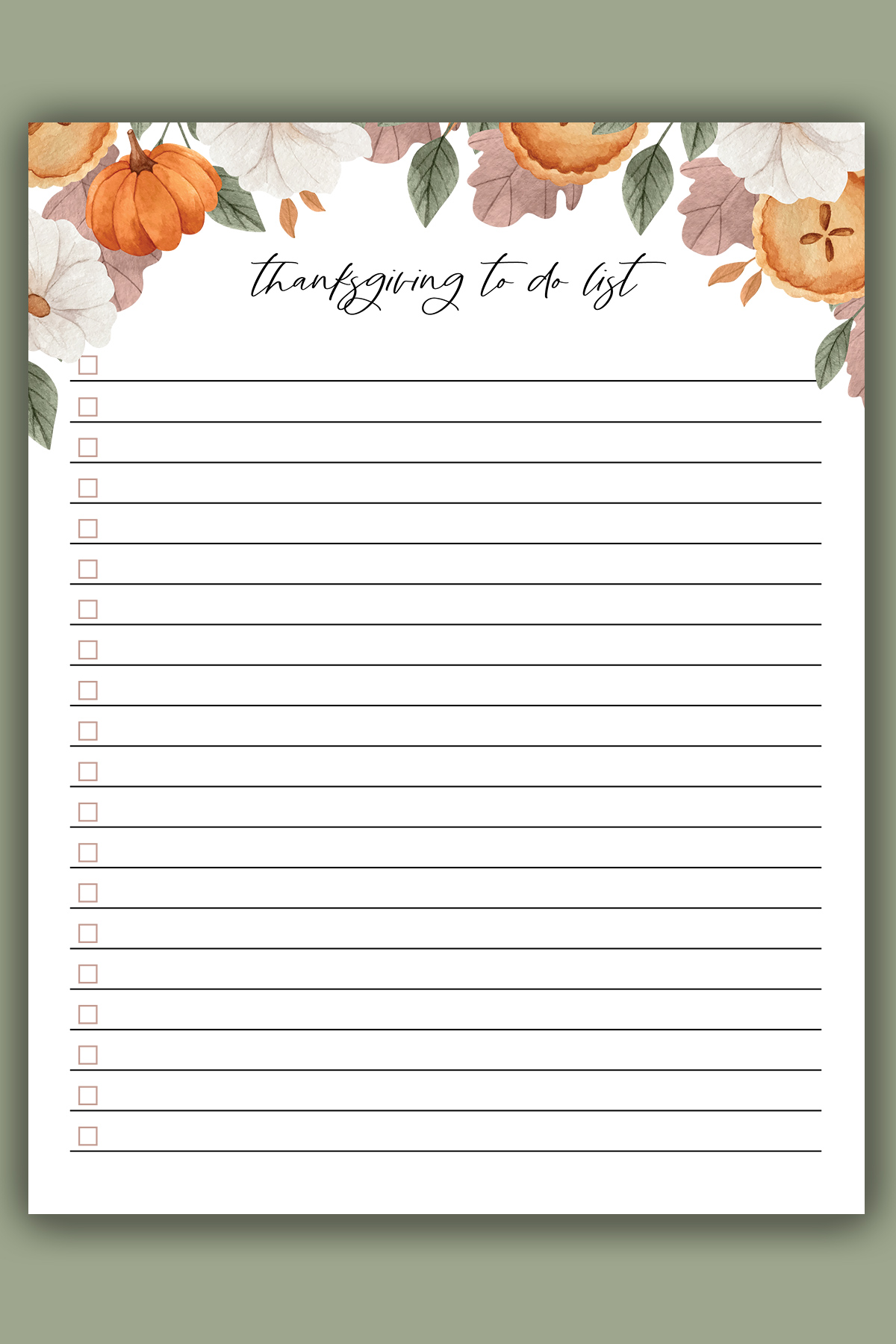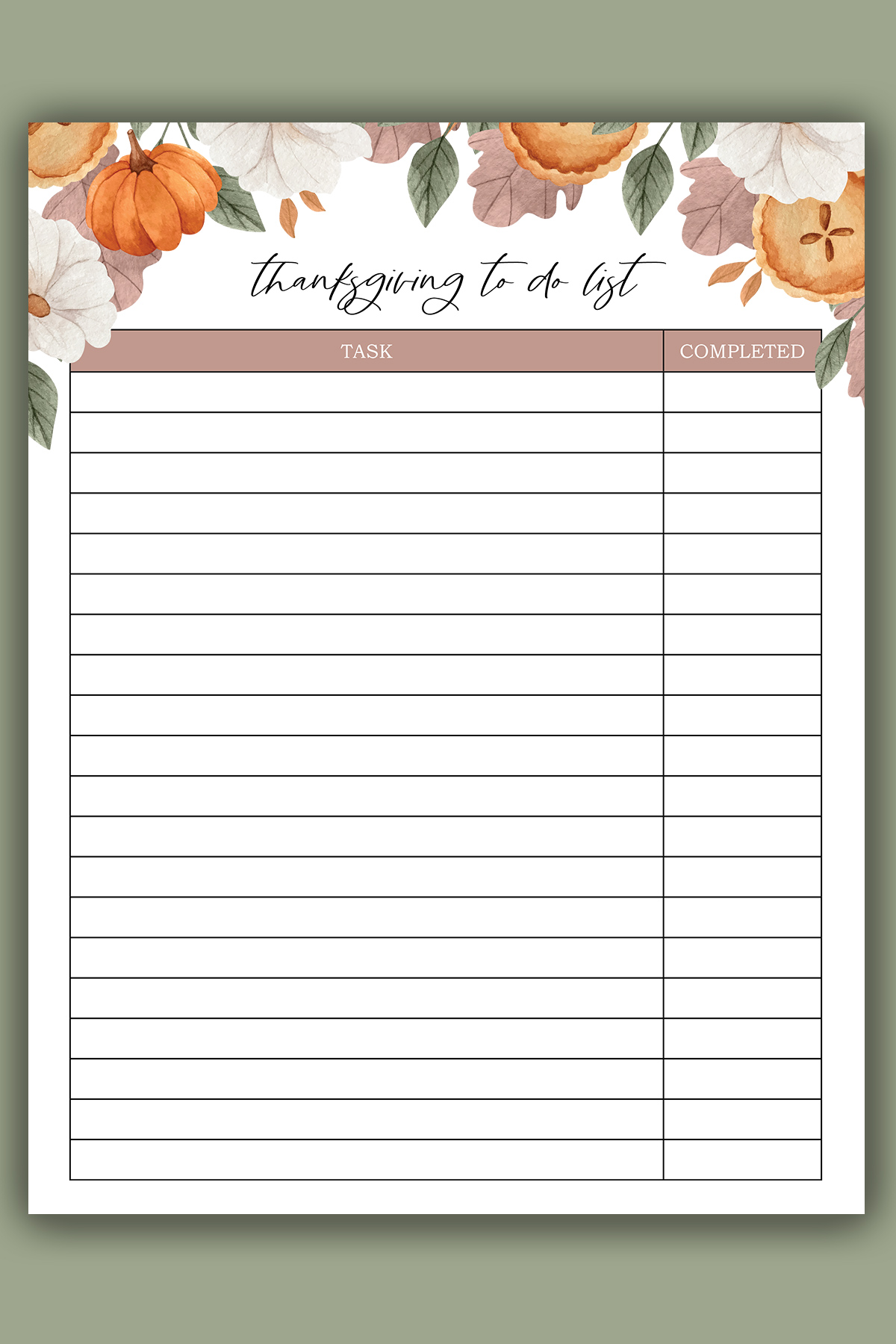 Thanksgiving Meal Planning Printables
Pick one of the two meal planning printables based on whether or not you are making all of the food or having others help. Making a menu sometimes seems silly for a meal like Thanksgiving where you tend to do the same menu each year.
But in reality, it's super important to list out your entire menu. The last thing you'd want to do is forget to assign someone the pumpkin pie or pecan pie and have it missing from your dinner table.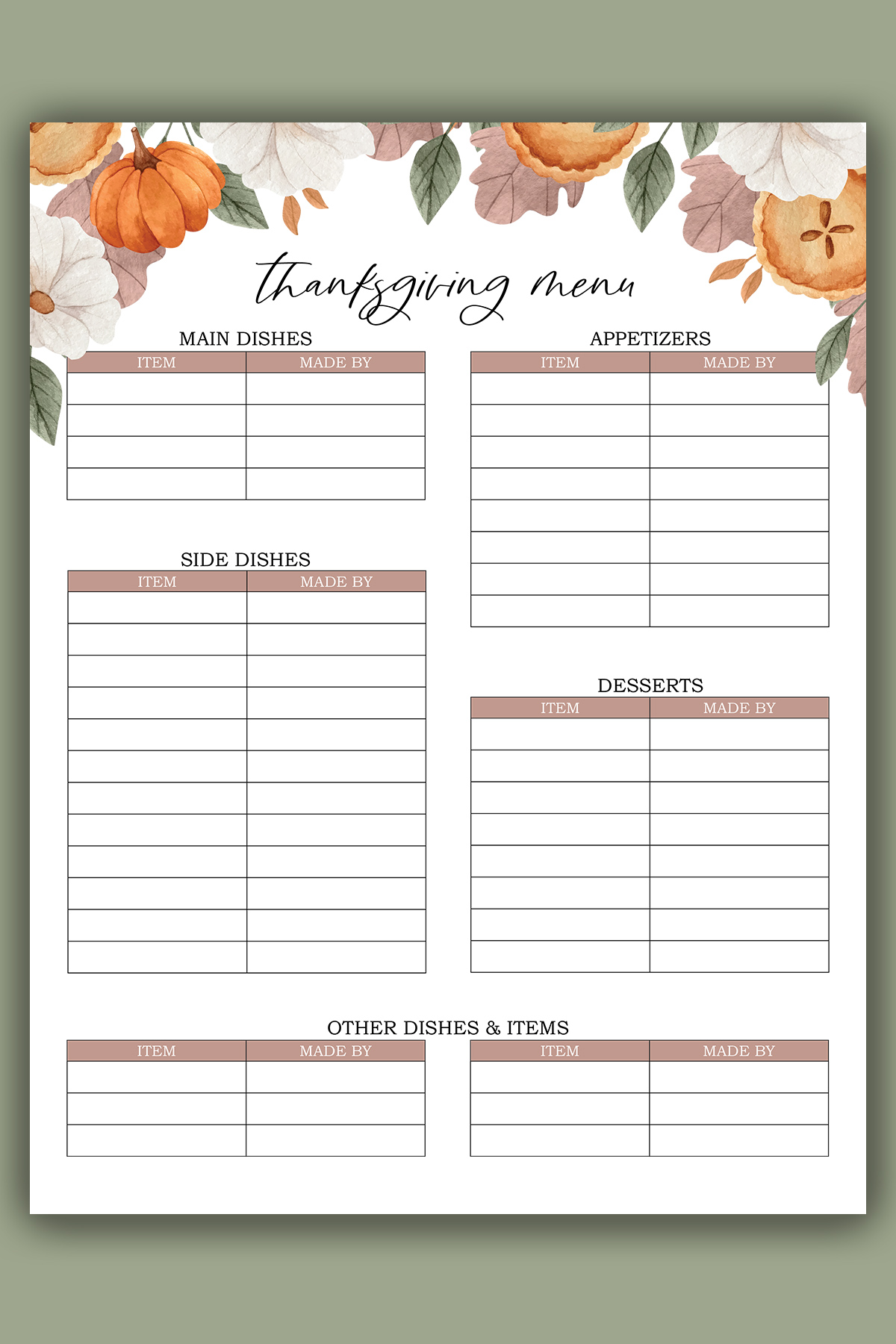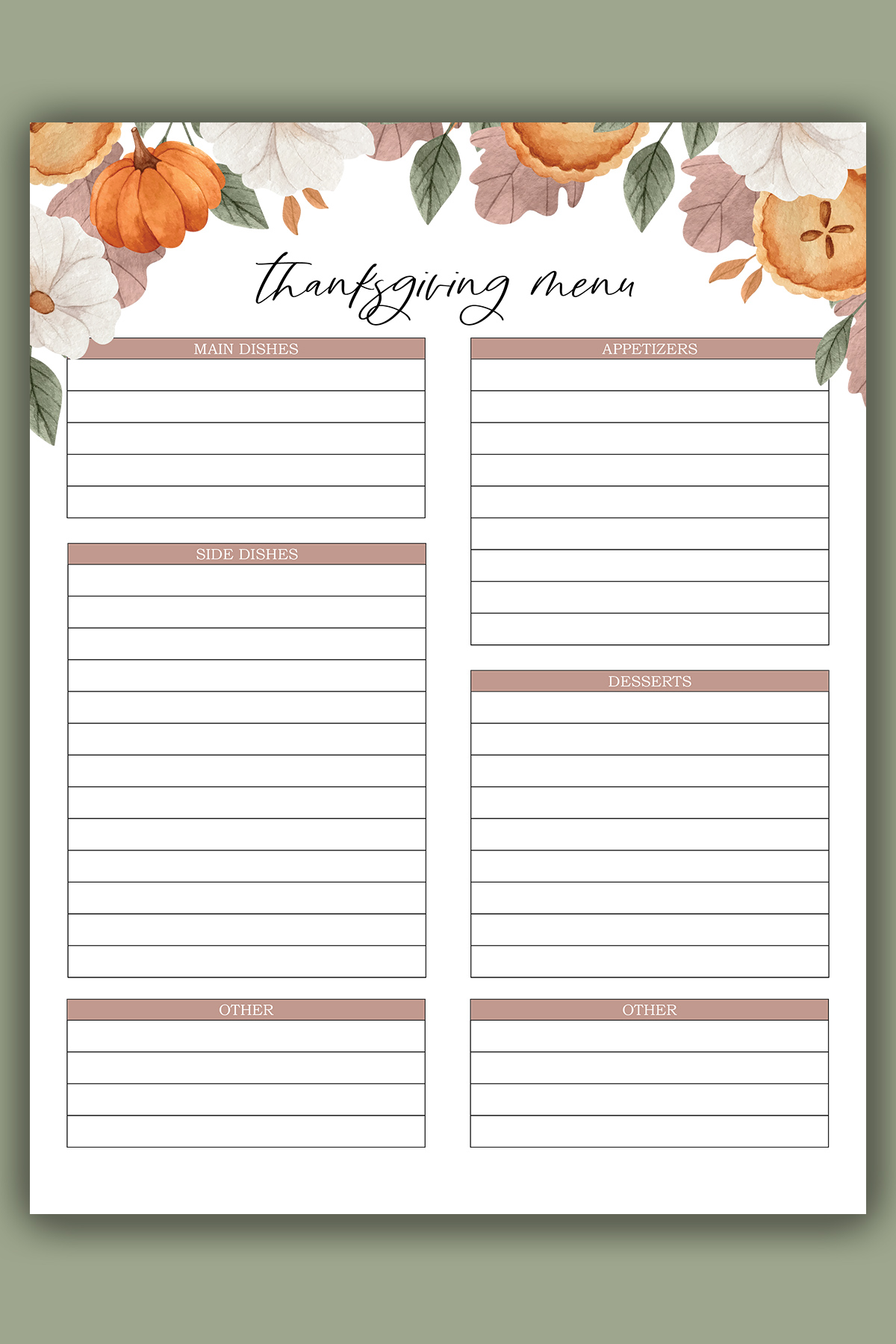 What File Formats are Included?
I have included both pdf file format and transparent PNG file formats. I wanted to create a transparent PNG format for my digital planners that would like to paste the image into their planners.
Or, they can import the PDF into their planning program as well. Whichever works best for your digital planning method.
What Size Planner Printables are Included?
You're getting both letter size printables and Classic Happy Planner size printables. You can print these to put into a planner or just print them to use on their own.
Need some Thanksgiving Recipes?
Find a new recipe from one of these Thanksgiving recipe favorites. I asked my blogging friends to tell me their most popular recipe – the kind that people come back to find to make year after year. I compiled them into lists by category so that you can easily find yourself a new family favorite.
As an Amazon Associate, I earn from qualifying purchases. I am also an affiliate for xTool, the HP ink program, ShareaSale, and CJ Networks. Click here to read more.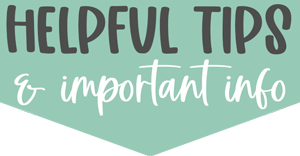 Planner Printable Tips
Tips for Downloading the Free Files
Below is an arrow that says Download Below. Underneath that is a large image that says Click to Download the free files.
Once you click that, you will enter the members-only password and click submit.
The page will reload the same image and now when you click the image that says Click to Download the free files, it will open the Google Drive folder containing the free files.
How do you get a members-only password?

You can sign up here to be a free Mom Envy club member.
The password will be sent to you within a few minutes. Make sure to check your spam and/or junk folder if you don't see it.
Already a member but forgot the password? Don't sign up again. Look at the end of any newsletter from me for the free password or just send me an e-mail here: [email protected]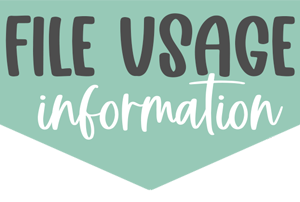 Copyright MOM ENVY 2022. Files may be used for personal use only. No commercial use of the file is available. Files may not be directly shared within Facebook groups, on websites, or in any other way. A link to the web page to download the files may be shared as well as one photo. The file may not be printed and then sold (including local yard sale sites and groups or at local craft fairs). The images may not be used in any way other than to share with a link to the original web page.